With 2004's Shaun of the Dead, writer-director Edgar Wright, writer-star Simon Pegg, and co-star Nick Frost proved themselves to be an excellent filmmaking team. Not only had they made the most accessible zombie movie ever, they had done it with style and lots of humor, convincing viewers that these three individuals must be among England's funniest and most likable blokes. Critics were pleased, Internet surfers were delighted, and though the film may not have made much of a splash at the US box office,

the support of the two aforementioned groups had an effect where they most usually do, on DVD sales.

This year's Hot Fuzz reunites Wright, Pegg, Frost, and dozens of cast/crew members. Where they succeeded before, they do so again, even more so. Like Shaun, Hot Fuzz targets a very specific type of movie. This time, it's the police action flick and they prove to be as well-researched and proficient in this subgenre as they were in zombie films, bringing an accuracy and strong affection to the table while aspiring to more than mere parody.

Again assuming the lead, Pegg plays London police officer Nicholas Angel, a man who's so efficient at and dedicated to his profession that his arrest statistics are making those around him look bad. To the approval of his colleagues, three desk job superiors (briefly-glimpsed Martin Freeman, Steve Coogan, and Bill Nighy) have Angel transferred to Sandford, a small, crime-free village where he is sure to slow down.
Angel moves into Sandford's castle and must adjust his by-the-book lifestyle to match his new hometown, where the biggest threat is the presence of a human statue and where the quirky police officers spend their days eating cake. Drawn to the new sergeant is laid-back cop movie enthusiast Danny Butterman (Frost), who can merely dream of the type of action he's seen in films like Lethal Weapon and Point Break. The straight-laced outsider and the hefty son of the courteous Inspector (Jim Broadbent) make a wonderful odd couple of partners, but Sandford is too uneventful and the movie is too wise to merely let them loose in a buddy comedy.
Instead, a series of graphic incidents claim the lives of a number of townspeople. All of the force is eager to label the close occurrences as unfortunate accidents, but the astute Angel sees more to the acts than meets the eyes. His suspicions turn to a nonchalant grocery store manager (Timothy Dalton).
Much more than just a cop movie spoof, Hot Fuzz does excellent things in toying with audience expectations while scoring points as a murder mystery, a detective drama, a slasher film, a small-town sitcom, and a fish out of water story. The film earns each of these labels in a perfectly fluid and skillful fashion, never detouring or meandering from its central premise and always advancing itself in clever, original ways. At all times, Hot Fuzz is very funny, drawing laughs from its humdrum setting, colorful characters, and from the ingenious manner that it pays homage to various genres, while simultaneously conforming to and reinventing them.
Once again, in the script and its pitch-perfect filming, the appreciation for cinema that Wright, Pegg, and Frost carry is very evident. Equally noticeable is the talent they bring to the medium, which makes for a refreshing, crowd-pleasing solution of ideas, jokes, and contemporary feelings. The troupe is not merely content to tell a story; instead, they show it unfolding with a variety of visual styles that amplify the proceedings. Take, for example, Nicholas' journey to Sandford. It could have stressed the distance of relocation with a leisurely montage of slow shots and fade outs. Instead, the feeling is conveyed even more accurately in less time with a succession of quick shots of cab rides, train bench waits, and cell phone battery depletion.

The monotonous "another day, another dollar" aspect of being a Sandford cop is illustrated likewise in a fast, understated, powerful way. As are brilliantly-structured hypothetical sequences. This is no mere visual gimmickry for its own sake.

Even when Hot Fuzz appears like it may be destined to falter, such as dealing us a prolonged action climax that seems somewhat modeled after Shaun's tense bar finale, the movie has more than enough spirit and humor to justify its actions. That includes its use of profanity, which isn't gratuitous or pretentiously supposed to recreate "how people talk", but rather serves to clarify characters and punctuate humor. I can't quite say the same for what the MPAA refers to as "graphic images." On par with Shaun's gore but more spaced out, I'm not convinced that the wince-inducing demise depictions are necessary, though a physiologist might be able to definitively prove a link between painful contortions and the releases of laughter. It wouldn't surprise me, in no small part because I feel that the team behind Hot Fuzz seems to know precisely what they're doing. Here, they've made another great movie which leans on its predecessors but stands successfully on its own.

Having nearly tripled the worldwide earnings of Shaun of the Dead and almost doubling the film's North American gross, Hot Fuzz blasts its way to DVD just three months after its critically-lauded opening, trailing closely behind its United Kingdom home video debut.

VIDEO and AUDIO

As has long been expected for new theatrical releases, Hot Fuzz looks pretty terrific on DVD, thanks to a pristine element and sharp, detailed visuals. I noticed some extremely light grain in certain scenes that probably was undesired, but beyond that, the transfer is excellent. The film makes good use of the 2.35:1 widescreen frame, so if you somehow happen to mistakenly buy the fullscreen version, swallow your pride and do an exchange. It's well worth it.

The Dolby Digital 5.1 soundtrack may seem somewhat simple at first, but as the film progresses, it increasingly comes to life. If you've got close neighbors who don't care to hear what you're watching, then the final quarter of the film may prove to be an exercise in patience as the audio fluctuates between needing to be raised and lowered in volume. Without such inhibitions, you may appreciate the design, which is heavy on bass and very active, not to mention precise and crisp. Happily, dialog doesn't get buried amidst the action and the music is well-balanced too.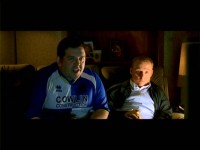 BONUS FEATURES, MENUS and PACKAGING

A plentiful menu of bonus features is arranged in a scattered fashion. Cleverly dubbed "Inadmissible", deleted scenes (20:30) are offered with optional commentary from director Edgar Wright. By the menu's count, there are 22 deletions, but in fact there are more than that, though almost all of these brief bits are extensions of existing scenes rather than unique, substantial set-ups.

There's definitely some funny material here, but nothing that would have changed the film beyond adding to its runtime.

Wright and Simon Pegg provide an audio commentary for the entire feature. Spirited and upbeat, the duo has plenty of insight to share. Movie buffs will appreciate their rapid stream mention of movies that they allude or aspire to. Disappointingly, they reference other commentaries and a making-of documentary that aren't here (more on those later).

There are two additional ways to enhance playback of the film. When turned on, "Storyboards" provides an on-screen icon at the start of scenes for which you can view the drawings that planned them out. Pressing enter takes you to a gallery of storyboards for that scene, though no split-screen comparison is offered, if anyone still gets a kick out of those.

More exciting is the on-screen trivia track "Fuzz-O-Meter." While it could use a flashier font or some graphics (and on 16x9 displays, the entire frame will regularly be covered), the information it dispatches is enlightening. It identifies filming locations and songs, while providing well-timed tidbits on all sorts of things pertaining to the film, its names, and the countless inspirations it makes reference to. This subtitle track is fit to be viewed in tandem with the commentary, even if it ends up being redundant in several places that way.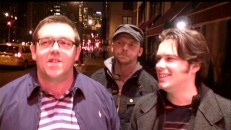 The 28-minute featurette "Hot Fuzz in the USA" (which the menu calls "The Fuzzball Rally: US Tour Piece") is a pleasant alternative to a standard making-of. Dealing not with the film's production, but with its promotion, this piece documents Wright, Pegg, and Nick Frost's springtime travel to ten American cities in anticipation of the film's April opening. It's very interesting to witness the home movies of an apparent endurance challenge for the trio of filmmakers,

who sit for countless post-screening Q & A sessions, with phone interviews, podcast interviews, TV interviews, and photo shoots on the side. To maintain their sanity, they goof off and flush cakes down the toilet. Funny, fascinating, and refreshingly candid, it's a rare treat to get to see this substantial aspect of the moviemaking business from this perspective.

A reel of "Outtakes" (10:15) provides the expected; contagious laughter over botched lines, missed marks, and general goofs. There are also some scene variations in this worthwhile collection. Given a listing all its own, "The Man Who Would Be Fuzz" is a 20-second outtake which I didn't really get until I saw how the back cover described it. Apparently Pegg and Frost channel Michael Caine and Sean Connery in this brief outdoor exchange.

Under "Trailers", we gladly find Hot Fuzz's theatrical trailer (2:30), two UK TV spots (0:30 and 0:50), and a director's cut trailer (0:30).

"Danny's Notebook: The Other Side" is merely a 12-second look (with dialog and sound effects) at the graphic, unseen flipbook drawing which adorns the back side of pages in the sidekick's official notepad.

Last but certainly not least is "Hot Funk" (3:35), a rather hilarious montage of scenes from the film in which profanity has been dubbed over with inoffensive, highly suitable replacements.
Not listed but also to be found as an Easter Egg from the Main Menu is a 15-second clip from the filming of the memorable fence-jumping sequence.
While on its own merits, the supplemental slate here is quite satisfactory, a considerable amount of content that recently made its way onto the film's two-disc Region 2 DVD does not surface here. It sounds like we're treated to the best commentary, but three others accompanied the film in its home nation: two cast tracks (one by the Police Department actors, one by the villager actors) and one by a pair of real cops who served as technical advisor. Also included on the Region 2 Special Edition were a half-hour documentary, six featurettes, a half-hour of video blogs, a Plot Holes & Comparisons section, a poster and photo gallery, and director Edgar Wright's 40-minute 1993 cop action student film Dead Right complete with commentary and featurette.
Amounting to no small chunk of exclusions, those who love extras and have multi-region capabilities may be wise to import. While a film as popular as this may seem ripe for getting revisited down the line, Universal is not a studio that's especially quick to grant re-releases and Shaun of the Dead's UK-exclusive extras have remained exclusive over the past two years, even with ample opportunity to revisit the film, as on its imminent HD DVD debut.
The disc opens with skippable previews for Balls of Fury, White Noise 2, "Heroes": Season 1, and "The Office."
The menus cleverly take one around the different parts of the police headquarters, boasting crosshair cursors, apt sound bites, score selections, and short, appropriate transitions. In a nice touch, all bonus features offer optional English subtitles. The only insert inside the keepcase is a 4-page booklet which promotes the benefits of HD DVD and the Universal titles available on the young format.
CLOSING THOUGHTS
The creative team behind Shaun of the Dead prove they've got more than a good zombie movie send-up in them. Hot Fuzz surpasses the group's first collaboration, as a brilliant cop comedy that has great fun with cinema's conventions and clichιs, specifically those of action films from the past 25 years. Like their prior effort, this one's a little excessive in gore, but it makes up for that with copious amounts of wit and ingenuity plus clear mastery of storytelling techniques. This likable flick serves up not only big laughs that ensure an uproarious first viewing but lots of little sight gags and subtle plot points that demand and reward repeat viewings.
As such, it's definitely one fit for most DVD collections. Universal's DVD satisfies with fine video/audio and a healthy serving of supplements, but it's unfortunate how the latter pale considerably next to Region 2's two-disc Special Edition DVD.
Buy from Amazon.com / Buy 3-Disc Collector's Edition DVD / Buy Ultimate Edition Blu-ray