and Aaron Wallace

Over the final four months of 2009, three American movies dealt with the notion of people living life in control of other bodies. Among them is James Cameron's Avatar, which in a few weeks will become the highest-grossing film of all time.

Better attended than the Gerard Butler third-person shooter flick Gamer but as unlikely to go down in the record books is the Bruce Willis vehicle Surrogates.

Adapted from Robert Venditti and Brett Weldele's five-issue 2005-06 comic book series, Surrogates depicts life in the near-future. Thanks to a breakthrough by Virtual Self Industries (VSI for short), human beings can now experience the world navigating a robotic clone of themselves. The robots are superior, at least visually. Wrinkles and baldness are a thing of the past. Everyone seen walking about Boston has flawless airbrushed skin, perfectly coiffed hair, a winning smile, and a dynamite physique. Their operators, who sit at home in darkness wearing eyepieces, are far less presentable, but nobody ever sees them. They're too busy enjoying the virtual artificial thrills that derive from replaceability.
Not even husbands and wives use their given bodies for genuine face-to-face time. At least, that's true of our protagonist, FBI Agent Tom Greer (Bruce Willis), and his beautician wife Maggie (Rosamund Pike), who are still mourning the death of their young son. Their family woes take a backseat to a less interesting story involving the first murder to occur in years. The destruction of a surrogate kills the young man controlling it. Greer takes the case with his partner Jennifer Peters (Radha Mitchell).
Their investigation brings them into contact with the father of the deceased, VSI's elusive former chairman (James Cromwell), a well-protected leader of an anti-surrogate cult known as The Prophet (Willis' Pulp Fiction co-star Ving Rhames), and a tubby tech guy (Devin Ratray, Home Alone's Buzz McCallister).
The film dispenses its plot points and twists clumsily. The mildly futuristic urban world is never compelling, nor is it even as coherent as the marketing implied it would be. The main story is thin and derivative. Even with the most universal of bases (warts and all, humanity trumps robotics), the production struggles to earn our sympathy, lazily employing everyday sidewalk traffic to tug at our heartstrings. Although there are some sleek sights (as one would expect from $80 million of major studio money), the visual effects are surprisingly cruddy on the whole.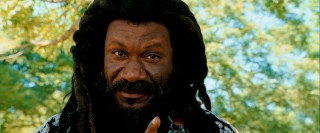 There really is little to take from this cold generic sci-fi film, directed by Jonathan Mostow and written by his Terminator 3: Rise of the Machines scribes John Brancato and Michael Ferris (who stayed on to pen Terminator Salvation). Whatever insights they had about society's value on external beauty and dependence on technology get overshadowed by a bland homicide investigation.

The few bursts of action all push this toward preposterousness and yet the film doesn't even have the decency to be bad enough to enjoy derisively.

Grossing just $38.6 million domestically and an additional $22 M overseas, Surrogates registered as a flop, but one that seemed expected from its opening in the cinematically tepid month of September. The performance reminded us that star Willis, who made this his first major credit since 2007's hit sequel Live Free or Die Hard, has only had a few box office successes outside of that signature four-movie franchise. The losses here may encourage distributor Disney, who drastically scaled back output of its Touchstone Pictures label to three releases a year, to play things even more safely. Henceforth, we could see more inexpensive romantic comedies (in the hopes of The Proposal's giant returns), more of the big budget Disney spectacles (the colon-subtitle kinds that usually involve producer Jerry Bruckheimer), and fewer mid-range creative gambles like Surrogates.

Four months after its theatrical debut, Surrogates comes to DVD and Blu-ray next week with just one edition for each format.
DVD Details

2.40:1 Anamorphic Widescreen
Dolby Digital 5.1 (English, French, Spanish)
Subtitles: English for Hearing Impaired, French, Spanish
Closed Captioned; Audio Extra Subtitled
Release Date: January 26, 2010
Single-sided, dual-layered disc (DVD-9)
Suggested Retail Price: $29.99
Black Keepcase
Also available on Blu-ray Disc
VIDEO and AUDIO
Surrogates opts for a predictably stylized, cold palette in its entirely satisfactory 2.40:1 anamorphic widescreen DVD presentation. I noticed no problems with the sharp, vibrant picture. The Dolby Digital 5.1 soundtrack will give your system a workout, but it's also one of those mixes that apartment dwellers and late-night viewers will have to watch with remote in hand to bridge the gaps among all the dynamic peaks and valleys.
The Blu-ray presents a 1080p/AVC-encoded hi-def transfer and looks predictably fantastic. Everything about this world of the future is pretty visually creepy, but the vibrant and practically flawless transfer conveys that well. The Blu-ray's 5.1 DTS-HD MA soundtrack is booming, bringing a full sound field to life with excellent directionality and tons of bass. Not infrequently, things get very loud and I found myself reaching for the volume button when the action picked up. The Blu-ray also provides French and Spanish tracks in Dolby Digital 5.1 Surround Sound. The Blu bonus features are also in 1080p and either 5.1 or 2.0 English Dolby Digital.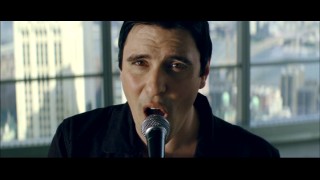 BONUS FEATURES, MENUS and PACKAGING

Although Surrogates' short running time assures there was room for much more, just two bonus features accompany the film on DVD. First up is an audio commentary by director Jonathan Mostow. Having much to share, Mostow talks through the end of the end credits with nearly no pauses. He speaks frankly about his intentions, visual stylings, and the movie's themes.




You won't find this deleted scene on Surrogates' DVD; it's a Blu-ray exclusive:


Even if you find Mostow values his film more highly than you, you should still appreciate this above average track.

Next and last is a music video for end credits song "I Will Not Bow" (3:45) by Breaking Benjamin. Besides the usual film clippage, we get footage of the rock band performing their first single in a high-rise while a pretty young surrogate woman apparently waits to meet them.

The Blu-ray edition, with its $10 higher price tag, includes three exclusive bonus features.

"A More Perfect You: The Science of Surrogates" (14:34) is the weightiest supplement (aside from the commentary, perhaps), and is regrettably reserved for the Blu-ray. Here, cast and crew wax philosophical about what a world inhabited by surrogates would mean and how today's technology suggests that we're not too far off from that reality.

"Breaking the Frame: A Graphic Novel Comes to Life" (6:33) spends some time with Robert Venditti, creator of the comic book series that inspired the film. He discusses the story origins, the thinking behind the color palette and other artistic choices in his graphic novels, and the thrill of publishing and finding an audience that included a major Hollywood studio.

Finally, the Blu-ray offers six deleted scenes (6:03 in total). These are all ultimately dispensable but the first, in which Greer stops a non-surrogate from urinating on busload of surrogate passengers, provides a memorable glimpse into the movie's universe.

The DVD's animated main menu earns some creativity points, as it displays clips from the film as if it were a promotional corporate video for surrogate-selling VSI. The Blu-ray menu screen is pretty generic, but is animated and features some suspense-provoking score in the background.

The DVD loads with trailers for Tim Burton's Alice in Wonderland, The Boys Are Back, and Everybody's Fine, and a Blu-ray promo. The Sneak Peeks menu holds additional ads for X-Games: The Movie, Tron Legacy, "Lost": The Complete Fifth Season, and "Jay Unmarried": The Complete First Season. Promoted via the Blu-ray's sneak peeks are Lost University on Blu-ray, Tron Legacy VFX Concept Test Footage, Tim Burton's Alice in Wonderland, Everybody's Fine, and generically "On Blu-ray".

The only insert inside the DVD's unslipcovered keepcase is a booklet promoting (what else?) Blu-ray. The Blu-ray's standard blue keepcase comes with an embossed, holograph-tinged slipcover over it.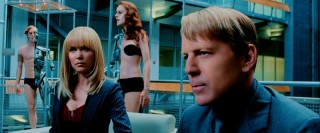 CLOSING THOUGHTS
If you're really hard up for some sci-fi action or to see Bruce Willis back in hero mode, then a viewing of Surrogates might not disappoint you, provided you enter with low expectations. This isn't a terrible movie, but it's definitely not a good one and it gives you very little to chew on, enjoy, or remember. To add insult to injury, the DVD needlessly drops the Blu-ray's deleted scenes and two featurettes.
More on the DVD / Buy from Amazon.com / Buy on Blu-ray from Amazon.com