In title, The Boys Are Back is just two words shy of rock band Thin Lizzy's best-known song. In emotion, it's a much further cry from that 1970s anthem about rowdy bar & grill patrons' return.
Based on Simon Carr's 2000 memoir (whose title has lost the "In Town" in adaptation), this Miramax-distributed drama stars Clive Owen as Joe Warr, a British sportswriter living in Australia. His second wife is suddenly stricken with cancer and soon passes away. That leaves Joe alone with their 6-year-old son Artie (Nicholas McAnulty). This could be the springboard for a sitcom or for sentimentality. The Boys Are Back aims somewhere in between, delivering its widowed dad drama with a fair amount of levity.
Joe has his hands full with Artie. The film mines this for its cuteness, as dishes pile up and Dad isn't prepared to handle the eccentric boy's mood swings and tantrums. Formerly preoccupied with his work, Joe is thrust into the challenging life of a single parent,

while still having to please his employers at The Australian and accept the silent disapproval of his in-laws. On top of this, Joe welcomes Harry (George MacKay), a prickly teenaged product of his first marriage, for an indefinite vacation from his British boarding school.

Joe copes with this hand he's been dealt with few rules, much horseplay, and above-average alcohol consumption. Through private hallucinatory visions, he continues to see and talk with his deceased wife (Laura Fraser).

The film flirts with formula and tidiness, as when Joe quickly mistakes the beautiful Laura (Emma Booth) for Artie's teacher. She's actually just a fellow parent who happens to be extremely generous, single, and evidently interested. Perhaps because of the true life origins, though, things remain complex and fairly believable. Conflict arises without adjusting the film's small scale, keeping the cast investable and real. A few turns require suspension of disbelief, but the drama reaches its satisfying resolutions in a sincere and human fashion.
Fittingly, Boys opts for methodical pacing. In doing so, it invites introspection, poignantly discovers some realistic beats, and hits upon truths. Not everyone will have the patience or temperament that the film demands, but those who do will find it resonates with reasonable success.
In the lead role, Owen shows himself to be plenty competent performing human drama sympathetically. Also impressing are McAnulty and MacKay as the burdensome kids. The direction by Scott Hicks (Shine, No Reservations), on this fifth narrative film of his, is satisfactory yet subtle. One of the film's few remarkable features is its extensive use of songs by Icelandic act Sigur Rós, which are mixed in tactfully with dramatic interests in mind.
After a brief, disappointing 6-week run in American theaters last fall, The Boys Are Back came to DVD, but not Blu-ray, this week.
DVD Details

2.35:1 Anamorphic Widescreen
Dolby Digital 5.1 (English, Spanish)
Subtitles: English for Hearing Impaired, Spanish
Closed Captioned; Extras Subtitled
Release Date: January 26, 2010
Single-sided, dual-layered disc (DVD-9)
Suggested Retail Price: $29.99
Black Keepcase
VIDEO and AUDIO
The Boys Are Back may not be a film which screams 2.35:1, but it certainly makes nice use of that wider frame. The DVD's picture quality yields no complaints. It is as clean, vibrant, and sharp as films costing ten times as much. (And it looks quite a bit better than films whose studios are currently trying to make the leap to Blu-ray seem more substantial.) The Dolby 5.1 soundtrack also delights with a surprising amount of atmospheric sound. Playing in a backyard full of kangaroos both looks and sounds fun. A Spanish dub and subtitles are provided.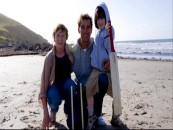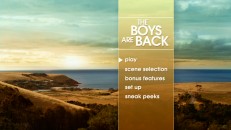 BONUS FEATURES, MENUS and PACKAGING

Miramax doesn't provide a whole lot of extras on this DVD. First up is "The Boys Are Back: A Photographic Journey" (16:21). As you might guess, this is simply a slideshow of production photos. The stills offer both behind-the-scenes looks and in-character moments. Strangely, they're squished to fit the 1.33:1 aspect ratio. The shots, which are livened by some depth tricks and camera motion, can be enjoyed simply with pieces of Hal Lindes' score laid over it

or with narration by director Scott Hicks. In the absence of a full commentary, Hicks' remarks on the production and cast are valuable and appreciated here.

"A Father and Two Sons, On Set" (1:43) offers a brief look at the real family whose story is dramatized, that of author Simon Carr and his grown boys Hugo and Alexander.

The DVD's main menu follows a short, sunny montage with a barely animate shot of South Australian beach.

The disc loads with trailers for The Last Song, Surrogates, and Everybody's Fine. These are also found on the Sneak Peeks menu along with promos for Like Stars on Earth, When in Rome, "Gary Unmarried": The Complete First Season, and Blu-ray. The high-def format is also advertised in the case's only insert.
CLOSING THOUGHTS
It's no easy thing for a tiny intimate dramedy to find an audience today, especially without earning some award recognition first. Such is the challenge The Boys Are Back faces, as it risks being overlooked by all but Clive Owen's most devoted fans. While this isn't a great film, it is above average and doesn't deserve such a fate. In place of the noise, flash, and sizzle of mainstream fare, Boys supplies substance, thoughtfulness and poignancy -- ingredients that adult moviegoers might rightfully consider largely absent from modern cinema. If you agree with such a sentiment, then you'll probably appreciate seeing this.
More on the DVD / Buy from Amazon.com / The Book: The Boys Are Back in Town by Simon Carr