2007 has been as good a year professionally for Seth Rogen as practically anyone in the movie industry. In June, Rogen impressed with his first starring role in the largely-improvised pregnancy comedy Knocked Up, one of the increasingly rare films to be both critically acclaimed and a blockbuster. Two and a half months later, Superbad, the realization of his debut screenplay penned with Evan Goldberg, became another of the year's biggest hits, earning favorable reviews and a hearty $121 million domestically. To appreciate Rogen's rise, we must look back eight years. That's when he, a 17-year-old stand-up comedian, was cast in "Freaks and Geeks", the prematurely cancelled, brilliant hour-long NBC dramedy. Though arguably the most forgettable performer in the series' talented core, Rogen has nonetheless remained creatively and personally close to "Freaks" producer Judd Apatow.

When the fiercly loyal Apatow made it big with his 2005 directing debut The 40-Year-Old Virgin, Rogen was a co-producer and part of his supporting cast. Apatow has since been there to usher the chubby, curly-haired Rogen to unlikely stardom, helming Knocked Up as writer-director and serving as producer on Superbad.

The fruitful relationship with Apatow clearly has influenced the kind of movies Rogen wants to make. Superbad delivers the same mix -- verbal vulgarity wrapped in feel-good poignancy -- of Apatow's two most personal triumphs. In focus, it further slides down the male lifespan, moving past Virgin's onset of middle age and Knocked Up's cusp of manhood to the tail end of boyhood, where protagonists Evan (Michael Cera, "Arrested Development") and Seth (Jonah Hill, now a full-fledged Apatow veteran) are wrapping up their senior year of high school. Best friends and slight social outcasts, the two teens wish to experience certain rites of passages (namely, sex) before having to reluctantly part ways to attend different colleges (Evan has been admitted at Dartmouth, Seth has not).

The boys' prospects for satisfying their lascivious desires take a sharp, sudden increase when Seth's substitute home ec partner Jules (Emma Stone) provides an open invitation to a casual, unsupervised graduation gathering at her parents' house. Adding to the excitement is the lucky stroke that today happens to be the day when Seth and Evan's geeky third wheel Fogell (newcomer Christopher Mintz-Plasse) is getting a fake ID. As a result, Jules entrusts a hundred dollars of alcohol money to the guys, who take drink orders from their partygoer classmates, including Becca (Marth MacIsaac), the object of Evan's shy affections.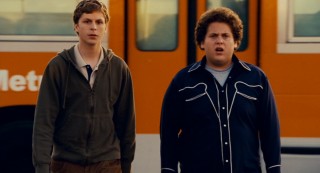 The film follows Seth, Evan, and -- to a lesser degree -- Fogell on their quest, which is made interesting by the development of various obstacles. For example, Fogell's phony driver's license is riddled with unbelievable information that he's strategically chosen; it pronounces him the 25-year-old single-named Hawaiian resident "McLovin". McLovin's liquor store run puts to shame the corpulent Seth's mere fantasy-laden shoplifting attempt. Just when Fogell is about to leave, having defeated all odds and obtained the assorted booze, the store is robbed and a pair of inept police officers show up to take witness reports. The twentysomething cops, Michaels (Rogen) and Slater ("Saturday Night Live"'s Bill Hader), soon become Fogell's company for the evening. This form's the film's second thread, as the bespectacled teen tags along with the lazy officers to a bar and through aimless rule-breaking patrolling.
Most of the time, though, our attentions remain with Seth and Evan, who seem to possess some of the screenwriters' personal traits in addition to their first names. The pals' misadventures en route to their Grail involve a variety of weirdos, a raucous adult house party, and, perhaps inevitably, the same two officers making rounds with their friend. Replete with some of the bawdiest dialogue ever heard in mainstream cinema, Superbad follows the pattern of Apatow's Virgin and Knocked Up by granting its characters some self-discovery and redemption. It does this while still racking up a substantial tally of underage drinking, strong and largely sexual profanity, and general grossness that ranges from extensive phallic doodlings to the transfer of menstrual blood.
On paper, Superbad looks pretty unextraordinary. Teens seeking to lose their virginity have been the focus of various comedy films, from Porky's and Losin' It to the more recent and profitable American Pie. As far as the script is concerned, Superbad largely just reduces the number of characters to a bare minimum and compresses the time period to a little more than a day. The former seems to work in the movie's favor, with viewers getting plenty of opportunities to know Seth and Evan as more than just a foul-mouthed fat kid and his reticent achiever of a best friend. The typical high school cliches -- jocks, nerds, cheerleaders, and sluts -- are nearly altogether ignored in favor of a more grounded, realistic student body. The time compression, on the other hand, renders the film full of convenient coincidences, like a certain tossed-in-for-laughs plotline in which Seth has an entire chapter of his life he's never shared with his lifelong best friend. It's never any more contrived than, say, The Breakfast Club, but the manufactured elements do detract since efforts are made to be genuine in depicting teenagers' feelings, motivations, and vocabulary.
That said, the film's entire design and the specifics within it become secondary to one question: does it entertain? The answer to that is yes. Superbad consistently holds one's attention and amuses, whether it's pushing the envelope for shock value, dizzying us with surreal episodes, scoring a thrill at a mildly obscure if slightly anachronistic reference (like multi-colored ballpoint pens), or making us sympathize with kids that we want to come out of the night feeling better and smarter if not necessarily less virginal.

Superbad isn't as insightful as Knocked Up, which emerged as its closest kin this summer. But it's also a far cry from the mindlessness and immaturity that tend to permeate racy teen comedies. That's not to say that the film avoids the hallmarks of its class altogether; it seems bizzarre in light of the unprecedented crassness to consider it loftier than its less frank predecessors.

Still, it aspires to and largely succeeds at winning over more than teens looking for dirty jokes and vicarious recklessness. It gives us a steady flow of laughter and we invest in the characters. This is a good deal for both viewer and filmmaker, as the film is able to transcend its common design with spirited execution. And in the end, it does more than try to make us laugh, too rare an act in big screen comedy.

Three and a half months since opening in theaters, Superbad arrives on DVD from Sony in nearly as many different flavors as Universal gave Knocked Up. The majority of customers, i.e. those buying standard DVDs, have three versions to choose from: a single-disc of either the R-rated theatrical cut or an extended unrated cut or a 2-Disc Unrated Extended Edition. In case the boldface didn't make it clear, it is this last version which is the subject of our review. Having not seen the film in theaters, I'm relying on research to figure out what is new in the movie now. The answer seems to be not much; at 1:58:30, it runs just barely long enough to be considered 119 minutes, which is less than 5 minutes longer than the theatrical cut. Rather than one or two substantial scenes, all the Unrated Cut seems to supply is a few minor extensions, hardly raising the raunch over the surely high levels of the theatrical cut.
DVD Details

1.85:1 Anamorphic Widescreen
Dolby Digital 5.1 (English, French, Spanish)
Subtitles: English, Spanish, French; Closed Captioned
Some bonus features subtitled in English and Spanish
Release Date: December 4, 2007
Suggested Retail Price: $34.95
Two single-sided, dual-layered discs (DVD-9s)
Black Keepcase in Cardboard Slipcover
Also available in 1-Disc Unrated DVD, 1-Disc R-Rated DVD,
and on 2-Disc Unrated Extended Blu-ray
VIDEO and AUDIO
Past the film's opening, which deliberately opts for a worn retro feel, Superbad looks great in its 1.85:1 anamorphic widescreen transfer. The visuals have a slight but definite style to them; colors are a bit muted compared to the bright, natural-looking Apatow-directed comedies. The element remains clean at all times, and the disc handles the roughly even mix of light and dark scenes very well.
Like most modern cinema, the film is presented in a Dolby Digital 5.1 soundtrack. I was unable to evaluate the DVD on a surround sound system, but despite some mild peaks and valleys in the dynamics, the track posed no problems on reduced means. French and Spanish dubs are also provided, as are English, Spanish, and French subtitles on the feature, and English and Spanish subtitles on most bonus features.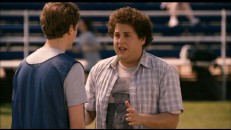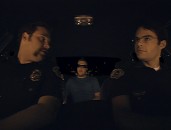 BONUS FEATURES, MENUS and PACKAGING

Disc One's only real bonus feature is an audio commentary

which gathers via a coast-to-coast phone connection director Greg Mottola, writer-producer Evan Goldberg, writer-producer-actor Seth Rogen, producer Judd Apatow, and stars Jonah Hill, Michael Cera, and Christopher Mintz-Plasse. A clear and warm dynamic is formed out of the two groups, ensuring that the track suffers from no lulls, except just before Apatow storms out with his young daughter Maude, supposedly offended by the profanity that's flying. Mock tiffs aside, this is a readily entertaining and often funny discussion that amounts to watching the film with a group of friends who also happen to be the ones that made it. There's some inside information and amusing production stories dispersed, but it's the camaraderie and humor that earn the commentary a recommendation.

Disc Two's extras begin with seven Deleted & Extended Scenes (12:45). Found among them are another scene with Evan's mother, Officer Slater talking more about his two wives, Fogell being recognized by a classmate at the liquor store, an alternate version of Evan being put on the spot by the drug users (where he has to try to breakdance), Miroki's Christopher Walken impression, and more in the police squad car including a lengthy extension to the discussion on the forensic value of semen (complete with character-breaking laughter).

"Line-o-Rama" (4:10) serves up alternate ad-libs, most from Jonah Hill and most coming up with new, colorful ways to describe sex. The Gag Reel (4:20) offers miscellaneous hijinks, spilled laughter, and some deleted lines.

Next up is "Cop Car Confessions" (33:45), an inspired series of thirteen shorts starring Seth Rogen and Bill Hader in character as their Superbad officers. In all but two of the episodes, they're joined by an actor or comedian with an Apatow connection (most often Knocked Up). It's a cross between "Taxicab Confessions", "Cops", and "Reno 911!." At times, it's quite funny. Each installment runs between 1½ and 4½ minutes, with most running 2½. The guests are: Jane Lynch as an insane woman, a powder-nosed Craig Robinson ("The Office"), Chris Kattan as a man in squirrel costume, Ian Roberts as a youth minister/fight club member, Judd Apatow as a bribe-seeking lawyer, "SNL"'s Kristen Wiig as a prostitute, Joe Lo Truglio as his Superbad character in the buff, Ken Jeong in drag, Adam Scott as a "boner contest" enthusiast, Nick Swardson as a supposedly blind beggar, and Justin Long as a Forrest Gump-esque version of himself.
The 13-minute "The Making of Superbad" sheds some light on the production, but it's more superficial and slick than one would hope for on a film that's not the norm. But at least it's genuine.
"The Vag-Tastic Voyage" (1:10) is a full version of the fictitious porn website scene excerpted in the film; it includes four breasts and a smarmy male lead.
Clips from four Table Reads are next. The first (5:15) from 2002 finds Rogen reading as Seth across from his "Freaks and Geeks" co-stars Jason Segel as Evan and Martin Starr as Fogell. Remarkably, even five years ago, the screenplay was close to its final version. The other three (7:20, 9:30, 6:00) from 2006 feature Superbad's real cast and thus serve little purpose beyond illustrating how much of a kick the cast and crew got out of the script.
Footage from auditions are provided for the movie's three young male leads. Michael Cera (2:00) and Jonah Hill (5:40) sit and react to an off-camera Seth Rogen, while Christopher Mintz-Plasse (5:45) interacts and improvises with Cera and Hill. The footage is perhaps most noteworthy for hearing early versions of scenes.
A series of short supplements that are exclusive to the 2-Disc Edition follow. "Michael's Voicemails from Jonah", are as you would guess, audio messages left for Cera by Hill. Running 30 to 75 seconds each, they're meandering and worth listening to, but not quite as entertaining as you'd expect for being deemed DVD-worthy. The quite random "Snakes on Jonah" (4:40) finds an Australian animal wrangler irritating Jonah Hill with a variety of insects and reptiles. "Dancing Title Sequence" (3:10) supplies a look at the green/blue screen dancing done by Cera (and a little by Hill) for the silhouetted opening credits and DVD menu. "TV Safe Lines" (3:00) begins and ends with a barrage of profanity; in between, it compares the theatrical cut of two scenes to their clean broadcast-ready versions. In the vein of fake Knocked Up pieces, "Everyone Hates Michael Cera" (6:40) juxtaposes Cera's warm reflections on production with footage of cast/crew members pretending to coldly shun him.
"On Set Diaries" (17:40) is a featurette comprised of camera-addressed production updates given by various key cast/crew members and complemented by B-roll footage and some film clips. It's a fun, earnest, and slightly informative look at the film's shoot from a few perspectives.
"The Music of Superbad" (13:00) turns the spotlight on the mostly aging funk musicians who lend a '70s air to the film. It's a mix of studio recording sessions footage and interview clips, but suffice it to say that most people won't be too enthralled by this overlong segment. The mildly amusing "Press Junket Meltdown" (3:25) lets Hot Fuzz and Shaun of the Dead director Edgar Wright play the part of a British journalist who asks all the wrong questions, until Jonah Hill flips out.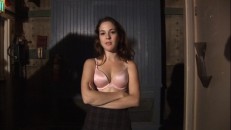 Finally comes "Pineapple Express: Exclusive First Look" (4:20), which serves up a single marijuana-centric scene from the cop-stoner action-comedy film written by Evan Goldberg and Seth Rogen, who appears alongside his "Freaks and Geeks" castmate James Franco. It's a none too promising excerpt.
Set to excerpts of funk, the menus of each disc feature imagery that's a bit of dancing silhouettes against rainbow and more prominently a slideshow showcase for Seth's phallic sketches, done by screenwriter's brother David Goldberg. There is no insert inside the standard keepcase, the artwork of which is replicated in a cardboard slipcover that touts the Pineapple Express sneak peek on a sticker.
Playing at the start of Disc 1 is the trailer for Walk Hard: The Dewey Cox Story. In addition to this, the disc's Previews menu also holds promos for Talladega Nights: The Ballad of Ricky Bobby, Reign Over Me, Vantage Point, Across the Universe, The Brothers Solomon, Spider-Man 3, I Know Who Killed Me, Feel the Noise, Hostel: Part II, "Seinfeld": Season 9, Resident Evil: Extinction, Monty Python's Life of Brian: The Immaculate Edition, and the Blu-ray format. With space for all these, there's no reason Superbad's own trailer couldn't have been included.
CLOSING THOUGHTS
If you have a very high tolerance for heavy sexual profanity, you'll find Superbad to be a good and funny time. Though its captured moments of adolescence aren't quite enough to make it a new generation's American Graffiti, there's more here than sex-driven hijinks. Viewers looking just for those will be satisfied by what's offered, but the film manages to appease more than filth-seeking teens. It's a cut above the typical comedy and it should hold up better than lesser members of its class.
If you deem Superbad good enough to own -- for that, a viewing should come first, unless you're certain you can handle some of the most vulgar material put on film -- you have three choices. I don't think there is a clear winner of the three. Obviously, those wanting it all should opt for the 2-Disc Unrated Edition I've just reviewed, but it seems like the theatrical cut isn't considerably different and most of the best bonus features are also on the single-disc DVDs as well. If you're not someone who makes a point to see all the supplements, you'd be fine to save the $6 and opt for what sounds like a solid single disc.
Buy Superbad from Amazon.com:
Unrated 2-Disc DVD • Unrated 1-Disc DVD • R-Rated 1-Disc DVD • 2-Disc Unrated Blu-ray