After more than thirty years of film acting, Dennis Quaid seems poised to enter a new phase of his career in Smart People. This 2008 Miramax-distributed independent dramedy gives Quaid

the leading role and it's reminiscent of upper middle age ones that earned accolades for Michael Douglas in Wonder Boys and Jeff Daniels in The Squid and the Whale.

Quaid plays Lawrence Wetherhold, a weary widower and college literature professor. Since his wife died an unspecified time ago, Lawrence seems to have given up caring. He doesn't bother to learn the names even of repeat students. He avoids addressing a pupil's concerns during assigned office hours. And his interest in the newly-opened department head position is driven purely by the prestige.

An incident early on brings the teacher into contact with Janet (Sarah Jessica Parker, Sex and the City), a physician and former student whom we soon identify as love interest.
Beyond that uphill romance, Lawrence has other issues pertaining to his family. His underachieving brother Chuck (Sideways Oscar nominee and Spider-Man 3 Sandman Thomas Haden Church) -- who was adopted, as Lawrence is quick to point out -- is in town with his familiar baggage of money and employment woes. Lawrence's teenaged daughter, Young Republican Vanessa (Juno's Ellen Page), appears to be better sorted with her hopes for a perfect SAT score and promising college prospects. There is also son James (Ashton Holmes), enrolled at Carnegie Mellon (where Dad works), who doesn't claim much attention from either father or the film.

The feature film debut for both screenwriter Mark Poirier and director Noam Murro, Smart People has no difficulty sustaining interest in its somewhat quirky cast and low-key situations.

It taps into the sensibilities possessed by some of this decade's biggest indie hits, like the ones most associated with Church and Page. But it lacks the payoffs, namely big laughs and poignant drama. The central romance is more concerned with manufacturing starts and stops than securing our sympathy. Meanwhile, what seems to emerge as the biggest subplot -- the relationship of straight-laced Vanessa and questionable influence Chuck -- is dealt with strangely, edited so that it varies between conflict, comedy, and a non-issue.

Alas, while it might not jell well enough to earn viewers' love or become a favorite, the movie remains diverting and investable. It can't quite decide if it wants to be dysfunctional character study or contemporary commentary, intellectual or goofy, but Smart People's uneven mix of it all is sufficiently compelling and, in turns, amusing and even a bit insightful.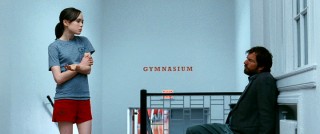 Inevitably, the film places a considerable weight on the shoulders of the actors, who perform dutifully. Though there are shades of the irresponsible and wry parts that respectively got them Oscar nominations, Church and Page stand out as handling their material quite proficiently. Some will find Quaid's anti-hero too dreary to bear and Parker fails to liven up a slightly bland, reactive role. But each of the four helps to find realism and meaning in novelist Poirier's peppery first script.
Perhaps audiences found the ironic title more off-putting than inviting, as Sundance-showcased Smart People's North American gross of $9.5 million was respectable in light of its limited 1,100-theater run but slight considering its unusual boast of four recognizable performers. On a film where they surely could have made a difference, critics offered little help -- giving pretty evenly mixed and rarely enthusiastic reviews.
Four months after opening in theaters, Miramax brings this R-rated film to DVD and Blu-ray, ditching the theatrical campaign's Scrabble tile logo in favor of cast-on-couch artwork bearing positively no relation to the film's content.
DVD Details

2.35:1 Anamorphic Widescreen
Dolby Digital 5.1 (English)
Subtitles: English, French, Spanish
Closed Captioned; Extras Subtitled in English
Release Date: August 12, 2008
Suggested Retail Price: $19.99 (Reduced from $29.99)
Single-sided, dual-layered disc (DVD-9)
Black Keepcase with Cardboard Slipcover
Also available on Blu-ray Disc
VIDEO and AUDIO
Presented in 2.35:1 anamorphic widescreen and Dolby Digital 5.1, Smart People offers fine picture and sound for a movie that's unremarkable on both fronts. The clean, sharp video and mix driven by dialogue and soft folksy rock meet one's expectations and bear quiet testament to Miramax's financial backing of the modestly-budgeted project.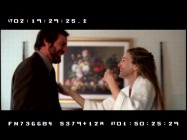 BONUS FEATURES, MENUS and PACKAGING

Extras begin with obligatory all-purpose featurette "The Smartest People" (16:30). This good piece takes turns discussing the movie as a whole, its production, and the five main characters.

Some valuable observations are made and, as an unmentioned bonus, we also get a look at director Noam Murro's dramatic slim-down from the fall 2006 filming to now.

Nine short Deleted Scenes (9:57) follow. As you'd expect, they provide a bit more depth but nothing groundbreaking to the characters, at least the three focal Wetherholds. Included here are four additional scenes of Lawrence at work and a couple involving Chuck and Vanessa. No commentaries or introductions are here to explain why they were cut.

"Not So Smart" is a 2-minute collection of short goof-ups and captured cast hijinks. Though we're given less context, it's as amusing as your typical gag reel and contains a few memorable barbs.

Last and longest is an audio commentary by director Noam Murro and writer Mark Jude Poirier. The track is pretty slow and forgettable on the whole. Murro and Poirier adopt a jokey tone while rarely discussing anything of consequence. Their remarks on wardrobe and set design turn our attentions to aspects otherwise unnoticed, but their production anecdotes and general thoughts on characters and scenes won't be deemed interesting by many. Most would be fine to skip this.

The DVD loads with the ubiquitous tongue-less smoking cowboy commercial, a trailer for Blindness, and a promo for Miramax Films. The latter two are also found in the Sneak Peeks menu, where they're joined by previews for The Chronicles of Narnia: Prince Caspian, and The Complete First Seasons of "Samantha Who?" and "Private Practice".

The main menu deserves some notice for its atypical colors, oblong shapes, and, most of all, stop-motion use of still photos. Submenus supply those first two aspects but without music or animation. Surprisingly and annoyingly, none of the video extras are enhanced for 16x9 displays.

The standard black keepcase slides into an ordinary cardboard slipcover that's remarkable only for adding a Sarah Jessica Parker spine. Inside the case, one finds a booklet of Blu-ray propaganda and a code for a free movie ticket to see Blindness (up to $12 admission) redeemable with an Internet connection and printer. In a return to the studio's short-lived frugality period, no chapter insert is supplied.
CLOSING THOUGHTS
Smart People certainly warrants a viewing for those fond of character-driven indies and the four lead cast members. Based on my enjoyment, I could go even further in endorsing it, but I'm confident that the general public will continue to have a mixed and fairly tepid reaction to the film and its small strides. With a fine feature presentation and extras slate, Miramax's DVD meets expectations. It's a disc that those who take to the film will find especially satisfactory down the line when the price drops.
More on the DVD / Buy from Amazon.com / Buy on Blu-ray from Amazon.com