Walt Disney Pictures wouldn't commit to making more film versions of the books in C.S. Lewis' Chronicles of Narnia series until witnessing the reception given their first adaptation. Released just before Christmas 2005, The Lion, The Witch and Wardrobe quickly removed any doubt we'd see more of this franchise. Wardrobe registered as the year's second highest-grossing release and, in defiance of industry predictions, outperformed all direct competition including the fourth Harry Potter movie and Peter Jackson's King Kong remake. Wardrobe's domestic earnings of $291 million also made it the second biggest live-action movie in Disney's history. Its $745 M worldwide intake put it above the first Pirates of the Caribbean and every other one of the studio's prior films save for two animated blockbusters (The Lion King and Finding Nemo).
Needless to say, work soon began to bring the second published Narnia novel to the big screen. And why not? The first film was an utter delight and even if the subsequent stories lacked the reputation of the original, who could resist spending more time in Lewis' fantastic universe with characters charmingly brought to life by the talented British actors discovered? Not Disney and co-producer Walden Media, at a time when literary franchises reign supreme in cinema.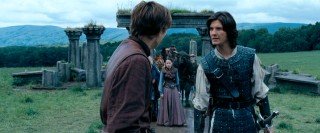 The Chronicles of Narnia: Prince Caspian catches up with the four Pevensie siblings, a close brood living in 1940s England. A year has passed since Lucy (Georgie Henley), Edmund (Skandar Keynes), Susan (Anna Popplewell) and Peter (William Moseley) were last in Narnia. There, they enjoyed royal adventures into adulthood, only to return to our world as children mere moments older.

From an underground London train station, the clan is summoned back to Narnia, instantaneously arriving at a beach. The Pevensies soon realize that the land is not as they left it. They deduce that hundreds of Narnian years have passed, which is why their castle Cair Paravel is nothing more than uninhabited ruins.

The centuries have brought much change to Narnia. Talking animals and other magical creatures now hide out in the forests, the trees no longer dance, and a race of people called Telmarines are in power. On that last matter, our entry point is Prince Caspian (Ben Barnes), a young man whose sinister uncle Miraz (Sergio Castellitto) plans to have killed on the night Miraz's wife gives birth to a son. Warned such by his well-intentioned professor (Vincent Grass), Caspian narrowly escapes death in the film's 8-minute prologue. Riding out of the kingdom on a horse, he winds up in the woods, taken in by some of Narnia's displaced and understandably distrustful enchanted beings.

The plot thenceforth is pretty simple. The Pevensies team up with cynical dwarf Trumpkin (Peter Dinklage) and venture to unite with Caspian and the Old Narnians in an effort to restore order to the land. Miraz and his vast army won't let that happen without a fight, though. All signs point to a clash.
This is a movie at war with itself. It wants the association to C.S. Lewis' beloved and best-selling line of fantasy novels. But it's certain that new, contemporary-minded excitement should be added at every turn. And it is, the film scripting as much original drama as possible and thus draining much of the source text's natural charm. Clearly, it aspires to the Lord of the Rings films in pacing and combat. While most would call those adventures a worthy model to follow, I grew tired of their ceaseless good/evil fighting. Yet, that's what Prince Caspian most believes in; it puts nearly all its stock in epic battles. Character personalities are literally an afterthought, which makes all that must be endured to get to them cold and meaningless.
The film actually does open with an adequate hour of entertainment that reintroduces us to our lead humans and their mystical domain. Then halfway in, it stages an elaborate dark nighttime castle raid. Viewers who can see what's going on and care about it will most likely realize the suspense being developed is hollow; even those unfamiliar with the books have no reason to doubt our heroes' safety, making every close-up of bloodless carnage mere diversion. Many interesting ideas from the book get lost in the translation to film, while room is found for generic manufactured elements: romance, rivalry, and battle scenes. The movie even fails to satisfactorily convey the fascinating discrepancy in Narnia and England timelines.
Characterization is kept to a minimum. Lewis' book was also somewhat lacking in this regard, but if you spend 2½ hours watching characters, you expect to learn about them or see them grow. The first film's most intriguing Narnian personalities (Mr. Tumnus, the Beavers, and so on) have all departed, although Tilda Swinton makes a brief return as the White Witch in wasted cameo that soon amounts to more dim action. New additions here include the chivalrous mouse Reepicheep (voiced by comedian Eddie Izzard). The only Narnian making as big of an impression as this diminutive CG creation is Dinklage, the cast's lone American, who the film asks to overreach with faint comedy.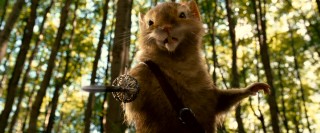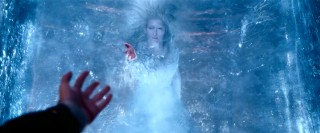 The Telmarines are envisioned as a Spanish-type people, with their performers originating from various Mediterranean countries. Those concerned with cultural representations may object on the grounds that Spaniards equal evil. More troubling is that these boring antagonists are reduced to accents, playing like a failed attempt at global appeal.
In the title role, Ben Barnes deserves special notice, but not for any positive achievement. It's pretty obvious what the filmmakers were hoping for with this casting: to mold a new heartthrob to figure prominently in this film and the two that followed. It's amazing that didn't happen; that this brave hero seen by tons of impressionable kids resulted in few crushes and little celebrity. Playing the barely-teenaged prince at age 26, Barnes is flat. The distraction that is his weak attempt to maintain an Inigo Montoya accent is the only flavor he provides. Those portraying the Pevensies outclass their fellow lead, although puberty has rendered Keynes gangly.
And what about Aslan, the Liam Neeson-voiced lion of the first film's title whose prior sacrifice and resurrection lead many to compare to the savior of Lewis' well-documented religious beliefs? He is discussed more than seen, serving as a symbol for blind faith and, narratively, a kind of white rabbit. The Christian themes of the series do not feature largely in this one, and what is there again requires receptive audiences to be noticed.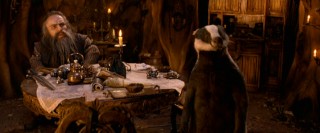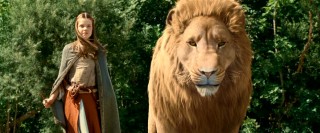 Prince Caspian was originally scheduled for a December 2007 theatrical release. It was delayed, oddly enough, so as not to compete with fellow Walden adaptation The Water Horse, distributed by Sony. Retrospect tells us this was a poor move, as Water drew modest crowds and money that probably would have gone to Caspian instead went to Alvin and the Chipmunks and Disney's hits Enchanted and National Treasure: Book of Secrets.

Thinking Caspian could potentially do the kind of huge business that the third Pirates of the Caribbean film did the year before, Disney opened the film in the middle of a now-typically competitive May.

Earning less than half of its predecessor's gross domestically and just a bit more than 50% on the worldwide scene, Prince Caspian would have to be considered one of the least expected underachievers of summer. Though I'd like audience dissatisfaction to be a leading factor, surely that's only part of the explanation. Disney put way too much faith in an unknown actor playing a handsome young adult prince to bring in moviegoers. It was ineptly marketed and inopportunely released between Iron Man and the fourth Indiana Jones film. At the summer box office, PG-13 movies have long fared better than PG ones (a class some felt Caspian was too violent for and one which it joined only after mandated edits). There was less of a push with Church groups and justifiably so from the subject matter.

Earnings of $141 M stateside and $278 M overseas would ordinarily make a considerable hit. But one must recognize Caspian fell short of expectations following Wardrobe's great heights and bearing a $200 M production budget.

Despite (or perhaps because) of the theatrical underperformance, Prince Caspian still comes to DVD and Blu-ray in standard and premium versions. Our review looks at the 3-Disc Collector's Edition, which carries a list price $10 above the lightweight single disc version and includes, in the third "DisneyFile" invocation, a digital copy of the film as Disc 3.

VIDEO and AUDIO

Fullscreen fans are completely out of luck this time around, as Disney's two DVD and two Blu-ray versions present Prince Caspian exclusively as it should be, in its 2.35:1 widescreen theatrical aspect ratio. If you've read all the way through to here, you know I have several complaints with the film. When it comes to its presentation, I have none. Visually, the movie is rather enjoyable (shrouded raids excluded) and the anamorphic transfer delights with its vibrant colors, immaculate compositions, and perfect sharpness. Though the film doesn't offer a DTS track like its predecessor's DVDs did, the Dolby Digital 5.1 track more than gets the job done, engulfing with appropriate atmosphere, ample directionality, and a satisfactory Harry Gregson-Williams score that adds new themes to recycled ones.
BONUS FEATURES, MENUS and PACKAGING

The only bonus feature on Disc 1, and therefore the single-disc edition, is an audio commentary by director Andrew Adamson and the five leading actors: titular role holder Ben Barnes and Pevensie children portrayers Georgie Henley, Skandar Keynes, William Moseley, and Anna Popplewell. A group of this size is bound to breed camaraderie and the track does provide that. But one soon gets the sense that they are talking among themselves and not making an effort to inform and/or entertain us. Information does leak out on a regular basis, but it comes in a series of short anecdotes pertaining to what's on screen.

The comments don't ever build into something bigger, so it's like watching the film with five folks who made it and keep telling you what they like about each shot or scene. It's still fun to hear from the actors and appreciate their rapport, but most will crave more substantial revelations with grander scope.

Disc 2's first and most general featurette is "Inside Narnia: The Adventure Returns" (34:43). This satisfying overview conveys all the many things which go into a major, exotic production like this. Among the topics addressed are reasons for reassembling, the international cast composition, dealing with the scenic locations' erratic weather patterns, director Andrew Adamson's methods and vision, challenging effects and creatures, the new characters, and the cast's additions, returns and departures. This is your best bet for getting information on the film in one tidy sitting.

As you can guess, "Sets of Narnia: A Classic Comes to Life" (23:42) deals with the efforts to create detailed, appropriate locations based on C.S. Lewis' descriptions (and sometimes lack thereof), which are read by producer (and Lewis' stepson) Douglas Gresham. Cast and crew members weigh in on the film's various realized settings and what's special about them.

"Big Movie Comes to a Small Town" (23:17) documents the impact of Prince Caspian's 1,200-member crew arriving in the small Slovenian town of Bovec to film the river-crossing sequence. It's a human, anecdote-driven look at an unusual filmmaking experience and also a lesson on a place unfamiliar to most viewers.
"Previsualizing Narnia" (10:08) describes the increasingly common blueprint that crude 3D animatics provide. Previs artists discuss the tool, while we're treated to copious tastes of Caspian's influential living storyboards.
"Talking Animals and Walking Trees: The Magical World of Narnia" (4:50) briefly discusses the featured universe, its inhabitants, and the ecological implications.
Ten Deleted Scenes (11:15) are offered with audio introductions by Andrew Adamson, who repeatedly expresses his (misguided) desire to "get on with the action". As the group runtime suggests, they're all very short. I can completely understand not wanting to push the film over 2 and a half hours (that's probably a contractual obligation). And yet, these small character moments convey ideas and capture images otherwise absent from the adaptation. Financially and artistically, the movie would have benefited from replacing one of the tiresome combat sequences with most of these scenes, even with their few unfinished effects.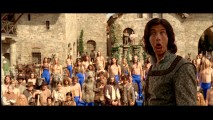 "The Bloopers of Narnia" (3:05) is a sometimes amusing reel of outtakes

that compiles cast falls, laughter, and hijinks. It's noteworthy for its evidently extensive editing efforts and for maintaining the look of the film in finished, color-timed 2.35:1 widescreen.

"Secrets of The Duel" (6:45) takes us behind the scenes of Peter and Miraz's sword fight with looks at staging and shooting the action. It's more boring than the duel itself, but shorter.

The last two featurettes put the actors portraying the film's two dwarves in the spotlight. "Becoming Trumpkin" (4:48) discusses the casting of Peter Dinklage, then shows us a different kind of casting (involving his head and plaster) and bits of his sarcastic attitude during filming. "Warwick Davis: The Man Behind Nikabrik" (11:06) follows the accomplished actor around for a day as he is made up, shooting, touched up, and cleaned up.

Disc 2 supplies six Easter eggs that are all accessible in one of two ways from the three bonus feature menu pages.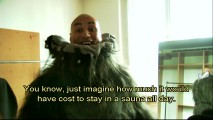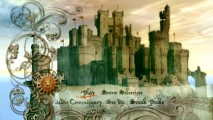 One (1:18) explains the reason for the production's fake working title Toasties with a discussion of the cast and crew's favorite sandwich snack.

"Skandar Keynes: Blonde Cam" (2:25) finds the young actor pointing a camera at yellow-haired crew members before having one of them (director Andrew Adamson) turn the camera around and ask him some questions. Another (0:58) shows production footage of an effects-driven battle scene filmed with a "Monster Cam" inside a Minotaur's mouth. Yet another (0:53) finds the Pevensie actors disagreeing over who is the real hero of the scene they're shooting. The most substantial egg (7:40) profiles Shane Rangi, an easygoing professional "suit actor" who performed a number of animal characters on set, including a minotaur and Aslan. The final egg (1:50) lets K.C. Hodenfield explain his duties as the film's first assistant director.

Happily, the bonus features are presented in 16x9 widescreen and Dolby 5.1, and subtitled in the same three languages as the film. On many extras, a fourth on-by-default subtitle track transcribes or translates select pieces of filmmaker dialogue that otherwise might not easily be discerned. The featurettes often touch upon aspects of the first Narnia film with clips and production footage; the cost for this luxury is that each supplement that does ends with an unneeded text pitch for Wardrobe's DVD/Blu-ray.

Figuring into the set's disc count but unreadable on most DVD players, Disc 3 is a lightweight DVD-ROM holding only a pair of Prince Caspian digital copies. Your enclosed activation code will unlock one of the WMV files for iTunes or PC playback. Though the studio has put enough thought into digital copy to dub it "DisneyFile", they haven't realized how to make it more customer-friendly. Let me help them out: make it a download instead of wasting a disc (the only one with colorful artwork, no less) and either don't have it contribute to the set's list price or don't require DVD customers to have to pay for it to get all the on-disc special features.

Disc One opens with promos for Disney and Disney Blu-ray, trailers for Pinocchio: Platinum Edition, Disneynature banner-launcher Earth, and Space Buddies, and a Disney Movie Rewards ad. Save for the first, all are also accessible from the disc's Sneak Peeks menu, where they're joined by previews of The Cheetah Girls: One World and syndicated fantasy TV series "Legend of the Seeker."

On each disc, the pleasant menus use animation to bring what looks like concept art environments to life while, as always, score excerpts play. Not the most exciting selection screens, but they're appropriate enough.

Despite holding a trio of discs, Disney still uses a standard-sized keepcase (albeit an unusually shiny one), overlapping the two DVD-Video discs and hiding the digital copy platter behind inserts. Those inserts include a Blu-ray/Disney Movie Rewards booklet, another booklet of coupons/ads, and the unique digital copy activation code, but not a chapter list. The requisite cardboard slipcover recreates the case artwork underneath it, adding only some embossing and reflective foil effects.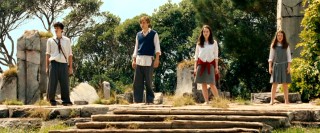 CLOSING THOUGHTS

As a sequel, an adaptation, and a self-contained film experience, Prince Caspian disappoints. With too much action and not nearly enough heart, it fails to recreate much of its predecessor's magic. Lewis' book may be fairly simple and unremarkable, but it offered the blueprint for a far better movie. The BBC's late-'80s television program needed just one hour to faithfully bring the text to life; this much bigger and technically superior filming takes 2 and a half hours and is none the better for it. Rather than stay true to the source, the bloated Caspian aims for Lord of the Rings (this time not hitting that mark) and panders to audiences with superfluous battles for the boys and a touch of puppy love romance for the girls.

Timing and marketing may have sunk it at the box office, but the downgrade in quality couldn't have helped. Hopefully, the franchise can rebound (assuming it continues, which presently is slightly uncertain). But knowing where the books take us next, the cast changes that entails, and the natural decline film series generally take has me worried.

Now, if you liked the movie, you'll want to know if the DVD is good. To that end, the feature presentation is a treat and the Collector's Edition bonus videos are of consistently high quality. Despite my numerous qualms with the film, it's one I wouldn't outright dismiss owning. But, it's also not one that's easy to recommend, particularly when it asks us to spend an additional $8 on features that used to fetch no premium. If extras hold no value for you (a bizarre concept on a movie you like enough to buy), I suppose the standard disc will do you fine. I might advocate waiting for a price drop on the Collector's Edition, but the past has shown us you won't likely be able to get it any cheaper or easier than buying online while release discounting is still in effect. Otherwise, consider buying second-hand or just renting.

More on the DVD / Buy Prince Caspian from Amazon.com:
3-Disc Collector's DVD / 1-Disc DVD / 2-Disc Blu-ray / 3-Disc Blu-ray / 2-Movie Blu-ray Bundle