UltimateDisney.com | DVD and Blu-ray Reviews | Disney Live Action Films (1980-Present) | New Release Schedule | Search This Site

The Muppet Movie | The Great Muppet Caper | The Muppet Christmas Carol | Muppet Treasure Island | The Muppets
The Muppet Christmas Carol: Kermit's 50th Anniversary Edition DVD Review


In 2012, The Muppet Christmas Carol was reissued as a 20th Anniversary Edition Blu-ray + Digital Copy combo.
Read our review of that in-print, newer edition.
The Muppet Christmas Carol

Theatrical Release: December 11, 1992 / Running Time: 86 Minutes (theatrical cut), 89 Minutes (extended cut) / Rating: G

Director: Brian Henson / Writers: Jerry Juhl (screenplay); Charles Dickens (novel)

Cast: Michael Caine (Ebenezer Scrooge), Dave Goelz (The Great Gonzo, Robert Marley, Bunsen Honeydew, Betina Cratchit), Steve Whitmire (Rizzo the Rat, Bean Bunny, Kermit the Frog, Beaker, Belinda Cratchit), Jerry Nelson (Tiny Tim Cratchit, Jacob Marley, Ma Bear, voice of Ghost of Christmas Present), Frank Oz (Miss Piggy, Fozzie Bear, Sam Eagle, Animal), David Rudman (Peter Cratchit, Swedish Chef), Steven Mackintosh (Fred), Meredith Braun (Belle), Robin Weaver (Clara)

Songs: "Scrooge", "Good King Wenceslas", "One More Sleep 'Til Christmas", "Marley and Marley", When Love is Gone", "It Feels Like Christmas", "Christmas Scat", "Bless Us All", "Thankful Heart", "When Love is Found/It Feels Like Christmas"
In 1992, it had been eight years since the Muppets had last graced the silver screen and two years since their founder Jim Henson had passed away from pneumonia. As the story goes, the very weekend in the spring of 1990 that Henson died, he was in serious talks to sell the rights to the Muppets to the Walt Disney Company. The two studios had been collaborating on the Walt Disney World movie attraction Muppet*Vision 3-D and the related television special "The Muppets at Walt Disney World." Henson's sudden, unexpected death put off the possibility of Kermit and Mickey sharing a permanent home, but the Muppets still wound up at Disney for their next feature film production. For this, rather than devising an original story as had been done for the Muppets' first three theatrical outings, the creative talent behind the project turned to a classic, much-adapted piece of literature, Charles Dickens' A Christmas Carol.

Among the key players bringing The Muppet Christmas Carol to the screen were longtime head writer of "The Muppet Show" Jerry Juhl (penning the screenplay), original Muppeteer Frank Oz (serving as executive producer), and Jim Henson's son Brian (as producer and making his feature film directorial debut).

With a source text that had been professionally brought to either the big or small screen more than three dozen times, what could the Muppets do that would differentiate their take on the material from past incarnations while also allowing their unique sense of humor and diverse cast of personalities to shine through? Apparently, the revolutionary thing that this adaptation would do is remain remarkably faithful to Dickens' words. Ensuring that, Juhl's screenplay cast likable weirdo Gonzo the Great as a storyteller who claims he is Charles Dickens himself. As his sidekick, streetwise Rizzo the Rat provides physical comedy to keep things from getting too dark and dreary and also acts as designated audience spokesperson. Together, they are our guides to what is a greatly entertaining Muppets-style revisiting of the 1843 book that remains extremely relevant today.

If you don't already know the gist of Dickens' story, then get off the computer this instant and read his masterful tale. It's only about 100 pages and there's good reason why it has been tapped into by so many a film producer. For one thing, it is filled with rich imagery that's sure to tickle anyone's imagination bone. For two others, it's ingeniously composed and universally affecting. Now that you've read (or recalled) the place where this timeless classic originated, we can continue with a brief summary and critique of the film.
Ebenezer Scrooge (this essential human role is played by two-time Best Supporting Actor Oscar winner Michael Caine) is a disagreeable old miser who lives his life with nary a thought towards kindness. He runs a cold, dark, dank accounting house with underpaid and underappreciated workers, including Bob Cratchit (portrayed by Kermit the Frog). His answer to the season's typical greeting of "Merry Christmas" is "Bah! Humbug." On one Christmas Eve, Scrooge goes home at the end of the workday and strange things begin happening. He is visited by his late business partners (that's right - in this version, he has two), Jacob and Robert Marley (a pair of cantankerous old men - who better for the parts than balcony hecklers Statler and Waldorf?) whose records of ruthlessness have been an inspiration for him. The shackled spirits warn him of the error of his ways and advise him of three ghosts who will be coming throughout the night in the hopes of changing Scrooge's character.
The trio of ghosts are, of course, The Ghost of Christmas Past (a floating girl apparition), The Ghost of Christmas Present (a large, absent-minded red-bearded man who occasionally sounds like ALF), and The Ghost of Christmas Yet to Come (an eerie, silent, faceless being). By showing Scrooge what has happened, is happening, and will happen, they illustrate how wrong he has been treating those around him and just where such behavior will get him - a death mourned by no one.
At its heart, Dickens' immortal redemption novel deals with pretty dark and weighty themes, which may seem out of place for the free-spirited, happy-go-lucky Muppets or any G-rated movie at all. But The Muppet Christmas Carol can be labeled a comedy, or a drama, or musical, or merely family fun. It succeeds in each and every regard as an entertaining, moving, and remarkably atmospheric motion picture which transcends the prior expectations of a Muppet movie and reaches new heights for family cinema.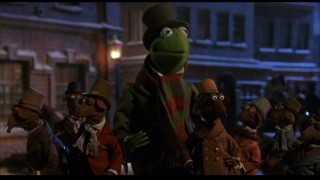 There is really not a single weak aspect of The Muppet Christmas Carol. The movie holds up to repeated viewings, delights viewers young and old alike, and can stand pretty much free of complaints from either demanding film buffs or moviegoers simply looking for an hour and a half of fun. Caine deserves credit for bringing such a thoughtful and non-showy performance as the film's protagonist. It is the realism his role introduces which enables a fully functional blend of laughs and seriousness. These two responses complement each other the way they do in any movie which can tread genres and both get your attention and relieve you with hearty humor. The songs by Paul Williams (who wrote the numbers from the gang's original outing, The Muppet Movie) are wonderful. From the cold-cutting introductory "Scrooge" to the restrained glee of "One More Sleep 'Til Christmas", these tunes advance the story, enhance the atmosphere, and stick with you long after the credits roll.
With the father of the Muppets gone, a quite dramatic, frequently-filmed text as a starting point, and the gang's self-referential, free-wheeling comedy style toned down (but still largely present), The Muppet Christmas Carol seems to defy odds with the great success it delivers. On its own merits, it is one of last decade's best movies. Viewed within the Muppets canon, it would seem to undoubtedly provide the strongest and most consistently pleasing feature film the gang has headlined to date. Needless to say, fans of either Christmas, the Muppets, Dickens, Disney or movies in general should make room in their hearts (and their DVD collections) for this excellent film.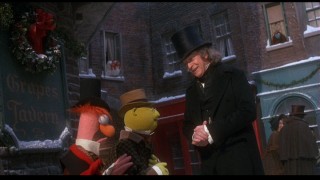 The Muppet Christmas Carol made its DVD debut on October 8, 2002 among a wave of "New to DVD" catalogue releases from a few of Disney's film branches. Its disc, much like that of Muppet Treasure Island (which came four months earlier), was distinguished by elaborate menus, the surprising inclusion of newly-created bonus features, and a disappointing fullscreen-only presentation. Though thousands of Muppet fans cried foul to Disney's customer support telephone lines and e-mail boxes (including director Brian Henson himself), those complaints went unanswered. Until now. In honor of Kermit the Frog's 50th anniversary (he first appeared in 1955 on Washington D.C. network show "Sam & Friends"), Disney's video branch Buena Vista Home Entertainment is re-releasing the two Disney-produced Muppet films (Carol and Island) alongside the studio's debut DVDs for the Muppet's first two films (The Muppet Movie and The Great Muppet Caper, acquired from Columbia TriStar Home Video in the February 2004 purchase of The Muppets Holding Company).

Many fans have found new reasons to complain about this DVD release. First, there was the inaccurate press release Disney issued claiming the four films would be presented exclusively in fullscreen. Once that was corrected and the discs' specifications clarified, a new issue arose. For all of Muppet Christmas Carol's previous home video releases, an extended cut of the film was presented. This included the 3-minute musical number "When Love is Gone", performed by Belle to Scrooge as a young man (with the elderly miser listening in).

On this DVD, this sequence (which was deleted from the film before theatrical release) is only available in the reformatted fullscreen version of the film. Personally, I don't find this a very big deal. The widescreen version preserves the theatrical cut, which did not contain the out-of-place and undeniably slow song, while the option to view it remains in the cropped cut.

From a purist's point of way, having the theatrical cut preserved in widescreen should not leave room for complaint, but plenty of folks who enjoy the song are disappointed. They cite the fact that director Brian Henson explains in the commentary that the sequence was restored for home video after pacing was deemed less important here. This comment has been taken as far as to call the extended version a "Director's Cut." The obvious solution would have been to drop the fullscreen version (which already had its day in the sun, i.e. three years on the market) and with seamless branching, provide the option to watch either the theatrical or extended version. That's obvious to you and obvious to me, but clearly not obvious to the people producing this DVD. Why was it so important to include a pan-and-scan version of the movie when Disney's animated films (including ones marketed towards preschoolers like the Hundred Acre Wood movies) are almost always presented exclusively in widescreen? Why?! I'm not sure. But I think we can attribute the non-appearance of this deleted song in the widescreen version to an original theatrical print being used for the new 16x9-enhanced transfer. If this is the case, I support the decision as the widescreen transfer looks considerably better than the pan-and-scan version which likely stemmed from an old video master. If I felt stronger about "When Love is Gone", maybe I'd complain more loudly. Having never seen the movie in theaters, this sequence in question always stood out to me as being slow and unnecessary. As it is, losing the previous DVD's best video bonus and having the commentary exclusive to the fullscreen version seem more problematic.
DVD Details

1.85:1 Anamorphic Widescreen,
1.33:1 Reformatted Fullscreen
Dolby Digital 5.1 (English)
Dolby Surround 2.0 (French)
Subtitles: English; Closed Captioned
Release Date: November 29, 2005
Single-sided, dual-layered disc (DVD-9)
Suggested Retail Price: $19.99
White Keepcase
VIDEO and AUDIO
At last, The Muppet Christmas Carol is treated to a 16x9-enhanced widescreen transfer in the ratio it was originally seen in, 1.85:1. This presentation is a thing of beauty. It offers a vast improvement over the previous DVD release and praiseworthy color, contrast, and sharpness. The print is not quite immaculate but close to it and any imperfections are extremely minor. In short, it's everything you hoped for three years ago and probably even better thanks to advances in compression technique.
There is also, again, a 1.33:1 fullscreen version of the film which you might think you'd never watch, but Disney has given you exactly two reasons to. They have nothing to do with the reformatted transfer itself, which is pure pan & scan, resulting in a loss of 25-30% of the picture's width. If that isn't enough to deter you, the sorely lacking visuals of this version will. Next to the pleasing widescreen transfer, colors in this one look either drab or unnatural. The cropped framing is never too offensive but usually noticeable and unnecessary. This version also looks soft and more like video than film. The only reasons to consider watching this inferior version are A) to follow along with director Brian Henson's audio commentary and B) to see the "When Love is Gone" musical number that was cut for theatrical release but has been restored for all home video and television versions (except the widescreen presentation on this very disc). Both options are only available on this unsightly compromised presentation, the inclusion of which seems more than a little unnecessary.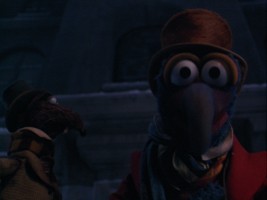 It's worth noting that the addition of another cut of the film in its entirety on the same type of disc (single-sided, dual-layered, i.e. DVD-9) has created a need for Disney to amplify compression. While the widescreen transfer leaves very little room for improvement, ditching the crop job would have given it more room to breathe and perhaps better results. In a purely mathematical comparison, the video on Carol's original DVD boasted an impressive average bitrate of 8.68 Mb/s, whereas this disc offers only a little more than half that for both the widescreen (5.2 Mb/s) and fullscreen (5.6 Mb/s) presentations. Nonetheless, I did not spot compression issues on the widescreen transfer and as for the pan-and-scan version, well it was lacking, not purely from the packed disc but it probably suffered next to the previous release. Thus making the downgraded fullscreen presentation pointless for another reason.
Audio is offered in a fine Dolby Digital 5.1 track, which delivers good bass, nice range, and an appropriately immersing sound experience for this masterfully-designed production. Dialogue is crisp, the music is rendered nicely, and while it doesn't sound noticeably different from the previous DVD release, it didn't really need to be. For a thirteen-year-old film, the soundtrack is more active than you'd expect and proves to be quite satisfying. Unlike the previous DVD, a French dub has been included in two-channel Dolby Surround.
A seven-second Muppet Studios logo (accompanied by a few chords from "The Muppet Show" theme) now appears before the film starts. It's actually not a part of either version's video file, but plays as an introduction the way those annoying FBI warnings and the new and "improved" Disney DVD logo do.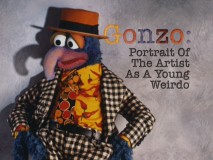 BONUS FEATURES, MENUS, and PACKAGING
Most (but not all) of the previous DVD's extras have been ported over to this disc. Most substantial of them is a feature-length audio commentary by director Brian Henson. Solo commentary tracks can be tough to pull, but Henson does a solid job, discussing technical aspects behind certain scenes and the creative intentions behind pulling off this adaptation as a whole. He also explains the reasoning behind the "When Love is Gone" sequence's deletion and restoration for home video/television broadcasts. Unfortunately, the only way to hear this commentary is by selecting the fullscreen, extended version of the film. It doesn't make sense that someone would care enough about Henson's intentions to listen to him talking, but not enough to want to watch the movie the way he and the director of photography framed it.
The disc's lone new supplement is "Pepe Profiles Present - Gonzo: Portrait of the Artist as a Young Weirdo" (5:25). In the mold of the "Pepe Profiles" appearing on the other 50th Anniversary DVDs, this one provides a tongue-in-cheek look at the oddball Muppet who speaks for Charles Dickens in The Muppet Christmas Carol. Topics range from what Gonzo is to Gonzo's chicken girlfriend Camilla, with silly remarks abound. Film clips seem to come exclusively from The Muppet Movie, but comprising more of this brief and not too special featurette are interview comments from Gonzo's fellow personalities, such as Miss Piggy, Kermit, and Fozzie Bear. As is typical of the series, the heavily-accented and not overly appealing King Prawn gets as much of the spotlight as does Gonzo, even though he doesn't appear in Christmas Carol or any of the other films of this collection.
The final two features actually pertain to The Muppet Christmas Carol. The first is a gag reel titled "On the Set" (2:32), which provides several moments of flubbed lines, missed marks, and so on. As usual, it's interesting to see the Muppet performers remain in character for these snafus, and the sarcastic introduction from Gonzo and Rizzo is appreciated. The second, "Christmas Around the World (2:57), features more humorous shenanigans from Gonzo and Rizzo, as they explain Christmas traditions in various parts of the world, from Australia to jolly old England. Informative and amusing.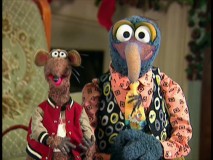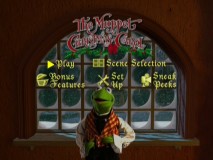 Only one supplement from the film's first DVD release has not been presented here, but it's a substantial one. "Frogs, Pigs, and Humbug: Unwrapping a New Holiday Classic" was a (then) newly-produced 22-minute making-of featurette hosted by Brian Henson, Gonzo, and Rizzo. It combined on-set interview clips with Michael Caine and some of the Muppet performers

with funny 10-year retrospection from the three participants. With an irreverent tone and genuine insider insight (including some footage of the Muppeteers performing under the specially-built planks), this was a great and memorable featurette. It would have been a better and more relevant inclusion than the new Pepe Profiles piece and most Muppet fans would surely rather have this ported over than yet another cropped presentation of the movie. It's also disappointing that the film's original theatrical trailer wasn't included this time around either, because obviously it's sitting in Disney vaults and is free from any rights issues that might plague trailers for the Disney-acquired Muppet films.

For this 50th Anniversary DVD, Disney has recycled the animated menus from the studio's initial DVD release of The Muppet Christmas Carol. That's just fine because they're quite inspired and much more fun than your typical DVD menu. Kermit hosts the screen and tries to get you to make a selection if you begin waiting. Of course, his antics are more likely to encourage you to NOT make a selection and instead watch him grow mildly frustrated. That's the point. Aside from the new EasyFind menu icons, different highlighting cursors, and the obvious menu revisions/additions, they're exactly like the previous DVD, which for once, is a good thing.

The typical Disney sneak peeks, absent from the previous DVD, are joyfully presented here. The batch at the start of the disc advertise Lady and the Tramp, the Disney Channel Movie Surfers' "behind-the-scenes" ads for The Wild and The Shaggy Dog, Season One of "The Muppet Show", and The Muppets' Wizard of Oz. If seven minutes of marketing just isn't enough for you, be sure to check out the second page of the Sneak Peeks menus for additional ads for Kronk's New Groove, the February 2006 wave of Disney Princess DVDs, and "JoJo's Circus" on Playhouse Disney.

Inside the white keepcase, there is a double-sided insert containing scene selections, an overview of the bonus features, and, of course, promotion for the other three concurrently-released Kermit's 50th Anniversary Edition DVDs. There is also a mini-booklet devoted purely to the Muppets which holds a trio of handy coupons ($5 off "The Muppet Show" Season 1, $3 off any other Kermit's 50th Anniversary Edition DVD, and $3 off Muppets' Wizard of Oz) plus promotional information on current Muppets goings-on and information on the United States Postal Service's Mailing the Muppets Keep-in-Touch Kit.
CLOSING THOUGHTS
This Kermit's 50th Anniversary re-release of The Muppet Christmas Carol provides definite relief for those who waited years for the film to come to DVD and three more years for it to come in widescreen. It's very close to being a perfect digital presentation, but a few issues prevent it from reaching full satisfaction. The disc loses points for the decision to waste space on yet another cropped transfer and then to relegate both the director's audio commentary and the oft-restored "When Love is Gone" sequence to this inferior presentation. It's also unfortunate that the excellent making-of featurette from the previous DVD has been lost and that the only addition is a disposable, not especially relevant "Pepe's Profiles" piece on Gonzo. With a little bit of common sense, this fine and funny adaptation of Charles Dickens' timeless tale could have received the first-rate DVD it so surely deserves. Nonetheless, quibbles aside, Disney has presented the theatrical cut of the Muppets' most enjoyable film with excellent picture and sound and a handful of worthwhile bonuses. That merits a strong recommendation for this DVD, which should undoubtedly enter your family's annual holiday viewing material rotation.
More on the DVD / Buy from Amazon.com / Original DVD / Soundtrack CD / The Book


Post-Review Note: If you're wondering why The Muppets Take Manhattan and Muppets From Space are left out of this 50th Anniversary group, it is because Columbia TriStar Home Video (CTHV) has retained rights to those two films, which were produced by TriStar Pictures and Columbia Pictures, respectively. Unlike the first two Muppet films, which were independently produced and merely distributed by Columbia, these two will remain in the Sony library unless Disney (or another studio) purchases the rights. In related news, on January 31, 2006, CTHV will release The Muppets Movie Collection, a three-film box set containing The Muppets Take Manhattan, Muppets From Space, and the 2002 direct-to-video film Kermit's Swamp Years. Suggested retail price is a low $23.96, making the discounted Amazon preorder under $17. Of course, the set is not likely to include anything new or different from the currently in-print and bargain-bin-priced Manhattan, Space, and Swamp Years discs.
Search This Site:
UltimateDisney.com Top Stories:
Reviewed November 28, 2005.