In 1985, after twenty-four years of finding work wherever he could, Hayao Miyazaki had a place to call home. Having risen up from in-between artist to writer and director, Miyazaki founded Tokyo's Studio Ghibli with fellow seasoned animation filmmaker Isao Takahata.

The company's first film would be 1986's Castle in the Sky, an original fantasy adventure that Miyazaki wrote and directed.

Castle opens on a pre-teen girl named Sheeta (voiced by Anna Paquin in Disney's English dub) being pursued aboard an aircraft. In the excitement, she gets thrown off and falls towards the ground. When she is spotted approaching the Earth's surface by mining town delivery boy Pazu (James Van Der Beek), she is falling at a slow rate, seemingly buoyed up by the glowing blue amulet around her neck.

It turns out that life-saving amulet is the reason Sheeta is being pursued from two directions. Infamous sky pirate Dola (Cloris Leachman) and her gang comprised of her hirsute grown-up sons are after the necklace. And so is the enigmatic Colonel Muska (Mark Hamill) who has aligned with the military on this endeavor.

Sheeta and Pazu band together to elude both of these parties. They gather that Sheeta's necklace is powerful, but are not clear on its nature and origins. An encounter in a cave with Pazu's Uncle Pom (Richard Dysart) sheds some light on the jewel, its high demand, and its connection to Laputa, a fabled island in the sky that Pazu's father claimed to have seen before his death.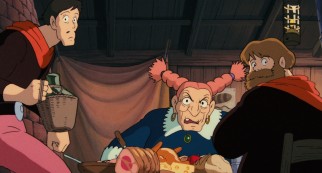 Castle launched Studio Ghibli on a strong note. The qualities that have since won Miyazaki fans all over the world were already in place back in the mid-1980s. Castle provides all the ingredients of a Ghibli hit: a compelling story marked by complex mystery, imaginative fantasy, enchanting visuals, rich characters, a touch of humor, and plenty of excitement.
This was only Miyazaki's third feature film as director and yet he already seems to have mastered the medium with this production oozing charm, class, and wonder. Castle is full of iconic imagery, from Sheeta's opening descent to the stirring sight of a lone mossy robot at peace with nature in his sparsely populated universe.
By the standards of western animation, Castle's 125-minute runtime qualifies it as an epic, but that length is justified by a lack of detours. Most scenes advance the story. The few that do not -- for instance, Sheeta being given a place in Dola's gang in exchange for her culinary services -- enrich it by making us more familiar with the participants and their perspectives. The film is anything but rushed and that is in its favor; a string of fast-paced set pieces weighs down any movie and Miyazaki has the good sense to balance the adventure with quiet but meaningful character moments.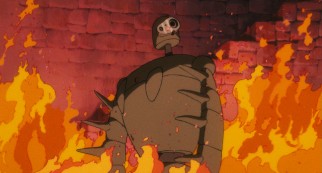 This is one Ghibli film whose Disney dub registers as a clearly inferior viewing option. Recorded in 1998, the English language version was one of the first born out of Disney's distribution deal with Ghibli's Tokuma Publishing. Though subsequent efforts have shown great care to stay both true to the original script and culturally accessible to American viewers, this one makes the poor choice of casting 21-year-old Van Der Beek (just beginning his "Dawson's Creek" run) as a character who sounds about 11 in the original Japanese presentation.

Van Der Beek seems to try to youthen his voice, but that just renders the character a man-child rather than an ordinary, excitable boy.

Furthermore, there appears to be minimal difference between the English subtitles for the hearing impaired and the English translation of the Japanese dialogue, which are normally two distinct, separate entities on Disney's Ghibli releases. Whether that means we're only getting a literal translation or we're not getting that at all, I don't know. But something is off with the dub that leaves the English line readings sounding clunky. It could just be that this film requires the welcome distance and subtlety that watching a unknown foreign language work in its native tongue always provides. Or it could be Disney not yet knowing how and for whom to import Ghibli fare. Either way, even if you're the type of viewer inclined to watch foreign animation dubbed, know that Castle suffers to an unusual degree from that treatment.

If you've only become acquainted with Studio Ghibli through Disney's squeaky-clean recent releases like Ponyo and The Secret World of Arrietty, then you might be surprised to find that Castle contains some mildly objectionable content. In 2009, the MPAA assigned the film a PG rating "for fantasy action violence and peril", which is one way of describing the fact that our young heroes get shot at with some regularity, with one of them even getting bloodily grazed on his cheek. The "PG" is a lot more fitting here than on the modern-day cartoons that earn it for "mild rude humor." Besides, I would guess that Castle is a movie more likely to be enjoyed and appreciated by viewers around ten and up anyway.

Watch a scene from Castle in the Sky's lacking English dub: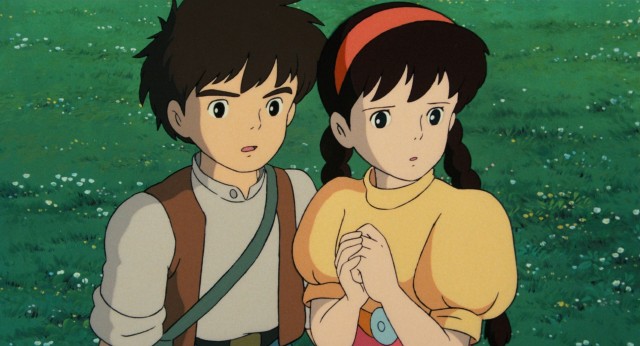 VIDEO and AUDIO
Castle in the Sky does not look quite as stunning on Blu-ray as Ghibli's most recent films do. The 1.85:1 picture isn't as sharp, crisp, and well-defined as the works that no doubt make their way into a computer at some point in the production process. Nevertheless, Castle still looks terrific, especially considering its age. Some light grain affects a few scenes, most notably those placing credits as an optical effect. A few scattered frames also suffer from subtle, unwanted movement. But if The Great Mouse Detective, Disney's in-house movie from the same year, comes to Blu-ray looking this good, we'll all be quite pleased.
Your audio selection goes beyond mere language preference, because the English dub is presented in 5.1 channels, where the original Japanese is provided as 2.0. Both of those mixes are in the lossless format of DTS-HD master audio. I've already covered why the Japanese audio serves the film a lot better than Disney's dub, but it is worth noting that the dub features clearer recordings of Joe Hisaishi's score (more of it too) and certain sound effects. That may make it more impressive aurally, but you're still better off with the native tongue for anything but showing off your sound system. For some of our neighbors to the North, a Dolby Digital 2.0 French dub and subtitles are offered.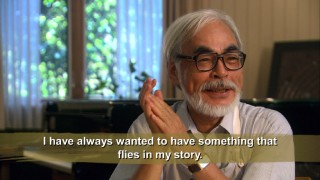 BONUS FEATURES, MENUS, PACKAGING and DESIGN

On Blu-ray, Castle is joined by nearly all the same bonus features of its 2010 DVD reissue, all nicely presented in high definition unless otherwise noted.

First up is a 2003 introduction to the film by Pixar head honcho John Lasseter (0:51, SD), who endorses enthusiastically but vaguely Castle in a Japanese-flavored shirt.

Next comes that Studio Ghibli staple: the entire film presented in storyboard format. You know the drill:

the finished film's English and Japanese soundtracks are attached to Miyazaki's rough two-color drawings for every single shot he planned. It's kind of interesting for a scene or two, but the option is there to watch the entire film in this crude fashion.

The remaining extras fall under the oddly-named Behind the Studio section.

Three short Castle-specific pieces could have easily been combined into a single featurette. In "The World of Laputa" (2:19), Hayao Miyazaki shares the inspiration for the film's earthly setting: Wales. "Creating Castle in the Sky" (3:41) lets Miyazaki recall the film's intentions and influences (from Jonathan Swift to Superman). "Character Sketches" (2:40) has the director share some thoughts on the film's lead characters and reception.
"The Producer's Perspective: Meeting Miyazaki" (3:14) lets Toshio Suzuki recall his trying first encounter with his longtime director, as he tried to interview him for an animation magazine.
"Scoring Miyazaki" (7:18) considers the work of Miyazaki's regular composer Joe Hisaishi, who shares some reflections on his creative process for a number of their collaborations, including My Neighbor Totoro, Kiki's Delivery Service, Ponyo, and, naturally, Castle in the Sky.
"Behind the Microphone" (4:08, SD) assembles the standard mix of comments and sound studio clips of the English dub's voice cast, with James Van Der Beek, Mark Hamill, Mandy Patinkin, and Cloris Leachman weighing in.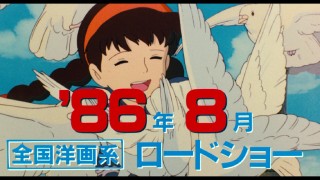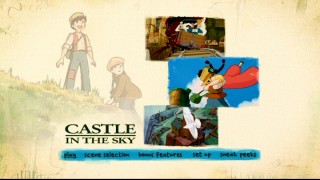 Finally, a reel of Japanese Trailers (4:07) consists of three dated Castle in the Sky previews of varying lengths.

Items dropped from Castle's 2010 DVD include supplemental shorts on Ponyo, Totoro, and Kiki's (all of which are more relevant inclusions on those movies' discs) and an interactive Enter the Lands section that let you explore the settings of certain Studio Ghibli movies, take a personality quiz, and so on.

It was a nice effort to unite the canon and I'd probably really dig something similar on a Pixar release, but I have to admit I'm relieved I don't have to revisit this time-consuming yet insignificant material again so soon for this review.

Always reluctant to author a disc they don't absolutely have to, Disney nonetheless presses a new DVD for this combo pack instead of simply including the first disc of Castle's two-disc sets. Actually, this DVD does resembles the in-print edition's first platter, which only contains Lasseter's introduction in the way of extras, playing automatically and also available from the menu. If you're buying this set, you are probably doing so for the Blu-ray Disc, but it's kind of unfortunate for the DVD to be so featherweight.

Both the Blu-ray and DVD open with ads for Disney Studio All Access, Brave, and Cinderella: Diamond Edition. The menus' Sneak Peeks listing repeats those and adds promos for Disney Movie Rewards, Disney Channel's "Austin & Ally", Secret of the Wings, Disney/Pixar's Planes, The Aristocats: Special Edition Blu-ray, and The Rescuers & The Rescuers Down Under: 2-Movie Collection. You'd think the studio could have put together a decent promo for the concurrently-issued Arrietty and Whisper of the Heart combo packs.

Castle upholds the menu scheme now favored on all Ghibli releases, displaying stills and silent clips in three small windows against a pale static backdrop.

Barely updating the prior DVD's artwork, the Blu-ray case is fitted with a pushed-in side snap, a Disney Movie Rewards code booklet, and an embossed cardboard slipcover.
CLOSING THOUGHTS
Castle in the Sky isn't among my all-time favorite Studio Ghibli movies, but I do like it a lot and it's grown on me with each viewing. This Blu-ray combo pack is easy to recommend to fans of the film, whose expectations should be met by the solid feature presentation and adequate collection of extras. The loss of that interactive extras section is a bit unfortunate, but easy to overlook and forgive.
If you have yet to discover the films of Miyazaki, you need to do so now, whether you choose to start with Castle and Ghibli precursor Nausicaδ or his more recent and slightly better known works. From what I've seen, you can't go too wrong with the Studio Ghibli name.
Buy Castle in the Sky from Amazon.com: Blu-ray + DVD / 2-Disc DVD