Mary Grant (Hayley Mills) and her younger brother Robert (Keith Hamshere) may be In Search of the Castaways, but there's one in particular they're after: their father. It's 1858 in Glasgow. Captain Grant has been missing for some time now, and he has been assumed dead by most. But his children are certain he must be alive, and they've got a note in a bottle to prove it, thanks to a Parisian geography professor named Jacques Paganel (Maurice Chevalier). With a considerable amount of effort, the Grant children and the professor are able to convince Lord Grenarvan (Wilfrid Hyde White) that they're sure the note was written by the Captain, and not only does it confirm he's alive but it tells them where he is.
So, Lord Grenarvan who owns the ship The Britannia that was lost along with its Captain Grant aboard, agrees to help the children in their improbable quest. Mary, Robert, Professor Paganel, Lord Grenarvan, and Grenarvan's teenaged son John (Michael Anderson Jr.) set off for South America, which the heavily-accented Paganel has deduced is where Grant must be. Their journey leads them on a series of adventures around the Andes mountains and then Australia. Among the obstacles they must overcome: "drangopeeri" (a phony-looking earthquake, complete with unconvincing matte shots), a twisty sleigh ride on pieces of mountain (which looks like fun, especially since you never believe they're really in danger), extreme floods, a jaguar, and a fiery lightning storm.
As you can tell, the rescue mission is a little complicated and fraught with peril. But in spite of the serious premise, much of the film is rather lighthearted. The central group of five assumes something of a family dynamic not entirely unlike Swiss Family Robinson, the adventure film that Disney released two Christmases earlier. Chevalier's goofiness is offset by the mostly stuffy (and later sneezy) Lord Grenarvan. The fact that Mary and John are around the same age makes them an obvious choice for a potentially romantic pairing, but that too takes an indirect course. And like young Francis Robinson, Robert raises the wrath of an animal (ridiculously enough, a condor looking to feed her young). All of this lends itself to a casual disposition in the face of some potent forces of nature.
The film is based on Les Enfants du Capitaine Grant (The Children of Captain Grant), Jules Verne's fifth novel. Though it shares a 19th-century setting, Castaways doesn't possess the charm of Swiss Family Robinson. It's also not epic or challenging the way Disney's earlier adaptation of a Verne's 20,000 Leagues Under the Sea is. Nonetheless, the twist-filled plotting holds your attention and there's some fun to be had.
If the film were made today, one would expect a fast pace and much elaborate visual effects work. Here, it's done in a style more in line with the other films that the Disney studio was making in the 1960s. A handful of Sherman Brothers songs lend a rather leisurely pace to the proceedings and give the film a far more lighthearted tone than you'd expect from the rescue premise. The visual effects are primarily matte work from Peter Ellenshaw and are none-too-impressive by today's standards.
Mary and company's travels introduce them to a number of characters. Most notable are Thalcave (Antonio Cifariello), an Indian who can speak English; Thomas Ayerton (George Sanders, who the astute may recognize as the voice of Shere Khan), a man who claims to know Captain Grant's whereabouts, and the Bible-quoting Bill Gaye who insists he "be smart" (an inspired wacky performance from Wilfrid Brambell, who feels like he could be related to Treasure Island's Ben Gunn).
Other than the obvious conclusion you might suspect, Castaways keeps you guessing throughout, never knowing if more natural disaster or another Maurice Chevalier song is next. Ultimately, while not as successful as Disney's most riveting live action films, Castaways is easy to appreciate, with its gentle blend of plot, humor, and uninhibited adventure.
Like several other Disney films of the '60s, Castaways makes use of veteran director Robert Stevenson and the studio's popular young star Hayley Mills. But this is actually the first of only two films on which they would collaborate. Though second-billed in the credits, Mills's popularity could be seen in one of the film's original taglines ("A Thousand Thrills and Hayley Mills!") which has been mildly altered for the film's latest incarnation, on DVD ("One Clue Leads to a Thousand Thrills").
DVD Details

1.33:1 Reformatted Fullscreen
Dolby Digital Mono (English)
Subtitles: English; Closed Captioned
Release Date: May 3, 2005
Single-sided, single-layered disc (DVD-5)
Suggested Retail Price: $19.99
White Keepcase
VIDEO and AUDIO
In Search of the Castaways appears in a 1.33:1 fullscreen transfer on its DVD debut. Released to theaters in 1962, the film would have been framed for and exhibited in a widescreen aspect ratio. As is the case with many vintage Disney film, it's tough to say what that ratio would have been, but 1.66:1 and 1.75:1 were the two mostly commonly employed by the studio in the '60s. If this is the case with Castaways, then a reformat to the so-called "fullscreen" format (which fills 4x3 screens, but not the increasingly popular 16x9 sets) would entail a loss of 20-25% of picture. That's not as drastic as some pan-and-scan jobs, and it's rare that framing is noticeably poor. There are a few scenes which suggest cropping and other times a tiny bit of breathing room within the frame that might suggest an "open matte" presentation (which is common for films shot in "flat" ratios like Castaways). Either way, this transfer doesn't uphold the intended theatrical aspect ratio, so it loses points off for that.
Castaways also suffers from not being properly remastered. A world-travelling adventure like this stands to benefit from keen visuals, but instead the mise-en-scene of the film appears dated and in need of fine-tuning. There is some wear on the print, as certain marks and particles show up more frequently than you'd like throughout the feature. Certain shots display an excess of grain, and as you might expect, some of the optical effects shots don't hold up as well as the rest of the film. For the most part, the picture quality seems to improve as the film progresses and at times, it begins to look pretty clean. But you're always aware of the source material's age in this dark and unspectacular presentation. Overall, this is far from unwatchable, but definitely lacking the sharpness and clarity that a full remaster job would give it.
The Dolby Digital Mono track leaves a bit to be desired too. The audio should be full of life, but instead you have elements that sound like they have aged over forty years. Of course, they have, and little effort seems to have gone into revitalizing them. Dialogue is usually discernible (although Chevalier's accent can be challenging to one's ears), but thin and flat. Music and sound effects are passable, but equally dated.
BONUS FEATURES and DESIGN
Dang! There are no extras. No Hayley Mills retrospective, no photo gallery, not even a vintage trailer like some of last year's catalogue Disney DVDs. When fans of the film have waited this long to own the movie on DVD, you'd think Disney would try and include something of a payoff. But aside from the standard 90-second promo for classic live action Disney films that have been treated right on DVD (including Hayley Mills's first two films for the studio), there is nothing.
The most creative thing about the 4x3 menus are the cursors which for reasons unknown are a skull-and-bones. The screens are designed kind of like old-fashioned poster art (complete with a drawing on the Main Menu that looks little like the actors in the actual roles); they present just about the bare minimum options and 10 scene selections. The double-sided insert inside the case lists those same selections and promotes the other three catalogue titles released the same day.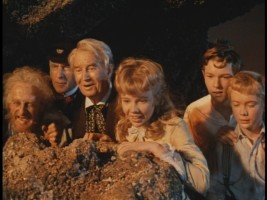 CLOSING THOUGHTS
Fans of In Search of Castaways should be happy to hear that this film is at last available on DVD in Region 1...until they discover it's given the bare minimum treatment from Disney. For those who don't own this film in any other format, the lack of extras and original aspect ratio probably won't be enough to dissuade. Still, it's unfortunate that this film couldn't come to disc with at least a trailer and a widescreen presentation. In Search of the Castaways doesn't feel as fresh and flavorful as the Hayley Mills's other films for the studio, but it holds up rather well as a light-hearted adventure, where the influences of Jules Verne and Walt Disney are equally noticeable.