By Kelvin Cedeno

Children's literature is a popular source of cinema. While many such adaptations face the challenge of compressing detailed material to a reasonable film runtime, others come across just the opposite: an exceedingly short story that needs to be expanded to feature-length. Several of the latter happen to come from the whimsical world of Dr. Seuss.

His striking and memorable illustrations lend themselves to moving eye candy and have been utilized in various animated television specials. It's one thing to lightly fluff up a picture book into a 25-minute program; it's a completely different task to expand one into a nearly 90-minute theatrical exhibition. Blue Sky Studios welcomed such a trial, though, with their computer-animated 2008 release, Dr. Seuss' Horton Hears a Who!.

Based on the classic 1954 book of the same name, the film tells of an elephant named Horton (voiced by Jim Carrey) who one day hears a voice emanating from a tiny speck. It turns out an entire city, Whoville, dwells in that very particle. The mayor of Whoville (voiced by Steve Carell) is the only person able to hear Horton, and vice versa. After realizing that the city will perish if it's not put in a safe area, Horton sets out to find a permanent location for it. Standing in his way, however, is the dictating busybody Kangaroo (Carol Burnett), who feels Horton's ramblings could upset the balance of the jungle and lead to anarchy.
Horton marks the first time a Dr. Seuss book has been adapted into a full-length animated feature for theaters. This seems odd considering all of the television specials that have been produced. Even odder is the fact that both of the previous theatrical Seuss outings were live-action ones: 2000's How the Grinch Stole Christmas and 2003's The Cat in the Hat. Each received tepid reviews at best and horrifying ones at worst, so it was no surprise that Horton was met with some trepidation. This feeling soon ebbed as the film went on to gross a robust $154.5 million domestically alone. There's a good reason for this: Horton is not only heads and shoulders above the other two Seuss movies, it's easily one of the strongest animated films in recent years.

The problem with Grinch and Cat was that their added content had a very un-Seussian vibe to them. Pop culture references, cynicism, and even innuendo found their way into these adaptations. Horton has a much more earnest and timeless feel to it.

That's not to say it's completely old-fashioned; some gags here and there do have a distinctly modern sensibility about them. Somehow, though, these gel with the original book material far better than they have any right to (except for an anime-inspired daydream and a final music number, which amuse in their own right). There's also more warmth and, ironically, human emotion on display here. Grinch's attempts at poignancy felt forced, artificial, and pretty much an afterthought. Cat didn't even bother with this area at all.

Horton also manages to stay true to the source material even with all of the padding involved. It simply takes the story as is and extends those scenes while adding some new ones to bridge them together. This proves to be a far more successful method of adaptation than the routes earlier taken (Grinch only spent its third act following the book, while Cat essentially ran its own course throughout). The newly-written scenes in Horton feel organic to the established world and help bring dimension to the characters.
When it isn't doing that, it's simply being hilarious, thanks to the clever script and the two leads. Surprisingly enough, Jim Carrey shows restraint as Horton, making him lovable and a bit quirky without going all-out insane. Steve Carell gets most of the laughs as the mayor who, in vain, hides his panic over the revelation of living on a speck. The rest of the cast also fills out their roles well, particularly Carol Burnett as Kangaroo and Will Arnett as Vlad. The only out-of-place actor is Seth Rogen as the hyperactive mouse Morton, but his scenes are brief enough not to get distracting.
Some purists may take offense to the additions and minor story alterations of Horton Hears A Who!, but then these same people are probably forgetting that Chuck Jones' 1970 cartoon special made changes of its own, and that teleplay was written by none other than Theodor Geisel (Seuss himself). The CG feature holds up well when compared to the book, TV special, and other Seuss adaptations, but it's also strong enough to entertain on its own, without context or familiarity. With bright, stylized animation that evokes the iconic illustrations, a flair for comedic timing, and an abundance of sincerity at its center, Horton proves that a short children's book can be presented properly on the big screen. One can only hope that Blue Sky will stop milking its Ice Age franchise dry and instead consider adapting other Dr. Seuss books in this winning manner.
VIDEO and AUDIO
Horton Hears a Who! comes to DVD and Blu-ray this week in an anamorphic 1.85:1 transfer. As usual for the studio, Fox supplied only a single-layered DVD-R for this review. As such, neither image quality nor the DTS and Dolby Digital 5.1 Surround soundtracks can be accurately judged. The single-disc DVD is reportedly a flipper with both widescreen and fullscreen viewing formats. The latter is dropped for the Special Edition.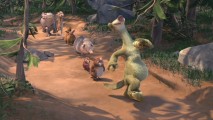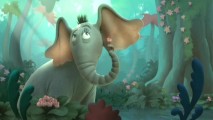 BONUS FEATURES and MENUS

Fox has treated Horton Hears a Who! to both single-disc and two-disc special edition DVD releases. Common to both is an audio commentary track by directors Jimmy Hayward and Steve Martino. Both are engaging speakers and sustain interest with their humor and wit. They delve into the difficulties of adapting the book, of working with the star-studded cast, and the choices in animation and style. It's a very entertaining and enlightening track.

The last feature common to both releases is the new animated short Surviving Sid (7:59). Featuring Ice Age's Sid the sloth (voiced by John Leguizamo),

the cartoon follows his exploits as he leads a group of disillusioned children on a camping trip. It's diverting enough on its own, but isn't anything truly memorable or hysterical.

On this screener, all of the extras exclusive to the Special Edition are included alongside the feature. These start with a robust collection of Deleted Footage. After an introduction by directors Hayward and Martino (0:24), the footage is split into three categories: "Storyboard Versions" (14:50), "Rough Animation Versions" (2:40), and "Almost-Final Versions" (1:10). In total, there are 13 excised sequences, most of which are either self-contained gags or alternate versions of existing scenes. Hayward and Martino offer commentary on all of them, explaining why they were removed.

Next is an assortment of Animation Screen Tests. Animator Nick Bruno gives an introduction (0:43) to the section which then breaks down into tests for "Horton" (2:58), "Mayor" (3:48), and "Whos" (0:24). The most interesting of these is a "short" of Horton interacting with the speck in a fully-rendered environment. This clip contains optional commentary by Hayward and Martino, who compare the animation techniques there to what's in the finished film.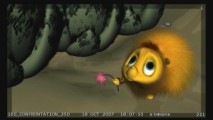 "Bringing the Characters to Life" (5:29) is a sort of broad making-of. The filmmakers offer glossy thoughts on the cast and the story in general. A few good factoids emerge, but overall it's too shallow and unfocused to really work.
Faring much better is "That's One Big Elephant: Animating Horton" (8:08). Here, the crew discusses the challenges faced in animating a caricatured elephant in CG. A bit more emphasis is placed on the pre-animation stages such as concept art and maquettes, but this is still a satisfying piece.
"Meet Katie" (3:48) focuses on easily the most bizarre character in the picture. While her random actions are never explained by the filmmakers (which is how it should remain, anyway), her origins, design, and vocal work are. It's a fun and breezy featurette.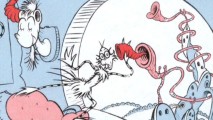 "Bringing Seuss to the Screen" (8:14) is perhaps the strongest of the behind-the-scenes featurettes. Comparisons are made between the book and the film both from a story perspective and from a visual one.

The most fascinating portion explains how the filmmakers took the original book, drew in scenes representing their added material in the style of Dr. Seuss, and presented it to his widow as proof of how seamless their extended adaptation would be.

"The Elephant in the Room: Jim Carrey" (4:54). Behind-the-scenes footage is shown of Carrey performing in the sound booth, and this is intercut with comments from him and others about his approach to the character. It actually digs a bit deeper than one might expect something of this subject matter to do.

"A Person is a Person: A Universal Message" (3:43) has the cast and crew chiming in on their opinions on the story's moral of "a person's a person, no matter how small." Some of these are tongue-in-cheek, but most offer serious viewpoints. It's not necessarily deep, but it's noteworthy nonetheless.

"Our Speck: Where Do We Fit In?" (4:00) is a "go green" sort of infomercial hosted by children. They encourage viewers to do things like recycling and turning off the faucets and lights when not being used. It's a good message, even if its inclusion here seems a bit intrusive.
"Elephant Fun: The Facts" (5:28), hosted by elephant expert Hayden Rosenaur,

features him interacting with live elephants. He explains their behavior and habits, providing lots of fascinating facts in a short amount of time.

The "We Are Here!" set-top game has the player helping Whoville make some noise in order to get them heard. One must choose instruments in the right order after they've been played. There's nothing to separate this from the dozens of other DVD memory games out there, especially the lack of reward.

"Create Your Own Animation" is a DVD-ROM feature, but unfortunately, the screener copy used for this review failed to initiate it.

A collection of trailers is presented for City of Ember, Dr. Dolittle: A Tinsel Town Tail, Space Chimps, Garfield's Pet Force, Elephant Tales, and Ice Age: Dawn of the Dinosaurs in Digital 3-D. Unsurprisingly, none for Horton are included.

On the final product, Disc Two will hold a digital copy of the feature film for use on computers and portable devices.

The DVD's main menu showcases a quickly-edited montage of clips while score plays. All other menus contain still and silent character portraits except the "Deleted Footage" submenus. Those play the scenes in question inside of selectable bubbles.
CLOSING THOUGHTS
Horton Hears a Who! works as both an adaptation of a familiar story and as its own entity. While it's not totally devoid of distinctly modern elements, it remains timeless, which is more than most animated features as of late could say. Picture and sound can't be accurately reviewed this time around (thanks to Fox's insulting association of critics with bootleggers), but the supplements are satisfying. This release earns a recommendation to both Dr. Seuss and animation fans. Those who are indifferent towards supplements can also pick up the single disc edition. Either way, you're sure to enjoy their time with the citizens of Whoville.
More on the DVD / Buy Horton Hears a Who! from Amazon.com:
Special Edition DVD / 1-Disc DVD / Limited Edition DVD Gift Set / Blu-ray Disc