Ever since 2001's holiday season produced back-to-back blockbusters of epic proportions in the first Harry Potter and Lord of the Rings installments, fantasy films have been in proliferation. Never mind that a number of these productions have failed to earn back their budgets domestically or to make any lasting impression on the general public.

A best-selling fantasy novel has as good a chance now as ever of being adapted into a family-friendly feature. Those with imaginative adventures and talking mythological creatures seem especially welcome.

This is the cinematic culture into which The Spiderwick Chronicles entered earlier this year. On the surface, it would appear to be "just another fantasy", particularly if you're unfamiliar with Tony DiTerlizzi and Holly Black's series of five children's books published from 2003 to 2004, on which this Paramount/Nickelodeon movie is based.

The film follows New Yorker Helen Grace (Mary-Louise Parker, "Weeds") and her three children to the Spiderwick Estate, their spooky new home with a storied ancestral past. Of the three Grace children, our focus turns to Jared (Freddie Highmore, Charlie and the Chocolate Factory), a quiet boy with anger issues and evident aversion to the relocation. Less critical of the move are his two more grounded siblings: learned twin brother Simon (also Highmore) and bossy big sister Mallory (Sarah Bolger). They also figure prominently, but it is Jared who, upon discovering a collapsible wall, invites danger and excitement into his family's life.
Jared encounters a seal-protected Field Guide belonging to his great-granduncle Arthur Spiderwick (David Strathairn), which informs him that the house's fantastical air ought to be believed. Before long, Jared meets Thimbletack (voiced by Martin Short), a brownie who has Winnie the Pooh's sweet tooth for honey, the Hulk's enlarging green rage, and the sound of a miniature Jiminy Glick.

There is also Hogsqueal (voiced by a funny Seth Rogen), a gross but friendly hobgoblin whose spit brings into sight a race much greater in number and worse in attitude. That would be the fierce goblins who along with their leader, Mulgarath the shape-shifting ogre (played by a briefly-seen Nick Nolte), want nothing more than to acquire the Field Guide and destroy all.

What could be another Evil-pursues-Good tale like the wretched The Seeker: The Dark is Rising and all nine hours of Lord of the Rings plays out differently and more spunkily, even as the initially low-key proceedings seamlessly approach wearing out their welcome during the inevitably busy climax. The film is saved by its brisk pacing and down-to-earth mindset. Jared, Mallory, and Simon strive to protect the book, while trying to convince their mostly absent mother that they're not merely engaged in tomfoolery.

The visual effects, done by Industrial Light & Magic and Tippett Studio, are solid, as CGI characters are used conservatively and well-realized. The voice actors definitely do their part to make sure that performances are felt and personalities enjoyed. Those whose faces and bodies are seen add value too. Freddie Highmore's struggle with an American accent is soon forgotten, as one gets wrapped up in the children's plight without an excess of characterization. Among the support, the ageless Mary-Louise Parker is good as the well-meaning mother, while David Strathairn and Joan Plowright make clear marks in limited screentime, the latter playing the kids' institutionalized great-aunt.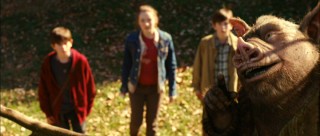 Adding a dash of humanity are themes of abandonment, divorce, and familial communication. This material is played with the right amount of understatement and fits comfortably alongside what could easily be divergent spectacle of faeries, sylphs, and griffin. The Spiderwick Chronicles isn't a great film, but it is a good and consistently entertaining one, which puts it above most of the disappointing, overdone, recent live-action big screen fantasies I've seen.
Following a decent theatrical run (that garnered $71 million in North America and another $91 M overseas, on a $90 M production budget), The Spiderwick Chronicles comes to home video in four different releases. At Paramount's new, comparably high standard list price of $34.99, there is a single-disc DVD in widescreen and fullscreen flavors. Carrying tags of $39.99 are the Blu-ray Disc (one of the studio's first day-and-dates in some time) and this review's subject, the 2-Disc Field Guide Edition DVD.
DVD Details

2.35:1 Anamorphic Widescreen
Dolby Digital 5.1 Surround (English, French, Spanish),
Subtitles: English, French, Spanish
Closed Captioned; Most Extras Subtitled
Release Date: June 24, 2008
Two single-sided discs (DVD-9 & DVD-5)
Suggested Retail Price: $39.99
Black Keepcase in Embossed Cardboard Slipcover
Also available in 1-Disc Widescreen DVD, 1-Disc Full Screen DVD, and on Blu-ray Disc
VIDEO and AUDIO
Spiderwick Chronicles is presented in 2.35:1 anamorphic widescreen on the Field Guide Edition. (A fullscreen version is available only on a single-disc DVD.) Picture quality is terrific, which seems important based on the film's sleek visual design. Five-time Oscar-nominated cinematographer Caleb Deschanel (The Passion of the Christ) brings a distinct palette that gives certain scenes a blue or mint green tone. The stylized color choices work well, giving the proceedings the appropriate feels of magic and mystery without the film being mistaken for its abundant 21st century fantasy brethren.
I didn't get to enjoy the Dolby Digital 5.1 soundtrack on my preferred home theater system, but nothing seemed amiss in the sound department. In addition to the expected noises of fantastic creatures big and small, dialogue is crisp and intelligible and James Horner's score is one of his less forgettable. French and Spanish dubs are also offered in 5.1.
BONUS FEATURES, MENUS and PACKAGING

Disc 1 of the Field Guide Edition seems identical to the widescreen single-disc release.

It contains three or four light extras, depending on how you count them.

The featurette "Spiderwick: It's All True!" (7:00) is even cheesier than its title implies. In it, director Mark Waters introduces you to the film's folkloric elements and characters, straight-facedly insisting they're all real. It fills in a few details for non-readers, but mostly reiterates what you've just seen.

Less promotional and more routine, "It's a Spiderwick World!" (8:42) covers the origins of Tony DiTerlizzi and Holly Black's books through the filmmaker attraction to the material. Among the many crew sound bites, Waters gets his dates wrong

and is too eager to defend changes from the text in the name of demographic appeals.

The disc's third/fourth and final bonus is "Arthur Spiderwick's Field Guide", 20 interactive pages of text and drawings devoted to eight legendary character classes and two plot concepts. Each succinct but informative overview offers a link to a relevant clip from the film. "Field Guide: In-Movie Mode" merely reverses things, using a graphic subtitle track to enable visit to these pages at appropriate moments during film playback. The presence of this feature entails the loss of all subtitle-toggling abilities during the film.

Disc 1 opens with a promo for the recently re-released to DVD Indiana Jones films and a trailer for Kung Fu Panda. The bonus menu's "Previews" listing plays the same after running long looks at Charlotte's Web, Barnyard, and Bee Movie.
Disc 2 holds over an hour of additional video content, most of which is less kid-oriented than the above.
"Spiderwick: Meet the Clan!" (13:50) covers the cast and characters, with most lead actors discussing their roles and others praising their performances. Among the topics given attention are the dropped accents of Freddie Highmore and -- who knew? -- Sarah Bolger, and Seth Rogen's voice work.
"Making Spiderwick!" (20:50) gives us a satisfyingly thorough overview of production, addressing such things as the house and field guide design, the kids' extraordinary stunts and effects duties, and what it's like to work in a room covered with tomato sauce.
"The Magic of Spiderwick!" (14:20) tackles the film's visual effects for each fantastic being or race depicted. Though the most technical of the set's extras, it remains accessible for those who don't regularly talk about "ILM."
"A Final Word of Advice!" (1:45) lets Waters sign off with a reality reminder, followed by a minute of supplement credits.
Deleted scenes (8:12) are offered in four groups with no introductions or commentary. Mostly small moments that extend existing footage and center on Jared, they're well worth watching but not to be remembered, although one finds Joan Plowright explaining the Graces and Spiderwicks' complicated kinship.
Finally, we get nine Nickelodeon TV spots (5:00) and two theatrical trailers (4:35). They promote Spiderwick in a number of diverse and interesting ways, by highlighting different aspects. The short Nick spots deserve particular notice for delivering exclusive content, including some featuring Freddie Highmore and Sarah Bolger.
It nearly goes without saying that the animated main menus take on a fantastic air. Sylphs float about as a montage plays in what's supposed to be a seeing stone. The theme doesn't exactly translate to the static, silent, and fairly routine submenus. As usual for the studio, Disc 2 recycles the first disc's menus.
Paramount certainly exhibits some creativity in the packaging of this Field Guide Edition. The DVD bears the appearance of a worn old book. Its cardboard slipcover, which slides across the keepcase rather than over, is itself surrounded by an embossed velcro wrap-around that warns "A Secret World Will Be Revealed Once This Package is Unsealed." Aside from that, the slipcover reproduces the artwork beneath it, but it's still a nice added touch. With each of the two discs claiming one of the inner sides, there's no room for any in-case inserts but that works out because there aren't any.
CLOSING THOUGHTS
Those who like their fantasy movies with traditional fantastical elements (faeries, goblins, and so on) should quite enjoy The Spiderwick Chronicles. So should those with no particular soft spot for the genre, as this spirited film keeps one foot in present-day reality while managing to be creative but not overdone.
A rental may suffice for many people, but those looking to own the movie have a choice to make, even if they share the general public's apathy to Blu-ray. What to pick: the standard disc or the 2-Disc Field Guide Edition that will run you anywhere from $5 to $9 more? That really depends on how much you care about bonus features and packaging. The pricier edition certainly improves upon the single-disc supplements, but whether you'll consider the additions good enough to revisit and justify the premium remains to be seen.
In any event, you're encouraged to see this film.
Buy The Spiderwick Chronicles from Amazon.com:
2-Disc Field Guide Edition DVD / 1-Disc Widescreen / 1-Disc Fullscreen / Blu-ray