In 2003, Will Ferrell and director Jon Favreau scored the biggest hit of their careers to date with Elf. Vince Vaughn, Ferrell's fellow Frat Pack member and Favreau's close friend, must have wanted that kind of action

when he signed onto Fred Claus, a PG-rated Christmas comedy that, following Elf's lead, was suitable for kids but aimed at adults.

Like Elf, The Santa Clause, and Miracle on 34th Street long before them, Fred Claus seeks to put a contemporary face on the winter holiday's long-celebrated mythology. The title character is Santa Claus' big brother, who from childhood has grown bitter in proportion to his sibling's increasing claim on their family's attentions. When Nicholas is made a saint (his hypothetical canonization apparently occurs while he's still living), he and the rest of his family by blood and marriage are rendered ageless.

Rather than considering the tedium or disadvantages of immortality, the film leaps ahead to the present day, where adult Fred (Vaughn) hasn't shaken his situation of being eternally outshone by his much-revered relative (Paul Giamatti). Today, Fred is, above all else, a ne'er-do-well. A hostile Chicago repossessor, Fred is eager to speak ill of his estranged brother to fond children and to talk his way out of forgetting the birthday of his girlfriend Wanda (Rachel Weisz), a forgiving British meter maid.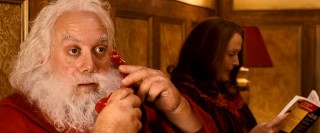 Fred's efforts to realize his latest business venture (opening an off-track betting center) get him arrested for unlicensed charity solicitation. Left with little choice, Fred calls his brother, good old St. Nick, to make bail and to loan him money so he can meet his start-up payment deadline. Naturally, Fred is summoned to the North Pole. In exchange for Santa's financial assistance, Fred has to help the fabled elves meet the season's many demands.
Activity at the bustling holiday village forms several plot lines. In addition to reconnecting with his parents (Kathy Bates, Trevor Peacock), Fred tries to help friendly, lovelorn head elf Willie (John Michael Higgins) win the heart of Santa's human helper Charlene (Elizabeth Banks). Meanwhile, Santa is stressed by the presence of a vaguely-appointed efficiency expert Clyde Northcutt (Kevin Spacey), who is quietly monitoring productivity and vowing to shut the facility down if dissatisfied.
The film aspires to Elf's marriage of modern attitudes with timeless Christmas magic. Fred Claus is not as successful and that's largely because its core lacks the delightful naif Will Ferrell created and hysterically committed to. Fred's towering protagonist is less an established character and more just Vince Vaughn riffing without four-letter words. The antihero is adequately defined but far less charming, even with Vaughn's rapier wit and ample charisma. Across from him, Paul Giamatti doesn't stray far from the persona he's best known for, giving Santa some welcome eccentricity while only hinting at the icon's benevolence and warmth.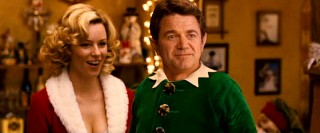 Director David Dobkin wants to do so much here. That explains why, like his prior hit Wedding Crashers, Fred Claus runs a lot longer than you'd expect (115 minutes with credits).

The running time would be more appropriate if Dobkin had supplanted needless material with more fulfilling treatment of the film's many considered relationships. For spending so much time with Fred, we have little reason to cheer him onto repairing his connections with his brother, his parents, or his quickly-forgotten sweetheart.

The capable supporting cast is largely neglected and at the end of the film, it's hard to remember why. Kathy Bates is limited to a few barbs at a dinner scene and Trevor Peacock (funny on BBC's "The Vicar of Dibley") has to settle for facial expressions being barely allowed to open his mouth. A more satisfying arc is given to Willie and Charlene, but their screentime highlights the film's most glaring visual miscalculation. I'm not referring to Elizabeth Banks' unacknowledged wardrobe of short skirt and low-cut top, but to the computer-generated imagery used to scale down actors like the 5'11" John Michael Higgins to diminutive elf statures. CGI was a bad choice; the slightly disembodied heads distract every time they're on screen. I can't think of any reason why more cost-effective (and simply more effective) techniques like forced perspective or oversized sets weren't employed instead.

Elf appearances withstanding, Fred Claus offers a mixed bag. Its broad physical gags either overextend (a brotherly snowball fight) or clearly merited exclusion (security ninja dwarves). Though never as emotionally resonant as sought, it does pull off a sentimental finale without acridity. We encounter some nice ideas (some original, others borrowed from other films) and the movie never sags below "mildly diverting." On the whole, the project is never as clever as it should be and fails to meet its potential. But it definitely avoids joining the class of recent films using Christmas cheer and a feel-good conclusion to pardon rampant lousiness that's never in season.

Fred Claus made $72 million in North American theaters, considerably more than last year's other Christmas releases and on the high end of all Christmas movie grosses. Its earnings, however, were below each of the three Santa Clause movies and less than half of Elf. Many called Fred underperforming, although no budget estimate was ever given and its numbers were similar to those put up three years earlier by Tim Allen's Christmas with Kranks, considered a hit. This week, Vaughn gives Christmas comedy another try with Four Christmases co-starring Reese Witherspoon. The day before that opens, Warner Bros. brings Fred Claus to DVD and Blu-ray, just over the year that holiday films customarily take to move from theaters to home video.
DVD Details

2.35:1 Anamorphic Widescreen,
1.33:1 Reformatted Fullscreen
Dolby Digital 5.1 Surround (English, French, Spanish)
Subtitles: English, French, Spanish
Not Closed Captioned; Extras Subtitled
Release Date: November 25, 2008
Double-sided disc (DVD-14)
Suggested Retail Price: $28.98
Black Keepcase with Lenticular Cardboard Slipcover
Also available on Blu-ray Disc
VIDEO and AUDIO
Issuing a rare DVD-14, Warner ensures adequate space for both widescreen and full screen versions of Fred Claus. You should only care about the former, which presents the film in its 2.35:1 theatrical aspect ratio enhanced for 16:9 displays. I was unexpectedly underwhelmed by the picture quality here. Compression artifacts that have all but disappeared from most new studio features turn up with disarming regularity. The video is never as sharp and clean as it should be. The wide framing and production design that should earn our admiration are inhibited by the unusually limited presentation. If you don't have a large TV, watch a lot of DVDs, and pay much attention to A/V, you might not notice any shortcomings.
The Dolby Digital 5.1 soundtrack also disappointing, but for different reasons. The mix is so marked by peaks and valleys that watching with the remote in hand is just about mandatory. The dialogue is usually mixed low and the music a lot higher on the dynamic scale. To hear an intimate conversation, you'll have to raise the volume and then you're sure to be jolted when the next music cue turns up. Surround channels are used sparingly, but when they are, you feel it. There is also a nice, abundant showcase of music (list below), not just the songs that Christmas films always sample. Unfortunately, the volume issue detracts from the experience. Does anyone really like when DVDs make use of the format's wide range on a frequently-alternating basis?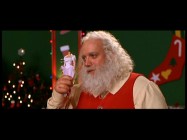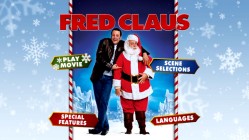 BONUS FEATURES, MENUS and PACKAGING

Only two special features are included, but they're both substantial ones.

First comes an audio commentary by director David Dobkin. Enthusiasm and earnestness make Dobkin hard to dislike and this track's lack of participants easy to overlook. His steady stream of production anecdotes and observations on technical elements mostly sustain our interest, even if many of his comments can easily be deemed overly complimentary or obvious. Among the topics he covers are the script, the casting,

editing tricks, his intentions for characters and sequences, and his inspiration (apparently, animated movies). In a nice and increasingly standard touch, the commentary is subtitled.

Next and last are a collection of 13 deleted scenes (25:35), offered only on the widescreen side. This considerable lot runs quite a gamut and includes mild extensions, one extension that runs longer than imaginable, entirely unseen scenes, and three barely varying versions of Ludacris' elf DJ's introduction. We get another childhood episode, quite a bit more of Fred's North Pole work and craftiness, additional Willie moments, and lengthened Fred/Santa banter. They're worth viewing, but it's hardly surprising that none of them were kept in to carry the film to two hours and beyond. Introductions or commentary would have been appreciated.

Warner Bros. has generally avoided the lamentable but common practice of reserving select special features exclusively for the more costly Blu-ray edition. Breaking with tradition, they do such a thing here; withholding the following from standard DVD customers: "Vince and Paul's Fireside Chats"; "Pause for Claus: Elves Tell All"; "Sibling Rivalry" with the cameo-making Roger Clinton, Stephen Baldwin, and Frank Stallone; the "Fred Claus: Race to Save Christmas" DVD game, and Ludacris' "Ludacrismas" music video. I'd understand if space was an issue or the aforementioned exclusives required technology unique to Blu-ray (long, reflection-allowing load time?). But the double-sided DVD hardly uses one of its three written layers, meaning there was more than enough room for most (if not all) of that to be included. It's a lame tactic that wouldn't need to be taken if Blu-ray was as impressive a format as we're constantly being told.

Both sides of the DVD open with a Casablanca anti-piracy promo and trailers for Speed Racer and the Remastered Deluxe Editions of A Charlie Brown Thanksgiving, A Charlie Brown Christmas, and Jack Frost. Fred Claus' own unique trailers are missed.

Customary for the studio, the menus are simple static screens. These utilize an appropriate design of snowflake backgrounds, candy cane stripes, and promotional film stills. The main menu loops the film's opening 30 seconds of score three times before assuming you want to watch the movie.

Warner has made every effort to ensure Fred Claus stands out on store shelves. The title is embossed on both spines and the front of the requisite cardboard slipcover, where it and the stars' names are also given a glittery sparkle. The prominent moon backdrop and part of the sled on front boast a pleasant holographic touch, as do two small snowflakes on back. The frills only apply to the outer sleeve; the keepcase artwork repeats everything with standard 2-D printing and the only in-case insert is a sheet of digital copy download instructions and authorization code. Unlike the competition, Warner's contribution to the digital copy craze wisely doesn't waste disc space or inflate the price. However, it does expire within 10 months of release, meaning if you snooze, you'll lose (something you probably didn't want anyway).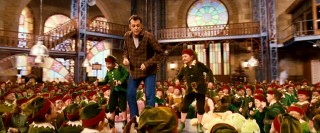 CLOSING THOUGHTS
Fred Claus doesn't become the new holiday classic it could have been, but it's spirited enough to qualify as a fun time. It's well worth seeing, especially if you're a fan of the talented cast.
Warner's DVD falls short of keepsake. Picture and sound are not at today's typically satisfying levels. And the withholding of most bonus features for the Blu-ray does discourage purchasing. Maybe bargain pricing will make this a worthy stocking stuffer next Christmas, but for now a rental should suffice.
More on the DVD / Buy from Amazon.com / Buy on Blu-ray from Amazon.com