In The Hitchhiker's Guide to the Galaxy, the Betelgeusian alien Ford Prefect revises the titular reference's entry on the planet Earth to read "mostly harmless." If I had to describe last year's Alvin and the Chipmunks film in just two words, I would almost certainly choose those very ones.

For this feature adaptation of an animated property last popular in the 1980s, 20th Century Fox and Regency Enterprises followed the pattern established by their two coolly received Garfield films.

Under this model, Alvin and the Chipmunks were rendered as cartoony, rodent-sized, computer-animated characters residing under the same live-action roof as a kind but disorderly bachelor with obstacles separating him from a pretty young love interest.

Here, that bachelor is Dave Seville (Jason Lee), an aspiring songwriter who's barely making a living in advertising. Three young chipmunk brothers (Alvin, Simon, and Theodore) are unknowingly moved from the forest to Los Angeles civilization, and they wind up in Dave's kitchen garbage can. Their arrival is the answer to Dave's professional woes, as their unusual gifts of speech and harmonious song inspire Dave and lend voice to the tunes he pens.

The singing chipmunks are just what Dave needs to break through at Jett Records and they're an instant hit with the public. As usual, fame has its pitfalls. Alvin, Simon, and Theodore discover them when they choose to live with Jett executive Ian Hawke (David Cross) instead of reluctant father figure Dave. Inevitably, a morality tale emerges out of allying with "fun Uncle Ian", who the audience immediately recognizes as a commerce-driven fair weather friend.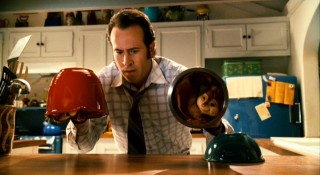 While I must admit I'm entirely unfamiliar with the Chipmunks' first cartoon run in the short-lived early-'60s "The Alvin Show", I've seen plenty of the '80s-'90s incarnation, when it was new and again recently with a critical eye. I can then say with some authority that the Chipmunks' portrayal in this film is not consistent with their past. I'm not referring to continuity; the origins written here for Dave and the Chipmunks' meeting are perfectly acceptable. The film also doesn't goof up the Chipmunks' individual character traits; one still recognizes Alvin as the funny dreamer, Simon as a bit brainy (thus requiring glasses), and Theodore as the big eater.
But as a group, the Chipmunks have been overhauled. No longer innocently mischievous kids, they're now precocious and sarcastic. More than anything else, they're annoying. As moviegoer reception and DVD sales indicate, many viewers still find them cute as intended. Frankly, though, getting smart-alecky to fit postmodern mores robs the trio of much of its enduring charm. I'm okay with tradition being broken (the reason some of those who grew up on the '60s "Alvin" disregard the '80s version), but updating the characters hasn't made them any more relevant or entertaining. Those being introduced to the Chipmunks here might appreciate the nimbler presence compared to the relatively tame 2D characterizations. I find their new style much less savory and believe that's one of the film's biggest turn-offs.
The Chipmunks spend more time here doing than being, and the former consists mainly of raising a cloud of trouble for Dave with their scurrying. Such hijinks apparently pass for modern family entertainment, but only the youngest and least discerning viewers will find the gags genuinely funny. The proceedings have a slick, commercial, mainstream feel to them that encourages overlooking the distinct lack of the cartoon's sincerity and heart. Those able to gloss over that may very well forgive the mandatory fart jokes, a cupboard raid of unadulterated product placement, and what is probably the first scene in a family film where circumstance requires a protagonist to eat excrement. This is surprisingly edgy for a clearly kid-oriented movie, in contrast to Christopher Lennertz's derivative, overactive, and timid score.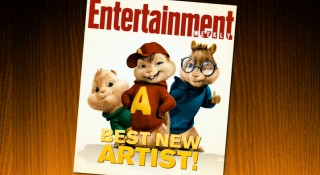 The abundance of interaction between humans and chipmunks makes this more watchable than the Garfield films. That said, the handful of worthwhile live-action roles don't bolster the film or the comedy. Given by far the most opportunities, Jason Lee is just adequate at playing to nothing and narrowly earning our sympathy.

David Cross fares a little better, satisfactorily handling the non-threatening villain's part in a rare chance to do more than brief comic relief. As Dave's photographer ex Claire, Cameron Richardson looks pretty and that appears to be all she's asked to do.

For superficial reasons, a trio of quasi-famous young entertainers -- Justin Long, Matthew Gray Gubler, and Jesse McCartney -- were cast to voice the Chipmunks. Gladly, the characters maintain their past sound long provided by Ross Bagdasarian Jr. and wife Janice Karman, the franchise owners and this film's producers. That only underscores the needlessness of the stunt casting. Visually, the CGI is never mistakable for reality, but the near-constant elements are integrated with sufficient seamlessness.

One interesting aspect is that the contemporary plot holds some parallels to the real story of Ross Bagdasarian Sr.'s creation of the Chipmunks 50 years ago. The first official Chipmunks song, "The Chipmunk Song (Christmas Don't Be Late)", is the one that brings success. From December 1958 to January 1959, that tune truly spent four weeks atop the then-new Billboard Hot 100. To date, it remains the group's most famous anthem. The half-century Chipmunks legacy is sparingly acknowledged throughout, most impressively in the end credits scroll's inclusion of album covers from over the years.

That discography could have been paid more attention in the filmmaking progress. Halfway into the movie, the Chipmunks take on a hip-hop sound under Ian's wallet-lining supervision. Musically and dramatically, it's an unfortunate turn. It's justifiable in that the Chipmunks' stylings have always reflected their times. (In 1980, after years away, the trio returned with the album Chipmunk Punk.) Today's pop music is more fused with hip-hop than the rock Alvin and company would cover on their TV program. I guess the very fact that it's called "pop" means I'm in the minority detesting the Chipmunks' craze-inciting sound. A different kind of minority is wooed here. Gold-certified and boasting four Hot 100-cracking songs, the soundtrack must be factored into the film's enormous success.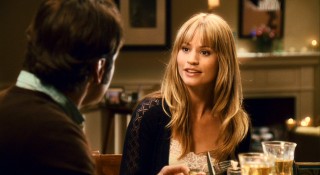 This Chipmunks movie was wildly profitable and to a degree that surprised all. In American theaters, it outgrossed all but two of its holiday season competitors (Will Smith's I Am Legend and, in a close race, National Treasure: Book of Secrets). The performance stood in stark contrast to Fox and Regency's Garfield collaborations, which were popular overseas but much less so in their homeland. Alvin's colossal earnings ($217 million domestically, $360 M worldwide) were rendered all the more impressive by its modest reported budget of $60 million. That sum might have been met by the bump the toaster waffle industry received from its merchandise's widespread exposure here.
The inevitable sequel, tentatively titled Alvin and the Chipmunks: The Squeakquel, is already on the fast track for a Christmas 2009 theatrical release. It will reportedly introduce female counterparts The Chipettes, while putting the Chipmunks in school. The Chipmunks' voices and David Cross are attached to return. Busy with the schedule of his single-camera sitcom "My Name is Earl", Jason Lee hasn't yet committed to it, but I'm sure the studios will give him a few million reasons to make time for it.
Like most Christmastime theatrical openings, Alvin and the Chipmunks made its home video debut in the spring. Within 24 hours of its April 1st release, Fox issued a press release declaring it the year's top-selling DVD. According to Video Business, it held onto that title through the end of September. (It has to have been at least thrice supplanted by now.) The movie's original announcement touted a Two-Disc Special Edition DVD. Two days later, Fox revised the premium set, citing (no joke), "The Chipmunks have been up to their usual mischief and it has unfortunately caused Fox Home Entertainment to remove the previously announced Two-Disc Special Edition DVD from the release schedule at this time." The Special Edition set materialized this November, arriving with Christmasy packaging at a standard list price and with only a few mild revisions.
DVD Details

1.85:1 Anamorphic Widescreen
Dolby Digital 5.1 Surround (English)
Dolby Surround (French, Spanish)
Subtitles: English, Spanish
Closed Captioned; Extras Not Subtitled
Release Date: November 4, 2008
Two single-sided discs (DVD-9 & DVD-5 DVD-ROM)
Suggested Retail Price: $29.98
Black Keepcase with Holographic Cardboard Slipcover
Also available in Limited Edition Gift Set with Alvin Plush
Previously released in Single-Disc DVD and on Blu-ray Disc
VIDEO and AUDIO
Dropping the fullscreen version from the original double-sided release, this new DVD presents the movie exclusively in its 1.85:1 theatrical aspect ratio, enhanced for widescreen displays. The warm, colorful visuals are as admirable here as anywhere, although I doubt there's any perceivable improvement over the original release (not that it was needed). The Dolby Digital 5.1 soundtrack is more front/center-oriented than it should be, but it's a crisp, serviceable track all the same. Strangely, foreign language tracks in French and Spanish are only offered in Dolby Surround, although the 5.1 design suggests these won't be missing much.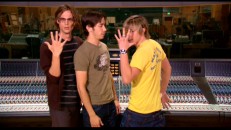 BONUS FEATURES, MENUS and PACKAGING

Special features begin with two deleted scenes. One (3:00) has Dave pitching an energy bar to a tough focus group of kids and following up with his boss Gail (fourth-billed but hardly-seen Jane Lynch). The other (1:20) finds him fantasizing of winning a songwriting award on his elevator ride up with Ian.

They're presented in finished-looking widescreen and stereo, but without introduction or commentary, we're left guessing why they were cut.

Next, we get music videos for "Witch Doctor" (3:44) and "The Chipmunk Song (Christmas Don't Be Late)" (2:15). They're fine, though their heavy reliance on film footage lessens their value. Less pleasing to the ears, "Witch" merits visual notice for its footage of children dancing around the globe and for the bouncing ball lyrics on the chorus that needlessly encouraging sing-along.

The "Behind the Nuts Munkumentary" (8:40) allows cast and crew talk about the Chipmunks as if they're real creatures working on the movie. It's been done before and it's not funny here.

"The Dudes Behind the Munks!" (6:10) lets the Chipmunks' celebrity voice actors Matthew Gray Gubler, Justin Long, and Jesse McCartney goof around and open up (tongue-in-cheek) about their process. The best bits are supplied by Chipmunk owners Ross Bagdasarian (who still sounds just like cartoon Dave Seville) and Janice Karman.
The painful "Get Munk'd" (21:40) thinks that viewers want to learn the Chipmunks' dance moves. Choreographer Rosero McCoy and his dancers take us through countless "Witch Doctor" steps (ridiculously named things like "Get Buck" and "'Munk Steady"), further talking about the rodents as if they're real. This piece lacks, charm, charisma, and anything else of worth.

"Chipmunks Live on Tour!" (11:55) gives us fun footage of a little outdoor mall concert the Chipmunks put on in Chula Vista, California to promote the original DVD release.

The three large costumed characters "perform" the songs "Coast 2 Coast", "Funkytown", "How We Roll" and "Witch Doctor". Sprinkled throughout, picture-in-picture clips let audience members discuss why they like the Chipmunks, their favorite one, and the movie.

Chipmunk Funk Mixer is an activity that lets you play with the vocals and instrumentation on "How We Roll". Choosing from three options on the type of percussion, type of rhythm, and number of Chipmunk singers, you can explore the 27 possible outcomes or the final mix. I didn't hear all of them, but I think you'll find none are very good.

Finally, we get a quintet of trailers, none for Alvin. These ones promote Elephant Tales, Meet Dave, Angel Wars: The Messengers, Garfield's Pet Force, and Dr. Dolittle: A Tinsel Town Tail. Not repeated but opening the disc are the typically Scrat-centric teaser for Ice Age: Dawn of the Dinosaurs and previews for Dr. Seuss' Horton Hears a Who! and Space Chimps.

For some bizarre reason, the few extras on the film's original DVD haven't been ported over here, despite there being ample room for them. If you're fond of the 10-minute featurettes "Chip-Chip-Hooray!" and "Hitting the Harmony" on the Chipmunk franchise and music, then you'll want to hold onto your original DVD. I don't think they're anything special, but such a move is inexcusable.

The light DVD-ROM-only Disc 2 holds a digital copy of the film in iTunes and Windows Media format. That's it. Even if you're into digital copies, it seems like a waste of a disc. If you're not, then it could make for a weak gift for someone who is.

The menus are identical to those on the original DVD. The main menu finds spinning Chipmunks discs floating over layered montage while a "How We Roll" excerpt is looped. Submenus maintain the motif in a silent, static, unremarkable way.

Giving the film more of a Christmas vibe than it earns, the requisite cardboard slipcover takes both sides of the keepcase artwork below and jazzes them up with a holographic green border of red, blue, and green Christmas lights. It's a really nice look and one I'm surprised hasn't been given to more Christmasy films before. The only in-case insert is a sheet holding your unique serial code needed to unlock the digital copy.
CLOSING THOUGHTS
The blockbuster Alvin and the Chipmunks movie definitely could have been worse, but it also could have been much better. I feel like this should have been made in the early 1990s with Bob Saget playing Dave Seville and the Chipmunks not resembling actual squirrels. For middle-of-the-road family fare, this is acceptable if not very inspired. I'll always prefer the '80s cartoons.
Fox's Special Edition is rather disappointing. There's little bonus material and more of it is disposable than enlightening. The lack of the original disc's featurettes is shameful. Perhaps the best thing about this DVD is the Christmas light slipcover; yes, a holographic piece of cardboard. Not even a clear winner over the previous disc, this is definitely not worth upgrading to. If you don't own the movie and want to, prefer widescreen, and care about digital copies, this one is a sensible purchase. But in price and availability, the original DVD comes out ahead. And I'd be more apt to recommend the 1980s animated series (still awaiting a definitive release) or feature film The Chipmunk Adventure than either. What they lack in fanfare, they more than make up for in wit.
More on the DVD / Buy Alvin and the Chipmunks from Amazon.com:
Special Edition DVD / Limited Edition Gift Set (with Alvin Plush) / Original DVD / Blu-ray Disc