Raven-Symoné and Disney have had a mutually fruitful working relationship for quite a while now. Already a veteran of two network sitcoms at age 17, Symoné became star of the Disney Channel series "That's So Raven", debuting January 2003. The show was a hit, accruing an unprecedented 100 episodes over four years.

More importantly, it established for the cable network a fail-safe recipe for inexpensive laugh track comedies. Raven meanwhile accepted a host of offers from the Mouse, as a DVD music video staple, faithful company event attendee, voice actress, and occasional member of The Cheetah Girls. The next logical step was a leading role in a theatrical film and that's just what College Road Trip gives her.

Second-billed here, the 22-year-old Raven plays high school senior Melanie Porter, who lives in the fictional Illinois suburb of Fox Springs. A credentialed ace student and all-around responsible girl, Melanie has plenty of college prospects. But, as far as her overprotective police chief father James (Martin Lawrence) is concerned, the only viable future is at nearby Northwestern University, a reasonable half-hour drive away. Melanie takes more interest in pursuing a pre-law program at Georgetown University.

When an impressed judge puts in a phone call, Melanie gets an imminent interview scheduled at the Washington, D.C. institution. She plans for a weekend road trip there with her flighty best friends Nancy (Brenda Song, "The Suite Life of Zack & Cody") and Katie (Margo Harshman, "Even Stevens"). Dad has different plans, which involve him accompanying Melanie on a trip to be made in a police jeep with an unannounced stop at Northwestern.
Of course, you know what happens next. Maybe not down to a T. But as you can imagine, a series of unexpected occurrences and misadventures spice things up, turning a potentially straightforward trip into an on-the-road buddy comedy where the bound-for-bonding odd couple are father and daughter.
College Road Trip alternates between two states: broad physical comedy and sentimentality. It excels at neither.
I won't say that physical comedy is entirely played out, though it's tempting to argue that when given the hackneyed situations seen here. There are several obvious explanations why the movie fails to be funny for anyone over the age of 6. One is that, as written, the material is stale. The execution is equally lacking inspiration. Every gag is overly set up and telegraphed, so that by the time the joke arrives, it's already been foreseen and likely in a more clever way.
The movie also miscalculates its moves. The introduction of an energetic father/daughter couple who turn everything into a song (mostly Rodgers & Hammerstein show tunes) is promising, particularly as played by Donny Osmond and young Broadway vet Molly Ephraim. But College so desperately wants us to think they're obnoxious in spite of the fact that they're more likable than its whiny leading duo.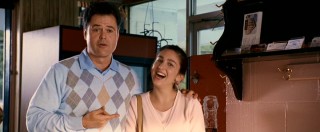 Among the other problems are that Lawrence's character isn't embarrassing enough and Raven's isn't empathetic. Sure, both actors capably handle the various pratfalls thrown at them and help keep this a few noticeable notches above the low Disney Channel Original Movie standards. But the comedy doesn't click, which only makes us less forgiving of the saccharine daddy-daughter moments scattered throughout. A younger brother (Eshaya Draper) is on hand only to convince us that he's odd (he doesn't). And yet, his pet pig Albert claims about the third most screentime.
Needless to say, a story with potential to be both comedic and poignant falls well short of either mark. That's especially disappointing because the college application process, a rite of passage for older teens, has largely been ignored on film. At least they used actual, sensible college names.
Though heavily roasted by critics, College Road Trip likely earned back its budget with a North American gross of $45 million. It comes to DVD and Blu-ray next week, bolstered by a number of bonus features.
DVD Details

2.35:1 Anamorphic Widescreen,
1.33:1 Reformatted Fullscreen
Dolby Digital 5.1 (English), Dolby Surround (French)
Subtitles: English, French, Spanish
Closed Captioned; Most Extras Subtitled
Release Date: July 15, 2008
Single-sided, dual-layered disc (DVD-9)
Suggested Retail Price: $19.99 (Reduced from $29.99)
White Keepcase Housed in Cardboard Slipcover
Also Available on Blu-ray Disc
VIDEO and AUDIO
No ball is dropped in the picture and sound departments. The DVD presents College Road Trip in both its 2.35:1 widescreen theatrical aspect ratio and a 1.33:1 fullscreen transfer. By opening up the Super 35 filming, the latter gains more height than the width it loses, but it's still cramped and compromised. The picture is just as immaculate, sharp, and vibrant as you'd expect. The Dolby Digital 5.1 soundtrack is marked by several bursts of life, mostly from the use of familiar pop tunes (see the full list at the bottom of the review) and once from the film's low point, Raven annoyingly leading a bus of Japanese tourists in song.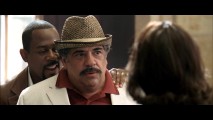 BONUS FEATURES, MENUS and PACKAGING

The hearty slate of extras begins with not one but two audio commentaries on the widescreen version of the film.

The first features director Roger Kumble and star/producer Raven-Symoné. Kumble likes to identify "New York actors", mention what else they've done, and talk about how great they are.

He does a similar thing for crew members and his recognition fetish continues through the end of the end credits scroll, when he rattles off the names of more than a dozen uncredited screenplay contributors. Doing much less of the talking, the giggly Raven does share a few observations and stories (that often center on her). In spite of the shortcomings (Kumble's more excited than embarrassed at spotting himself hiding in the back seat of a car shot), there is a decent amount of production information found here.

The second commentary features Emi Mochizuki and Carrie Evans, the top two of four credited screenwriters. Though it lacks the other track's star appeal, it's far less bland, although there are some dry spells throughout. Among the topics the ladies cover are aspects developed or removed from their submission, other colleges considered in the script, real-life and cinematic inspirations, their love of Disney Channel programming, and writing for a "G" rating. You probably could boil their thoughts down to a dense 12-minute featurette, but at least they're candid and specific on this track.

Video features commence with "Raven's Video Diary" (9:55). Though introduced as footage Raven captured with a handheld camera during production, most of it is either standard set B-roll or higher quality film of Raven shooting away. It only slightly (but welcomely) differs from your generic making-of piece.

Ten deleted scenes (12:35) follow. The first few are longer, self-contained sequences, whereas the rest are short extensions or alternate cuts. Most notable: one which inspires James to accompany his daughter and plan the trip, one which shows more of the Parker mother (Kym E. Whitley) at work, and one in which Melanie pretends to be a cop to save her father from a sticky forest situation. Appearing in these deletions are Vincent Pastore ("The Sopranos"), Grizz Chapman ("30 Rock"), and Joe Lo Truglio ("The State"), who are absent or close to it in the final film.

In addition, an alternate opening (2:30) finds Mr. Porter thwarting a bank robbery while applying for a student loan. Two alternate endings (1:05) bring back forgotten pig Albert for a closing gag. All thirteen items are presented with informative optional audio commentary by Roger Kumble.
A gag reel (2:45) is provided. As is often the case, if you don't find the people funny in the film, they're not any funnier on blown takes. Still, it's worth viewing if only for glimpses at green screen footage and the sight of Raven cursing -- as if by magic -- silently.

Next, we get Raven's "Double Dutch Bus" music video (3:15), in which she boards a bus only to have the inside be a narrow discotheque, which she shares with a slew of photogenic dancers and a briefly-seen Donny Osmond. As long is the featurette "On the Set: Double Dutch Bus" (3:25),

which serves up rehearsal and choreography footage with some comments by Osmond and rambling Raven. Two short observations: 1) Raven had better musical sensibilities at age 4 playing cute Huxtable stepdaughter Olivia. 2) If I never again hear the phrase "Dizouble Dizutch", it will be too soon.

Equipped with FastPlay, the disc assumes that if you enjoy this hands-free format, you'll want to see the movie in fullscreen. Once that's selected, you may have difficulty accessing the widescreen version. Playing at disc insertion are a Disney company promo; a Disney Blu-ray promo; trailers for Camp Rock, The Nightmare Before Christmas: Collector's Edition, Hannah Montana and Miley Cyrus: Best of Both Worlds Concert Blu-ray; and a Disney Movie Rewards spot. After the movie with FastPlay or any time you like on the Sneak Peeks menu, additional previews are shown for The Chronicles of Narnia: Prince Caspian, "Wizards of Waverly Place", and "Phineas and Ferb": The Fast and the Phineas.

The animated menus are nicely designed. The main menu rotates through stills of various characters while following the Porters' vehicle along a CGI realm. The bonus features menu follows the movie's CGI map motif without any additional character shots. Submenus are musical but static.

The white keepcase is housed in a standard no-frills cardboard slipcover (that lets Martin Lawrence claim a spine). Interestingly, a sticker touts the presence of Disney Channel stars Lucas Grabeel and Brenda Song (who's even featured on the cover), despite the fact that they each get about 1-3 minutes of screentime. Inside are a scene selections insert, a short-lived $10 coupon for College Road Trip on Blu-ray, and an 8-page booklet touting all the great things about the high-def format to which Disney so desperately wants all to upgrade.
CLOSING THOUGHTS
Utterly predictable and nearly void of laughs, College Road Trip can't be considered any kind of artistic success. That said, young children may enjoy the broad hijinks and standard storytelling here. Still, I can't advocate seeing the movie soon, unless you're a huge fan of the cast. Even then, you're more apt to tolerate than enjoy. At least the DVD treatment Disney has given this subpar comedy leaves no room for complaint.