Having already released comprehensive collections of Mickey Mouse, Donald, and Goofy shorts, it is not very surprising that Disney has now put out The Complete Pluto, Volume One with their latest line of Walt Disney Treasures sets.

What is surprising to some is the "Volume One" subtitle. In a judgment call, Disney has decided to break up the cartoons from Mickey's energetic dog into two different volumes rather than trying to squeeze the unreleased Pluto shorts into one set. The result is that this premiere volume houses all the cartoons from the "Pluto" series through Pluto's Housewarming, released to theaters in February of 1947.

In addition to the official "Pluto shorts", this 2-disc Limited Edition tin presents some "Mickey" and "Donald" shorts that contain Pluto's more memorable supporting performances. These include his debut appearance as a pair of trail-sniffing bloodhounds in 1930's The Chain Gang.

Following that, Pluto would turn up mostly in Mickey Mouse cartoons as his dog and companion. Pluto maintained this supporting role for seven years, until 1937 brought the very first short in his own cartoon line, "Pluto's Quin-puplets." Pluto's rise coincided with the somewhat abrupt disappearance of Mickey Mouse, who after a decade of being Disney's most visible animated star began to fade from the cartoon short scene. Certainly, Mickey hasn't disappeared altogether, and is indisputably the most recognizable "Walt Disney" character today. But while the owner fell into the background, his pet Pluto took a prominent place behind Donald, but alongside Goofy as one of Disney's major short film stars of the 1940s.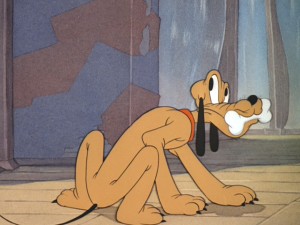 Though Pluto did not speak, there was no shortage of personality on display. The strength of his dialogueless shorts is a testament to how little speech figures in these early cartoons. Pluto's shorts are driven by sounds and action, which are normally sparked by his rambunctiousness.
Unlike the shorts of Donald Duck or Warner Brothers' popular cartoon stars, Pluto's films do not adhere to one specific, repetitive formula. While the dog's tempers would often flare, he could also be compassionate or playful to a greater degree than Disney's top duck at the time. Oftentimes, Pluto would interact with other animals, setting off on adventures or chases with comic, fast-paced results. Still, the Pluto's cartoons presented here allow room to try different tones and genres.
With 28 shorts, many of which have already been released, this is definitely one of the lighter Walt Disney Treasures sets. But for those who haven't been compiling a complete Treasures collection, or even those of who have, this set shines the spotlight on a new character and provides over three hours of Pluto's earliest and most memorable animated shorts.
Like all Walt Disney Treasures, this set is presented in a double Alpha keepcase (which for Wave 4, in a first, is white) and housed in a silver tin. Inside, you'll find a certificate of authenticity, with the number of your individual copy; a surprisingly low 110,000 Complete Pluto, Volume One sets were produced. The terrific 8-page booklet remains in line with past Treasures inserts, containing some basic info on Walt Disney, a list of contents, information on the set by Leonard Maltin, and poster art from Academy Award winner "Lend a Paw." In addition, there is a colorful collectible card which reproduces poster art of Pluto's 1940 short Bone Trouble.
DISC 1
Disc 1 opens with a 2-minute introduction from Treasures host Leonard Maltin. Naturally Maltin talks about Pluto, specifically about what distinguishes him from Disney's other cartoon stars as a genuine animal who cannot speak. This intro provides a quick overview of Pluto's development and a bit of information on Norman Ferguson, the animator from whom Pluto emerged.
This first disc contains 13 Pluto shorts, which are offered in 3-page alphabetical and chronological listings. In addition a "Play All" option enables you to chronologically, well, I'm sure you can guess.

THE SHORTS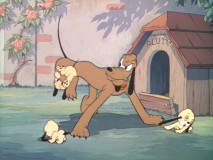 The Chain Gang (1930) (7:50)
Like many of the earliest Disney cartoons, general antics are on display here more than a plot. This short marks the very first appearance of Pluto as a pair of trail-sniffing dogs who follow Mickey after the mouse makes a prison break. It's the only black and white cartoon among this set.

On Ice (1935) (8:05)
It's a snowy winter day and everyone's down at the frozen pond. Mickey tries to give Minnie a skating lesson, Goofy does battle with tobacco-spitting fish, and Donald discovers Pluto whose ineptitude at skating gives the duck reason to laugh. It's nice to see the different storylines all come together for this amusing short's finale.

Pluto's Quin-puplets (1937) (9:04)
In this, the first official "Pluto short", Pluto struggles to watch over five puppies when their mother goes out. As the quintuplets deal with a wayward hose shooting out compressed air, paint cans leave them all to sport a variety of colorful designs.

Beach Picnic (1939) (8:24)
Having fun in the water with his inflatable seahorse, Donald spots Pluto and doesn't miss the opportunity to make the dog look silly. Later, a tribe of colorful ants try to claim the bountiful picnic offerings and Pluto has a run-in with some fly paper.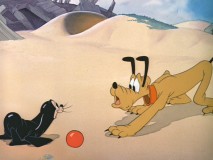 Bone Trouble (1940) (8:40)
Pluto is in search of a good bone, but stealing one from the neighbor dog isn't a very good idea. The bulldog's pursuit leads them both to a carnival,
where there's some fun animation as Pluto takes in a variety of distorted reflections at a fun house.

Pluto's Playmate (1941) (7:59)
Pluto is having a good time at the beach with his red ball, until a playful seal comes along and takes it. Pluto's efforts to retrieve the ball put him in a snafu with a pesky octopus.

Canine Caddy (1941) (7:28)
Mickey hits the links for a bit of golf, and Pluto proves to be a most helpful caddy. The whole short offers sight gags as Pluto resourcefully aids Mickey's play and then duels with a gopher in a way that would make Carl Spackler proud.

Lend a Paw (1941) (8:07)
Pluto rescues a poor, defenseless kitten. The kitten follows Pluto home, where it starts getting Mickey's attention and eating Pluto's food. Angel and devil Plutos help the dog evaluate the unfortunate situation that stems from his heroism. This cartoon won the Oscar for Best Short and it's clearly one of the highlights of this set, with its inspired story and animation. The short also turned up on the Oliver & Company DVD.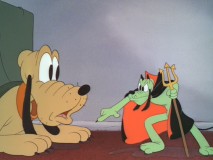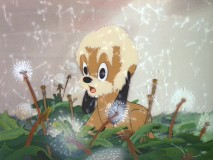 Pluto, Junior (1942) (7:06)
Pluto and his son junior embark on a barrage of sight gags. A ball, a balloon, a caterpillar, and clothes lines are among the props that figure in this parade of tepid visual humor.

The Army Mascot (1942) (7:12)
Longing for the meaty meals that the mascots are treated to, Pluto tries to replace Gunther Goat, the Yoo-Hoo Division mascot. Gunther is not amused and gives him a beating. When Pluto tries to show up Gunther at the art of tobacco-chewing, it results in hallucinogenic disaster, but things work out in the end.

The Sleepwalker (1942) (7:12)
Pluto's sleepwalking antics creates a bit of chaos when he winds up giving his bone to a neighboring dachshund.

T-Bone for Two (1942) (7:05)
Pluto's lust for Butch's big bone inspires him to concoct plans to easily swipe it away from the imposing bulldog.

Pluto at the Zoo (1942) (7:45)
Pluto can't resist the massive bone he sees in a lion's cage at the zoo. In trying to claim the bone, he encounters a mother kangaroo with child, a giant gorilla, a hungry crocodile, and eventually the lion himself. Pluto's misadventures are more entertaining than usual in this charming short.
VIDEO & AUDIO

All of the shorts and bonus features are presented in 1.33:1 fullscreen. The lone black-and-white cartoon among the lot, "The Chain Gang" features an impressively clean print. Other shorts showcase colors that are vibrant, not washed out like you might expect from material created over sixty years ago.

There are some inconsistencies with very light bands of colors showing up from time to time that are noticeable, mostly these are only present on the earliest shorts. Tiny specks, scratches and other imperfections sometimes but rarely turn up.

Even so these exhibit an impressive clarity and sharpness. The animation in these cartoon shorts isn't quite what we see today, but this satisfying video presentation makes it easy for you to admire the look and the details of the era.

There isn't a great deal to say about the Dolby Digital Mono sound treatment. Like the picture, efforts have been made to preserve a consistent, accurate, and pleasing audio presentation. The primary elements of the track are the ubiquitous swift-moving score (which effectively conveys emotions and lends to a generally comfortable air) and the abundant sound effects (without which, these shorts would be sorely lacking). Dialogue doesn't turn up too often in the shorts, but when it does, it is conveyed as strongly as you'd hope and expect for a '30s or '40s cartoon. You never suspect that you're listening to a new cartoon (although the sound design is impressive for its time), but you're never straining to hear or distinguish sounds.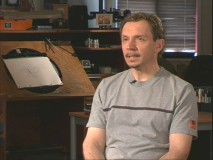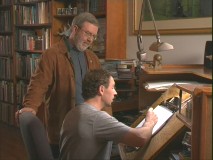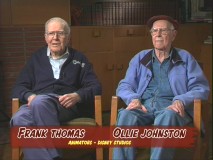 BONUS FEATURES

The first of the two bonus features residing on Disc 1 is "The Life and Times of Pluto" (9:10), an interesting but too brief analysis of Pluto as a character. Leonard Maltin discusses Disney's dog with current animator Andreas Deja, long-time animators Frank Thomas (who is paid tribute in a screen at this featurette's end) and Ollie Johnston, and animation historian John Canemaker.

Oddly enough, most of the shorts that are discussed and featured aren't included in this Volume One collection, but I guess the piece is as satisfying as you can expect for its running time. Among the topics discussed are Walt's personal influence on the character; he was the origin behind Pluto's creation and name.

In "Pluto 101" (11:45), Maltin sits down with Disney animator Andreas Deja, the man behind some of the most memorable villains from last decade. Deja speaks about the value of studying classic cartoon shorts to aid in his ability to animate successfully. He then takes Leonard to the drawing board, where he shows how to bring Pluto to life from just one circle, the way he did in a sequence for the 1990 featurette The Prince and the Pauper. While other DVD bonus features have attempted to explain the animation process, this one succeeds with simplicity. Without slick, fast-paced editing or talking down to a young audience, Deja amiably reveals the magic of the medium as well as displaying his strong appreciation for the craft.

The menus on both discs--uniform still 4x3 frames--are accompanied by upbeat instrumentals (except for the short selection screens) and artwork of Pluto in various stages of animation. Fortunately, the menu music isn't mixed too loud the way it is on some other Treasures sets. The cursor is neatly represented by bones.

Buy from Amazon.com Marketplace
NEXT >>
ONTO PAGE TWO