UltimateDisney.com | Walt Disney Treasures | DVD Reviews | Direct-to-Video Page | Search This Site

Donald Duck Cartoon Shorts on DVD - The Chronological Donald: Volume One • Volume Two • Volume Three • Volume Four
The Chronological Donald Volume 3 DVD Review
Disc 1: 16 Donald Duck Shorts (Click title to view that portion of the review)
1947: Straight Shooters, Sleepy Time Donald, Donald's Dilemma, Crazy with the Heat, Bootle Beetle, Wide Open Spaces, Chip 'An Dale;
1948: Drip Drippy Donald, Daddy Duck, Donald's Dream Voice, The Trial of Donald Duck, Inferior Decorator, Soup's On;
From the Vault: Clown of the Jungle (1947), Three for Breakfast (1948), Tea for Two Hundred (1948)

Disc 2: 14 Donald Duck Shorts (Click title to view that portion of the review)
1949: Sea Salts, Winter Storage, Honey Harvester, All in a Nutshell, The Greener Yard, Slide, Donald, Slide, Toy Tinkers;
1950: Lion Around, Crazy Over Daisy, Trailer Horn, Hook, Lion, and Sinker, Out on a Limb;
From the Vault: Donald's Happy Birthday (1949), Bee at the Beach (1950)

Video and Audio
Bonus Material: "The Many Faces of Donald Duck", "Sculpting Donald", "Donald Duck on the Mickey Mouse Club", Galleries
Closing Thoughts

Running Time: 263 Minutes (4 hours, 23 minutes) / Rating: Not Rated
1.33:1 Fullscreen (Original Aspect Ratio) / Dolby Digital 2.0 Mono (English)
Originally Released between 1947 and 1950
Subtitles: English; Closed Captioned / DVD Release Date: December 11, 2007
Two single-sided, dual-layered discs (DVD-9); Suggested Retail Price: $32.99
REVIEW CONTENTS


Page 1: Set Overview and Disc 1 Shorts
Page 2: Disc 2 Shorts, Video & Audio, Bonus Features, and Closing Thoughts

By Kelvin Cedeno

Of Disney's classic Fab Five characters (or the Spectacular Six if you include the often-ignored Daisy), Donald Duck is arguably the most popular. Mickey, of course, will always be the most recognizable due to him being an iconic status symbol, but Donald tends to be the character most people cite as their favorite. As Mickey grew into the Disney figurehead, the studio's animators became much more aware of what sort of situations to put him in. The bad boy antics of his early days no longer seemed to sit well with the character meant to represent the company,

so the team used Donald as a means of letting loose. Without the pressure of iconization, Donald was able to (frequently) lose his temper, get into fights, and play devilish pranks on other characters. Walt Disney Treasures: The Chronological Donald, Volume 3 showcases his shorts from 1947-1950, made following World War II.

What's interesting to note about the cartoons featured here is how Donald's role slowly morphs throughout this three-year span. He starts off being the star of his shorts, propelling the action forward and dealing with various everyday situations in his own way. Eventually, though, it seems like the story people were running out of ideas and predicaments to place him in. They repeatedly tried to bring in supporting characters that would essentially upstage Donald similarly to how he upstaged Mickey. Two of these characters -- the Bootle Beetle and Buzz-Buzz the bumblebee -- only appeared a handful of times. One pair of characters did manage to stick, though: these were fast-chattering chipmunk duo Chip 'n Dale. Many of the shorts in this collection follow the same formula: Chip and Dale attempt to steal a food item of Donald's, which the short-tempered Duck does not take lightly. While this admittedly grew a bit stale after a while, it managed to secure Chip and Dale a place in Disney's hall of fame.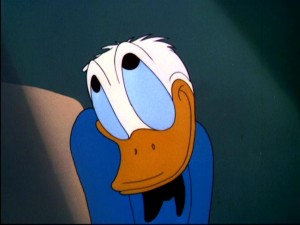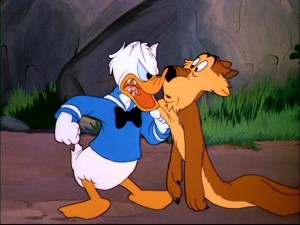 Even with a frequent formula, Donald's shorts from this era stand out as some of his very best. This is due to two factors, the first being the creativity of both the animators and the story department. Many rapid-fire visual gags come across as inspired and are given just the right timing to make them amusing. It's obvious that the team responsible for these shorts was confident in what it was doing. The other reason these shorts are so memorable is the sound design.

Sound design often goes ignored by audiences, but it's utilized so well in the featured cartoons that one has to mention it. The effects are used most notably and hilariously in Drip Drippy Donald, where virtually all of the humor stems from the sound of a leaky faucet. As the short plays out, the faucet sound goes from a simple drip to the earth-shattering crash of a missile. Such exaggerated foley work was generally avoided for Disney's prestigious animated features, and one can tell that the artists completely took advantage of the opportunities given here.

Donald Duck may be the most mean-spirited and aggresive of the classic Disney personalities, but this actually makes him more relatable to the audience. He's someone who vents the sort of frustrations many people wish to but don't out of civility. The shorts he starred in from 1947-50 exemplify why he still resonates with both old and new generations. They're timeless, creative, and feature humor that transcends any sort of language barrier (including Donald's own warbling).

PACKAGING

The packaging of the Walt Disney Treasures line immediately illustrates what a particularly special collection this is. The Chronological Donald, Volume Three adds to this tradition. Instead of the usual standard-size Alpha keepcase, a double-wide black Alpha case is used, and it is held inside of an embossed tin. As with the past couple of waves, Donald and the two sets accompanying it have no outer band featuring the copy number or Roy Disney's signature. These are both found on the certificate of authenticity inside the case. The other in-case inclusions are plenty familiar to buyers of this series: an 8-page booklet discussing the set and its contents, and a miniature lithograph. The litho in question reproduces the poster art for 1947's Inferior Decorator. While the two sets released concurrently with Donald featured an additional bonus keepsake, this one does not.

DISC 1

A somewhat out of place trailer for the Pixar Short Films Collection, Volume 1 starts off the disc. This is followed by the expected introduction from Leonard Maltin (2:16) explaining Donald's career history and the type of shorts to be found on this disc.

THE SHORTS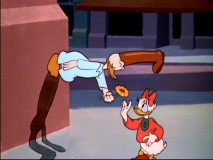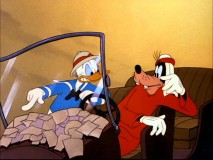 Straight Shooters (1947) (6:12)
Huey, Dewey, and Louie cheat at Donald's shooting booth at the fair and decide to make his life miserable after he tries to throw them out.

Sleepy Time Donald (1947) (6:31)
Daisy catches Donald sleepwalking and tries to supervise him as he roams the city precariously.

Donald's Dilemma (1947) (7:15)
When Donald gets hit on the head with a flower pot, he loses his memory and becomes a famed singer, abandoning Daisy in the process.

Crazy with the Heat (1947) (6:00)
Donald and Goofy get lost in the middle of a vast desert and soon find that the mirages they encounter are a little too real.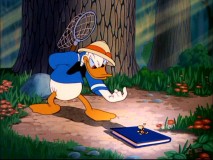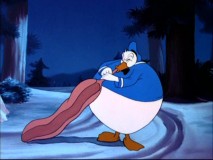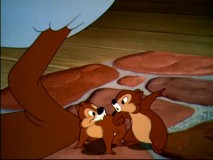 Bootle Beetle (1947) (7:01)
Donald sets out to capture the elusive Bootle Beetle, but the task is easier said than done.

Wide Open Spaces (1947) (6:37)
When he refuses to spend money at an inn, Donald is forced to sleep out in the woods, facing a myriad of challenges along the way.

Chip 'An Dale (1947) (6:38)
Chip and Dale make their world debut in this short about their efforts to get their home back after Donald chops it down for firewood.

Drip Dippy Donald (1948) (6:45)
In the most hilarious short of the set, Donald's sleep is constantly interrupted by a decisively leaky faucet.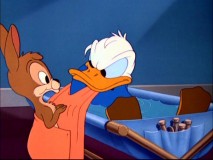 Daddy Duck (1948) (6:34)
Donald adopts Joey, a baby kangaroo, but the hyperactive child is too much for Donald to bear.

Donald's Dream Voice (1948) (6:28)
Donald purchases a package of pills that makes his voice crisper and richer, but when he loses all but one, he strives to protect it.

The Trial of Donald Duck (1948) (6:48)
When his picnic is spoiled by a rainstorm,

Donald decides to bring his food into an upper crust French restaurant, only to be put on trial for not paying.

Inferior Decorator (1948) (6:20)
Donald takes advantage of the fact that a bee mistakes his wallpaper flowers as real ones.

Soup's On (1948) (6:53)
After Donald sends them to bed without supper, Huey, Dewey, and Louie hatch a plan to convince him he's dead.

FROM THE VAULT

This section begins with unskippable 30-second introduction by Leonard Maltin which warns that the following shorts may contain elements that are frowned upon in today's society. While this comes across as slightly pandering, Disney should be commended for including these shorts uncut.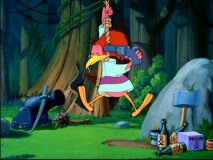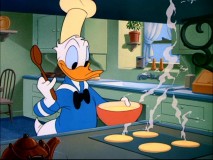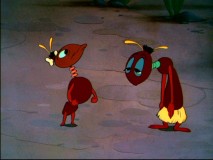 Clown of the Jungle (1947) (6:16)
Donald attempts to photograph Amazonian birds, but a nutty one known as the Aracuan proves to be a major distraction. This short was relegated to this section due to the Aracuan attempting suicide twice, with the climax having Donald try to kill him with a machine gun.

Three for Breakfast (1948) (7:04)
Chip and Dale steal some of Donald's homemade pancakes, but Donald soon retaliates. The only questionable portion of this short is a quick gag towards the end involving an Asian stereotype that's no different than the famous dancing mushrooms from Fantasia.

Tea for Two Hundred (1948) (6:44)
Donald has a picnic out in the woods that attracts the attention of a colony of ants. More than likely the depiction of the ants as a sort of native African tribe is why this short is found here. Donald also attempts to destroy the ants via dynamite at one point.


ONTO PAGE TWO
Order Walt Disney Treasures: The Chronological Donald, Volume Three from Amazon.com


REVIEW CONTENTS


Page 1: Set Overview and Disc 1 Shorts
Page 2: Disc 2 Shorts, Video & Audio, Bonus Features, and Closing Thoughts
Related Reviews:
The Chronological Donald: Volume 1 • The Chronological Donald, Volume 2 • The Chronological Donald, Volume 4
Wave 7 Walt Disney Treasures: Disneyland: Secrets, Stories & Magic
The Complete Pluto, Volume 1 • The Complete Pluto, Volume 2 • Fantasia & Fantasia 2000
The Three Caballeros • Saludos Amigos • Classic Cartoon Favorites: Volume 8 - Holiday Celebration with Mickey & Pals
DuckTales: Volume 1 • DuckTales: Volume 2 • DuckTales: Volume 3 • Quack Pack: Volume 1 • Mickey's House of Villains
Walt Disney Treasures: The Mickey Mouse Club • Walt Disney on the Front Lines • Mickey Mouse in Living Color, Volume 2
Classic Cartoon Favorites: Volume 2 - Starring Donald • Volume 4 - Starring Chip 'n Dale • Volume 10 - Best Pals: Donald & Daisy
Funny Factory: Volume 1: With Mickey • Volume 2: With Donald • Volume 2: With Huey, Dewey & Louie
Mickey Mouse Clubhouse: Mickey's Great Clubhouse Hunt • Mickey Mouse Clubhouse: Mickey Saves Santa and Other Mouseketales
The Ultimate Guide to Disney DVD
Review posted December 14, 2007.