By David Willis

Since his introduction more than 70 years ago, Goofy has become one of the most recognized and loved characters of the animated world, being voted in 2005 in Disney's "Golden Ears" survey as the character most people identify with. Yet like his predecessor Mickey Mouse, Goofy has not remained the same all these years; he has undergone countless changes. In his 1932 debut "Mickey's Revue", he first appeared with the name Dippy Dawg, which answers a frequently-asked question, "What is Goofy?" He is a dog, however unlike Pluto, Goofy was granted the anthropomorphic features of walking on two legs, wearing clothes and partaking in "human" activities, like his fellow stars Mickey and Donald. It was his

laugh which helped Goofy stand out from the other generic background characters – although it is his yell which many identify with - in the early barnyard shorts, provided by one-time clown Pinto Colvig. Goofy became an instant star and was promoted to appearing alongside Mickey and Donald on many occasions in such classic 1930s shorts as "Clock Cleaners" and "Lonesome Ghosts."

Despite initially having the official title of Dippy Dawg, to the Disney staff he was always "The Goof." He demonstrated his Goofy nature by falling victim usually to inanimate objects such as the piano in the 1936 short "Moving Day", and the shorts would always progress with Goofy trying method after method to achieve his goal, with the methods growing increasingly more farcical. However, due to argument between Walt and Colvig, Colvig left the studio after the production of Snow White and the Seven Dwarfs – for which he had provided two voices – and went to work for Walt's rival Max Fleischer. Other actors were hired to replicate Colvig's voice and audio tracks were reused, but it was not the same without him and eventually in 1942 Colvig came back to the Disney studio for good.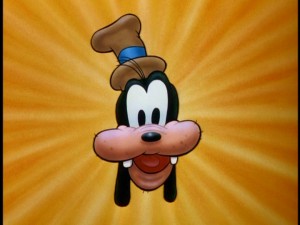 As the writers began failing to think of ways to make Mickey fresh, the mouse gradually became eclipsed during the late 1930s by Donald and Goofy, and so in 1939 Goofy was granted his first solo project, "Goofy and Wilbur." A trademark of the Goofy cartoons, more so than even Donald Duck's shorts, was their use of slapstick and pantomime. In some cartoons, Goofy would not speak and the story progressed from his frustration at the situation, as illustrated by his numerous facial expressions. Goofy's actions in 1942's "Goofy's Glider" were set to narration and became what was the first "how to" short. Exploring Goofy's attempts to master a given field, the "how to" shorts were a minefield of slapstick, quick action, fanciful designs and endeavors, sight gags, in-jokes, puns and anything else that those involved with the shorts decided to throw in. The ultimate example of this class is 1946's "Hockey Homicide", which could easily be described with the word "frenzied." Many of these shorts often featured not one Goofy as we know him, but a whole world filled with Goofys of all shapes and sizes.
The Complete Goofy features 46 shorts originally released between 1939 and 1961 on two discs found inside a double Alpha keepcase. This case is housed within a silver tin, which is imprinted with the number of the individual copy of which 125,000 were made available. Also included is an 8-page booklet which outlines the 46 shorts included as well as bonus features and provides some information about Goofy from Leonard Maltin. Finally, there is a collectible art card reproducing the original theatrical poster for "The Olympic Champ."
Disc One opens with an introduction by Leonard Maltin (2:17) where he introduces us to the loveable Goofy, gives us a glimpse at the character's evolution and informs of what we will see on this set. This clip can also be selected from the main menu. The shorts can be accessed either in chronological or alphabetical order, although disappointingly, no "Play All" option is provided.
The second feature on Disc 1 is a brief biography of the man who provided Goofy with that unmistakable voice entitled "Pinto Colvig: The Man Behind the Goof" (5:33). Narrated by Leonard Maltin, Pinto Colvig's life story is briefly presented from his early days travelling the country as a performer to his arrival at the Disney studios in 1930. Colvig worked as a gag man and provided many characters with voices including the Practical Pig in "The Three Little Pigs" and Grumpy and Sleepy from Snow White and the Seven Dwarfs. His departure to the Fleischer studios in Miami is also looked at, before his return to Disney in 1941, where he remained providing the voice of Goofy until he retired.
The menus are simple, featuring scenes of Goofy from his various adventures. The menus feature simple music, excluding the cartoon selection sub menus.