Disney DVD FREQUENTLY ASKED QUESTIONS
UPCOMING RELEASES • UPCOMING COVER ART • FORUM • COMING TO THEATERS • DVD REVIEWS
Animated Classics | Other Animated Films | Live Action (1980-Present) | Live Action (Pre-1980) | Direct-to-Video | Television Movies | TV Shows
UltimateDisney.com Top Stories:

What Disney DVDs are currently Out of Print or will be going Out of Print soon?
Traditionally, Disney has announced discontinuations for the end of January every year. Scheduled to cease production in January 2008 are Aladdin: Platinum Edition, Aladdin II & III Collection, Cinderella: Platinum Edition, Cinderella II: Dreams Come True Special Eiditon, and Cinderella III: A Twist in Time.
There are also a number of unannounced instances of titles going out of print, often to make way for a new version. In addition, several titles have been pronounced as being available "For a Limited Time Only", with no specific date. Titles falling into this class include all volumes in the Classic Cartoon Favorites series. For a complete list of all the out of print Disney DVDs, click here.
What is the release schedule for the Platinum Editions?
As of January 2008, here is our most accurate estimate of the updated Platinum schedule, but as with all of Disney's plans, of course it is subject to more change: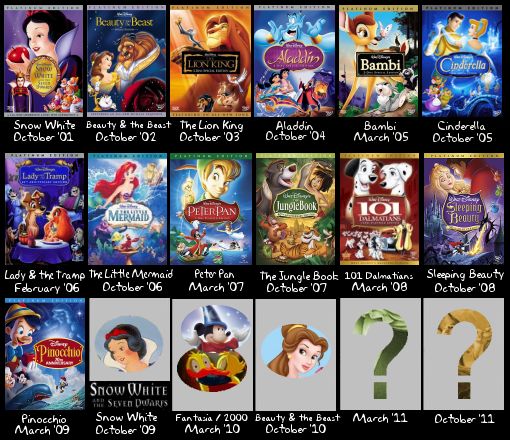 In the spring of 2003, Disney changed their Platinum line plans so that there would be 2 Platinum Editions released per year (one in March, one in October), 14 titles in the collection (adding Fantasia, Peter Pan, Pinocchio, and Sleeping Beauty), and making the Platinum DVDs available for two years and then on moratorium for five, so that their 14 top-selling classics are on a 7-year rotation plan. The changes were made, of course, to benefit Disney financially, and the speed-up is also due, in part, to the studio looking ahead to the high-definition Blu-Ray optical disc format, which could possibly succeed as the next popular home video format. The change to 2 releases a year began in 2005. While the 4 added titles were originally scheduled to arrive after the run of 10 titles was completed in 2007, Peter Pan was bumped up to March of 2007, presumably to cross-promote Tinker Bell, a direct-to-video computer-animated film focusing on the classic pixie and her fairy friends that was expected August 2007, but subsequently delayed to October 2008.

Prior to May 1, 2003, the timeline looked like this:


To read more on various types of Disney DVD releases, click here. For more on just the Platinums, click here.
Sword in the Stone/The Many Adventures of Winnie the Pooh/The Fox and the Hound/etc. was only released in Fullscreen on DVD. Is it Pan & Scan or is it in the proper aspect ratio?
To the best of our knowledge, every Disney animated classic is presented in its original aspect ratio on DVD, with the exception of The Fox and the Hound. It seems that all animated features from The Rescuers on have been created in a widescreen ratio, which makes the fullscreen Fox & Hound DVD the odd cropped "pan & scan" release. Beginning with the Most Wanted Edition of Robin Hood, released November of 2006, certain animated Disney films from this period have been released to DVD in matted widescreen editions, including The Jungle Book and The Aristocats. Whether this is more faithful to the makers' intentions than the fullscreen versions with more visuals remains in question. Click here to read more on the issue.
What Disney movies are edited for DVD?
Make Mine Music has a scene ("The Martins and the Coys") removed. Segments of Melody Time and Saludos Amigos have been edited to remove cigarettes. (Yet the Region 2 DVD of Melody Time is unedited.) Lastly, while the Fantasia DVD releases preserve the full Roadshow cut, a few brief segments of the "Pastoral Symphony" sequence have been zoomed and digitally edited. For more specifics, Widescreen.org has an article here (rant warning!).
Will Song of the South ever see the light of day on DVD?
Anything is possible. The truth is nobody really knows if it will be legitimately released on DVD. Song of the South has never been released on home video in the US, and while its absence is notable, Disney has not specifically ruled out a future release. Leonard Maltin (the host of Disney's uncensored classic animated shorts on the Walt Disney Treasures DVD releases) has repeatedly expressed hope that Disney would release Song of the South to DVD, with the same types of introduction to put the film into the context of when it was created. Unfortunately, despite plenty of speculation and an all-out Internet rumor of a 60th Anniversary Edition DVD release in the fall of 2006, current Disney CEO Robert Iger ruled out the possibility of release anytime soon in early 2006. He's since made statements that suggest a release could happen, but having witnessed this go on for years, one definitely shouldn't hold one's breath. To be informed of a DVD release, send a blank e-mail with the subject line "Song of the South" to songofthesouth@ultimatedisney.com and we'll let you know when any official information about a release comes in.
What DVDs will be in upcoming Walt Disney Treasures tins?
The latest word from the studio is that there will be another wave of Treasures arriving in December 2008. The subjects have yet to be announced. For a full list of titles, contents, and reviews of the 25 Treasures released to DVD from 2001 to present, visit our Walt Disney Treasures page.
What Disney DVDs originally came with cardboard slipcovers over the keepcase?
For a full, up-to-date list of Disney DVDs that were slipcovered in their initial printings, see Jake Lipson's Defintive Slipcover List.
When is X movie/TV show coming to DVD?
First check the proper listings page (Animated Classics, Classic Live Action, Recent TV Movies, TV Shows, etc.) for this title to make sure that: A) Disney has the rights to it, B) We have the title listed, and C) that it's not already on DVD. If there's no information on it there, check the more frequently-updated Upcoming Schedule page to see if it's listed there. If it's not, then we simply don't know and our guess is only slightly better than yours. If there was actual news pertaining to this DVD release, it would be reported in the aforementioned places.
Do you have a printable checklist of the Animated Classics?
Well okay, few people specifically ask this, but the answer is yes.
What on earth is "Family Friendly Widescreen"? Is the film NOT in its original aspect ratio?
"Family-Friendly Widescreen" is simply a marketing phrase used by Disney on DVD packaging since 2002. It is often used on films in the 1.66:1 or 1.78:1 widescreen aspect ratios. One can deduce the implication is that a film wider than that (like 2.39:1 widescreen) is "family-unfriendly" because those dang black bars might just give the young'uns nightmares. Nevertheless, the only instance in which a "family-friendly" widescreen transfer has modified the original dimensions of a film is Disc 1 of Brother Bear, which curiously cropped the 2003 animated film from its widescreen theatrical aspect ratio (which is preserved on Disc 2) to 1.66:1. Other times, just be aware that Disney likes to use the term "Family" as a euphemism for "unlearned individual", as in the "Family Disc" of a 2-disc set which contains the cut-up version of the film.

How does 1.66:1 anamorphic widescreen work? Why do the DVDs that are labeled "1.66:1" look like regular 1.85:1 widescreen to me?
Anamorphically-enhanced DVDs that present films in the 1.66:1 widescreen ratio actually encode the film within the 16x9 frame. So there are actually tiny black bars on the sides of the image, in addition to those at top and bottom which are automatically generated. You probably won't see the side bars if you're watching on a standard TV with overscan. Television sets' overscan, in general, loses a small percentage of the edges of the picture, to compensate for tiny shrinkage that occurs in a picture tube over time. With 1.66:1 anamorphic widescreen DVDs, not only are you seeing the entire animated frame as it was in Disney's CAPS (Computer Animation Production System), you're usually not missing anything to overscan but the tiny black bars on the side. (Playback on a PC monitor, which generally are set to have zero overscan, you will see the entire image, side bars and all.) These crude graphics are meant to illustrate the nature of a 1.66:1 anamorphic widescreen DVD, and how it will look playing on a 4x3 and 16x9 TV set: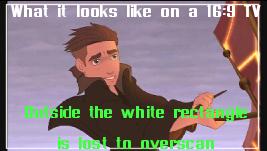 My DVD of The Rescuers did not come with an insert. What's up with that?
No Region 1 US DVD copies of The Rescuers contain an insert. In the spring of 2003, Disney tinkered with cutting costs and this practice of not including an insert went on for some time, even affecting notable releases like The Rescuers, The Jungle Book 2, Miramax's Gangs of New York, and The Love Bug. Nonetheless, Disney received enough complaints to change their minds and all of the studio's releases since then have restored the inserts. (Now if only we could get them to change their treatment of catalogue titles...) In May of 2006, the first two volumes of Walt Disney's It's a Small World of Fun! also came sans inserts, though this appears to have been an isolated incident rather than the return of this cost-cutting tactic.

Can I buy one of the Television Movies you have listed?
That depends, but you cannot buy them from us, because we don't have them. Our three TV Movies pages will tell you what is and what isn't for sale. The overwhelming majority of them have never been released to home video, and only a few dozen on DVD (and are designated as such). We're starting to see more Disney TV movies on DVD, and even some that have been out of print on video for several years, so this holds some hope. Check Amazon.com and eBay to see if anyone is offering the desired movies for sale.

If not, your best bet is to e-mail Disney's marketing department (Disneyinfo@Disneyhelp.com) and let them know of your interest in buying said TV movie on DVD or the dreaded VHS. I can't count the number of people who have e-mailed us looking to buy Mr. Boogedy or Polly on DVD. It would seem that Disney would stand to benefit from releasing some of them to DVD. A polite e-mail can't hurt.

What a positively wonderful site! Thank you for providing this truly terrific resource. Is there any way I can show my gratitude?
Yes, you can! With a credit card, you can make a safe, secure donation to UltimateDisney.com via our Amazon Honor System page. Alternatively, you can use our affiliate links when shopping at many stores online. A portion of any sale we refer will go to UltimateDisney.com at no extra cost to you. Your support is necessary for UD to continue in its current form. Thanks for caring!

Animated Classics | Other Animated Films | Live Action (1980-Present) | Live Action (Pre-1980) | Direct-to-Video | Television Movies | TV Shows

UltimateDisney.com Home
Search This Site
DVD REVIEWS
UPCOMING Disney DVD RELEASES
All Studios Upcoming DVD, Blu-ray, HD DVD Schedule
RECENT DVD RELEASES
COMING TO THEATERS
DISCUSSION FORUM
OUT-OF-PRINT TITLE LIST
UPCOMING DVD ART
CONTACT UltimateDisney.com: tsdvd at yahoo.com

This page was created on September 5, 2002. Last updated January 5, 2008.
Text copyright 2008 UltimateDisney.com. Unauthorized reproduction prohibited.