Walt Disney's weekly anthology television series took to the airwaves in 1954 with three types of offerings. It screened past Disney films and shorts, promoted new/upcoming releases and park attractions, and provided original programming. Naturally, that last component struck the greatest chord with viewers, with three Davy Crockett episodes lifting the program to cultural phenomenon in a matter of weeks.

Settled into a one-hour Sunday night timeslot with the title "Walt Disney's Wonderful World of Color", the anthology had been running strong for ten years when Disney introduced viewers to Dr. Syn. Syn (pronounced "sin") was the creation of English actor and author Russell Thorndike, who from 1915 to 1944 penned seven novels around the mysterious smuggler.

Disney's three-episode series, The Scarecrow of Romney Marsh, was adapted from Christopher Syn, a 1960 book that American writer William Buchanan had crafted out of Thorndike's fourth Syn tale (1936's Further Adventures of Doctor Syn), which was not copyright-protected in the States.

I first heard of Disney's Syn earlier this decade from fans expressing interest in a DVD release. Like the studio's subsequent TV productions Child of Glass and Mr. Boogedy, Scarecrow had made quite the impression on viewers and yet revisiting it proved difficult. In 2004, back when Disney used to release catalog DVDs to the general public with such bells and whistles as chapter stops, Dr. Syn had its digital debut announced. It was yanked from the schedule before reaching stores, but not before ascending Amazon.com's sales chart (and becoming one of the most pre-ordered titles in this site's history). That fervor -- most unusual for three 40-year-old television episodes -- must have prompted Disney to give this property, surely slated for a routine release, a little more care.

In the world of Disney DVDs, care is most readily found in the Walt Disney Treasures line. Since 2001, the limited issue, tin-packaged, two-disc sets have delighted fans with remastered presentations of vintage animated shorts and Walt-era television programming. Claiming one of three spots in the series' eighth wave, Dr. Syn makes its long-awaited DVD debut in both its 3-episode format and its feature film version (titled Dr. Syn, Alias The Scarecrow) that was released theatrically in 1963 overseas and in 1975 stateside.
Whichever cut you prefer, Scarecrow stars Patrick McGoohan as the title character(s), an 18th century cross between Robin Hood and a comic book superhero. Irish actor McGoohan was in the midst of his run on the popular '60s British spy series "Danger Man" ("Secret Agent" in American imports). Today, he's probably best known for that, subsequent TV series "The Prisoner", and his villainous turns in Braveheart and Escape from Alcatraz. Disney fans might recognize him as the stern veterinarian father from The Three Lives of Thomasina or the voice of Billy Bones in Treasure Planet.
McGoohan's protagonist here is a man of two identities. Most know him as Dr. Syn, the vicar of Dymchurch parish in Southern England's Romney Marsh. Only two people know that the reverend maintains an alter ego, the much-fabled Scarecrow, a masked man who by night fights the oppressive tyranny of the British monarchy and its strong-arm Navy. Syn's two confidants -- his sexton Mr. Mipps (George Cole) and adolescent squire's son John Banks (Australian child actor Sean Scully, of Disney's The Prince and the Pauper) -- are also a part of the rebellion effort, wearing similar masks and having their own nicknames (Hellspite and The Curlew, respectively).
The government has a substantial outstanding bounty on the head and identity of the elusive Scarecrow. But the people of Romney Marsh maintain their renegade leader's secret, for they trust he has their interests and freedoms in mind more than the Crown does. Overtaxed ordinary citizens, army deserters, and fugitives band together and follow the Scarecrow's plans, all in the name of justice.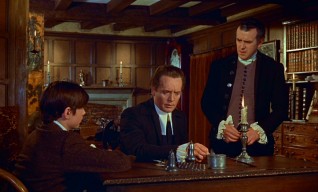 Consisting of three 50-minute episodes, The Scarecrow of Romney Marsh takes a while to get going. You're thrown into action, not knowing what's going on. Initially, it's not easy to make sense of the characters (the cast being filled with dark-haired Caucasian men) and it's not easy to figure out the plot. Typically, TV shows and movies take time to establish personalities and specifics, but that's not the case here. The theme song lyrics make clear that the Scarecrow is an enigmatic individual whose sense of good draws support from his fellow Englishmen and hearty disapproval from the authorities. But beyond that, I somewhat envy the comprehension skills of 1960s children if they were fully able to stay invested, sort everything out, and be excited.
Those three tasks become much easier to perform as the series progresses and noticeably improves. Regardless, you needn't worry too much about the history dramatized or allegiances depicted, since even without context, Dr. Syn emerges as a complex, compelling figure. As vicar, he's able to provide sanctuary. But once he dons that scarecrow mask, he takes on a whole new kind of presence, as an 18th century superhero equipped with cunning powers of stealth and wisdom, an unwavering sense of justice, and one frightening hyena cackle.
Despite its fictional source, Scarecrow is historical drama in the style of a number of Disney projects from the 1950s. It likely would have carried the Frontierland banner had the anthology still relied on that classification format. The proceedings are moral, old-fashioned, sometimes dark, and, in stretches, rather humorless.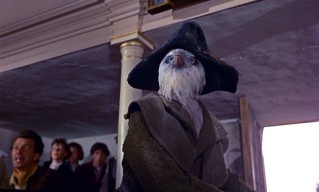 And yet, most of these shortcomings are alleviated and the uncertainties clarified in the 98-minute feature film cut. Lopping off Walt Disney's introductions and tags,

the repeated opening sequences and credits, and at least another 40 minutes of content proves to be a recipe for success. As a film, Dr. Syn, Alias The Scarecrow runs more smoothly and clearly, with improved pacing and focus. I'm sure the fact that it afforded me a second chance to acquaint myself with the characters and dilemmas helped too.

In spite of its pruning, the film covers almost the entire story from the series, whose second episode centers on a previously-aided farmer (Patrick Wymark) being pressured to betray the Scarecrow. Other characters and motivations presented here include the Banks family that's by headed by the quietly disapproving Sir Thomas (Michael Hordern). Thomas' daughter has the affections of a navy officer Lt. Brackenbury (Eric Flynn) increasingly conflicted by what his duty entails. As chief opposition, General Pugh (Geoffrey Keen) is committed to catching the Scarecrow and putting an end to his smuggling.

Whether this production was more intended to be experienced as a film or TV series seems somewhat in question. In a featurette comment, star Patrick McGoohan says they were simply making a movie and weren't even aware it would be going on TV. Obviously, you get more in watching the three consecutive episodes, but in film, more isn't always better, a fact that the growing number of inferior extended edition DVDs supports. At the same time, there is no missing the episodic nature of the film. Though the first (and weakest) episode is mostly dropped, you're still getting separate narratives with characters who only claim a limited window of screentime. On the other hand, the "Wonderful World of Color" presentation takes the unusual step of repeating a segment from Part 1 in Part 3, that which introduces Simon Bates, the American charged with sedition.
VIDEO and AUDIO

Both versions of Dr. Syn are presented in 1.66:1 anamorphic widescreen.

In the case of the TV version, picture is gained on the sides compared to the fullscreen broadcast. On Disc 1's feature presentation, the "Wonderful World of Color" opening and Walt Disney studio material remains in fullscreen and is windowboxed within the 16:9 frame. It probably ought to fill 4:3 screens as it was meant to, although that may have required encoding the bookends as a different title. (Further frustrating, all the bonus material is letterboxed, i.e. not enhanced for widescreen displays.)

The most important thing to note about the presentation is that in either form, Scarecrow looks and sounds fantastic. The picture quality is perfectly clean; there is no sign of print flaws, artifacts, scratches, or anything like that. Knowing how rough some Disney television content can look (heck, even late '80s Disney Afternoon cartoons can be pretty unsightly), the video here is well worth praising. The program looks quite a bit better than what Disney's done on DVDs of most of its theatrically-released live-action films from the same era.

My one complaint is a significant one and that is that the transfer feels very dark. Now, I do believe that's probably consistent with the design of the episodes/movie. Leonard Maltin even hints at this in his Disc 1 introduction's mention of day-for-night shooting employing filters. A lot of Scarecrow takes place either outside at night or in barely-lit quarters, so some darkness was inevitable. But everything is so drenched in shadows that one wonders if it's not a bit excessive. Those who like to watch DVDs with lights on may want to do otherwise viewing this. The episodes and film are almost identical in their pleasing presentations, although comparing the two reveals the film to be just a touch brighter and ever so slightly grainier.

In the sound department, we're given two options. Audio purists may flock to the two-channel Mono track, which is called restored and checks out as such. The other choice is a Dolby Digital 5.1 remix, which is pleasing in its own right. Each mix seems to have merit, but there is no doubt that a more dynamic experience is found in 5.1. Surround channels spread out the prominent score, and bass is truly felt throughout. Those without home theaters and wanting to recreate their childhood viewings aurally should be plenty satisfied with the clean, crisp monaural presentation.
BONUS FEATURES

Disc One opens with an introduction by line host/producer Leonard Maltin (2:42), who discusses the program's restoration, two versions, and newly-uncovered widescreen aspect ratio.

In his Disc Two introduction (3:08),

Maltin ruminates on what makes Disney's version special, why the theatrical edit deserves notice, and some of the cast members featured within.

Keeping with Treasures tradition, bonus features are spread across both discs.

First up: "Walt Disney TV introductions in widescreen" (4:26). As you can probably guess, these are (1.66:1) 16:9 versions of Uncle Walt's on-camera intros and sign-offs to the three Dr. Syn stories. Why the main feature uses windowboxed fullscreen footage instead of these, I don't know. (I would guess the DVD producer's liked the widening effect that distinguished the episodes from the intros.) But you can enjoy them in one sitting here, getting to see an additional 20% width of Walt's fake office with a minimal loss of height.

"Dr. Syn: The History of the Legend" (16:13) is a very good featurette which covers the character's interesting origins, other filmmakers' adaptations, changes made for Disney's version, its cast and style, the dual formats, and the story's appeal. Lending their perspectives in interview clips are two historians, actor Patrick McGoohan, a writer, a comic book artist, and a man in the quartet that sang Terry Gilkyson's Scarecrow theme song. Not quite above and beyond the call of duty, this all-encompassing piece is nonetheless of true value, and the world would be a better place if more movies received such fine DVD companions.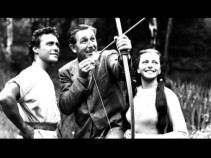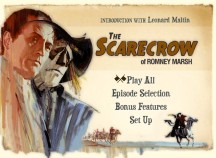 Lastly, on Disc 2, we get "Walt Disney: From Burbank to London" (11:38), which documents the beginning of Walt's live-action feature film career. Fascinatingly, that occurred in England because of frozen funds earned there. The featurette spends time discussing 1950s and '60s UK productions (among them, Treasure Island, The Sword and the Rose, The Story of Robin Hood) and the filmmakers behind them. It's a treat to learn more about a chapter of Disney that's been largely neglected on DVD and by the general public. The piece supplies a winning blend of film clips, historian facts and anecdotes, and even new thoughts from 96-year-old director Ken Annakin.
PACKAGING and MENUS
As always, the thrills of owning a Walt Disney Treasures set go beyond what your DVD player can show you. Dr. Syn is packaged in a silver tin with its embossed front featuring uniform cover art and goo affixing an information sheet on the rear. Inside, your standard double-width black keepcase holds four items, not counting the discs.
Perhaps most important is your standard 8-page booklet with series information, a volume-specific Leonard Maltin overview, and a contents list. Fulfilling the collectible art aspect of the set is a postcard-sized sepia reproduction of a publicity still featuring Patrick McGoohan in vicar's robes as Dr. Syn. A certificate of authenticity tells you which number copy you have out of a mere 39,500 printed. (Its claim that all statements contained herein are true and correct is tough to take seriously since its first sentence cites a print count of 35,000.) Lastly, there is another 8-page booklet, this one supplying a Disney Movie Rewards code as your prize for enduring more Blu-ray advertisements.
Menus take the usual approach of understated static screens accompanied by booming score selections. In an unusual authoring decision, they're encoded in 16:9 but void of artwork beyond the fullscreen center.
Each disc opens with the "only one Disney" promo that ubiquitousness has rendered annoying for anyone with a DVD diet high in recent Disney discs. As usual, no other sneak peeks are found on the set.
CLOSING THOUGHTS
If you already know and love Disney's Dr. Syn, then I can't imagine you being disappointed by this release, which provides the TV show and film versions with high quality picture and sound, a nice handful of bonus features, and the usual Walt Disney Treasures collectible touches. There is no doubt that this set surpasses whatever was previously planned for release back in 2004.
That said, this does still stand as one of the lighter Treasures volumes. Those fond of Disney's classic anthology programming will probably like The Scarecrow of Romney Marsh and certainly be glad to see this, the studio's first miniseries to be enjoyed in its entirety on DVD since Davy Crockett's release seven years ago. If you're not already acquainted with this program, you won't be able to appreciate it as much as those with rosy childhood memories can. But it has merits and the tighter film cut is likely one to revisit.