By Albert Gutierrez

A dog of very little words, Pluto returns for another collection of theatrical shorts in the wave six Walt Disney Treasures release of The Complete Pluto, Volume Two.

Offering the same joyful mix of playful antics, innovative pantomime, and charming stories that have delighted millions, these 23 Pluto shorts span from 1947 to 1951 and make up the latter half of Pluto's cinematic career. Aside from a few prominent appearances that are no-shows on this set, what we get is a fantastic blend of animation and characters, with such memorable shorts as Pluto's Sweater and Food for Feudin'. In addition to Pluto's remaining shorts, a nice bonus comes in the way of three shorts starring Minnie's cat Figaro (formerly of Geppetto), which make their Treasures debut.

Pluto's primitive nature as a regular animal allowed for stories and animators to take a more creative route in various situations. The Pluto shorts here offer his adventures in the West, up in the mountains, and in the far northern reaches of the arctic. He adapts easily to each locale, but most frequently can be found in a backyard or walking the sidewalks of a nice suburban town. We're led to assume that Pluto's doghouse resides in Mickey's backyard, though the iconic mouse makes few appearances in this set. Somehow, I doubt that Mickey would approve of Pluto's long stretches away from home to deliver mail in the arctic or live in the mountains. Then again, in his cartoons, Mickey's place of residence often varied (a trailer, a house, even nothing at times), and wherever Mickey went, Pluto was sure to follow. Mickey and Minnie must have joint custody of Pluto because at times he's taken up residence with her and Figaro.

What distinguishes Pluto from his anthropomorphic mouse owners is the dog's realism. Within the animated world, Pluto may be as much a canine as Goofy, but he is always presented as just the dog, offering no human qualities that characters like Mickey Mouse and Donald Duck have. He hardly ever stands on his hind legs, rarely speaks beyond a woof, and often finds co-stars in similarly "normal" creatures such as birds, turtles, and other dogs. At the same time, though, Pluto shares many human qualities with Mickey and Donald. He possesses an intelligent mind and can learn from examples and mimicry. Unlike other dogs, Pluto can devise and scheme plans that work. While I'm sure many a dog has guarded sheep, I have yet to see one disguise himself as one in order to catch a coyote like Pluto does in Sheep Dog. Also, how often do you see a dog impress another on a tightrope the way Pluto does in Wonder Dog? On occasion, the pooch's primitive nature and animal instincts kick in, and Pluto's actions reflect those of an ordinary dog. Often he'll display strong loyalty, a natural dislike of cats, and a sense of duty to his job (be it mail carrier, guard dog, etc.). At these times, he lets out barks and woofs in lieu of words.

Some may expect that the lack of speech would hinder the storyline possibilities for Pluto. In fact, it offers a variety of sight gags and memorable stories that help strengthen what some could consider a weakness to the character. After all, how else can Pluto show anger than to arch his eyebrows, growl, and squint his eyes? Indeed, it's a testament to an animator's creativity as to how many facial expressions can be made for one emotion. Leonard Maltin mentions how some would consider these shorts as getting stale due to the lack of dialogue, but counters that claim with his own (and this reviewer's) marvels at how much can be said without words. Some emotions, however, would become trademark to Pluto. A haughty snort would commonly follow an angry fit, almost as if he was saying, "Okay, that's it!"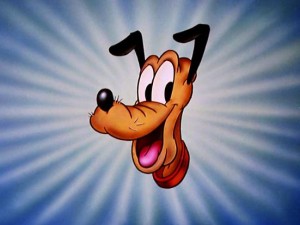 Many shorts present themselves as a Pluto versus animal-of-the-week, a setup which allows for a wide range of gags and settings. This also gave animators opportunities to use several other recurring characters

such as Butch the pit bull or Figaro from the 1940 animated classic Pinocchio. Of particular interest are a coyote and his young son, who make several appearances in this set. They make for interesting foils for our pet pooch, and could have had a bright future ahead of them as foils for Donald and Chip 'n Dale as well; I wonder why Disney animators decided to stop using them. Oftentimes, Pluto ends up defending himself from a variety of animals and must recover an object wrongly taken from him. It's perhaps the only recurring plot in the Pluto shorts, and shows there's more than one way to tell a story. You can take a bone away from Pluto only so many times before it becomes a tired gag, and animators and story men learned that the bone could be substituted for anything and the gag would still work. Give Pluto a sausage, a package, even an entire food supply at a campsite, and animators would make it funny.

As I mentioned earlier, there are a few shorts that are Pluto-centric but are no-shows in this set. Perhaps answering complaints of needless canon division that met The Complete Pluto, Volume One, a few of Mickey Mouse's 1950s shorts that heavily featured Pluto are not presented here. I personally would have loved to have seen R'Coon Dawg (1951) and Pluto's Party (1952) included. And the seasonal favorite Pluto's Christmas Tree (1952) has turned up on DVD a few times already, but is very much a Pluto vs. Chip 'n Dale story that Pluto fans would have loved seeing in this set. Their absence, however, should not keep Pluto fans from picking up this set. After all, this is the first time we've seen many of these shorts on DVD, and their own strengths make the missing ones a minor and easily forgivable gripe.

Similar to last year's wave of Walt Disney Treasures, the DVDs are housed in a dual-width black keepcase, with a slightly smaller gatefold page that has the two discs facing each other. Thankfully, Walt Disney Treasures discs are full color, and have been excluded from this year's Transparent-Discs-R-Us Club. The silver tin returns as well, complete with three measly dabs of glue holding the cardboard backing. Inside the case are three inserts. The certificate of authenticity confirms a disturbingly low print run of 65,000 sets while also sporting reproductions of Roy E. Disney and Leonard Maltin's signatures. A collectible card reprints poster art for 1947's Rescue Dog. The one constant of all Treasures sets is the 8-page booklet, which offers the same introduction pages about Walt Disney and the Treasures, as well as Leonard Maltin's own introduction about the specific set, and a list of disc contents.

DISC 1

Leonard Maltin gives a 2-minute introduction on Disc One, discussing this particular Treasures set. He explains the artistic stylings behind making Pluto communicate through face and body language. There are a few clips from shorts on the disc, as Maltin points out a few of particular interest. He also gives a brief overview of the bonus material on this disc, animator featurettes and some rare production footage for Pluto's Judgement Day.

There are 11 shorts on the first disc, offered in the usual alphabetical or chronological listings (with "Play All" available only for the chronological listing).

THE SHORTS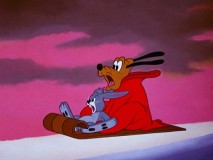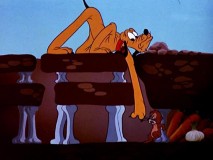 Mail Dog (1947) (6:54)
Over on Outpost No. 5, Pluto takes on the job of Mail Dog, delivering packages in the Arctic cold. He picks up a stray rabbit who is after his body heat, and the ensuing chase leads to the twosome reaching the mail carrier's on time.

Pluto's Blue Note (1947) (6:55)
It's springtime and Pluto's warblings sound more like a gloomy winter dirge than the joyful chants of a bright and warm season. He finds his way to a music store, where his tail and mouth become the needle and speaker of a record player.

With this newfound talent, he enchants a bevy of female dogs with his own creative lip-synch of "You Belong To My Heart" (previously found in The Three Caballeros, later made popular by Bing Crosby).

Rescue Dog (1947) (6:48)
Pluto is back in the Arctic and now employed as a rescue dog. There, he runs into a rather familiar seal (of Mickey and the Seal) who would rather have Pluto play with him than go about his duties. Unfortunately for Pluto, he winds up beneath a sheet of ice on a frozen lake and is in need of rescue himself.

Bone Bandit (1948) (6:51)
Pluto wakes up and finds his bone is gone, so he must deduce where he buried it. Soon it becomes Pluto versus hay fever, as the small rodent who took his bone learns to wave around pollen in order to keep Pluto from reacquiring it.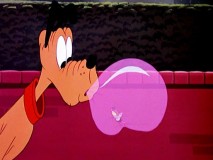 Pluto's Fledgling (1948) (6:48)
A young cardinal (or maybe a generic red bird) wishes to fly with the others, but can barely stay airborne. He lands in Pluto's water dish, and Pluto takes it upon himself to return him to the nest in the tree. The poor bird would rather fly and continues his attempts, leading Pluto to help him learn.

Pluto's Purchase (1948) (6:42)
Mickey sends Pluto to the butcher's to pick up a sausage, but hungry pit bull Butch attempts to steal it from him. After a rampant chase throughout the town, Pluto rushes home, the sausage intact. Mickey then tells Pluto that it's a birthday present for a friend... Butch!

Bubble Bee (1949) (7:09)
While playing in a park, Pluto breaks into a bumblebee's hive of gumballs and chomps down on several at a time. Later on, the bee returns to find his hive destroyed, and gets into a bubble gum battle with Pluto, who ate one too many gumballs and can only breathe bubbles rather than bark.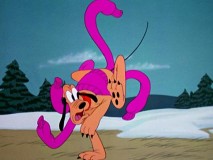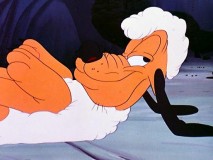 Pluto's Surprise Package (1949) (6:57)
Maybe he's taken up residence at Mickey's mountain home, as Pluto gets a package in the mail containing a young turtle. Perhaps an early version of Shelby (a giggly turtle who appears in several Donald shorts for "Mickey Mouse Works"), this turtle merely wants to swim in a pond, while Pluto attempts to deliver him to the house.

Pluto's Sweater (1949) (6:53)
Minnie knits a horrendously pink sweater for Pluto, which reduces Figaro to fits of laughter and makes Pluto the laughingstock of the dog community.

He gets the idea to shrink it down in the wash...and making it the perfect size for Figaro.

Pueblo Pluto (1949) (6:47)
Visiting a Native American village, Mickey buys Pluto a buffalo bone, then promptly goes off shopping. As Pluto munches away, a smaller dog tries to munch with him, leading to a chase for the bone as Pluto doesn't want to share. Once Pluto recovers the bone, he ends up trapped within a fence of cactuses, prompting the small pup to help him escape.

Sheep Dog (1949) (6:59)
Pluto serves as a sheep dog for quite a small amount of sheep. At the same time, a sneaky coyote is trying to teach his young song the art of kidnapping a sheep and bypassing the various traps. Pluto catches on, and disguises himself as a sheep, knowing a young coyote cub would jump at the chance of capturing such a large sheep.

Buy The Complete Pluto, Volume Two from Amazon.com

NEXT >>
ONTO PAGE TWO