Page 1: Show Discussion, Disc 1, and Disc 2
Page 2: Disc 3, Video/Audio, Bonus Features, Menus & Packaging, and Closing Thoughts

Most money exists merely as a number on a computer screen, but that's an understandably foreign idea to children, especially those who grew up watching "DuckTales".

In this late-1980s cartoon series, one of Disney's earliest and most successful forays into the world of TV animation, protagonist Scrooge McDuck apparently doesn't believe in savings accounts or CDs. No, instead the "megaquadzillionaire" relies on his money bin, which is frequently targeted by Duckburg's lowlifes like Flintheart Glomgold and the Beagle Boys.

Defending immense riches and trotting the globe on treasure hunts are all in a day's work for Scrooge and his three identical triplet nephews Huey, Dewey, and Louie. The gang's largely self-contained adventures take them to various corners of the world and often incorporate elements from other pieces of culture, be it Greek mythology, classic literature, fairy tales, or even the primetime soap opera "Dallas." It's all framed in a way that is easy for children of the late-20th century to identify with, as the central brothers are relatable by their youthful curiosity alone.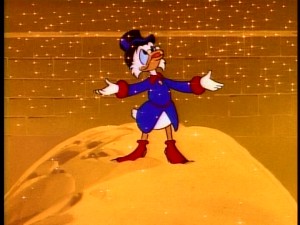 The first installment of the five-part pilot, curiously debuting in this Volume 2 collection, finds Scrooge learning that there are more important things than money. This, however, is a lesson he'll have to re-learn many times throughout the course of the series and one which he never fully grasps. Scrooge's unabashed affection for material wealth, a nature condemned infrequently, makes him one of the more interesting personalities to headline a child-friendly TV series. Scholarly readings of the character could easily lead to parallels being drawn between the stingy McDuck and the type of 1980s corporate greed personified by Wall Street's Gordon Gekko the same year that "DuckTales" premiered.
I'll spare you such an argument, in part because, as you likely already know from either reading my Volume 1 DVD review or simply being well-versed in Disney fare, Scrooge existed for forty years before "DuckTales" took to the airwaves. Carl Barks' popular Donald Duck comic books introduced Donald's bespectacled, wealthy uncle in 1947's Christmas on Bear Mountain, where his misanthropic manners were clearly derived from his namesake, Ebenezer Scrooge of Charles Dickens's immortal A Christmas Carol. Intended as a one-time use character to be redeemed for a happy ending, Scrooge nevertheless was revived for several subsequent appearances and eventually given a comics series of his own.
In retrospect, the decision to build an animated TV series around Scrooge and his more exposed nephews in the late 1980s seems kind of strange. With a few noteworthy exceptions, Scrooge's history was almost entirely print-based. Meanwhile, the triplets had essentially been dormant for as long as the Disney cartoon short had, surfacing only in the final Donald Duck short The Litterbug (1961), Scrooge's first short Scrooge McDuck and Money (1967), very briefly in the Oscar-nominated Mickey's Christmas Carol (1983), and in the TV-debuted Sport Goofy in Soccermania (1987). The rich-uncle-and-young-nephews dynamic employed for "DuckTales" can easily be traced back to what's found in the little-seen McDuck and Money and Soccermania (both unavailable on Region 1 DVD). Still, developing a costly daily series around these characters -- at a time when most cartoons were cost-effectively designed to play off or expand upon popular existing franchises -- appears to have been a gamble.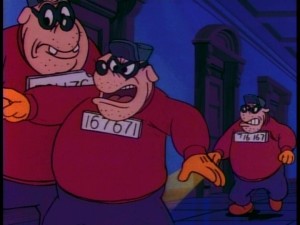 Yet, it was one that paid off. Not only did "DuckTales" earn a sizable fanbase, accrue a record-setting 100 episodes, give new life to its seasoned characters, and spawn a big screen successor (1990's DuckTales: The Movie - Treasure of the Lost Lamp), it also established a model for Disney's Television Animation Department to follow for future ventures. Tapping pre-existing personas for contemporary-minded entertainment would yield a number of other noteworthy animated Disney series. Among them: "The New Adventures of Winnie the Pooh", "Chip 'n Dale Rescue Rangers", "TaleSpin", and "Goof Troop."

Joining Scrooge and the boys on most of their adventures is Launchpad McQuack, a crash-prone pilot who emerged as a favorite character for many viewers and would later turn up in Disney's 1991 series "Darkwing Duck."

Also around from time to time are: motherly nanny Mrs. Beakley, her granddaughter Webby (injecting some youthful femininity as the triplet's friend), Scrooge's staunch butler Duckworth, gadgets geek Gyro Gearloose, and the appropriately-named Doofus, a plump Junior Woodchuck.

The stories of "DuckTales" are more cleverly crafted than those of most TV cartoons. They're also realized in a fashion that doesn't spare expense. Continuity errors are rare, locations are varied, characters are numerous and distinct. Twenty years after first airing, these globe-trotting mysteries are still able to reward adults who can pay attention and endure the obligatory dialogue-light action sequences. As for today's kids, a show like "DuckTales" surely represents a change-of-pace to the type of chatty, faster-moving shows being produced today. As far as quality goes, most would deem fare like "DuckTales" artistically superior to present-day offerings, with the usual nostalgic bias slightly figuring into the verdict. Nevertheless, youngsters take to what they're used to; if they're raised on mopane worms, they're apt to develop a fondness for moth cuisine. "DuckTales" may prove to be more of an acquired taste for today's young viewers than it was for the 20- and 30-somethings who embraced it at a comparable age.
"DuckTales" returned to DVD mid-November 2006 in a thrifty three-disc Volume 2 box set clearly patterned after the series' debut collection released exactly a year earlier. Following the puzzling absence of the premise-establishing pilot from Volume 1, both the front and back covers of the Volume 2 box make a point to note the inclusion of the 5-episode pilot "Treasure of the Golden Suns." Rather than how it debuted as a 2-hour movie on The Disney Channel, it is presented here as it was in syndication; opening and closing credits are retained on all five parts, and installments 1 through 4 conclude with a "to be continued..." disclaimer. Gladly, as is not always true for other Disney cartoon series' DVDs, the episodes here are said to be uncut, restoring the few brief, odd cuts from Toon Disney to several affected episodes. "Golden Suns" is one of two multi-part arcs that together account for nearly half of this collection, which represents the second quarter of the complete "DuckTales" run.
Synopses of the 24 episodes of Volume 1 follow, with a star (

) denoting ten standout episodes.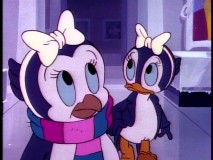 Disc 1

1. "Treasure of the Golden Suns - Part One" a.k.a. "Don't Give Up The Ship" (22:46) (Originally aired September 18, 1987)
Scrooge McDuck is introduced as a stingy miser who delights in tormenting solicitors and walks miles to avoid paying cab fare. Shipping out with the Navy, Donald Duck leaves his nephews with Scrooge, who doesn't get along with his new company. Meanwhile, a mustachioed stranger known as El Capitan helps the Beagle Boys bust out of prison in pursuit of Scrooge's priceless wooden model ship.
2. "Treasure of the Golden Suns - Part Two" a.k.a. "Wronguay in Ronguay" (22:46) (Originally aired September 18, 1987)
El Capitan teams up with Flintheart Glomgold, who buys Scrooge's candy factory and bets him he'll be the richest duck in the world in two weeks. Scrooge and his nephews travel to the South American land of Ronguay and race to find the treasure that the little wooden ship supposedly maps out.

3. "Treasure of the Golden Suns - Part Three" a.k.a. "Three Ducks of the Condor" (22:47) (Originally aired September 18, 1987)
More "DuckTales" regulars come into the picture, as Mrs. Beakley agrees to be the nephews' governess for free in exchange for room and board for her young granddaughter Webby. The titular treasure finally comes into play, as Scrooge and Launchpad pick up Donald (who is on a three-day leave) and fly Gyro's state-of-the-art aircraft to the Andes. There, Scrooge's gold coin has the locals worshipping him, which threatens Joaquin Slowly, the only other coin-possessing high priest.

4. "Treasure of the Golden Suns - Part Four" a.k.a. "Cold Duck" (22:46) (Originally aired September 18, 1987)
Scrooge and Launchpad set off for Antarctica, with some unexpected cargo (Webby, Mrs. Beakley, and the nephews) onboard. Amidst the search for half of the Golden Suns treasure map, arctic adventure abounds as much of the gang gets thrown into jail and Webby befriends a penguin girl named Skittles.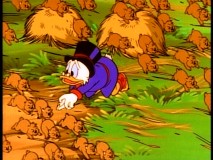 5. "Treasure of the Golden Suns - Part Five" a.k.a. "Too Much of a Gold Thing" (22:47) (Originally aired September 18, 1987)
Scrooge exhibits all the signs of gold fever as the gang approaches the Valley of the Golden Suns. El Capitan remains on their trail.
6. "Back to the Klondike" (22:47) (Originally aired October 28, 1987)
Inspired by the kids' valentine-making, Scrooge recalls the Valentine's Day he spent in the Klondike with Glittering Goldie. They all return to Scrooge's old claim to find some things have changed and some haven't.
7. "Horse Scents" (22:48) (Originally aired October 29, 1987)
Scrooge and his archrival Glomgold both enter horses into the prestigious Kenducky Derby. What Scrooge doesn't know is that M'lady (the horse he's betting on) is to be jockeyed by Webby.

8. "Scrooge's Pet" (22:46) (Originally aired October 30, 1987)
On a fishing trip, the triplets and Webby decide to get Scrooge a pet lemming named Lucky to take their uncle's mind off his money. But when Lucky runs off with the locket holding the only copy of Scrooge's new vault combination, it leads the gang to Novay, where hordes of lemmings are about to make their annual ocean run.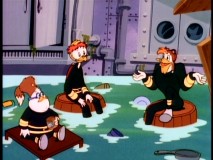 Disc 2
9. "Catch As Cash Can - Part 1" a.k.a. "A Drain on the Economy" (22:46) (Originally aired November 2, 1987)
Scrooge and Glomgold agree to a weigh-off of their riches, with the winner getting to market a magical fruit. To help himself out, Glomgold breaks the Beagle Boys out of prison and has them target Scrooge's money bin. Along the way, Scrooge's fortunes end up in Duckburg's sewers.

10. "Catch As Cash Can - Part 2" a.k.a. "A Whale of a Bad Time" (22:46) (Originally aired November 3, 1987)
When one of Scrooge's "ice cream" ships (which actually holds his money) gets swallowed by a sea monster, the Navy investigates the matter and assigns Donald Duck to keep Scrooge out of the way. Donald and Scrooge end up in the middle of things when are picked up by a stolen top-secret Naval ship and encounter the quirky doctor who designed it.
11. "Catch As Cash Can - Part 3" a.k.a. "Aqua Ducks" (22:48) (Originally aired November 4, 1987)
Scrooge, Launchpad, Gyro, and Doofus voyage to the Marinara Trench at the ocean bottom to reclaim Scrooge's missing money. While down there, they have to answer for mankind's pollution and are sentenced to gathering trash in the lost city of Atlantis.
12. "Catch As Cash Can - Part 4" a.k.a. "Working for Scales" (22:45) (Originally aired November 5, 1987)
The four-parter concludes as Scrooge and company fly in (on lost island Atlantis) to Macaroon for the cash weigh-in. The journey proves to be a perilous one, as Glomgold and the Beagle Boys try to delay and disqualify Scrooge from the cash contest.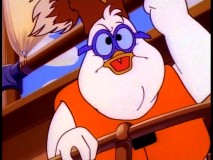 13. "Merit-Time Adventure" (22:46) (Originally aired November 6, 1987)
Scrooge suspects something fishy is up when one of his boats gets attacked by a sea serpent, transferring ownership of its cargo to Dogface Pete (a new alias, but the same Pete that has long tormented Mickey Mouse).

Meanwhile, Doofus, Webby, and the boys attempt to earn some Junior Woodchuck merit badges on the sea.

14. "The Golden Fleecing" (22:45) (Originally aired November 9, 1987)
Thinking there is some truth to Launchpad's tall tales, Scrooge joins his pilot with a legendary golden fleece as the intended destination. The search brings them into close contact with the Harpies and dragon who protect the treasured blanket. Professor Ludwig von Drake appears as Launchpad's shrink.

15. "Ducks of the West" (22:47) (Originally aired November 10, 1987)
When McDuck Oil runs dry, Scrooge and the boys go to Texas. There, oil tycoon J.R. Mooing shows up and challenges Scrooge to a contest, while Huey, Dewey, and Louie saddle up and explore a ghost town, encountering a white buffalo and a trigger-happy cowboy.

16. Time Teasers" (22:44) (Originally aired November 11, 1987)
Gyro invents a stopwatch that can slow down time. Huey, Dewey, and Louie use the Time Teaser to help their favorite baseball team, but when the Beagle Boys get ahold of the device, it becomes an aid to robbery and takes everyone back in time like Marty McFly!