The Walt Disney Company first tried its hand at television animation just a bit over twenty years ago. Looking back over the works that it has produced in the time since reveals that many of the studio's most esteemed programs came in the early years of exploring the medium. In fact, while there have been some definite bright spots in this decade, one would probably be accurate in charting the end of Disney's network TV cartoon heyday as being around the middle of the 1990s. Is that statement spoken out of nostalgia or pure objective criticism? As often seems to be the case when dealing with older television programs, it's hard to say. But taking a fresh look at "Quack Pack", just days after reviewing "Goof Troop" and a few months since large doses of "DuckTales" and "Chip n' Dale Rescue Rangers", it seems impossible to not notice a decline in quality.
"Quack Pack" debuted in the fall of 1996, near the end of Disney's most flourishing period of TV animation. Like many other products of this era and class, it relied upon the branch's winning (or perhaps, inconsequential) foundation of using time-tested characters as a starting point. As the title hints, those characters are ducks, namely Donald Duck; his triplet nephews Huey, Dewey, and Louie; and his eternal love interest, Daisy Duck. By 1996, Donald had spent over sixty years as a quick-tempered, tough-to-decipher comedic protagonist of Disney animated shorts and features. Though her appearances were far less frequent and her personality less defined, Daisy had been around nearly as long. As had Huey, Dewey, and Louie, who had tormented their uncle on pretty much a yearly basis through the 1950s. When they resurfaced in 1967, they had switched their attentions to a different uncle, Scrooge McDuck, and in the late 1980s, this relationship became the basis of "DuckTales", Disney's most successful television cartoon series to date.
Though "Quack Pack" had the same "three-young-protagonists-and-flawed-uncle-guardian" premise in place, it took things in a direction far different from "DuckTales", on which Donald had only made infrequent appearances. As "Goof Troop" had relaunched Goofy as a clumsy single parent in present day suburbia, "Quack Pack" summons Donald's fumbling nature as a father figure to the three mischievous boys. On the side, Donald works as a cameraman for a news program in which Daisy is the stylish reporter.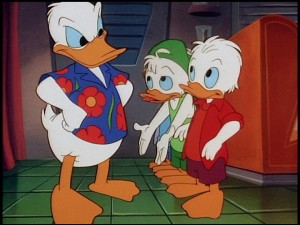 The central focus of the show, however, is on Huey, Dewey, and Louie, who have undergone the greatest character changes. In "DuckTales", the boys were defined by their shared thirst for adventure and distinguished purely by the color of their outfits. Combine all their actions and lines of dialogue into one character and the results would not be drastically different, aside from the fact that this hypothetical nephew of Scrooge would be more talkative (and lonely) than most young boys and would not logically be able to get separated from himself, the way on occasion, the boys were. What does this mean? Merely, that the Huey, Dewey, and Louie of "DuckTales" (all voiced by Russi Taylor) did not boast individual characteristics or need to number three, outside of remaining true to their histories and lending a multi-person dynamic ideal for conversation. You could never know that Huey was the one in red, Dewey wore blue, and Louie was always clad in green, and you could still enjoy "DuckTales" immensely.
In "Quack Pack", the boys have progressed to adolescence, which has yielded some differences. Sure, they're still sticking with the same three colors they've long favored, but now they are expressing a little individuality in their attire. Dewey sports something of a mop-top/mushroom haircut as much as he can while wearing a blue-toned pinstripe baseball jersey with a blue T-shirt underneath. Louie's sense of style now entails a backwards green baseball cap and a tank top slightly lighter in color. Huey opts for the layered look, usually donning a red collared shirt with the sleeves rolled up over a matching T. Reflecting their development, the boys now use "hip" lingo, employing a variety of nicknames for one another (like "Loulou", "Dew", and "Huemeister", to name a few) and Donald (almost always "Uncle D"). The jump to teenagehood has also found the three siblings' mischievousness graduated to obnoxiousness. They lose the everykid appeal they held in "DuckTales" and with their innocence having disappeared, they seem to have grown denser. In addition to acquiring an insatiable iguana named Knuckles, the boys have become rather hormonal. The object of their attractions are human girls/ladies, which may seem unusual, but humans now inexplicably surround these anthropomorphized ducks in Duckburg.
These character modifications, coupled with the facts that Donald is a simpler, less compelling guardian than Uncle Scrooge (who is neither seen nor mentioned here) and that the involving, culture-fueled mysteries of "DuckTales" have given way to high energy, slapstick-heavy comedy all render "Quack Pack" less enjoyable than most of the other Disney animated television series. It is not a bad show and it certainly provides enough diversion to satisfy absent-minded viewing, but gone is the high value and intrigue of "DuckTales", "Rescue Rangers", "Gargoyles" and others. In their places are gloss and already-dated 1996 sensibilities.
"Quack Pack" joined The Disney Afternoon in the popular syndicated two-hour daily programming block's seventh season. It never aired more than three days a week this way, but that is easily explained. For one thing, with only 39 episodes produced, "Quack Pack" had a shorter run than most Disney cartoons. One can assume that this shortage of episodes was due to cold reception to the series, but naturally, that information was not made public. A standard 65-episode order enabled thirteen consecutive weeks (a quarter of a year) of weekday airings without a repeat. With only three-fifths as many half-hour shows created, "Quack Pack"'s lighter schedule made up the difference. Another factor to the short-lived nature of "Quack Pack" was that by 1996, The Disney Afternoon was apparently wearing out its welcome. The name was dropped the subsequent year, coinciding with a half-hour shortening of the lineup. "Quack Pack" continued to be rebroadcast on Wednesdays, Thursdays, and Fridays in the 1997-98 season, but departed altogether with other Disney cartoon programs when the company launched the cable channel Toon Disney. Reruns of "Quack Pack" could be seen there until 2004, when it and other older series left American

airwaves altogether. Subsequent depictions of Donald's nephews in direct-to-video films Mickey's Once Upon a Christmas and Mickey's Twice Upon a Christmas have returned the boys to their historically-grounded "DuckTales" likenesses. Gone are the new clothes, lingo, attitudes, and older ages, leaving "Quack Pack" to be an not too successful self-contained chapter for Disney's ducks.

In a move that is sure to upset ardent fans of the series, Disney has opted to treat "Quack Pack" and its more likable inspiration "Goof Troop" like vintage shorts for their DVD format debuts. But before you get jazzed up at the prospect of collectible artwork and a snazzy tin, Disney is actually treating these two comedies to "Classic Cartoon Favorites"-like Volume 1 packages: bright generic artwork, one hour of content, and no bonus features except for "FastPlay" (a copyrighted term for hands-free VHS-style playback). Disney got as close to an hour as possible, with the three randomly-selected episodes running 68 minutes altogether with beginning and end credits. As should be apparent to you, this is quite an inane decision as far as customer satisfaction goes. Last November, 27-episode box sets (also simply titled "Volume 1") of "DuckTales" and "Chip 'n Dale Rescue Rangers" provided over ten hours of content (that's over 9x as much content) for 3-disc sets carrying retail prices just over two times as much. They weren't perfect -- video and audio quality left considerable room for improvement, multi-part pilot episodes were absent, bonus features were nowhere to be found -- but they delivered comprehensive, chronological collections of beloved TV series the way today's DVD customers expect.

Surely, Disney's research told them that "Goof Troop" and "Quack Pack" don't possess the type of nostalgia-driven fan followings that the two predecessors treated to box sets do. And I imagine many people would be content to own just a sampling of a show like "Quack Pack" (I would be). But there's no reason the studio couldn't have tested the waters with a "Volume 1" DVD that held the first eight episodes of the series. Raise the price tag $5 if you must, but the casual fan and curious get their affordable sampling, the dedicated enthusiast gets the first fifth of the series preserved on DVD with minimal effort. Better yet, release two volumes at a time to ensure the collector buys Volume 2. Had this route, the entirety of "Quack Pack" could have been on DVD in just five volumes, pleasing all interested demographics. Instead, everyone loses by paying more per episode than they should and getting a paucity of content to take up a standard keepcase's amount of shelf space. With two to three times as many episodes included, the DVD treatment bestowed upon "Quack Pack" could have been a valid alternative to a box-set-only release. But this doesn't really cut it for anyone.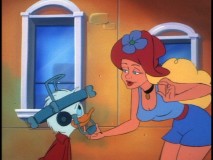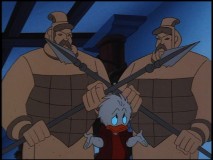 As this Volume 1 DVD posed my introduction to "Quack Pack" and only holds one-thirteenth of the series' 39-episode run, I can't speak definitively and some of my remarks may not apply to the greater majority that remains unreleased to DVD and unseen by me. These featured episodes suggest that this series may have strived to give unique characteristics to the Duck siblings, with two shows focusing on Huey and his girl-crazy ways.
The three episodes contained on this Volume 1 disc are as follows:
1. "Transmission: Impossible" (22:40) (Originally aired November 13, 1996)
While trying their hardest to find something on television that doesn't bore them, Huey, Dewey, and Louie stumble upon a transmission from a Blatismorkian museum security camera and witness the baffling disappearance of a treasured diamond. Their detectives' trail leads them to respected art historian Henry Villanova and a Wonkavision-type device.
2. "Heavy Dental" (22:37) (Originally aired October 10, 1996)
In his final stages of preparing for the Mr. Cool Teen Contest, Huey sets off for the dentist, but winds up instead subject for an evil scientist, who equips the duck with elaborate headgear. It's not all bad, though, as the headgear gives Huey the near-infinite power of mind control.
3. "Feats of Clay" (22:42) (Originally aired November 28, 1996)
The entire gang is in the Far East, as Daisy and Donald film a report on archaeologist Dr. Henry Wu and the Ancient Terracotta Army, a band of clay soldier statues in his possession. Huey befriends a girl named Soo Ling, who he learns is Dr. Wu's apprentice. But as Soo repeatedly advises him, nothing is what it seems in this, the final "Quack Pack" episode produced.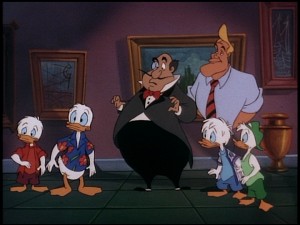 VIDEO and AUDIO
Naturally, "Quack Pack" appears in its original 1.33:1 "fullscreen" broadcast aspect ratio. As the youngest animated television episodes that Disney has released to DVD, the show holds up pretty well visually. The three selected episodes were animated by three different facilities regularly responsible for programs of this kind: Walt Disney Animation in Australia, Toon City, Inc. in the Philippines, and Korea's Sunwoo Animation. These three houses at least kept things consistent, as it's tough to notice anything distinguishing the episodes as emanating from different places. The animation is pretty much squarely what you'd expect from mass-produced 1996 Disney television animation, which means not quite bad, but certainly not worthy for theaters, with limited settings and occasional off-character close-ups illustrating the budget-conscious roots.
Though the nature of this DVD suggests no considerable remastering work was done, the picture quality does not falter much. Its greatest offenses occur infrequently and include some scratches, jagged edges, and blurriness.
Two-channel Dolby Stereo is offered in English and French languages. While clearly not a house-rocker, there wasn't quite the subtle muffling or limits experienced in the concurrently-released "Goof Troop" Volume 1 disc. The rockin' theme song, boisterous sound effects, and duck dialogue all comes through clearly and consistently, with Donald being the only principal cast member subjected to garbling.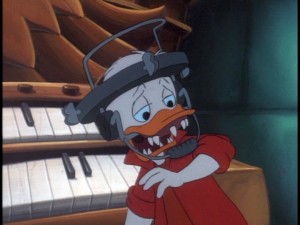 BONUS FEATURES, MENUS, and DESIGN
You'll find no bonus features of any sort here, but I can still provide three paragraphs filling you in on particulars of the disc's design that, like Buena Vista's auto-playing previews, you are welcome to skip. Speaking of which, previews appear at the disc's start for Lady and the Tramp, Cars, and Chicken Little. More can be found in the dedicated menu, promoting the types of top-priced animated DVDs Disney releases nowadays, re-releases of The Little Mermaid and Dumbo plus the likely needless sequels Brother Bear 2 and The Fox and the Hound 2. If you want to view all these trailers without pressing a button, all you need to do is let "FastPlay" work its magic. The opening sneak peeks, 3-episode feature, and second set of sneak peeks will all play automatically.
The 4x3 menu screens offer old school clip art and thematic music. An instrumental of the theme accompanies the basic Main Menu, while two different tunes play ad nauseam on the remaining menus. Gladly, the opening and closing credits remain intact on all three episodes. You have the choice to play any of the three episodes individually or to "Play All" (if you can handle 68 minutes of content in one sitting, that is!). As each is encoded as a title of its own, the individual playback route does not jump to the next episode afterwards. Though chapter stops are fortunately served up at commercial breaks, there's no way to access a particular episode portion from the menu, only within the episode with the "Skip" button. Outside of the inability to skip the opening credits, these stops are at logical places.
The standard white keepcase ensures that, if purchased, these three randomly-selected episodes will take up as much shelf space as 13-episode "Gargoyles" Season 1 and almost as much as the 9x-as-much-content Volume 1 box sets of "DuckTales" and "Rescue Rangers." A double-sided insert provides no information (or artwork) that's not already on the front or back covers; its back promotes other 1-hour, no-frills compilations in the Timeless Tales and Classic Cartoon Favorites lines that this disc seems modeled after.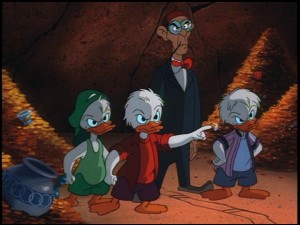 CLOSING THOUGHTS
If the three episodes that make up this Volume 1 release really are, as the menu proclaims, "The Best of 'Quack Pack'", then I can understand why Disney thinks a significant number of customers would be content to add only a sampling of this series to their DVD collections. The character changes made to the Duck triplets and their assignment to their better-known uncle Donald do not offer enhancement over "DuckTales." In fact, they only serve to date this not-quite-10-year-old series and render its slapstick adventures less interesting than those of most Disney animated series.
Still, after the strong sales numbers posted for the minimal effort box set releases of "DuckTales" and "Chip 'n Dale Rescue Rangers", it seems archaic for Disney to revert back to the types of random episode compilations they released a decade ago on VHS. Had the studio wanted to test the waters on "Goof Troop" and "Quack Pack", two less popular but still widely celebrated series, they should have done so with the first 8 episodes of each series at the price they chose to release just three. It would still enable those who aren't fully taken by the series to pick up one or two discs for cheap and it would have allowed those wanting the entirety of "Quack Pack" to collect it all in just five affordable volumes. Instead, by naming these lightweight discs "Volume 1", it seems unlikely for Disney to release a box set later on, leaving fans to either support this inane release method, rely upon old VHS cassettes, or go without seeing the show they fondly remember.