As part of the celebration of Disneyland's 50th Anniversary, Buena Vista Home Entertainment planned four DVD compilations of the increasingly uncommon non-series variety for release in the summer of 2005. Along the way, the most exciting of the four standalone titles, a disc called Secrets, Stories & Magic of the Happiest Place on Earth, got shelved without explanation while the others reached stores as planned. Inside buzz repeatedly suggested that the delayed DVD and its star attraction -- a feature-length documentary on Walt's trailblazing theme park in Anaheim -- would eventually surface in some form.

Then late last year, Walt Disney's Legacy Collection, a new collector-friendly DVD line was announced. Its premiere wave was solely devoted to Walt's True-Life Adventures, the nature documentaries produced from the late-'40s through the early-'60s.

But a trio of future Legacy Collection subjects was announced including the retitled Disneyland: Secrets, Stories & Magic. Together, the far-planned Legacy volumes and the similarity between this line and the 6-year-old annual series of Walt Disney Treasures sets made it look like maybe the Treasures were being phased out. Suspicions were apparently confirmed early in 2007, when news came from Treasures producer-host-conceiver Leonard Maltin that his line was not to continue.

Whether it was all just poor communication between the relevant parties or a modest amount of backlash from diehard enthusiasts actually made a difference, subsequent information revealed that the reports of the Treasures' death had been greatly exaggerated. This December sees no new additions to the Legacy Collection, but two of the three sets promoted for that line are showing up as part of the seventh and latest wave of Walt Disney Treasures, including this review's subject, Disneyland: Secrets, Stories & Magic.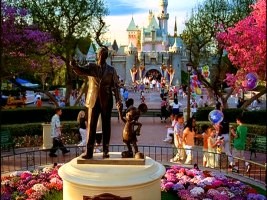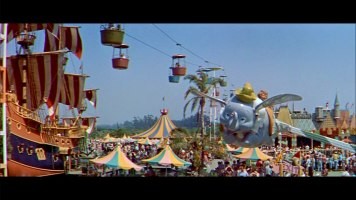 While it's no longer perfectly timed to the Disney Parks' 18-month-long golden anniversary celebration, the contents have changed, and the price has risen, Secrets, Stories & Magic still holds a lot of promise for novice and veteran Disney vacationers who have desired a more satisfactory way to pay tribute to the parks from home than free promotional DVDs and overpriced (but about as promotional) park-exclusive souvenir DVDs.
Since the original press release that was issued two and a half years ago, this Disneyland package has changed in a number of ways, undergoing various additions and subtractions. The main feature itself, originally called Disneyland: Then, Now and Forever has been revised, getting renamed to match the volume's title and reworked with new interviews and some post-2005 references. Its accompaniment has also been altered. Gone are the Disneyland Sing-Along Songs that were given their own release in September 2005, the 6-minute Radio City Music Hall short that showed up on last year's Your Host, Walt Disney Treasures tin, and extended interviews with Diane Disney Miller and Rolly Crump.
In their place are a number of items never before released on DVD: the 1956 People and Places two-reel short Disneyland U.S.A., three episodes from Walt's weekly anthology series in its 1960s "Wonderful World of Color" incarnation, and some designated supplements like time-lapse Disneyland construction footage.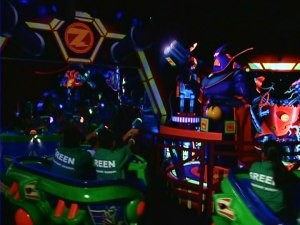 PACKAGING

As has always been the case for Walt Disney Treasures, the physical presence adds to the series' collectability factor. Externally, Secrets, Stories & Magic is consistent to the past two waves in appearance: with its embossed silver tin bearing no descriptive wraparound band and only a flimsily-affixed sheet on back. Within the black Alpha keepcase that's inside the tin, one instantly notices what is unquestionably the series' niftiest in-package extra to date: a replica of an original 1955 Disneyland E-ticket booklet. The booklet provides a welcome note from Walt and proceeds to lists of attractions to which the tickets grant admission. Over the five levels (A to E), the pages get longer and the choices get more exciting. The last page contains a land-by-land checklist of sights, on which Adventureland boasts only the Jungle Cruise.

While one doubts Treasures collectors are dense enough to need a "Not valid for theme park admission or attraction use" disclaimer on every single page, the replica booklet is still an awesome inclusion that's way more impressive than the typical postcard lithograph.

We still get one of those, however, depicting Herb Ryman's 1954 concept illustration for Sleeping beauty Castle with a fun fact on back. Also found inside the case: a certificate of authenticity that provides the number of your copy (out of a very slight 50,000 print run) plus Roy E. Disney and Leonard Maltin signature reproductions, a Disney Movie Rewards code, and the usual 8-page booklet that's highlighted by a Maltin overview of the set.

DISC 1

At the start of Disc 1, after a somewhat random trailer for the overpriced Pixar Short Films Collection, Volume 1 comes an introduction by Leonard Maltin (2:10), who sheds light on what to expect from this first platter.

The set's most substantial inclusion is Disneyland: Secrets, Stories & Magic, an 81-minute documentary on the first fifty-two years in the Anaheim theme park's history. The focus of the piece is two-fold, covering both the park's general vision and the steady stream of new attractions that flows from its founding never-finished philosophy. The Julie Andrews-introduced film covers its ground in a fairly chronological fashion, beginning at the park's construction proceeding through the eleven years of Walt Disney supervision and following with a compressed, somewhat selective overview of the forty years since his passing. Gladly, the feature avoids dwelling on the stories that have been repeated many times, respecting some foreknowledge while filling in the unfamiliar and ignoring anything that doesn't directly pertain to the parks (like the shorts and films that first made Walt famous).

Secrets deserves praise for its visual palette. In addition to the inevitable talking head footage, the documentary delivers a wide range of appropriate samples, from footage of the park's opening day and televised specials to behind-the-scenes segments from Walt's long-running "Disneyland" anthology series (that helped fund the park it was often promoting) and present-day footage that would look at home in a slick promotional DVD. Gladly, this eschews being promotional, nearly altogether. A few things that stand out for being inserted since the intended July 2005 street date -- on the addition of Johnny Depp audio-animatronics to Pirates of the Caribbean and the Finding Nemo submarine ride -- strike one not only as being a commercial pitch for the newest features, but also date the film as such.
The film includes comments from a large number of interview subjects, most of whom fall into two classes: current and former Disney employees. Those still on the Disney payroll -- including CEO Robert Iger and Disney Parks chairman Jay Rasulo -- tend to give bland generic observations that feed us the company line with rehearsed, robotic precision. There are exceptions. Though I still don't get his favorite Jungle Cruise joke, Pixar-Disney bigwig and former Cruise skipper John Lasseter is as always brimming with enthusiasm, and so is Monsters, Inc. director Pete Docter. Disney Studios chairman Dick Cook musters some spirit too, never sounding like he's answering shareholder questions or reading a quarterly report. Furthermore, the many retired Imagineers (Disney-speak for park and attraction designers) like X Atencio and Rolly Crump talk with warm candor, their fond, vivid memories recalling experiences long past.

On the whole, the good qualities of Secrets certainly outweigh the minor detractions. Though the documentary doesn't quite reach the levels of satisfaction and wonderment that befit the featured park, that may only be because it's too straightforward, fast-moving, and wide-reaching to do Disneyland justice. The park's cultural significance is hinted at, but never quite captured. We're in the park essentially the whole feature, which is what one does on a Disney park vacation. However, it's the leaving and returning to normal existence that really underscores the unique magic experienced. The film leaves us on our own to do that after the credits have arrived too soon.

Still, this is a wonderful, concise, and needed account of Disneyland's first half-century. There is much to be gained from the interviews, which let us hear from Walt's daughter Diane, her husband and former CEO Ron Miller, former CEO Michael Eisner (briefly), and Star Wars wizard George Lucas, among many others. There is even talk of attractions that never materialized, though far too brief.
While plenty fun in theory, the Wonderful World of Disneyland Trivia Game could use lots of improvement in design. Whether you choose the Beginner or Advanced mode, play proceeds the same way: you must successfully answer multiple-choice questions on each of the park's 7 current lands. A wrong answer sends you to Main Street for a general park question to redeem yourself. What dampens the fun is that the first time playing, you've got to endure a roughly minute-long overview of the land you've selected that's essentially a promotional pitch. There's also a big gap between the simple Beginner questions and the challenging Advanced ones that I'm pretty sure will leave most players somewhat frustrated. Providing an incentive for repeat play are the facts that there are clearly lots of randomly-selected questions and that winning the game actually results in a short but nifty reward video, for which you choose from 3 different available choices per each ticket level, A-E.

Those who don't like to have to put in effort to access extras might be frustrated at how long it would take with the somewhat sluggish playback to see all 15 prize vignettes, which cover individual attractions and miscellaneous park phenomena such as Mickey's changing costume design.

Rounding out Disc 1 is People and Places: Disneyland U.S.A. (41:49), a theatrically-released two-reel 1956 CinemaScope film that takes us around the then newly-opened Disneyland. It was the sixth of 18 shorts made in the "People and Places" series that earned the company 3 Oscars and another 3 nominations during their 1953-60 run. It's kind of audacious for Disney to give its theme park the same treatment bestowed upon subjects like The Alaskan Eskimo and Switzerland, but the film holds up as a nice-looking and not especially promotional showcase of the revolutionary establishment in its early days. Relaxed and primitive compared to today's Disney parks, the Anaheim retreat nonetheless comes through with quaint, unique charm in this land-by-land overview of landscapes and attractions. Though some will consider it a bit slow or overly sedate, Disneyland U.S.A. still excels as one of the best things about this set.

DISC 2

Disc 2 opens with another intro from Leonard Maltin (3:28), who as usual puts the disc's contents into proper context.
"Operation Disneyland" is a 14-minute program that was transmitted via closed circuit from ABC to its affiliates. The piece documents the challenges experienced in the ambitious attempt to broadcast live from the opening day of Disneyland. It is far less interesting than it sounds, recounting the technical side of filming Disneyland in perhaps the most dry way imaginable.

Three hour-long park-centric episodes from Walt's long-running "Disneyland" anthology series follow. All three emanate from the 1960s when the series was called "Walt Disney's Wonderful World of Color."

"The Golden Horseshoe Revue" (49:19) (September 23, 1962)

This episode treats us to the 10,000th performance of The Golden Horseshoe Revue, a stage show that called Frontierland its home from 1955 to 1986. Regular stars of the show like 1995 Disney Legends Wally Boag and Betty Taylor ("Sluefoot Sue") are joined by guests Gene Sheldon, Ed Wynn, and Annette Funicello. There's singing, dancing, vaudeville, and comedy routines, all of which add up to an experience that is interesting as a capsule of old-time entertainment more than it is directly amusing. While there are plenty of broad and obvious gags, the performances are spirited and Boag's funny bits with a child and a balloon score some laughs. As one of the park's opening day attractions, the Revue was obviously already a mainstay celebrating a landmark in a special way. It would stick around for nearly 30,000 additional performances, easily putting it in the Guinness Book of World Records.
"Disneyland Goes to the World's Fair" (49:55) (Originally aired May 17, 1964)

Walt Disney and his Imagineers were very involved in the 1964-65 New York World's Fair and this episode details just what they offered the exciting square mile of Flushing Meadows Park then in its first of two seasons. Before getting into the attractions, we're treated to a musical cartoon segment on the origins of fairs and a silent movie containing footage from fairs past. Walt then explains the progress made in the field of audio-animatronics from the Jungle Cruise to the life-size dinosaurs and cavemen constructed for a prehistoric site at the Fair. The technology is given a live demonstration from the stage of the Carousel of Progress. We proceed to see costumed Disney characters, including Mickey, Snow White, the Seven Dwarfs, Alice, and Pinocchio, interacting with one another and those at the fairgrounds.

The show wraps up with a leisurely tour of It's a Small World. This is perhaps the most enjoyable of the three anthology episodes provided and it certainly stands out as being the most diverse and memorable.

"Disneyland Around the Seasons" (50:04) (Originally aired December 18, 1966)

Though the title leads you to expect a look at how the park changes to reflect the different times of the year, it's more a selective review of Disneyland at what Walt calls the "first year of our second decade" and what would be his final year on Earth (he passed away three days before this episode debuted). Twelve minutes are spent on It's a Small World, mostly another extended ride-through admiring the boat ride's audio-animatronics but also a bit from the internationally-flavored opening ceremony. Other new things celebrated here are Great Moments with Mr. Lincoln (not very lifelike in retrospect), New Orleans Square, and dinosaur animatronics ride The Primeval World. There is a lengthy look at the not overly seasonal Christmastime Fantasy on Parade, which showcases then-new Winnie the Pooh characters, Dumbo's "upside-down" pink elephants (on parade, of course), and a dog show by Pluto that includes hilarious costumed upright walking real canines. The episode concludes with a short depiction of the Candlelight Processional which continues to run to this day.

VIDEO and AUDIO

Everything on the two discs looks terrific. That's most satisfactory for the vintage content, the three 40-something TV episodes and the 51-year-old Disneyland U.S.A.. Disc 1's feature documentary is expectedly vibrant, but for being brand new its formats are disappointingly 20th century: 1.33:1 fullscreen with interview footage letterboxed widescreen and plain two-channel Dolby Digital stereo. Remarkably, the People and Places short has it beat, with its gloriously remastered Dolby Digital 5.1 soundtrack and immaculate 2.35:1 anamorphic widescreen presentation. Even the recently unearthed time-lapse construction footage (discussed below) looks amazingly clean, colorful, and sharp. By picture and sound, the three "Wonderful World of Color" episodes may be the least spectacular, but even these hide their age, looking clearly better than the slightly older installments that have come to DVD as part of the Treasures. After a slight bump in the road two years ago, this set leads one to think that the line's restoration work has reached refreshing new heights.
BONUS FEATURES, MENUS and DESIGN

The line between "featured content" and "bonus material" is somewhat blurred on Disc 1. For instance, as it was created for a standalone release, the trivia game stands out as something decidedly different from anything else we've encountered on the Treasures. Yet, this is designated as featured content.

Though they're not necessarily deemed bonuses, two alternate audio tracks that accompany People and Places: Disneyland U.S.A. seem worth considering as such. First is a highly engaging audio commentary by Leonard Maltin and Tony Baxter,

who have an abundance of screen-specific and general observations with which to enhance one's take on the film and Disneyland at large. The second is a Dolby Digital 5.1 music-only track, which (as always) is quite welcome but isn't something as likely to be heard as if it were offered on a more esteemed or musical film. Still, there are some striking instrumental cues of now classic Disney tunes like "When You Wish Upon a Star" and "Following the Leader" that are all the easier to appreciate without aural competition.

"Building Walt's Dream: Disneyland Under Construction" (37:40) presents recently unearthed time-lapse photography of Disneyland's construction, arranged by land. Providing audio for the footage are Imagineer Tony Baxter, Disney archivist Ed Hobelman, and Walter Magnuson, who are familiar enough with the content to supply real insight in territory that's expectedly more narrative (but no less insightful) than a typical audio commentary.

The still frame gallery holds 58 pieces of concept and design artwork from a variety of Disneyland attractions and locales.

Per tradition, the menus are static 4x3 screens that are accompanied by appropriate instrumentation. Disc 1's are quite plain, even for a Treasures set. While the episodes and movies are divided into chapters, none are given any scene access menus. Unlike past DVD releases, the anthology episodes are missing their closing previews of "next week's" episodes.
CLOSING THOUGHTS

It's easy to call Disneyland: Secrets, Stories & Magic one of Disney's best DVDs of the year and that's only partially due to the fact that it's been a really lousy year for Disney DVDs. This long-awaited release is a strong entry to the ongoing Treasures series. Each individual component falls noticeably short of perfection, but taken altogether, they comprise a swell overview of the Disney theme park's origins and development. Treasures completists will need no encouragement to pick up this set, but they can rest easy knowing that this is one of the more robust, widely appealing, and unique volumes in the line. Anyone else with a soft spot for the California hot spot is encouraged to pick this up while it's readily available, which judging from the low print run, might not be too long.