Donald Duck gets his own entry in the increasingly popular Walt Disney Treasures line. The Chronological Donald, Volume One contains the first 36 Donald Duck shorts.

Spanning seven years, these shorts were released at a time when the irascible duck was growing in popularity and upstaging the studio's first solidifed cartoon star, Mickey Mouse.

Like all Walt Disney Treasures, this set is presented in a double Alpha keepcase and housed in a silver tin. Inside, you'll find a certificate of authenticity, with the number of your indivdiual copy; just 165,000 of The Chronological Donald, Volume 1 sets were produced. An 8-page booklet contains some basic info on Walt Disney common to all Treasures, a list of contents, 2 pages of notes on this set from Leonard Maltin, and a page devoted to an animator's sketch from "Beach Picnic." There is also a collectible card reproducing theatrical poster art from the 1940 short "Donald's Vacation." The slip outside the tin erroneously lists the material as being originally released between "1936 and 1941" when the earliest shorts included are from 1934.

DISC 1

Disc One opens with Leonard Maltin's introduction (2:27), which puts "Walt Disney's most explosive character" into context. Maltin explains that Donald's temper made him a scene-stealing alternative to good-natured characters Mickey Mouse and Goofy. Disc 1 contains the first 20 Donald Duck shorts from the 1930s, which you have to option to Play All chronologically. You can also choose individual shorts from a chronological or alphabetical listing.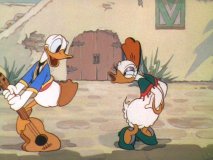 THE SHORTS

The Wise Little Hen (1934) (7:40)
The title character of this, Donald's first short, seeks someone to help her plant and harvest her corn. After Peter Pig refuses, she approaches Donald Duck. Donald dances over, but at her request, he declines, citing a bellyache. The hen plants her corn all by herself, with some help from little chicks. When she's all done harvesting, the hen offers not some of the bounty of corn foods, but some bellyache relief instead.

Donald and Pluto (1936) (8:21)
This is one of the first times we see Donald's rage, as he quarrels with a leaky pipe. Meanwhile, Pluto ingests one of Donald's magnets and suddenly finds his attraction to his bone plate a mutual one. Soon, every metal object presents a challenge both for Pluto and Donald, who's just trying to get his work done.

Don Donald (1937) (8:02)
This one marks the first appearance of Donald's love interest, later known as Daisy Duck. Donald's laughter gets him in trouble with Daisy. Donald trades his burro in for a car, and he's quickly joined by the female duck. The two go on a joy ride through the desert, but the burro gets the last laugh when the car goes kaput.

Modern Inventions (1937) (8:47)
Donald goes to a Modern Inventions museum and wreaks havoc with every display. One running gag has a robot taking every new hat that Donald produces. Every technologically-minded device misfires, culminating with Donald getting his face polished and his bottom trimmed and combed.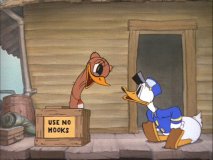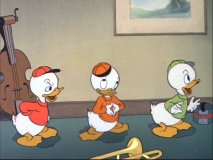 Donald's Ostrich (1937) (8:48)
At the Wahoo Train Station, Donald discovers a box, with a large ostrich named Hortense inside. The ostrich just wants to smooch Donald. Then while Donald gets back to cleaning the station, Hortense gets into mischief with an accordion, balloons, and hiccups. Then the ostrich swallows a radio!

Self Control (1938) (8:49)
Donald listens to a radio program about ways to prevent your temper from getting out of hand. While he tries to nap in his hammock,

Donald endures various attempts to get him riled. The "count to 10" method only helps so much.

Donald's Better Self (1938) (8:23)
Donald is accompanied by both an angel and a devil. The former encourages Donald to go to school, while the latter preaches that he ought to go fishing and smoke. Smoking doesn't agree with Donald. The devil Donald, laughing, goes fisticuffs with the angel duck, who puts up more of a fight than expected. The moral lesson here seems to be a first for a Donald short, but it is done in a way unique to his character. (Animation from this short was reused in the short "Donald's Decision" from Walt Disney on the Front Lines.)

Donald's Nephews (1938) (8:21)
Donald's trio of rambunctious nephews are introduced in this short: Huey, Dewey, and Louie. Donald's efforts to calm the boys by the book mostly fail. Each time, he winds up getting physically hurt. This is one of the more entertaining pieces. It's interesting how little the basic relationship of Donald and his nephews has changed in over sixty years, comparing this short to their segment together in Mickey's Once Upon a Christmas.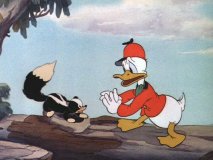 Polar Trappers (1938) (8:18)
Donald and Goofy team up as they seek to trap arctic creatures alive. Donald struggles with a penguin, while Goofy's after a walrus. The audio was kind of distorted on this short.

Good Scouts (1938) (7:37)
Donald goes camping with his nephews at the Yellowstone National Park. As Donald tries to instill good scouting skills to the boys, one mishap after another occurs. A petrified tree, a hungry bear, and Old Faithful Geyser all bring Donald grief, and when Huey, Dewey, and Louie try to help, things just get worse.

The Fox Hunt (1938) (7:35)
As in "Polar Trappers", Donald and Goofy again team up to catch animals. This time it's foxes they're after, and as ineptly as ever. Goofy manages a group of horses, while Donald is in charge of pack of hound dogs, neither to any avail.

Donald's Golf Game (1938) (7:42)
Donald's efforts for a peaceful game of golf are destroyed. First he can't get the silence needed to swing. Then his caddies (Huey, Dewey, and Louie) get him with some goofy clubs and a golf ball that won't stay still.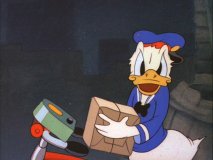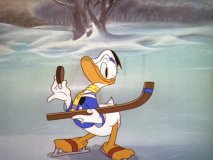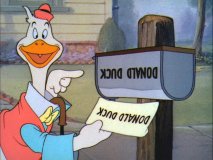 Donald's Lucky Day (1939) (8:14)
This short opens like no other Donald cartoon before. We see silhouettes of gangsters plotting to deliver a bomb at exactly midnight. We soon find out who their messenger boy is: Donald! En route, Donald hears a radio announcer warning him not to do anything unlucky on account of it being Friday the 13th.

Nonetheless, Donald rides under a ladder, shatters a mirror, and has a black cat walk in his path. It is the black cat whom Donald see-saws with to save his life. It's one of the more entertaining and more unusual Donald shorts.

The Hockey Champ (1939) (7:30)
Donald tells his nephews that he was once a mighty duck hockey champion. He proceeds to give them a dazzling demonstration of his skills. When the three boys mess up his blindfolded demonstration, it's Donald vs. his nephews for possession of the puck.

Donald's Cousin Gus (1939) (7:30)
Donald's cousin Gus Goose visits one night at dinnertime. Contrary to Aunt Fanny's letter, Gus does eat much. He consumes food with an unrivaled speed and a musical quality. He would have to, to carry an entire short, and he does. It's easy to appreciate Gus's antics as he eats all the food before Donald can get a bite. Donald just can't get rid of his cousin, even with a barking hot dog.

Beach Picnic (1939) (8:24)
At the beach, Donald has some fun with Seabiscuit, his sea horse floatation device. Pluto is scared by the floating sea horse. Then a tribe of colorful Indian ants take over all of Donald's food. Pluto grapples with fly paper.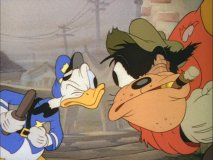 Sea Scouts (1939) (7:58)
Donald and his nephews go sailing.

As usual, things go awry, and Donald struggles to keep the ship ashore. He gets additional encouragment when a lime-colored shark threatens to eat him.

Donald's Penguin (1939) (7:45)
I was well anticipating a Maltin intro sooner or later, and here it is! The critic and Treasures host warns modern audience of gunplay that is seen in certain cartoons from the '30s and '40s. Donald gets a package from the South Pole and inside, on ice, is a little penguin. Donald suspects that he eats the fish out of the fish tank, and he spanks him. But Donald was mistaken, and he tries to make it up to the penguin. But the penguin gives Donald reason to let loose his temper, and this is where the gunplay ensues. It's a funny short, and I think it might have been funnier not knowing about the gunplay.

The Autograph Hound (1939) (8:23)
Maltin introduces this short with some context, distinguishing caricatures from stereotyping within this short. This charming short has Donald in Hollywood, seeking autographs from famous celebrities. He sneaks into the set hitching a ride with Greta Garbo. Then he discovers the Holy Grail: Mickey Rooney's dressing room! The Mickster signs Donald's book and give him some free tormenting, as well! Then Donald comes across Sonja Henie, who skates her name into the ice. Donald turns red when Shirley Temple recognizes him. When word gets out that Donald is on set, all the stars in Hollywood stop what they're doing to get the Duck's autograph. Even with limited knowledge of Hollywood stars of the late '30s, you'll get a kick out of the piece. It's quite funny. The video and audio here are just about perfect, too.

Officer Duck (1939) (7:34)
This last short gives a similar warning to "Donald's Penguin" regarding gunplay. But he also gives the not-so-cool advice to "watch everything he does and do just the opposite as you go through life"! When we run into Donald as Officer Duck, he's sleeping on the job. He's startled by a report to pick up Tiny Tom, dead or alive. Naturally, Tiny Tom's name is misleading; it's big Pete who hates "coppers." To arrest Tiny Tom, Donald disguises himself as a baby, with very amusing results. This short seems to take on a comic energy that places it above the earlier Donald Duck shorts.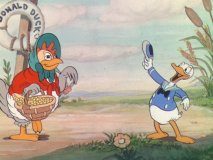 VIDEO & AUDIO

All of the shorts and bonus features are presented in 1.33:1 fullscreen. The opening credits of some shorts are slightly bordered to preserve all the names. For the most part, picture quality was strong, in consideration of the age of these shorts.

Some of the oldest shorts suffer from some flickering and inconsistency in colors. This really just affects the first three shorts and even then, only a small portion on the right side of the screen for them. I imagine it may very well be unnoticeable to most eyes, and it's more likely due to the age of these films, and not a lack of remastering and restoring.

On the whole, compared to Mickey Mouse, Volume 2, these shorts weren't as remarkable-looking, but they are a little bit older. There was more grain and other signs of age, which is understandable. But while an artificially pristine image might betray the film's original look, I do wonder if some of these shorts should look a bit better.

The sound is limited and dated, but it is an adequate presentation. Of course with Donald, it's often an issue of trying to understand what he says, which is not always necessary to following the shorts. But, the dialogue is presented as clearly as it could be. There is a little bit of fading and distortion to some shorts, most notably on "Polar Trappers", but the soundtracks of the later shorts were more effective and pleasing.
BONUS FEATURES

The only stated bonus features on Disc 1 are two galleries. First is a Publicity and Memorabilia gallery which houses 27 stills of Donald Duck posters, advertisements, comics, and magazine covers.

A number of them feature covers from Mickey Mouse Magazine, later known as Walt Disney's Comics and Stories, which chart the growing popularity of Donald. Most of these images, denoted by a microphone graphic, are joined by commentary from Leonard Maltin.

The Story and Background Art Gallery features pages on five Donald Duck shorts, each housing about a dozen sketches. The shorts covered here are Don Donald, Donald's Nephews, Sea Scouts, Mr. Duck Steps Out, and Donald's Vacation. On select images, Maltin provides background on characters in the world of Donald's shorts.

There is also an Easter egg, which can be accessed from the Bonus Features menu.

Easter Egg: Clip from The Reluctant Dragon (4:24)
In this excerpt from the 1941 Disney film, Robert Benchley stumbles into an orchestra room, where he is amused to see Clarence Nash and Florence Gill performing as Donald Duck and Clara Cluck. After the song, Benchley gets a lesson from Nash and wonders if he could voice a dragon.

Disc One's menus are simple but nice looking. They feature various poses of Donald against blue-gray backgrounds with diamonds. Like Walt Disney on the Front Lines, the menu music seems to be mixed a bit louder than the actual shorts. Music accompanies all but the short selection menus.

NEXT >>
ONTO PAGE TWO