Walt Disney and his studio gradually developed Annette Funicello from the most popular Mouseketeer into a full-fledged film star. The teenaged Annette got to narrate the 5-part travel serial Italian Correspondent on the first season of "The Mickey Mouse Club."

In Season 2, she claimed acting roles in the longer serials Adventure in Dairyland and Further Adventures of Spin and Marty. For the Club's third and final season (1957-58), Annette was given even more exposure yet, appearing in a third Spin and Marty yarn and then getting her own namesake serial.

Annette was adapted from the 1950 teen novel Margaret by Janette Sebring Lowrey (author of the Little Golden Book classic The Poky Little Puppy). It was to retain that title with Mouseketeer and third season Spin and Marty cast member Darlene Gillespie starring in the title role. Along the way, the story of a country girl relocated to the city was renamed "Annette and Darlene" with the intention of Annette playing the lead and Darlene holding a supporting role as her urban cousin. Rewrites occurred, a dissatisfied Darlene was dropped (supposedly to be used in the big unrealized film production Rainbow Road to Oz), and Annette took to the airwaves in the winter of 1958 as a one-girl vehicle.
The 20-episode serial starred Funicello as Annette McCleod, an orphaned 15-year-old farm girl from Beaver Junction, Nebraska who surprises her Uncle Archie (Richard Deacon) and Aunt Lila (Sylvia Field) by showing up on their doorstep. Annette's arrival marks the first time Archie or Lila have seen or heard of their niece, born to the brother they lost touch with. The McCleods' initial reaction is to send the girl off to boarding school, but Annette prefers to stick around and attend Old South High School with the neighborhood kids she soon meets.
It turns out that adolescence in the idyllic '50s isn't all peachy keen, or so the shy, polite Annette discovers. Her lack of algebra and Latin experience gets her moved down a grade. More important to the series is her outsider status, which the popular, pretty, and clearly threatened Laura Rogan (Roberta Shore, who later co-starred in Annette's feature film debut, 1959's The Shaggy Dog) looks to reinforce at every opportunity. The disappearance of Laura's expensive necklace (a semi-MacGuffin) ends up being the central source of conflict and mystery in this light, laid-back serial.
On multiple occasions, characters here object to things being corny. That's amusing and ironic because the whole thing is extremely corny. It's also extremely watchable. Today, a hammily-acted program about shallow, young-looking teenagers and their fickle relationships would be one of the least appealing things on television for me. (Coming Soon... "Hannah Montana": The Complete First Season) And yet, I got quite a kick out of Annette.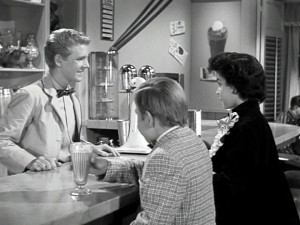 I'm not enjoying it in all the same ways that children of the 1950s would have. They probably wouldn't classify the show as delightfully cheesy and couldn't place a tremendous nostalgic value on it. But Annette isn't just bad in a good way, it's good in a good way.

That explains why I am also able to appreciate it on the intended level. To laugh and take interest to a degree that neither Walt Disney nor "Mickey Mouse Club" producer Bill Walsh could have foreseen. Maybe fifty years from now, I'll laugh and take interest in "Hannah Montana." It probably could happen.

The Mickey Mouse Club's serial format isn't something that's been widely repeated. Maybe that accounts for some of its unique, enduring appeal. In truth, the process of leaving viewers wanting to find out what happens next is easy to find today, particularly in the ever-popular hour-long TV drama. What's notable here is how often the start-stop occurs; episodes run just over 10 minutes each, excluding the opening and closing bits. Though that doesn't sound like very much, every installment achieves something, advances the story, and piques viewer interest. Watching the 20 episodes in succession, as not intended, doesn't lessen Annette's impact and may well even strengthen it.

The thing that really made Annette work for me is the characterization. While the sufficiently sympathetic Annette herself is somewhat sterile, she's surrounded by some true characters. In the McCleod home, we're entertained by the warm, cheery family housekeeper Katie (Mary Wickes) and, to a larger degree, the uptight Uncle Archie who initially seems so opposed to having a kid around. Preceding his work in five 1960s live-action Disney comedies, Richard Deacon plays the part in a way that could easily be read as unenthused or unbelievable. But I'm convinced there's a real conscious effort to create a humorous father figure that's aloof, square, finicky, and unproductive.

Several of the young actors and roles merit notice too. Spin and Marty are both back, claiming the second and third billed parts here. Tim Considine embodies '50s slick, or at least the G-rated version of it, as suave smooth-talker and shared love interest Steve Abernathy. David Stollery is Mike, a ducktailed senior with college aspirations who spends his time as the only visible employee of a busy ice cream shop. As the attractive yet chilly Laura, Roberta Shore excels enough to wonder why Disney didn't make more use of her beyond playing Shaggy Dog's French girl Franceska. Judy Nugent amuses as Jet, the outcast ranch girl with some rough edges. I'd be remiss if I failed to mention Rudy Lee as Steady Ware, a spunky, insatiable, and ever-broke little guy who exudes an early, smart-alecky Mickey Rooney vibe. Steady and his proportionate love interest Kitty (Sharon Baird) are entertaining and something else; if their disc-concluding dance doesn't have you rushing to insert Disc 2, you may need to check your pulse.
Annette never returned following its well-received 20-episode run, as "The Mickey Mouse Club"'s third season proved to be its final all-original one. That paved the way for Annette Funicello to take flight as a singer and as an actor. The latter found her performing in Disney television shows, feature films, and projects that were either, depending on where you lived, through the mid-1960s. By then, Funicello was already well on her way to being one of the leading icons for the lucrative but short-lived series of beach party comedies, which were made with Walt Disney's contractually-required approval. The occasional TV appearance took her into the 1980s, when a final beach movie was made. Sadly, her entertainment career's subsequent halt was the result of personal illness; Funicello was diagnosed with Multiple Sclerosis in 1987. Since going public with her debilitating condition in 1992, she has stepped out of the public eye. Her last professional credit was a cameo in A Dream is a Wish Your Heart Makes, Disney's 1995 made-for-TV filming of her 1994 autobiography.
Though it doesn't make us any less sad for her, DVD does make it easy to appreciate the many highlights of Ms. Funicello's career. Today, Disney makes Annette the third Mickey Mouse Club serial treated to release in the prestigious Walt Disney Treasures line, following comparable fiftieth anniversary sets of The Adventures of Spin and Marty and The Hardy Boys. Altogether, it brings the number of Original MMC DVDs to five, counting the first week Treasures collection and a one-off Best-of disc. Synopses of the twenty episodes appear below. Each runs 10 minutes and 45 seconds, give or take a few seconds, and is introduced by Mouseketeer Karen Pendleton, whose anglicized pronunciation of the star's name only accompanies the introductory episode.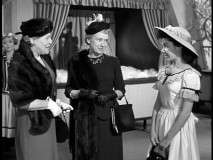 Disc 1

1. "An Introduction" (Originally aired February 10, 1958)
Mary Wickes introduces us to "Annette"

by describing the characters and central dilemma, as a liberal amount of clips take us through much of the serial.

2. "The Newcomer" (Originally aired February 11, 1958)
Unexpected and unheard of, Annette shows up at the McCleods' house and moves in.

3. "Annette Meets Jet" (Originally aired February 12, 1958)
Annette's aunt and uncle adjust to her presence, as she settles into her new home and meets chicken/egg supplier girl Jet.

4. "An Invitation (To a Party)" (Originally aired February 13, 1958)
Annette eats hamburgers, talks school, and, while shopping for new dresses, earns a party invitation from host parent Mrs. Abernathy (Doris Packer).

5. "The Escort" (Originally aired February 14, 1958)
With Steve already committed to taking Laura, he arranges for Steady to escort Annette to the party.
6. "The Party" (Originally aired February 17, 1958)
Annette meets Mike at the malt shop en route to the party, where Laura is entertaining with piano music.
7. "Paying the Piper" (Originally aired February 18, 1958)
The party proceeds with a game of Spin the Bottle (which involves harmless stripping, not kissing), and Annette gets a chance to sing.
8. "The Missing Necklace" (Originally aired February 19, 1958)
After a brief recap, we stick around the party for dinner, dancing, and a dramatic disappearance.
9. "What Happened at School" (Originally aired February 20, 1958)
Peeved by her missing necklace, Laura snubs Annette at school and afterwards at the malt shop.
10. "Almost a Fight" (Originally aired February 21, 1958)
In the aftermath of Annette and Laura's malt shop stand-off, chatter ensues, we go home, and Steady and Kitty dance some more.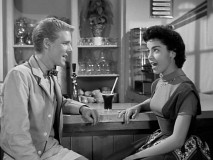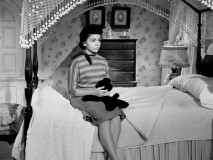 Disc 2

11. "Steady Gets an Idea" (Originally aired February 24, 1958)
Mike comforts Annette after she storms out of a tense entertainment committee meeting.

12. "The Explosion" (Originally aired February 25, 1958)
After some singing and dancing at the malt shop,

Jet invites herself over to Annette's for dinner.

13. "The Turned Down Invitation" (Originally aired February 26, 1958)
During her dinner at the McCleods, Jet invites Annette and her uncle to spend Saturday at her ranch. That sounds great, but so does the Abernathys' barbecue, scheduled for the same day.

14. "Annette Makes a Decision" (Originally aired February 27, 1958)
Annette and her uncle prepare for their ranch trip and experience a flat tire on the way.

15. "The Hayride" (Originally aired February 28, 1958)
Crisis averted as the hayride party comes to pick up Jet and Annette.
16. "The Barbecue" (Originally aired March 3, 1958)
Hayride singing continues, then gives way to cookout fun.
17. "The Fight" (Originally aired March 4, 1958)
Pleasant barbecue dancing gets ugly fast when Jet stands up to Laura.
18. "The Farewell Letter" (Originally aired March 5, 1958)
Penning her farewell letter leads Annette to reflect on her brief time in Ashford, rendering most of this episode a narrated clip show.
19. "Mike to the Rescue" (Originally aired March 6, 1958)
Mike hopes to catch Annette before she leaves town and we move closer to the pre-Thanksgiving entertainment.
20. "The Mystery is Solved" (Originally aired March 7, 1958)
As the title suggests, things wrap up neatly. Everyone winds up happy and in an implied relationship.
VIDEO and AUDIO

The black and white Annette naturally appears in screen-filling 1.33:1. It's marred by a few instances of white speckles on the screen and a small handful of shots that are dark or soft. For the most part, it stays satisfactorily clean, detailed, and free of concerns.

For 50-year-old episodes produced for a daily television show, these look surprisingly good. Though the few speckled scenes show there's clearly room for improvement (perhaps had this Destino-replacing set been planned further in advance), restoration effort is evident and clearly, things could have looked a lot worse. (See 2005's The Best of Mickey Mouse Club for proof of that.)

Sound is offered in two-channel mono. The audio does show some signs of its age and those sensitive to shortcomings will notice some distortion and the illusion of widespread lisps. More limited but glaring is a low rumble that mars part of one of the earliest episodes. The design is predictably simple enough not to bother and, for the most part, this is a perfectly serviceable presentation of early daytime TV.
BONUS FEATURES

In his slick, standard Disc One introduction (3:35), Leonard Maltin discusses the crew and young cast of the Annette serial, paying special attention to its "ethnically distinctive" namesake.

Disc Two's intro (3:48) has Maltin rattling off credits for the featured adult actors and sharing some more reflections on the serial's design.

Like the two past Mickey Mouse Club serials released as Treasures, this one again includes the complete episode that launched it. Since the Club had been shortened to half-hour format, there isn't an abundance of material gained here. The February 11th 10th episode (22:16) features the Mouseketeer roll call, two musical sketches ("Howdy Do" and record store mannequins come to life at night), and Jimmie Dodd signing off with a song about healthy eating.

In addition, Disc 2 includes the episode that ended "Annette", the March 7th episode (22:15). All this one really has time for outside of the serial conclusion is showcasing two young sisters, Linda and Janey Fallis, as part of "Talent" Round-Up Day. There's also a feel-good, anti-moping song on which Lonnie joins Jimmie.
The featurette "Musically Yours, Annette" (12:00) is an excerpt from a 1993 Walt Disney Records video in which Ms. Funicello reflects on her career, some of her hit songs, her crushes, and her childhood fan mail.

Complementing her reflections are comments from colleagues and contemporaries including Paul Anka, Frankie Avalon, Fabian, record producer Tutti Camarata, and Disney's songwriting Sherman Brothers. This is a great inclusion.

Disc 2's featurette, "To Annette with Love" (16:00), offers a new career retrospective for Funicello. In footage from a 1985 interview, she has quite a few fascinating stories to share, most involving Walt Disney himself. Attention is paid to her various efforts for the studio and the beach movies gain brief notice. The feature serial actually just gets passing notice, even though two of Annette's friends and "Annette" co-stars, Sharon Baird and Shelley Fabares, are among those newly interviewed. Also sharing their perspectives are Richard Sherman and Annette's husband Glen Holt. There's a sadly posthumous feel to the piece, but its heart is in the right place and it provides a solid celebration of Annette's work from a Disney perspective.

Though the Treasures often contain fewer extras than you would expect for such a collector-driven line, the opportunities missed by Annette's light set disappoint. If I were in charge of this volume, some of the things I would have thought to include or at least consider devoting space to: a taste of Annette's appearances in Disney's "Zorro", A&E's 1995 "Biography" episode, Annette's short Season 1 and 2 MMC serials, the Mouseketeer reunions glimpsed at in "To Annette", and the aforementioned TV movie A Dream is a Wish Your Heart Makes: The Annette Funicello Story. With Disney releasing less and less classic content on DVD, this annual bone-toss to fans takes on greater significance and really ought to at least offer two filled discs.

MENUS and PACKAGING

Par for the course, the colorful menus offer static imagery and loud but relaxing score excerpts.

The Walt Disney Treasures are renowned for their physical presence, a reputation that Annette and its fellow Wave 8 releases live up to. Some may consider the cover artwork choice -- of Annette in her mouse ears and personalized white shirt -- deceptive since it's taken from "The Mickey Mouse Club" and not the less known serial that's really at the heart of the set. You can mull that one over twice, since that's how many times the imagery appears, between the embossed silver tin's front and the double-wide black keepcase within.

Inside the keepcase, one finds a certificate of authenticity (numbering your copy out of the 39,500 produced), a collectible photo card (a black and white publicity still of a seemingly introspective Annette McCleod about to sing), a booklet of information (on the Treasures line, this set, and the featured serial), and a booklet of advertising with Disney Movie Rewards code.
CLOSING THOUGHTS

Fifty years since first airing on "The Mickey Mouse Club", Annette holds up as immensely watchable yesteryear entertainment. Judging this by today's standards, the acting is bad, the plots meander, and there isn't even a morsel of reality to be found. And yet, somehow those shortcomings factor into the charm along with the rarely-employed short serial format.

Some will watch this and come away thinking children of the 1950s were treated to lousy afternoon programming, but I found Annette quaint, diverting, and fun, without my perceptions being tinted by personal nostalgia. If you enjoy the teenagers' material in Disney's original Shaggy Dog, then you should definitely enjoy this, which in many ways is even more accessible than the two Club serials previously released to DVD.

This Walt Disney Treasures tin satisfies with its feature presentation. Picture and sound aren't perfect, but they could no doubt be a lot worse. The biggest disappointment of the set is its shortage of bonus features. The two featurettes on Annette Funicello are great and, brief though they may be, it's nice to get a couple of complete "Mickey Mouse Club" episodes. But there's a long list of available items that would have made worthy supplements and make this set a little fuller. It feels a bit silly to complain over a line that regularly delights with otherwise-forgotten content, but it's not wrong to want the most out of Disney's yearly acknowledgement of its television library and dedicated fans.