If you've made something that involves a holiday, it's logical to debut it around that holiday. But while the window of opportunity for ideal exposure often extends as far as two months from the day in question, it can only do so one way. In theaters, Christmas movies usually open shortly after Halloween and rarely after Thanksgiving. On the radio, stations that start playing Christmas songs around the clock in November stop abruptly on December 26th.

Retail operates similarly, a fact made extremely clear to me a couple of years ago. On Halloween night, I briefly stopped in a store of a major US retailer (the one where the employees wear red shirts). It was bustling, not with customers and trick-or-treaters but with employees putting as much Christmas merchandise as possible into prominence.

What does this have to do with anything? Well, it explains why now, in the beginning of February, I'm reviewing Alvin and the Chipmunks: The Mystery of the Easter Chipmunk. This year, Easter Sunday will fall on April 12th. That means we're well over two months away from the time when many in America will celebrate Jesus' Resurrection with pastel colors, chocolate bunnies, and dyed eggs. DVDs could potentially figure into the seasonal festivities. To that end, studios make sure their output is available to attract business weeks in advance. That's what Paramount Home Entertainment is doing for the Chipmunks and other studios will do for their Easter fare, much of it colorful and kid-friendly, very little of it religious.

This Easter disc follows quite a few other releases of the animated 1980s incarnation of "Chipmunks", presumed to be in vogue again after Fox's live-action/CGI 2007 hit film. Like most of those that have come before it, this new compilation supplies a little over an hour of content with no bonus features or special touches.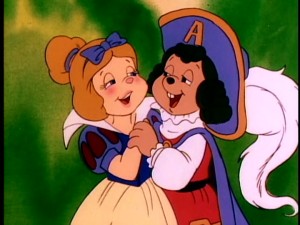 Found here are a half-hour 1995 holiday special (The Easter Chipmunk) and four quarter-hour episodes from the '80s Saturday morning cartoon that preceded it. As is often the case for Paramount's holiday Chipmunks accompaniment, most of the short episodes come from the sixth and seventh seasons of "Alvin and the Chipmunks." Only one, "Snow Wrong", predates them, having premiered with Season 2 in the fall of 1984. Unlike earlier DVDs, the episodes are not thematically similar to the central special.

That may not be for lack of effort (for instance, "Luck o' the Chipmunks" conjures often neighboring holiday St. Patrick's Day with a leprechaun story), but for lack of kindred tales.

The title short, one of a number of holiday specials that USA Network debuted in the mid-1990s, is somewhat dark for the season, a mystery and courtroom drama that puts the Easter Bunny on trial for suspected misappropriation. It comes complete with a security guard who sounds like Jack Nicholson, a fact which doesn't go unnoticed. The writing here is a little beneath the standards long upheld for the Chipmunks by creator's son Ross Bagdasarian Jr. and his wife Janice Karman.

Less ambitious and half as long, the standard episodes are a little more effective and entertaining, even though most come from the post-retooling that some fans consider a shark jump. This reconfiguration gave the singing siblings eye color and shortened the series name to just "The Chipmunks." Nicely, the episodes are equipped with both sets of their original credits.
1. The Easter Chipmunk (21:33) (Originally aired April 1995)
Based on passing comments,

Alvin decides that the original Easter Bunny was not current egg distributor Mr. Hoppity, but the Chipmunks' own retired grandfather. Alvin takes his story to the media and then the courts, convincing his brothers to support the family's claim to the holiday title while uncovering Hoppity's misdoings.
Song: "Ode to the Easter Bunny"

2. "Snow Wrong" (12:22) (Originally aired December 1, 1984)
The school puts on a play of Snow White and the Seven Dwarfs, with Brittany claiming the lead role and Alvin playing her prince. But dreadful director's daughter Tara-Marie has her own casting ideas.
Song: "Good Friends", "That One is You"

3. "Special Kind of Champ(ion)" (11:58) (Originally aired February 11, 1989)
Alvin coaches Louie, a Special Olympian with cerebral palsy who in turn helps Alvin train for track and field.
Song: "Get Up Again"

4. "Thinking Cap Trap" (13:01) (Originally aired October 14, 1989)
Disheartened by his family's lack of intelligence, Simon devises a thinking cap to improve their brain power. It goes well, prompting the Sevilles to appear on game show "Genius in the House."
Song: "Calculate"

5. "Luck o' the Chipmunks" (13:07) (Originally aired January 14, 1989)
New Irish student Mickey O'Dell introduces the Chipmunks to "Seamus", his own personal leprechaun. Can Mickey make their wishes come true or is the jig up?
Song: "Good Luck Charm" (Elvis Presley, written by Aaron Schroeder and Wally Gold)
VIDEO and AUDIO

As always, the animation appears in 1.33:1 fullscreen. The Easter special looks blurry and sort of pixelated. Surprisingly, the older Chipmunk episodes are still soft, but quite a bit cleaner.

While you'll still find some specks here and there, this may be the best the show has looked on DVD and there's dramatic improvement compared to the recently-released Chipettes DVD compilation. The two-channel soundtrack is a little muddled and generally unimpressive, but it gets the job done and can be considered satisfactory for its origins.

BONUS FEATURES, MENUS and PACKAGING

The usual treasure trove of audio commentaries, network promos, animation tests, and behind-the-scenes featurettes is found here. I'm joking, of course. Even standard features like subtitles, an in-case insert, and animated menus would seem kind of special here. Instead, all we get here is a commercial for animated Chipmunks DVDs that plays before the menu loads and from a listing. There are some Easter eggs but I'm referring only to the seasonal menu cursors. To the disc's credit, the two static menus do not recycle the cover artwork.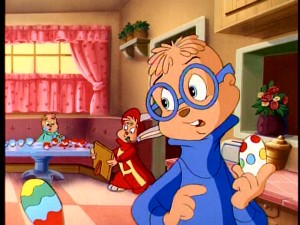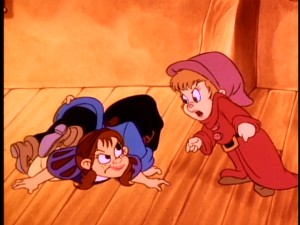 CLOSING THOUGHTS
Alvin and the Chipmunks' 1990s Easter special is kind of odd, but this DVD's four older series episodes entertain steadily. The reasonably good picture quality is appreciated, as is the fact that all of this content is new to DVD. Still, the light running time, slightly high list price, and random nature to the disc all render this a discouraging collection. Unless you have a special attachment to one of the cartoons featured here, I can't recommend purchasing this outside of a bargain bin or post-holiday clearance.