The sinking of the Titanic unquestionably numbers among the most significant events of the 20th century. Thanks to James Cameron's record-smashing 1997 epic drama, a feature film will long stand as the definitive account of the historic and captivating tragedy, the easiest and most exciting way to remember and experience it. Cameron's film won't be the last to tell the "unsinkable" ship's tale, nor was it the first.

The first was Saved from the Titanic, a since-lost 10-minute silent short starring a real survivor that was released just 29 days after the event. Other shorts and fictionalized features followed, from Germany, Denmark, and Britain. A 1943 Nazi propaganda film, which invented a German officer as hero, was the first to be called simply Titanic.

Hollywood told a more factual and romantic version in 1953's Titanic starring Clifton Webb and Barbara Stanwyck. Then, five years later, came the UK's A Night to Remember, which was considered the most accurate and well-known retelling on film until Cameron came along. In between them, others, like The Unsinkable Molly Brown and Raise the Titanic, dealt with the sinking, but not exclusively.

With this month marking the one hundredth anniversary of the ill-fated maiden voyage, the studios that distribute these films are wisely putting them back in view of the public to a degree that they haven't since the late-1990s. Cameron's film, of course, is getting the highest profile recirculation a film can enjoy these days, with a wide theatrical release of a new 3D version arriving this Wednesday in time for Easter weekend and the day itself. Other companies are simply issuing timely new editions on DVD and Blu-ray. Over the next few months, everything from The Asylum's Titanic II to documentaries and miniseries are getting retail pushes.

Even The Criterion Collection, which ordinarily seems gleefully opposed and impervious to retail trends and gimmicks, has seen fit to acknowledge the centennial with last week's Blu-ray debut and 2-disc DVD reissue of A Night to Remember, which they first released to DVD in May of 1998 with the low spine number of 7.
Night wastes little time on setup. Some words are exchanged about the ship on a train ride. The vessel is christened. And a few passengers make their way to dock what is being called "Man's final victory over nature and the elements." April 14, 1912 arrives just twelve minutes into the film.
This British production does not borrow the since-customary 1953 Titanic's design of placing a romance front and center. In fact, Night doesn't place anything front and center, moving instead from one area to another, not lingering around any of those long enough to really get a strong sense of characters. It doesn't need to either. There is something to be said for being able to identify and sympathize with invented individuals, but Night makes a pretty convincing case for sticking to the facts and only dramatizing as necessary. Few historical dramas could get away with that, but then few have the fascinating, self-contained story of this.
Early on, it seems the ensemble approach might dehumanize an utterly human tragedy and render this film meandering and emotionally slight. The first signs of the ship's trouble are met casually and there is no sense of real danger. That's probably because that was the actual sentiment aboard the giant ship, which promised a transatlantic ride of style and comfort. As the ill preparation and true desperation of the situation gradually become known, Night grabs your attention and socks you in both the heart and gut. Imagine sailing to New York from Southampton, either as a wealthy person accustomed to privilege and life's finer things or a less financially secure individual willing to sacrifice some comfort in Second or Third Class for the thrill and hope of a brighter future. Then four days into your journey, an iceberg is hit at such an angle that the ship will suddenly be submerged in an hour or two.
"Women and children first" sure sounds noble, but it promises to tear apart families. And men, don't even think of getting out unless you're in First Class, among whom only one out of three would make it. All in all, 1,514 out of the 2,224 people aboard the ship (68%) died that night, most from hypothermia upon exposure to the freezing water. What a choice: you either die an icy death or look selfish for taking one of the cherished few spots in the insufficient fleet of lifeboats. All because you took the bold step of getting a ticket on a 900-foot ocean liner.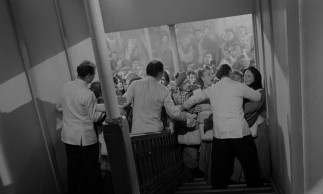 From a modern viewer's perspective, there is a noticeable lack of star power to A Night to Remember. Even those versed in classic Hollywood cinema may struggle to do more than find a few names in the cast vaguely familiar. Director Roy Ward Baker is not recognized for great achievements in film; he wound up doing much of his work in British television, where screenwriter Eric Ambler likewise primarily found employment. This goes to show you that Night is not necessarily the product of tremendous talent. Instead, its success is born out of spellbinding facts and the wise decision to remain true to them.

It is rare to encounter a historical drama that doesn't exert creative license to suit its interests. All this film needs is the truth and it is willing to use survivor accounts (and Walter Lord's identically titled nonfiction book) to find it, serving up plenty of details too delicious to invent, like the lengths to which survival instincts would drive some passengers or the Titanic's struggles to get help from nearby ships. With every character based on a real person and accordingly named, the film moves deftly and effortlessly from one section of the ship to another, assessing the situation from all official angles and sharing the public's varied reactions to it.

From couples and families divided on what to do to the few gentlemen who accept their fate in dignified fashion, from the band that keeps playing to the very end to those sending distress signals and those able to board lifeboats, Baker and Ambler give us a little bit of everything, painting as full and faithful a portrait of that fateful night's activity as possible.

If you're looking to discredit the film, perhaps out of appreciation to Cameron's, the easiest target would be the production values. Rarely does the black and white Night give you the feel of being at sea. A far cry from Cameron's elaborate efforts, visual effects are relegated to miniatures shown in fleeting before you can scrutinize and criticize them. There is also the survey design, which renders characterization absolutely lacking. Just three days removed from my viewing, I struggle to remember any individuals by name or appearance (even Kenneth More, the one cast member singled out). Instead of personalities, small moments stand out.

Inadvertently, A Night to Remember would essentially create the model for many a disaster movie to emulate, of large casts, short scenes, and lots of action. It is a blueprint that films from the utterly fictional (like The Poseidon Adventure and Armageddon) to the feverishly-researched (like United 93) have followed.

Perhaps Night was too British and foreign a film to warrant notice from the Academy Awards. It didn't receive a single nomination. Of course, Alfred Hitchcock's Vertigo, now widely considered the best film of 1958 (and one of the best ever), picked up just two technical nominations that same year. Another of the year's most admired works, Orson Welles' Touch of Evil, didn't even get that (although it at least has an unsatisfactory theatrical cut to blame). A Night to Remember did win the Best English-Language Foreign Film at the Golden Globes, a trivial honor if ever there was one.
Blu-ray Disc Details

1.66:1 Widescreen
LCPM Mono 1.0 (English)
Subtitles: English
Not Closed Captioned; Swedish Extra Subtitled in English
Release Date: March 27, 2012
Single-sided, dual-layered disc (BD-50)
Suggested Retail Price: $39.95
Clear Keepcase
Also available as 2-Disc Criterion Collection DVD ($29.95 SRP)
Previously released as 1-Disc Criterion Collection DVD (May 13, 1998)
VIDEO and AUDIO
A Night to Remember is presented in its original 1.66:1 theatrical aspect ratio and it looks fantastic on Blu-ray. The transfer features minimal wear and debris, while boasting sharp picture quality throughout. From reading about the original DVD, it sounds like this new restoration offers dramatic improvement. The 1.0 monaural LCPM audio likewise delights, remaining clear and always intelligible. This is a highly satisfactory presentation, which undoubtedly benefits from Criterion's devotion to restoration.
BONUS FEATURES, MENUS, PACKAGING and DESIGN

Criterion's Blu-ray boasts a hearty supply of (all HD) bonus features above and beyond the original DVD, all of which also make it to the new double-disc DVD.

The extras begin with a 1994 audio commentary by Don Lynch and Ken Marshall, the author and illustrator, respectively, of Titanic: An Illustrated History. That distinguishes this track, since the historians are experts on the real ship, not the film, which immediately makes clear they will be addressing the film on those terms.

They testify to A Night to Remember's authenticity and research, marveling at the accurate details and pointing out the infrequent inaccuracies and instances of creative license. Full of fascinating information and perspective, the two ensure that there is nary a quiet or dull moment in this commentary.

"The Making of A Night to Remember" (57:53) is the product of a time when making-of specials were something special. Ray Johnson's 1993 documentary for British television interviews two people behind the film, producer William MacQuitty and author Walter Lord. It also includes a surprising amount of behind-the-scenes footage from filming, showing miniature work and the such. Though slighter than what you'd expect from the runtime, it is a pretty solid retrospective.

"Eva Hart: Survivor" (23:15) is a 1990 interview with a British survivor who passed away in 1996. Ms. Hart was nine years old on the ship, so she has some vivid and valuable memories to share, which she does in a roundabout way after talking about her ordinary family. Reveling in her position as the only living survivor who can remember the experience, she discusses that chaotic fateful night and parts of the ship she saw before it went down.
The 1962 Swedish documentary "En Natt att Minnas (A Night to Remember)" (32:25) commemorates the 50th anniversary of the Titanic's sinking with clips drawn from the British film and passages dramatically read from its basis. It also supplies interviews with three Swedish survivors, who have varying degrees of memories of the experience, before concluding with a song about the sinking.

It is presented in Swedish, with English subtitles, while the movie clips remain in English with tough to read Swedish subtitles.

"The Iceberg That Sank the Titanic" (48:41) is a 2006 episode of BBC's long-running "Natural World" documentary series. It explores the cause of the large ship's undoing with a scientific investigation of large icebergs in the Greenland region, near where the collision occurred. There's a bit of history and a touch of the Titanic's remains. This covers unique and relevant ground, but I had trouble staying interested in it.

Finally, the movie's long, ordinary original British theatrical trailer (3:48), run at the end of the hour-long documentary, is included. It singles out Kenneth More, as does his non-alphabetical top billing, as the film's star.

The menu, which kindly gives an approximate runtime for all extras, plays an eventually silenced piece of score while displaying a static wide shot of the entire boat. The disc is equipped with both resuming and bookmarking abilities, luxuries that Criterion is one of the few studios to jointly provide.

Few DVD and Blu-ray releases these days include anything of note inside the case, but all Criterion ones do. The winningly illustrated 24-page booklet here opens with a newspaper's front page account of the incident along with other historic photos and documents. After the customary chapters and cast lists, we come to the heart of the insert, Michael Sragow's new essay "Nearer, My Titanic, To Thee." This article celebrates the film and its source text for their insightful and influential presentation of the tragedy. Sragow's account is itself well-researched and an easy but enjoyable read.
CLOSING THOUGHTS

For a less epic, less fictional filming of the Titanic story, A Night to Remember may very well be your best bet.

The product of exhaustive research and impressive restraint, this classical drama and historical disaster movie reflects the sensibilities of 1950s United Kingdom, but it remains interesting and meaningful today, more removed from the present than from the past it dramatizes.

Criterion adds yet another top-notch release to its long list of them. Between the 1990s commentary and retrospectives, the newly-licensed television programs, terrific booklet, and outstanding feature presentation, this Blu-ray easily stands as the film's definitive edition. Though its relevancy will peek at the end of next week, this is a set that anyone at any time ought to find well worth checking out.

Buy A Night to Remember: The Criterion Collection from Amazon.com: Blu-ray / 2-Disc DVD