With a 2007 movie standing as last year's third best-selling DVD and a "Squeakquel" expected to be one of this Christmas' biggest box office hits, it is safe to say that a third generation has embraced Alvin and the Chipmunks. For today's kids, the singing squirrels are known for their interactions with Jason Lee and David Cross, their semi-famous voice actors, and their hip hop-infused contemporary sound.

Fox's hit feature reused a design and over one hundred crew members employed on their live action-with-CGI Garfield movies. Like those two flicks, the big screen Alvin didn't get great reviews. But unlike them, Alvin didn't need foreign audiences to be considered a success; it did the lion's share of its business in the world's biggest movie market, as people in the United States appreciated its broad appeal.

Whether you view it as cashing in on a commodity that's suddenly hot again or just timely revisitation, Paramount Home Entertainment has spent the past two years releasing and re-releasing to DVD titles from the Chipmunks' second wave of popularity. That run lasted from the early 1980s through the mid-1990s and saw Ross Bagdasarian Jr. and his wife Janice Karman creating and overseeing a long-running television show, several specials, and even the franchise's first theatrical release. But, as kids of the 1950s and '60s would happily tell you, Alvin, Simon, and Theodore went back even further than that.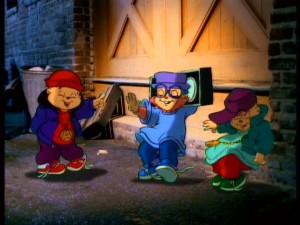 The Chipmunks were born in a 1958 novelty song by Ross Bagdasarian Sr. Three years, three albums, and three Grammys later, the elder Bagdasarian took his squeaky-voiced creation to television in the animated primetime CBS series "The Alvin Show." That program ran for 26 episodes from 1961 to 1962 and resurfaced in sporadic syndication in the years to come. Only now, nearly fifty years after its original broadcasting, is "The Alvin Show" available to own. Paramount recently released this DVD titled Alvin and the Chipmunks: The Very First Alvin Show. "Show" can refer to both the series and the episode; only the first half-hour installment is featured here, along with specials from 1985 and 1990 making their DVD debuts.
The 1960s Chipmunks look and sound different than their 1980s incarnations. And yet, the basic premise is the same. Three anthropomorphic Chipmunk siblings live in suburbia with their human "father", songwriter Dave Seville. Brainy and bespectacled Simon wears blue, chunky Theodore dresses in green, and their mischievous upstaging brother Alvin dons a red cap and shirt, the latter of which is adorned with his first initial. "The Alvin Show" is more of a structured variety show than the quarter-hour split stories of "Alvin and the Chipmunks." In the '60s, Dave and the boys shared their half-hour with Clyde Crashcup, a "great" inventor who takes credit for creating existing things. He does this bumblingly and with the assistance of Leonardo, a short sidekick who speaks only in whispers.
Although the original series is the thing promoted in the DVD's packaging, I think many younger folks will be more excited by its company here, which the case labels "bonus episodes." More on them below...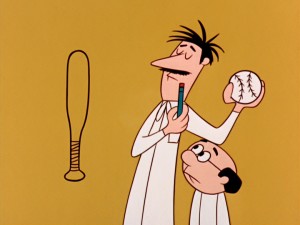 1. The Alvin Show: "Episode #1" (25:34) (Originally aired October 4, 1961)

Told to amuse themselves, Alvin, Simon, and Theodore build a birdhouse, attracting Stanley, a big purple eagle. They help him face his fears and learn to fly. After an archery contest segue, Dave and the boys go on holiday in Venice, where the Chipmunks and their gondolier sing to each other. Clyde Crashcup stumbles through an invention of baseball and all that goes with it. Then, while bicycling through France, Alvin wanders off from his family to sing to French girls about how he wishes he could speak French.

Crashcup returns, but gets cut off before he can create a new word.

2. A Chipmunk Reunion (23:57) (Originally aired April 13, 1985)

Bothered by the uncertainty of their birthday and origins, the Chipmunks sneak away and set out to find their mother for answers. With some effort, they hike there, meet their mother Vinny, and discover how they came to live with Dave. There are some conflicted feelings, a maple leaf meal, a few songs, and a wild boar on the loose. Meanwhile, Dave and the Chipettes are on their trail.

Songs: "Mother and Child Reunion" (Paul Simon), "Vinny's Lullaby" (original, but owing to Dumbo's "Baby Mine"), "Vinny's Blues" (original instrumental), "Shake It Up" (The Cars)

3. The Chipmunks: Rockin' Through the Decades (23:01) (Originally aired December 9, 1990)

Next and last comes the real highlight of this DVD. Hosted by the Fresh Prince (a.k.a. the world's biggest movie star, Will Smith) from the Chipmunk Hall of Fame, this special purports to document the Chipmunks' influence over the five different decades they've seen. While there are some clips from "The Alvin Show" and an "Ed Sullivan Show" appearance by Bagdasarian and Chipmunk puppets, this program is more about paying tribute to popular musical styles and acts from over the years. A lot of famous pop/rock songs and artists are covered in brief, beginning with a lively montage of original Chipmunks hit "Witch Doctor" that emulates in turns Little Richard, Elvis Presley, Jimi Hendrix, Bob Dylan, Michael Jackson, and Bruce Springsteen.
With Smith dressing up in period fashions, the Chipmunks proceed to sing and dance to hits of different eras, assuming personas inspired by the likes of The Beach Boys, The Beatles, the Rolling Stones, and Elton John. (I'm amazed all of these covers were legally cleared!) The format changes for the 1980s section, as Alvin is animated into Michael Jackson's "Smooth Criminal" and "Beat It" music videos. Strangely foreseeing a decade of Christmas raps, the final number is an original mostly-animated performance of a hip-hop song called "Sleigh Ride" (not to be confused with the holiday standard). In addition to all these fun bits, appearances are made by celebrities (most, better known then) who audition to take over Alvin's duties. Seen here are Little Richard, Kenny Loggins, Shelley Duvall, showman Ben Vereen, a tiny young Raven-Symonι, and, from "Night Court", Richard Moll and Markie Post.
Songs: "Tutti Frutti" (Little Richard), "Heartbreak Hotel" (Elvis Presley), "Surfin' Safari" (The Beach Boys), "She Loves You" (The Beatles), "(I Can't Get No) Satisfaction)" (The Rolling Stones), "The Alvin Twist" (original), "Crocodile Rock" (Elton John), "Smooth Criminal" (Michael Jackson), "Beat It" (Michael Jackson), "Sleigh Ride" (original)
VIDEO and AUDIO

All three episodes appear in their original 1.33:1 fullscreen aspect ratios. Contrary to what you'd expect, the "Alvin Show" episode is the best-looking feature as far as picture quality goes. Though there isn't much to the backgrounds and animation, the '60s show looks great; remarkably clean, appropriately sharp, and vibrantly colored. Its fine presentation suggests the show has been remastered for a bigger collection yet to come, but maybe that's just wishful thinking. A Chipmunk Reunion doesn't look so hot; it is plagued by regular grain plus intermittent scratches and specks. None of the intrusions render it unwatchable, but the special definitely leaves room for improvement. Rockin' Through the Decades falls somewhere in between;

it has a video-ish appearance that is less crisp than desirable, but it isn't hindered by any more specific flaws.

The entire disc is encoded in Dolby Digital 2.0 sound. Logic is again defied, though, as the 1961 episode is treated to a stereo presentation while the two more recent specials are heard in mono. That's what the case says and it sounded accurate. None of the three programs leaves one feeling underwhelmed aurally. Annoyingly but usual, no subtitles or foreign dubs are offered.

BONUS FEATURES, MENUS and PACKAGING

Even though a single-layered DVD can comfortably hold over two hours of content and the vast majority of both the '60s and '80s "Alvin" incarnations remain unreleased, the disc offers no bonus features to complement the three episodes.

The DVD loads with a promo for "Alvin and the Chipmunks" animation on DVD. The same clip is all that plays from the main menu's "Previews" listing. Silent, static, and all by itself, that menu is nothing more than a wider version of the cover art. A single insert inside the case advertises the official Chipmunk website. At least it does so in an interesting fashion, with a comic message from Clyde Crashcup and Leonardo.
CLOSING THOUGHTS

Paramount continues to cater to impulse buyers over those really wanting to collect Alvin and the Chipmunks' animated canon. At least the studio has reached back to something created before the 1980s. Fans of "The Alvin Show" will definitely appreciate getting the very first episode in this complete and pleasing presentation. It may not be the full series, but this 1/26th of it represents the only bits of the show commercially released

besides the pair of 11-song "Sing-Alongs" videos Disney put out in the mid-1990s.

As enjoyable and revealing as Alvin's debut is, it's not the most fun thing here. That would have to be the 1990 special Rockin' Through the Decades, something that would have been wise to clearly and prominently promote on the case. I suppose the legal department didn't want to take any gambles, but advertising the extended appearances by Will Smith and Michael Jackson as well as the Chipmunks covers of songs by Elvis, The Beatles, and The Rolling Stones doubtlessly would have garnered this package more deserved notice.

As is, though slightly overpriced, this solid disc still qualifies as one of the best individual Alvin and the Chipmunk DVDs available. I'd only put the A Chipmunk Christmas DVD/CD combo ahead of it. If you're a Chipmunk fan looking for a moderately-priced disc that samples the cartoon band's legacy with breadth, go ahead and pick this up.