After nine months of scattered, largely unobservable holidays, fall arrives and with it some of the year's most exciting occasions.

There's Halloween, the kid-friendly celebration of the scary and macabre. Thanksgiving offers an upbeat slice of American history to mark with bountiful feasts and gorging. And it's hard to top Christmas, which has enough cheery tradition and alluring mythology to delight even those who overlook the religious origins. All this going down in a span of less than two months ensures the holiday season has a distinct, memorable feel. For retailers, it also ensures a boost in business as seasonal merchandise flourishes to meet and multiply consumer demand.

Paramount Home Entertainment recently contributed to the flux of seasonal product with the release of Alvin and the Chipmunks: Classic Holiday Gift Set, a 3-DVD box set. Each of the three big holidays gets the 2D-animated Chipmunk treatment in a bundling of discs also available separately.
Having debuted on the USA Network in 1994, the Halloween special Trick or Treason represents one of the two most recent works on the set.

It's accompanied by four fright-themed episodes from the sixth and seventh seasons (1988-89) of NBC's Saturday morning cartoon, then retooled and retitled "The Chipmunks."

Alvin's Thanksgiving Celebration supplies another '90s USA Network debut, A Chipmunk Celebration, which has been absent on DVD until now. It too is joined by a trio of standard episodes from Season 6 and 7.

Finally, top-billed disc A Chipmunk Christmas provides the 1981 NBC special of the same name. The warm reception given to this program and its soundtrack is almost entirely responsible for granting the Chipmunks (icons in the '50s and '60s) a new run, which would last throughout the entire 1980s. Before then, the franchise was somewhat retired following creator Ross Bagdasarian, Sr.'s premature death in 1972. As on its prior DVDs, the half-hour special is accompanied by additional thematically related episodes from -- you guessed it -- Seasons 6 and 7 of "The Chipmunks."

Out of the twelve provided shorts, I've designed five standouts with a star (

). Let's take a closer look at each's disc's contents...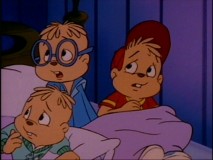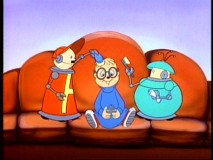 1. Trick or Treason (21:40) (Originally aired October 28, 1994)
With help from Simon, Alvin plots to come up with tricks good enough to gain admittance to the Monster Club and earn the leather jacket that comes with membership. Theodore befriends Michael, a kindly, facially-deformed boy who rescues injured animals.

The two threads merge when Alvin is asked to prank legendary neighborhood monster Pumpkinhead, who in fact is none other than the outcast Michael.
Songs: "Monster Mash", "You Never Know", "Halloween is Coming"

2. "Babysitter Fright Night" (11:54) (Originally aired in 1988)
Excited for a night free of parental supervision, the Chipmunks instead have to deal with a strict babysitter, of whom they grow increasingly suspicious.
Song: "Babysitter Bop"; Homage: "Mission: Impossible"

3. "Theodore's Life as a Dog" (12:02) (Originally aired in 1988)
Tricked into eating a dog biscuit, Theodore gets his revenge by exhibiting characteristics of a weredog, a beast Simon explains to Alvin's concern.
Song: "Life of a Dog"

4. "Nightmare on Seville Street" (10:12) (Originally aired in 1989)
After sneaking into see the latest Hideous Harold horror movie, the Chipmunks are ever fearful of danger during the stormy night.
Song: "Hideous Harold"; Goof: the Fuzzy Bunnies movie poster says "Home Comming"

5. "No Chipmunk is an Island" (12:25) (Originally aired in 1988)
Fighting leads Dave to give each Chipmunk his own room. Relocated, Alvin, Simon, and Theodore dream about the lifestyles their new quarters will provide.
Song: "I Want You to Help Me"; Caricature: mustachioed TV personality Geraldo "Riviera"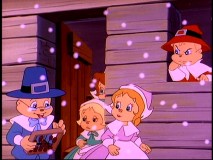 1. A Chipmunk Celebration (21:36) (Originally aired October 1994)
The Chipmunks' excitement over being part of the community play Pilgrims: Adventures in a New Land vanishes when, in the spirit of the subject matter, they're assigned new tasks. Against their wishes, Simon is cast in the lead role, Alvin is in charge of costuming, and Theodore covers lighting. Fearing humiliation in front of all their visiting relatives, Alvin hatches a plan to get them out of the show.
Songs: "Come On-A My House", "I'm Going Crazy", "Gotta Believe in Pumpkins"

2. "Food for Thought" (21:34) (Originally aired in 1988)
To help Theodore pass his final exam and join the graduates on a trip to Funland, Alvin and Simon teach him about American history. The Chipmunks and Chipettes assume roles in fun and educational retellings of Columbus' voyage, the first Thanksgiving, the American Revolution, and the Battle of Little Bighorn.
Song: "American Revolution Rap"
3. "Cookie Chomper III" (21:40) (Originally aired in 1989)
While Dave is out, the Chipmunks secretly adopt a stray kitten, whom they name Cookie Chomper III. When he finds out, Dave allows them to keep the beloved cat despite his potent allergies. Then tragedy strikes and the Chipmunks struggle to cope with the loss of their pet.
Song: "Beautiful Memories"; Goof: Scolded woman and dog on sidewalk instantly grow about 20% in size
4. "Dave's Getting Married" (23:20) (Originally aired in 1988)
The Chipmunks worry that Dave has been spending too much time with his girlfriend Marsha, but after meeting her, they're all for her becoming their new mom. Marsha's comparable but disagreeable three sons give them reason to reconsider. To promote bonding among the boys, the two groups come together for a big camping trip.
Songs: "She's Alright", "You Can Count on Me"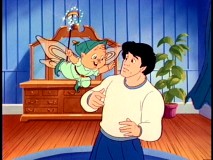 1. A Chipmunk Christmas (24:15) (Originally aired December 14, 1981)
Alvin faces a conundrum when he gives away his prized Golden Echo Harmonica to sickly boy Tommy just days before the Chipmunks are to perform a sold-out Christmas concert at Carnegie Hall. Hiding the issue from Dave,

Alvin gives off the vibe of someone lacking the season's selfless spirit as he schemes to raise money to buy another harmonica. One of the all-time great Christmas specials, this is magical television throughout.
Songs: "It's Beginning to Look a Lot Like Christmas", "It's the Greatest Time of the Year", "Chipmunk Jingle Bells", "Chipmunk Song (Christmas Don't Be Late)", "The Spirit of Christmas", "Silent Night", "Sleigh Ride", "Deck the Halls", "We Wish You a Merry Christmas"

2. "Merry Christmas Mr. Carroll" (22:59) (Originally aired in 1989)
Alvin gets the A Christmas Carol treatment as he is visited by three spirits and shown Christmas past, present, and future. Gained from his new perspectives is an appreciation for Mr. Carroll, a man who insists having a clean newspaper delivered to Alvin's self-centered dismay.
Song: "Here Comes Christmas"
3. "Dave's Wonderful Life" (23:14) (Originally aired in 1988)
Dealt car troubles, song rejections, and money woes, Dave wonders if things would be better for the Chipmunks had he never existed. Like George Bailey, he gets to see that isn't the case, as Simon, Theodore, and Alvin magically recall incidents where he helped them grow.
Song: "We're So Glad It's You"; Homage: "The Twilight Zone"
VIDEO and AUDIO
As nearly always seems to be the case for Paramount's Chipmunk DVDs, picture quality presents some concerns. Minor imperfections (scratches, lines, specks) are quite easy to spot throughout the fullscreen presentation and while some of them can no doubt be traced back to the budget animation, many could have been improved with some clean-up work. Though the episodes are more burdened than the relatively recent specials, not even the latter arrive without some flaws. The content of the Thanksgiving disc, the most recently-pressed of the three, look a little better. But all around there is a bit of room for improvement, most noticeably in the worn, littered element, rampant softness, and erratic colors.
The sound department could use some work as well. Despite the franchise's international appeal, only English audio is offered. All is encoded as two-channel Dolby Digital. Discerning stereo from mono is no easy task nor is articulating specific issues. Suffice it to say, the tracks show their age more than they should. Subtitles are missed but that's somewhat forgivable with closed captioning provided.
BONUS FEATURES, MENUS, PACKAGING and DESIGN

As the DVDs count the TV episodes as part of the main feature, there are no extras per se. That means that the CD soundtrack to A Chipmunk Christmas,

available as part of the program's 25th Anniversary Special Collector's Edition DVD, is not included here.

Each disc's limited menus offer individual episode/special access and a "Play All" option. Music and touches of animation liven up Trick or Treason's main menu. The Thanksgiving DVD loads with a current general promo for Chipmunks DVDs and previews for discs of Nickelodeon's "Spongebob Squarepants" and "Go Diego Go!" franchises. Chipmunk Christmas plays "The Chipmunk Song (Christmas Don't Be Late)" on the main menu but features no animation.

The Gift Set takes a traditional approach to packaging. Each of the three included DVDs is identical here to its standalone release, claiming a standard-sized keepcase. On my copy at least, each DVD was shrinkwrapped too, which is nice for those who may already own one of the discs and are considering selling or gifting. Single-sided inserts in Thanksgiving and Trick's cases promote the Chipmunks' official website using imagery from the feature presentation. The three DVDs fit comfortably in a standard cardboard box with cover imagery that wisely conveys the three central holidays by the varying attire of the three stars.

The presence of credits is inconsistent, but gladly nearly everything on the disc is introduced by one of the two later title sequences and that's enough to call them complete. As an added bonus, apparently no music replacements have been made on the three discs.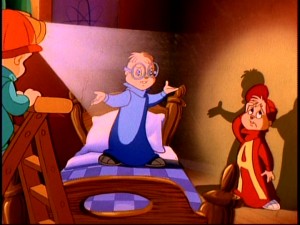 CLOSING THOUGHTS

The holidays seem to bring out the best in Alvin and the Chipmunks,

a fact this new DVD Gift Set makes evident. As the 1980s incarnation of the Chipmunks was consistently entertaining, the standout programs here truly shine. None are brighter than A Chipmunk Christmas, the special that enabled the existence everything else on these discs. Its company, even the mid-'90s USA network specials made past a presumed prime, is strong enough to recommend the full collection instead of just a standalone release.

Picture and sound could be better, some extras would have been nice, and that Christmas soundtrack is missed. But this Classic Holiday Gift Set is still a clear winner and quite likely the DVD that best captures the magic of the Chipmunks' late-20th century cartoon run.