Adapted from Johann David Wyss' widely-read novel, Disney's Swiss Family Robinson is a grand scale production with wide appeal. This fun-spirited adventure offers much for audiences, who embraced it upon theatrical release in 1960 and still consider it one of the Disney studio's most enjoyable live action films made.

It is the 19th Century and the Robinsons are a pretty typical family, said to be Swiss, but entirely relatable to American audiences. Our first glimpses of the family are in the midst of a terrible storm. There are five to this family.

The two benign parents are played by British star John Mills (Hayley's father) and Dorothy McGuire (who you might recognize as the mother from Old Yeller). They are joined by their three sons: eldest boy Fritz (James MacArthur), the gangly Ernst (Disney legend Tommy Kirk), and youngest son Francis (played by Kevin Corcoran as the "look at me, I'm the cute little kid" role, even though he should be past that stage here).

The Robinsons, who are sailing off from Bern for a new life in New Guinea, suddenly find themselves alone and shipwrecked. When they make it to shore, it is the shore of an island that appears to be inhabited not by humans, but by a variety of animals. Ernst speculates there must have been a landbridge to Asia, and that's how these exotic creatures made this their home. Animals often played a part in the winning mix of Walt Disney's films, and there's even more that the Robinsons save from the abandoned ship, including two dogs that Francis befriends.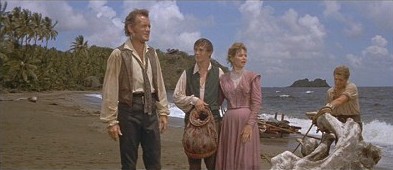 For most, being stranded on an unknown island is not a dream situation. But the Robinsons seem to get along with each other well enough and before long, they make themselves at home on the island, building a lavish treehouse brimming with innovation that provides more amenities than you'd expect. For most, being stranded on an island would pose hardship, but for the Robinsons, it merely poses lots of fun. There's swinging on vines and good-natured jocularity with the animals and each other.
At the same time, the Robinsons realize they must try and find a way home. So, Mother reluctantly agrees with Father that Fritz and Ernst set off to sail around the shore and discover anything they can. What they discover is Bertie, a cabin boy, who's been captured with Grandpa by pirates.
While the film is more than four decades old, for proper discussion's sake, some spoilers are revealed. To skip these and jump to the final analysis of the film, click here. If you don't mind, proceed reading.
When it is revealed that Bertie is not really a "sissy", but a British girl named Roberta (Janet Munro), fierce sibling rivalry between the learned Ernst and the muscular Fritz develops. The goal is to woo the only female on the island besides their mom.
The second half of the film is equally devoted to this love triangle and the gang's preparation for an inevitable pirate attack. By the film's conclusion, the romance plot has faded away without satisfactory resolution. Though we come to like Ernst more than the unrefined Fritz, Roberta eventually chooses brawn over brains, leaving the skinny Ernst to rest his hopes on schooling.
In the film's final act, the Robinsons' unlikely defense against the wretched pirates entirely takes the foreground. Fortunately, things remain as tightly plotted and watchable as ever for this action-packed sequence. The pirates aren't really well defined; the viewer merely comes to associate the mere sight of the Asian leader (Sessue Hayakawa, so memorable in Bridge on the River Kwai) and his larger-than-life thugs as a source of fear-instilling badness. So, while there isn't much depth or resonance to the battle finale against the pirates, we root for the Robinsons, who have triumphed in the face of hardship and we genuinely know and like.
Though the scene entails violence, it doesn't stray far from G-rated slapstick, which lends an air of phoniness as we see rocks bounce around and know that no pirate is really getting hurt. Still, in tune with the rest of the film, the sequence is mightily entertaining, and every part of the family's planning is put into play as the pirates make their way onto the island.
Swiss Family Robinson is a gleeful, old-fashioned romp. Everything that could make for movie fun is used here: pirates, sharks, a tiger, giant snakes, dogs, barnyard animals, family dynamics, romance, adventure.

The result is what we look at today as something formulaic, but it's really a winning blend of familiar elements, from an era that had not grown jaded to pure cinematic delights.

The movie creates a nightmarish situation and turns it into sheer fantasy, without feeling forced or fake. Everyone should hope to have a family like the Robinsons and enjoy an adventure like this.

From this 2-disc Vault Disney collection, it appears to have been quite an experience filming this adventure on the island of Tobago in the West Indies. Swiss Family Robinson was Disney's major Christmas release in 1960, and this big budget production was met with a far bigger box office return from savvy audiences. Forty-five years later, while it may seem old-fashioned, it still oozes with excitement and inoccuous family fun.
DVD Details

2.35:1 Anamorphic Widescreen
Dolby Digital 5.1 (English, Spanish)
Subtitles: English, Spanish; Closed Captioned
Release Date: May 7, 2002
Two Single-sided, dual-layered discs (DVD-9)
Suggested Retail Price: $19.99 (Reduced from $29.99)
White Double Alpha Keepcase
THX-Certified
VIDEO and AUDIO
Presented in its 2.35:1 widescreen ratio and enhanced for 16x9 televisions, Swiss Family Robinson looks fantastic. Serious restoration has been done to this title, and it sure shows. To see this movie in anything other than its wide scope is certainly a travesty, but the photography is not only presented in its original Panavision aspect ratio, but with a clarity that is most satisfactory. The picture does exhibit a softness that belies its age; but the slight lack of sharpness is the only thing that prevents this from being a flawless transfer.
Like the three other Vault Disney titles, Swiss Family Robinson is given a 5.1 Dolby Digital track that is essentially a broad mono presentation. I figured since Swiss Family is the one adventure film among the bunch, the soundtrack might make better use of the surrounds, but the soundfield is still pretty much limited to the front and center, with limited rear reinforcement. Nevertheless, over forty years old, the movie sounds quite good for its age. Dialogue is clear and understandable and even if it's not the type of aural experience that a film of today would offer, the mix is pretty lively for its time. The subwoofer actually gets quite a bit of play with the coconut bombs and cannon fires that show up from time to time, most notably in the final act. Could it sound any better than this? Probably not.
BONUS FEATURES, MENUS and PACKAGING

In terms of supplemental material, Swiss Family Robinson is packed! Disc 1 contains an audio commentary with director Ken Annakin and stars James McArthur, Tommy Kirk, and Kevin Corcoran. Corcoran is recorded separately from the other three (who still refer to him as "Moochie"); he speaks much about the animals he acted and played with.

There's a really nice flow, particularly among the three recorded together, as the group recalls with detail the experiences they had working with animals and making the film on Tobago. Annakin is particularly engaging and quite animated for a man approaching 90. Though the gang doubts a remake could be done and done right, such a project is currently in the works at Disney.

Also on Disc 1 is the Donald Duck cartoon short "Sea Salts." As with Swiss Family Robinson's original theatrical engagement, the short film precedes the film when pressing "Play." Of course, it can be easily skipped if you just want to start the movie by itself and not recreate the theatrical experience. The 7½-minute short has a beetle first mate recalling his adventures on sea and land with captain Donald Duck.

Disc 2 is filled with loads of extra video content. First up is "Swiss Family Robinson: Adventure in the Making", a 49-minute documentary that thoroughly covers the production of this film, documenting the scope of this epic project. On-set footage mixes with new interviews with cast members James McArthur, Tommy Kirk, Kevin Corcoran, and Sir John Mills, recalling the experience of making this film. Also appearing are director Ken Annakin, special effects man Danny Lee, and Disney's legendary matte artist Peter Ellenshaw, who made significant contributions to making the film look real. The non-anamorphic, non-remastered clips of the film included here help you appreciate how good the feature looks on Disc 1.

"Conversations with James McArthur" runs 12 minutes, and discusses the actor's career with Disney, having appeared in a handful of other Disney films such as Third Man on the Mountain (not to be confused with the Joseph Cotten/Orson Welles noir masterpiece).
"Pirates!" (2 minutes, 22 seconds) is a little montage showing clips from various Disney productions featuring pirates, including SFR and Captain Hook from Peter Pan. It's set to the familiar tune "A Pirate's Life For Me" from the Pirates of the Caribbean park attraction that is also prominently featured.
The "Lost Treasure" included here is a neat 3-minute, 40-second video showing scenes of Walt Disney, John Mills, and daughter Hayley Mills at the opening of the Swiss Family Treehouse at Disneyland. Hayley provides commentary for this featurette, remembering the experience.
Then, we jump into the Swiss Family Robinson Production Archive. The Production Gallery (2 minutes, 15 seconds) contains stills from the production set to music. The Trailers & TV Spots section provides just under 6 minutes of previews for the film. There is a Storyboard-to-Scene Comparison (2:14).
The Galleries Section provides six different galleries: Production Stills, Production Art (separated into Concept Art and Storyboards), Biographies (for the 7 stars and director), Advertising Materials (Lobby Cards, Merchandise, and Posters), Documents, and a Screenplay Excerpt for one scene (with film clip to compare).
The Audio Archives section includes 5 radio spots (3:26 total) and Sound Studio for the Pirate Attack (3:00) and Animal Race (3:03) scenes,

which allow the viewer to isolate the sound effects, music, or dialogue for the scenes, using the Angle function. There is also a little montage for the song "My Heart was an Island" (1:20) and lastly, the Story Album which tells the film in 23 minutes of audio with clips from the movie.

As if that weren't enough supplemental material, the DVD contains excerpts from the 1940 Swiss Family Robinson film, with about 19 minutes of footage. Then there is "Walt Disney Presents 'Escape to Paradise'" (23:17), the 1960 television special hosted by Walt himself, which takes a look at the making-of the film, and uses calypso music to sing about the production. Lastly, there is the interesting Disney Studio Album (4:30) for the year 1960, which highlights all the various projects the studio was working on that year.

The first disc opens with outdated Sneak Peeks for Lilo & Stitch, Max Keeble's Big Move, and Air Bud: Seventh Inning Fetch. The Sneak Peeks menu adds previews for Return to Never Land, Beauty and the Beast, and Monsters, Inc..

Menus on both discs are pretty well-done. The first disc takes you on a little three-dimensional tour to what appears to be the cabin of a ship, and the main menu is like a treasure map that is poorly lit. The second disc follows the elaborate Vault Disney system and displays the wealth of bonus material in a fairly straightforward fashion.
CLOSING THOUGHTS
This 2-disc Vault Disney DVD release of Swiss Family Robinson is sure to please all. The film looks and sounds fantastic for its age. With well over 2 hours of extras on Disc 2, plus an audio commentary, Disney has really put together a great package for this charming if formulaic family adventure film. If you like the movie and haven't bought this DVD yet, what are you waiting for?! Get it - it's wonderful!
Highly recommended for those familiar with this film, and for the unacquainted, it's well worth checking out. You'll find it a nice alternative to many modern family films and it's even priced about as low as most catalogue titles and lower than new releases. It's too bad that more Disney films haven't been given such loving and immersive treatment on DVD.