"The Suite Life of Zack & Cody" enjoyed a brief reign as Disney Channel's top dog. A year after the show's record-setting debut, High School Musical and "Hannah Montana" came and enjoyed news-making ratings and endless tie-in merchandise. But "Suite Life" remained a profitable hit and one that Disney thought would lend itself to a spin-off. First, a show was developed around childlike handyman Arwin. A pilot was shot and reportedly picked up in 2006, but subsequently shelved. A second spin-off had higher prospects. More of a sequel series, it retained the titular twins and took them beyond the Boston hotel they called home for 87 episodes over three seasons. "The Suite Life on Deck" became a reality in 2008, premiering just weeks after the final "Zack & Cody" episode aired.

Disney Channel's second produced spin-off (short-lived "Cory in the House" was the first),

"On Deck" follows mischievous brothers Zack (Dylan Sprouse) and Cody Martin (Cole Sprouse) as they attend Seven Seas High, a school that, for reasons the sitcom doesn't bother to explain, resides aboard luxury cruise ship the S.S. Tipton. The teen boys are reunited with airheaded heiress London Tipton (Brenda Song) and uptight hotel manager Mr. Moseby (Phill Lewis). Naturally, Moseby now manages the ship in white shorts and knee-high socks.

Joining the four holdovers are three new cast additions. Bailey Pickett (Debby Ryan) is a farm girl from Kettlecorn, Kansas, who pretends to be an urban boy (read: Step Up extra) to receive admission. Once her ruse is discovered, she is assigned to room with London, to the spoiled latter's dismay. Initially a joint love interest, Bailey apparently becomes Cody's to chase, with the show even acknowledging and dismissing in a short anecdote his girlfriend from the previous series.

Assigned to bunk with Cody and then Zack, Woody Fink (Matthew Timmons) is a fat source of instant gross-out humor, whose messiness makes Zack look neat. Miss Tutweiller (Erin Cardillo) is the only teacher (and besides Moseby, regular adult) we really see, and yet she makes no impression.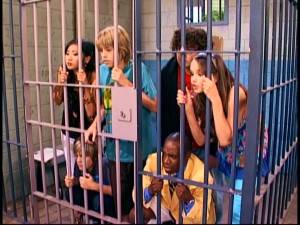 The show plays out as its predecessor did; predictable, obvious, and broad. It is fairly shocking to see the long list of popular and respected sitcoms that creators Jim Geoghan and Danny Kallis and co-developer Pamela Eells O'Connell have to their names as writers and producers: "Family Matters", "Who's the Boss?", "Married with Children", "Silver Spoons", "The Nanny", "Ellen", "Taxi", "Mama's Family." Admittedly, most of these are more famous for their longevity and syndication presence than quality, but each maintains a fan following.
It's easy to point out that the creative team here is regressing and they're not alone. All the regularly cast members returning from "Zack & Cody" appear disappointingly content to perform the same hackneyed material again and again. While the program seems like an apt star vehicle for the sufficiently charming Sprouses, Song and Lewis must occasionally cringe at the pratfalls their support consists of. With this concoction alone, Disney Channel is guilty of a decline in quality, something that seemed impossible (yet perhaps inevitable) when "That's So Raven" was their top draw.
Any realism and creativity that could be uncovered on "Zack & Cody" is buried far out of sight here. The series is sharpest when it's borrowing material from films like Titanic and Groundhog Day; how appropriate that the chosen targets are as old as these sitcom plot lines feel. Visually, distinguishing Zack from Cody isn't the easiest. The show aids in that task by painting the slightly chubbier Zack as the lazy slob and Cody as the more intelligent one. The characterization never gets more complex than that and dumb jokes are regularly tossed in seemingly to remind us who's who.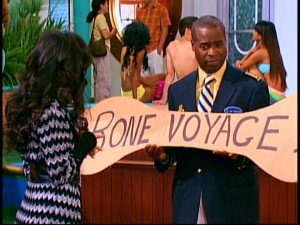 Perhaps the two most noticeable elements that "On Deck" adds to the broad stylings of "Zack & Cody" are bathroom humor and animal antics. London's Pomeranian dog Ivana and Bailey's pig Porkers feel almost welcome here, but I can't imagine anyone really enjoying gross-out comedy about flatulence and excretion. Sadly, such gags don't especially stand out as being more juvenile than their surroundings.

The show doesn't even earn its sitcom designation; it fails to create situations that entertain. Instead, it pokes fun at rich people, farm people, fat people, dumb people, gross people, self-involved people,

old people, and smart people. The jokes are too stupid to take offense at, but they're rarely responsible for laughs. Nor are the occasional attempts at mild raciness, which tend to fall flat.

One other negative aspect nearly seems too trivial and understandable to mention, but it's bothersome enough to point out: "On Deck" contains the phoniest-looking effects you'll find on TV. As a hotel was too much to genuinely depict, a boat at sea and tropical islands surely are as well. The show looks like it has a CGI budget of maybe $10 per season and the set design pales next to even the simplest and oldest of sitcoms.

In the same vein, the show can't even bother to use real names of entities and places. Are the writers and Disney afraid of the consequences of saying "Care Bears"? What about the effect of a meaningless "Share Bears" reference distracting and deflating a joke? And that disgracefully overzealous laugh track, which only underscores the disconnect of when you should be laughing and when you are? With regard to actual merriment, for those over the age of 15, there are on average maybe two amusing moments per episode. They're often ones not lingered upon and doused in cachinnation.

A month shy of the series debut's one-year anniversary and mere weeks into Season 2's broadcast, "Suite Life on Deck" became one of the two latest Disney Channel shows treated to a North American DVD release. Carrying four episodes in the main feature and two as bonuses, Anchors Away! arrived this week alongside a first compilation of "Sonny with a Chance." Here is what it offers: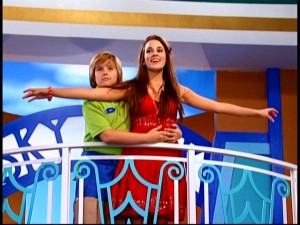 1. The Suite Life Sets Sail (22:46) (Originally aired September 26, 2008)
The students of S.S. High check in and meet their roommates, including Bailey, who pretends not only to be male, but apparently from the hood.
2. Parrot Island (22:17) (Originally aired September 27, 2008)
To recover London, the ship travels to Parrot Island. There, a constable (Stuart Pankin) with many hats and a bone to pick, throws anyone he can in jail, including a pig.
3. The Kidney of the Sea (22:32) (Originally aired October 10, 2008)
Zack catches the eye of a wealthy young lady (Christa B. Allen) with a snooty boyfriend (Aaron Perilo) in a storyline that pays much homage to Titanic. Cody officiates a challenge to see whether London's dog or Bailey's pig is smarter.
4. Maddie on Deck (22:31) (Originally aired January 16, 2009)
Post-nose job Ashley Tisdale may have opted for a fledgling film career over a full-time series, but she's not above making a guest appearance as an inexplicably tan, unmentionably glamorous version of her "Zack & Cody" character Maddie. While on a trip to a castle, Maddie gets a special invitation from Lichtenstamp's enamored young prince. Emphasis on "young."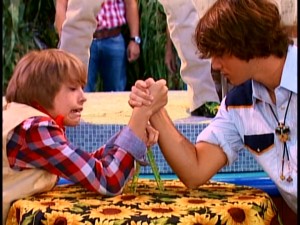 VIDEO and AUDIO

"Suite Life on Deck" is presented in 1.33:1 fullscreen and Dolby Surround. As has come to be expected of Disney Channel programming, the show doesn't look very good. Its unflattering digital video, shoestring sets, and amateurish visual effects all underscore the series' crude production values, which at least stay on the same level as the low-grade writing and acting. Without having seen the show on TV, I can only guess that the DVD's unsightly picture quality is comparable to the cable broadcasts sans intrusive channel bug. The video is soft, colors unnaturally bright, and motion blur prevalent, but picture remains clean and most viewers will consider it more than watchable,

at least on a 4:3 set. The Dolby Surround tracks actually provide a decent audio experience, one slightly more aggressive than what would be found on the sitcoms this material might have seemed fresh on.

BONUS FEATURES, MENUS and PACKAGING

Two additional episodes are included with bonus feature designation. That aids the disc's appearance of extra material, but undermines the disc's 90-minute listed runtime.

5. International Dateline (23:01) (Originally aired October 24, 2008)
The ship is struck by lightning while crossing the international dateline, causing Cody to have to keep living the same day over again. In other words, "Suite Life on Deck" does Groundhog Day. The phenomenon gives Cody multiple chances to make his move on Bailey at a dance DJ'ed by Zack.

6. Mulch Ado About Nothing (21:31) (Originally aired May 1, 2009)
To combat Bailey's homesickness, Cody arranges to create her town's Mulch Festival onboard. But one component -- Bailey's boyfriend from back home (Hutch Dano) -- breeds rivalry and contempt.
Two other bonuses fall under the Backstage Disney header.
"Debby on Deck" (6:25) has Dylan and Cole interview new cast member Debby Ryan on a cruise liner. Ryan talks about the show, her prior credits, her co-stars, her charities, her aspirations, her hobbies, and "keeping it real." It's a puff piece that fans of the 16-year-old actress should appreciate.
"Floating Premiere" (7:06) is quite literally synergy in motion. This "Disney 365" segment promotes "Suite Life on Deck" with the cast aboard the Disney Cruise Line's Disney Wonder ship. Excited children, costumed Disney characters, red carpet interviews, a screening of the first episode, a follow-up Q & A, a performance by shaggy Mitchel Musso, and fun on Disney's private island Castaway Cay are all witnessed here. This briskly-edited, full-on Mouse marketing assault will delight or depress depending on your tolerance for the company's tween-oriented acts and promotional cheer.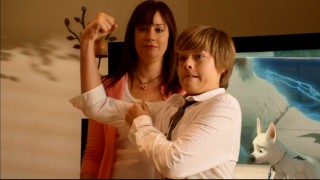 Last and least is the complete version of Cole and Dylan Sprouse's short infomercial "Blu-ray is Suite!" (5:55), which talks up the many selling points of Disney Blu-ray.

Most buying this disc are more likely enjoy the Sprouses and their banter with on-screen mom Kim Rhodes than the group's promotion of exclusive games, BD-Live, and the HDMI cable. But they deserve to get this piece that twenty years from now is sure to amuse and bewilder.

The FastPlay-enhanced disc opens with ads for Snow White and the Seven Dwarfs, The Princess and the Frog, Ponyo, Disney Blu-ray, and Disney Movie Rewards. Menu sneak peeks promote Race to Witch Mountain, Jonas Brothers: The 3D Concert Experience, Earth, Princess Protection Program, and Disney XD.

After a brief montage via ship windows, the minimalist main menu animates sea creatures and the S.S. Tipton on a loose leaf paper backdrop that also features the cover's key art. The other static submenus provide score excerpts and similar imagery.

Inside the side-snapped, uncovered white keepcase, one finds a Disney Movie Rewards code sheet and a booklet of ads, but no list of episodes.
CLOSING THOUGHTS
The six episodes of Anchors Away! come closer to filling a disc to capacity, but they still don't serve fans who will want to own the show in its entirety (something they can do via overpriced iTunes downloads). With little to redeem this variation upon an already routine sitcom, "Suite Life on Deck" is not, however, a show that anyone should want to collect in full, at least not until enough time has passed for nostalgia to delude them into thinking this has merit. Even so, this random two-hour compilation should provide enough of a fix for young fans now or later.