Having enjoyed significant levels of popularity during its standard three-season, 65-episode run, the Disney Channel original comedy series "Even Stevens" came to a close late in the spring of 2003. But its final episode was not quite the end for mischievous jokester Louis Stevens, overachieving older sister Ren, and the rest of their Sacramento family. As a proper send-off, the series expanded to feature film length for its first and only TV movie.

Whereas the slightly newer and slightly more popular "Lizzie McGuire" graced theaters in its spinoff movie just a month earlier, the Stevens were going out the way they came in. Despite a longer running time, bigger budget and more substantial single narrative than the half-hour episodes that preceeded it, The Even Stevens Movie made its June 13th debut on the same place: the "small screen" of cable television.

After a catchy but deliberately vague opening credits sequence, the film opens in earnest with Ren's graduation from Lawrence Junior High School, the place that she and Louis called home throughout the show's run (despite appearances that would suggest both are overdue for high school). Being named valedictorian of the graduating class is no great surprise for Ren (Christy Carlson Romano); it's simply her final achievement at a place where she was renowned for achieving. But her speech is interrupted by the other star of the show, her trouble-causing brother Louis (Shia LaBeouf), who is proceeding with his latest prank. The film uses this graduation sequence both to provide closure to the series and define the characters who the unacquainted viewer will be meeting for the first time. It performs both tasks aptly, and then moves on.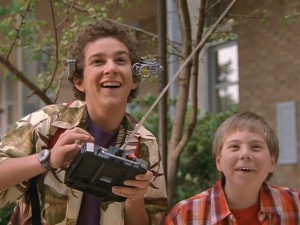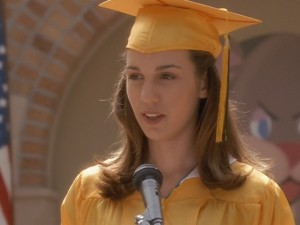 When the sketchy Miles McDermott (long-time "Saturday Night Live" cast member Tim Meadows) shows up at the Stevens house, he single-handedly alters the family's summer plans. He presents them with a seemingly catch-free, all-expenses-paid dream vacation to the uncharted island of Mandelino Beach. The parents, out-of-work lawyer Steve (Tom Virtue) and state senator Eileen (Donna Pescow), are enchanted by the offer, as is Ren, who is trying her best to get over her recent boyfriend breakup. Donnie (Nick Spano), the athletic eldest Stevens child, and Beans (Steven Anthony Lawrence), a quirky bacon-loving kid who spends an increasing amount of time over their house (usually without an invitation), are also game. The only one not excited about the prospect of an island without modern conveniences is Louis, who had planned to lounge in an impressive mechanical chair straight until the end of the summer.
Of course, Louis's lounging would only take a movie so far and the majority wins out. The Stevens Family (plus Beans) is soon flying out to Mandelino. There, they are met by beautiful scenery, friendly natives, and a much different way of life. But things aren't quite what they seem. Halfway into the movie, there is a major twist and though it was revealed in certain previews and is again on the DVD packaging, it's cleverly achieved with only some subtle hints beforehand. Therefore, if you haven't already seen the movie, I won't spoil the potential surprise for you. Knowing the twist won't undermine the film as a whole, but the filmmakers' skillful design deserves a proper payoff.
Suffice it to say, the ideal summer of relaxation the Stevens had envisioned quickly becomes a grueling trek marked by disaster, hunger, and shunning by the locals. Their change of fates cannot easily be blamed on Louis or anyone else, but the difficult times soon bring about division in the ranks. Louis, Donnie, and their mother stay by their shelter to watch the fire while Ren, Dad, and Beans go off in search of food. Before long, in spite of some minor triumphs (Louis finds some enticing American snacks, Ren finds a dreamy native), everyone seems to be unhappy and the two factions are more or less competing with each other for survival.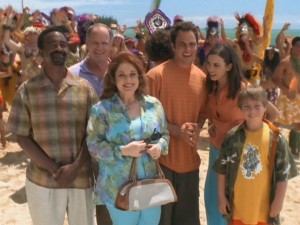 Like the show that preceeded it, The Even Stevens Movie stands out among its fellow Disney Channel programming. Whereas the cable network's original movies often employ cookie-cutter plots and paper-thin characters to drive home an obvious moral, this one avoids all those shortcomings.

Part of that may be due to the fact that these characters have history in their intriguing past of hilariously bizarre situations. It is probably a safe assumption that those watching the movie on the Disney Channel are familiar with its personalities from the series. Indeed, knowledge of the show certainly aids in keeping track of the fairly large number of supporting characters who regularly appeared on the show and return here.

Nonetheless, The Even Stevens Movie is entertaining for fans of the show and those who are not familiar with it alike. The quirky sense of humor drives all successfully, and when that alone might not be enough to carry things for over 90 minutes, there is the very clever screenplay, which is surprisingly well written for a television movie. Young stars Shia LaBeouf and Christy Carlson Romano show remarkable acting skills for their age and it's not surprising that Disney would want to keep both around. (LaBeouf has graduated to feature films like Holes and upcoming golf drama The Greatest Game Ever Played, Romano continues to be the voice of Kim Possible, while pursuing a Disney-based pop music career and even portraying Belle on stage for the company.) They wholly embody their character's personas making somewhat familiar characters seem fully new, real (despite the often unreal situations), and likable.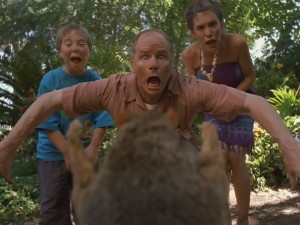 LaBeouf and Romano's perfect comic timing sets a standard for the rest of the cast, which is met by Virtue and Pescow as the slightly off-kilter parents, Spano as the slow-witted older brother, and Lawrence as the randomly off-the-wall Beans. It's impossible to tell where the rich comedic characters end and where the talented actors begin, but the acting lays a foundation for unbelievable situations to readily and believably flow. The regular cast's spark and spirit carries over to the supporting cast, including standouts A.J. Trauth as the not so bright but funny Alan Twitty, Margo Harshman as the funny and more sensible Tawny Dean, Fred Meyers the so-unhip-he's-cool Tom Gribalski, and Jim Wise as the portly Phys Ed teacher Coach Tugnut. For this movie, the supporting cast also involves an amusing turn from Tim Meadows (for whom this remains the highlight of his post-SNL career) and a small but effective performance from Dave Coulier (best known as Joey, the man of many voices from TV's "Full House").
The strong writing and solid performances are easy to take for granted, since they're not what you'll be focusing on. The Even Stevens Movie is frequently very funny, and if not heartily laughing, you'll be having a good enough time not to notice production values or craft. Despite lush location photography, the movie's budget never reaches that of a big-screen adventure and there are some unconvincing implementations of computer generated imagery. There are also a few moments where it wavers toward romantic sentimentality, which was almost always a weak point of the show where it was thankfully rarely on display. Overall, though, the movie is clearly a success. While much of the Disney Channel's programming caters to tweens or kids, The Even Stevens Movie can charm the whole family with its terrific sense of humor overshadowing an inherent lack-of-offensiveness. There's a delightfully skewed view of family life, a lampooning of reality television, and comedy that flows from an appealing lot of characters. The show's good-natured humor carries over to movie-length with surprising ease, and even if this outing doesn't match the series at its best, it comes close. The Stevens' dream vacation gone bad is easy for all to appreciate.
VIDEO and AUDIO
The Even Stevens Movie is presented in its 1.33:1 original broadcast ratio. Judging from the Get a Clue DVD, it's possible that all Disney Channel Original Movies of recent years have been shot simultaneously for a 16x9 ratio and the standard television dimensions. Nonetheless, framing looks perfect here, as does the video quality with no noticeable imperfections whatsoever. Picture is always clean, usually crisp, consistently colorful and sharp. Some shots, particularly the exterior photography, looks a bit soft, but on the whole, the transfer preserves the lush island imagery in a perfectly pleasing manner.
Audio comes in the form of a Dolby Digital 5.1 track, and though it's not marked by much channel separation or theater-worthy sound design, it's wholly satisfying. The soundtrack comes to life most with the tropical-sounding score during the Mandelino scenes. Surrounds are infrequently but effectively put to use to deliver atmospheric sounds. Music comes through robustly, dialogue is never drowned out, and the dynamics are fairly consistent. Overall, it's as delectable an aural experience as you might hope for on a DVD of a 2-year-old television movie.
BONUS FEATURES, MENUS and PACKAGING

When so many titles in Disney's catalogue arrive on DVD with no bonus features whatsoever, it's extremely nice that the studio is at least supplementing the Disney Channel Original Movies with some fun extras. The most significant inclusion here is a feature-length (despite what the package says) audio commentary by stars Christy Carlson Romano and Shia LaBeouf. Though they are recorded separately, Christy's enthusiasm and Shia's sarcasm complement each other nicely and make for an enjoyable track. There's a fair amount of blank space in the discussion and hearing about how funny everyone in the movie is almost gets repetitive, but there are plenty of insightful reflections especially from Romano which more than make up for it.

Comments range from revelation of moviemaking magic (shooting in different locations, using CGI) to which actors are really like their characters. LaBeouf's rant on the abundance of turquoise in the film will have you laughing, while Romano's hint that the show might be coming to DVD is most welcome news. Overall, it's a great bonus which is well worth a listen even for those who normally give commentaries a pass.

Next is the Even Stevens Survival Challenge Game, narrated by Ms. Romano. It really only works if you have someone else with you, as it's a team-oriented game. When I did, the fun began! While this multi-level adventure is housed on the DVD, it's really more of an in-person activity. The theme of the game, as the title implies, is surviving like the Stevens do in the film. Some of the rounds include identifying jungle sounds, gathering firewood (with toothpicks), recognizing characters by hairdos and wardrobe, and a bit of freeze dancing at the end. If you're willing to go for it, you'll probably wind up having fun, even just with two players.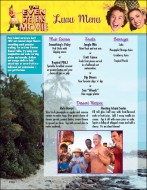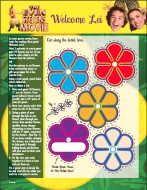 I was leery about the Island Adventure DVD-ROM Party Planner. How often are DVD-ROM extras worth the time it takes to load them? Nonetheless, the colorful Adobe Acrobat documents that are provided certainly look like they're a solid starting ground to throwing your very own Even Stevens Movie-themed party. There's a planner list of recommended supplies you'll need and things to do from weeks in advance through the day of the party. An invitation enables you to fill in the fields and print out or e-mail. The menu gives a list of tropical foods, snacks, and beverages you could serve. Finally, five documents serve as entertainment, from welcome lei name tags to a do-it-yourself hula skirt to the Mad Libs-like "Message in a Bottle." All in all, if you ever decided to throw such a beast, and I'm sure many buyers of this DVD will shrug off the idea as being geeky, the DVD-ROM section shows an impressive amount of thought and should guide you through pulling it off.
One bonus that originally showed up in the extras list ("The Stevens Get Even" first look featurette) didn't make the DVD, unfortunately. Here's to hoping that it resurfaces on the season sets of the show that fans have been dreaming about for years.
The 16x9 menu screens show further effort, being wholly animated and rather clever too. The Main Menu emulates the Mandelino travel video complete with its narration while photos from the movie fall by. Sneak peeks play at the disc's start for Chicken Little, Cadet Kelly and Even Stevens, Ice Princess and the Halloweentown movies. The second page of the Sneak Peeks menu provides additional previews for fellow Disney Channel movies Kim Possible: So the Drama and Get a Clue (both now on DVD), plus the cartoon series "W.i.t.c.h." on Toon Disney. Inside the standard white keepcase, an enclosed booklet offers savings on Kim Possible DVDs, Tarzan II, Disney Channel CD, and Gameboy Advance titles, while promoting an assortment of mostly Disney Channel-related DVDs.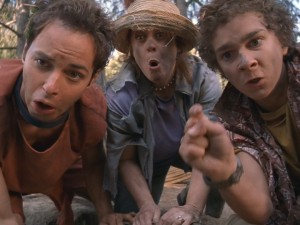 CLOSING THOUGHTS
Offering entertainment far beyond the norms associated with television movies and other Disney Channel fare, The Even Stevens Movie is quite a fun final outing for a television show that made its unique contributions to the "family comedy" genre. The movie is dutifully presented on DVD, with nary a flaw in the video/audio department and the much-appreciated effort of genuinely enjoyable bonus features in the way of an amusing audio commentary, game, and party planner. When all is considered, The Even Stevens Movie merits a solid recommendation on DVD, especially for fans but also for the unacquainted.