By Aaron Wallace

The Disney Channel likes to distinguish itself from Nickelodeon and the like by injecting fantasy into its "tween" sitcoms. Along the way, that's included time travel, psychic powers, and young stardom. Now, Disney adds the thing it's best known for to that list: magic.

Specifically, wizardry. Last fall, the network debuted "Wizards of Waverly Place", a series that hasn't achieved "Hannah Montana" popularity but survived the writer's strike nevertheless to finish a full first season and get picked up for a second.

The show is premised on three siblings who enjoy magical powers while they're young but who will eventually have to face off in a competition that determines which one of them will keep their family's magic in adulthood. Alex Russo (Selena Gomez) is the middle child and the lone witch in the family, characterized by her view of magic as a quick fix to everyday problems. On the opposite end of the spectrum is Justin (David Henrie), the oldest child who takes his powers almost as seriously as he does his schoolwork and frequently errs on the side of dorky. The youngest child is Max (Jake T. Austin), a wisecracker who often finds himself in trouble.

The rest of the main cast is comprised of Italian-American father Jerry (David DeLuise), Latino mother Theresa (Maria Canals Barrera), and Alex's frequently absent best friend, Harper (Jennifer Stone). The storylines are often situated inside the schoolhouse and frequently center around some sort of magical blunder because, as the theme song reminds us in each episode, "everything is not what it seems".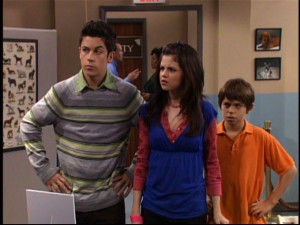 The criticisms to be lobbied against "Wizards" are the same raised against any of Disney Channel's original series. The plots are predictable, the tone too silly, and the production too concerned with blindingly bright colors and a hyperactive laugh track. For several reasons, though, this show stands out as considerably less maddening than the two other live-action series the network currently produces: "Hannah Montana" and "Cory in the House".
The series' real saving grace is its cast. I'll start with the actor who impressed me most: David DeLuise, who plays the once wizardly, now powerless father of the Russo family. After a long line of corny, hokey, couldn't-be-funny-to-save-their-career TV dads on Disney Channel, DeLuise is a father type you'd sooner find on a major network sitcom. That's not surprising, as DeLuise is a familiar face with considerable television experience under his belt. The sense of agitated sarcasm that he brings to the character is archetypal but nevertheless organic in comparison to the over-the-top dads that Disney has been so insistent upon in the past.
The leading cast of teenagers rises higher than expected too. David Henrie refuses to play the straight geek that I suspect was originally imagined for him; instead, we get a character who falls somewhere between hip and nerdy. Jake T. Austin is immediately likeable as a younger brother who gets in on the main action rather than relegated to a convenient thorn in the older siblings' sides.
It's Selena Gomez who feels like the star of the show, though. As Alex, she's cool, a pragmatist when it comes to magic, and always quick to retort. Simultaneously reminiscent of the popular Summer character of "The O.C." and Zack Morris of "Saved by the Bell", Alex feels both contemporary and relatable. To some extent, that's true of the scripting too, which doesn't always go for the most immediate, most obvious, broadest joke it can find. That, too, is exceptional in the Disney Channel realm.

This summer, Disney releases the first "Wizards of Waverly Place" compilation DVD, with more likely to come in the future.

Wizard School puts together four enjoyable episodes, two of which actually focus on wizard school. The others don't really tie in to any specific theme but that's okay. Notably, none of the episodes included here feature Jennifer Stone. That would ordinarily be unusual, given that she's credited as part of the main cast, but Stone missed nearly half of the series' first season while she was off filming the Disney Channel original movie Dadnapped. For a summary of the disc's episodes and other content, read on.

"Wizard School" (Part 1) (22:35) (Originally aired April 6, 2008)
Alex and Justin are sent to Wiz Tech for a summer curriculum aimed at magical maturity. Per usual, Justin excels while Alex searches for ways to get out of work. One of the professors, Dr. Evilini (Octavia Spencer), recognizes Justin's potential but has to resort to innovative instruction with Alex. Back home, Max and his dad prove their masculinity by camping out on the family terrace. Though they aren't big names, there's some great guest star work here, especially in Spencer's Evilini.

"Wizard School" (Part 2) (22:36) (Originally aired April 6, 2008)
After a stunning revelation about Dr. Evilini, Alex has to stick around at Wiz Tech long enough to save Justin from a threat to his magical powers. The Russos' restaurant in Waverly Place is threatened too when a competitor (Robyn Moran) stakes out at their front door. The guest stars succeed again here, most notably Robyn Moran in salad bowl garb and Amanda Tepe as an important tour guide of sorts.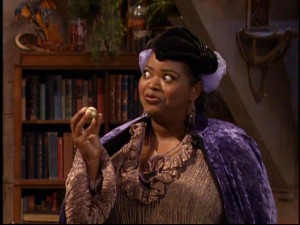 "Curb Your Dragon" (22:01) (Originally aired November 30, 2007)
The Russo kids buy a dragon disguised as a dog but run into trouble when their parents start asking questions and the dragon runs away. Taylor Negron guest stars as the man who sells the hidden dragon (sans crouching tiger).

"Disenchanted Evening" (22:37) (Originally aired November 9, 2007)
Alex encounters a fellow wizard at school.

Unlike the Russo children, T.J. Taylor (Daryl Sabara, Spy Kids) is allowed to use all the magic he wants -- but that luxury isn't as free-willing as it first seems. The notion of limitless magic comes in handy when the kids team up to help Max on his Mars project for school. Once again, the guest star (Sabara) is as much a part of the episode's entertainment value as the starring cast.

VIDEO and AUDIO

The episodes are presented in 1.33:1 fullscreen, preserving the aspect ratio of their television broadcasts. As I mentioned earlier, excessively bright colors are the hallmark of most Disney Channel programming and that's no different here. The show looks like it's filmed with digital cameras and given that Disney often prefers those, it's a safe bet that it is. The result is a glossy, too soft appearance. There's also a considerable amount of blurriness in both the episodes and the bonus features, more than I've noticed in other Disney Channel DVDs. The fault for that apparently lies with the production, though, not the DVD.

Each episode is presented in Dolby Digital 5.1 Surround Sound. As the show is made for stereo television presentation, the surround channels have little to offer, but the episodes still sound at least as good as they do on TV and audibility is never an issue.
BONUS FEATURES, MENUS, PACKAGING and DESIGN

The Wizard School disc offers only one bonus feature: "Work it Like a Wizard" (9:20). This featurette opens with Gomez, Henrie, and Austin talking about their favorite hobbies, music, and interests. Along the way, there's some time spent behind the scenes of "Waverly Place" and some opportunities for the actors to reflect on their characters.

Though all too short and lonely on this disc, this glimpse at the life of budding stars stands a notch above most of the bonus features slapped onto these kinds of releases.

The 16x9-enhanced main menu features stylized New York City buildings transitioning to the instrumental beat of the show's theme song. After that introduction, stills of the main characters rotate inside an otherwise stagnant Waverly Place, where the options appear as items on a chalkboard menu. The music continues onto the submenus but the animation does not. Unfortunately, the episodes are not divided into chapters.

The disc, with the cover art replicated and printed atop it, is housed inside a standard white keepcase. Inside the case is a booklet of ads, an episode selection card, a pamphlet advertising Disney Blu-ray, and a Disney Movie Rewards Magic Code currently worth 75 points.

Thanks to Disney's FastPlay, a series of previews, the four episodes, and the bonus feature all play automatically when the disc is inserted unless the menu button is used. Before FastPlay even kicks in, though, there's a preview for Disney DVD and Blu-ray. Other previews on the disc are: Sleeping Beauty: Platinum Edition DVD and Blu-ray Disc, Camp Rock on DVD, "Phineas and Ferb": The Fast and the Phineas, Hannah Montana and Miley Cyrus: Best of Both Worlds Concert on DVD, "The Suite Life of Zack & Cody": Lip Synchin' in the Rain, Minutemen on DVD, "Hannah Montana" on Disney Channel, and The Secret of the Magic Gourd.
CLOSING THOUGHTS
"Wizards of Waverly Place" is one of the stronger series that The Disney Channel currently offers, even if its attempts to capture a young demographic put it below some of the network's past efforts and most of prime time television. The Wizard School DVD displays the strong cast -- both starring and guest -- that makes the show a semi-pleasant surprise. Four episodes and a single bonus feature aren't much of a value, even if that bonus feature is a pretty neat one. Still, season sets are extremely unlikely. If a sampling of this sufficiently diverting program is something you'd like in your collection, then, Wizard School won't disappoint.