Loosely adapted from Francine Pascal's best-selling series of books, "Sweet Valley High" presents the high school experience from the perspective of two identical-looking teenage girls with very different personalities. Those girls are the Wakefield twins, whose adventures and misadventures in their California suburb make up the basis of each brisker-than-usual episode.

Elizabeth Wakefield (Cynthia Daniel) is clearly the character the audience is supposed to sympathize with. She's thoughtful, emotional, sensible, and has aspirations. When she's not writing and uncovering injustice for school newspaper The Oracle, she's spending time with her mostly-on boyfriend Todd Wilkins (Ryan James Bittle). Jessica Wakefield (Brittany Daniel) is the night to her sister's day.

She's vain, amoral, very concerned with appearance, and not above the backhanded deed to get her way. In just about every episode, Jess is hunting for a new man (whether he's with someone else or not) or trying to get recognized, preferably by television. This cheerleader's ego seems to drive her more than anything else, as she's not too interested in doing well in school or being reliable to her sister or friends.

Friends and fellow affluent students make up the rest of the regular cast. There's Enid (Amy Danles), the shy but polite girl who's close to Liz. Bruce Patman (Brock Burnett) is a rich, thick-headed bully-type, who rarely offers anything pleasant. Winston "Eggman" Egbert (Michael Perl) is the decidedly unhip member of the gang, who though often ridiculed, and frequently tormented by Bruce, is never entirely outcast from the core characters. Lila Fowler (Bridget Flanery) is Jess's best friend and an equally conniving diva. Koichi (Michael K. Hayashida), a cool exchange student from Japan, becomes a regular midway through the season. Rounding out the principles are the token Hispanic Manny Lopez (Harley Rodriguez) who's given little to do, and Patty Gilbert (Amarilis) who only shows up from time-to-time.
While most episodes bring in a male character as potential love interest or antagonist, more often than not, they're someone who doesn't attend Sweet Valley High. You see, the gang just about never talks to anyone outside their clique. You're entirely immersed in the teen world, as not a single parent is seen in Season 1. (The closest we get is hearing the Wakefields' father for one line of off-screen dialogue.)
Realism is not something the show aspires to. "Sweet Valley High" is marked by bright colors, bold personalities, and fairly dramatic or ridiculous storylines that will conveniently be resolved in less than 20 minutes. Most episodes center on Jess's transgressions. She has no qualms about hurting other people to get what she wants, but she is rarely faced with comeuppances befitting her actions. No one outside of the regular cast can tell Liz and Jess apart and their status as identical twins lays the ground for most shows. (Though it's always easy for viewers to distinguish them.)
It's interesting how much times have changed in just ten years. For one thing, the bubbling personas presented here are about as far as you can depart from the angst-ridden teenagers who populate many of the WB dramas today and in the years since this ended. The Internet wasn't around much then and computers are used strictly for word processing by all except Winston. "Hunks" are generally clean-cut and masculine, while girls' concerns with fashion seem simpler though no less present. Another thing that dates the show is the music. This always takes the form of pop-sounding songs (usually featuring the kind of droning females who sing the haunting theme tune) with lyrics to match the theme of the scene. These songs were clearly written for the show, and some were eventually released as part of a soundtrack CD after the series ended.
When taking into account the 1994 launch date, the two most popular high school television series that come to mind as predating "Sweet Valley High" are "Saved By The Bell" and "Beverly Hills 90210." While I haven't seen an entire episode of the latter, I must admit I find "Saved By The Bell" quite a bit of fun. The difference is that the goofy antics of that show are readily known and embraced;

this attitude gave them the freedom to have fun with silly scripts. By contrast, "Sweet Valley High" seems to play its loopy ideas straight-faced. One really cannot take the show seriously to enjoy it much.

Today, these episodes seem pretty ridiculous. They're filled with corny jokes, predictable plots, and unnuanced characters. While morals are never emphasized, they're pretty transparent in each storyline. Though the two leads are charismatic, acting is for the most part weak. (From the cast, only Brittany Daniel has found some success in movies and television.)

On the other hand, it's not hard to watch and even somewhat addictive. The simplistic stories require very little thought, the Wakefield sisters are easy on the eyes, and the easily entertained probably wouldn't change the channel if it were on. There's even a certain allure to the clunky dialogue which occupies each script. Undiscerning viewers could find value in discovering the show now, but that value would probably involve some kind of unintentional comedy and nostalgia. Even if the actors don't seem to explicitly treat the silly subjects as such, the audience can approach on that level and find themselves delighted. In fact, it's better that the cast doesn't treat the material as parody, since that would remove most of its wholesome and somewhat sincere appeal.
"Sweet Valley High" is produced by Haim Saban, the man who gave us such syndicated hits as "Power Rangers" and "VR Troopers." The "Saban" name calls to mind a certain set of production values, and this show delivers those, even if thematically, it's a far cry from his usually action-oriented children's series.
This half-hour show made its debut in September of 1994 as a syndicated program on Fox. It would last four seasons, which means as silly and unpolished as it was, the show certainly found an audience, probably more with those a few years younger than the teenaged characters than with high schoolers themselves. It wasn't produced by Touchstone Television at all, but like Saban's "Power Rangers" (which are now on a countless incarnation), Buena Vista Home Entertainment apparently carries video distribution rights.
With the abundance of television shows being released on DVD these days, this season set shouldn't be too surprising. An audience still exists and Buena Vista must be counting on the nostalgia factor that seems central to TV releases more than any other DVDs.
Episodes are sorted by airdates, in the order they were first broadcast during the 1994-95 season. Each show runs 20 minutes and 16 seconds, which seems short, but that may just be due to its syndicated status. There are 6 chapter stops per episode, the first of which are the minute-long opening credits (which makes them easy to skip, if you so desire).
A star (

) denotes my five favorite episodes from the season.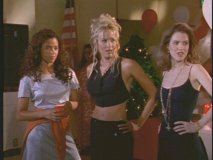 DISC 1

1. Dangerous Love (Originally aired September 5, 1994)
Elizabeth is upset at her boyfriend Todd for nominating her for homecoming queen without asking her first. She's up against her sister, Jessica, who thinks she's got the crown lined up.

Elizabeth wins, and then she gets the eye of Scott Daniels, a hunky frat guy. Meanwhile, Jessica pretends to be her sister to have the date with Scott.

2. Oracle on Air (Originally aired September 12, 1994)
Sweet Valley High's newspaper The Oracle is setting up a news program and both Jessica and Elizabeth want to be the anchor for different motives (Jessica wants the visibility, whereas Liz has a genuine journalistic calling). A switch in the audition tapes has the inept Jessica hired for the position. Meanwhile, Winston Egbert tries to get back at Bruce for tormenting him.

3. Skin and Bones (Originally aired September 19, 1994)
In order to get close to long-haired artist Dakota ("the creative type"), Jessica scares off his model Enid and poses herself in a bikini. Meanwhile, Liz fights for student rights, lashing out against Principal Cooper in the Oracle when he censors Winston's Graffiti Wall. Jessica gets her justice when Dakota paints her nude and she becomes a laughingstock at Sweet Valley.
4. Critical Mess (Originally aired September 26, 1994)
A rumor quickly spreads that Bruce's filmmaker uncle Andy Patman, who is coming to Sweet Valley, is looking to make a big Hollywood movie. Jess schemes to get his attention, arranging for her sister to write the review of her performance as Lady MacBeth in the school play. But Jessica's acting merits laughter and a less-than-flattering review from Liz. There's a glimpse of another one of Saban's ventures "Power Rangers" on the set where Uncle Andy works.

5. What, Me Study? (Originally aired October 3, 1994)
Faced with the threat of academic probation, Jess feigns interest in the geeky Winston so that he'll break into the chemistry teacher's computer. Liz forgets that it's her and Todd's anniversary and she tries to buy some time to get a present.

6. Almost Married (Originally aired October 10, 1994)
The girls are explicitly home alone for the weekend, and Liz allows Todd to stay over rather than spend the time with his cousins as his house gets painted. The couple secretly plays house but find themselves disagreeing on what groceries to buy and what television to watch. While that's going on, Jessica plans a house party.
7. The Curse of Lawrence Manson (Originally aired October 17, 1994)
It's Halloween, which means it's time for a Halloween episode. The gang dresses up in costumes and find themselves locked inside school as they try to summon the ghost of a former student who died 25 years ago. The typical "scary" hijinks ensue, complete with music and black-and-white footage from old horror movies now in the public domain.
DISC 2
8. The Prince of Santa Dora (Originally aired October 24, 1994)
Prince Arthur of Santa Dora, Elizabeth's pen pal, visits Sweet Valley. The Prince seems to be afflicted with voice immodulation, but the gang tries to loosen him up. Once they ditch Arthur's bodyguard Paulo, Arthur and Jessica enjoy a California holiday and soon Jessica's in love and thinking of marriage. There's only one hitch -- the Prince is already engaged to someone else.
9. Coma (Originally aired October 31, 1994)
Thanks to an unsubtle title, any surprise this episode might have offered is diminished. It's Elizabeth who finds herself comatose after she reluctantly gets a motorcycle ride home from Todd. Thanks to a very reckless drunk driver, they go flying and Liz winds up in the hospital. When she recovers (as if there was any doubt), she's an entirely different person, and not in a great way - she dumps Todd, and begins stealing boyfriends like her sister. The melodrama in the first half and then conflict-filled drama late in the episode can't be taken seriously, and yet they're played straight-faced and clearly not for self-aware comedy.
10. Uh Oh Seven (Originally aired November 7, 1994)
The gang gets into some role playing as Liz concocts a James Bond-like spy story for a teen magazine. The adventure is acted out with Jess as butt-kickin' protagonist Platinum Blonde, and Liz as her superspy sister Ash. The rest of the regular characters assume supporting roles with names and costumes to match. The cheesy repartee and obvious gags seems rather apt material for the show to tackle.

11. Secrets (Originally aired November 14, 1994)
Enid gets hired to be an anti-drug spokesperson, where she'll get to tour with Steven Tyler of Aerosmith. But she's struggling with a blemish on her record; despite her clean-cut appearance, she once had an encounter with drugs (amusingly recreated in a grainy, black-and-white fashion). Upon learning this news, Jess shamelessly exploits it to make sure that she, not Enid becomes the spokesperson. In a twist on the standard drug episode, this one defends past users, rather than making them villains.
12. Photographic Evidence (Originally aired November 21, 1994)
While snapping photos at the lake with Winston, Liz gets a shot of an important government witness getting taken away in a van. One of the mobsters involved catches up with Jess in search of the photograph. Jess thinks he's interested in her, but things get dangerous!

13. Club X (Originally aired November 28, 1994)
Jess longs to become a part of Club X, a mysterious group of pranksters who has Sweet Valley High buzzing. But once she gets in, it's not all fun and games. Meanwhile, Liz, disheartened that Todd is spending all his time hustling people at the basketball court, calls in former Lakers power forward Kurt Rambis to give her guy a lesson.
14. Poetic Injustice (Originally aired December 5, 1994)
Jess has to be dragged to a coffee shop poetry reading, but teacher Adam's performance inspires her to join the school poetry club he moderates. He's happy that she's taking an interest in the art, but she's more interested in him. She even goes about changing her look to impress him. Meanwhile, Winston struggles in growing a goatee to win over beatnik girls.
15. Stolen Diary (Originally aired December 12, 1994)
Liz bails on Jess, missing the volleyball tournament they participate in each year to spend still more time with Todd. Then Liz forgets their plans to see a movie together. To get back at her sister, Jess tries to break up her and Todd, calling upon Chris Sanders (this was before he directed Lilo & Stitch) who has the hots for Liz. Chris turns out to be a real jerk; when he finds Liz's diary, he starts confronting everyone whose secrets are in there.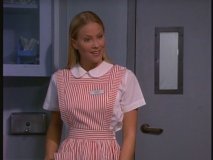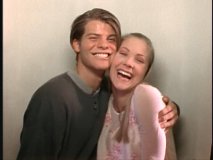 DISC 3

16. Love on the Line (Originally aired January 2, 1995)
While working at the teen telephone hotline, Enid sets up a date with a football player who she hits it off with aurally.

But she has reservations about meeting him, and Jessica agrees to help out. A Japanese exchange student comes to Sweet Valley (actually, he was around in the previous episode) and he surpasses host Winston's expectations. Koichi speaks perfect English and has no trouble fitting in.

17. Working Girls (Originally aired January 9, 1995)
It's Career Week and everyone at Sweet Valley High gets a taste of the working world. Liz and Todd get journalism assignments better suited for each other. Jess gets an inside look at the shady world of fashion design. Lila gets humbled by working at her father's diner and she pretends to be underprivileged to impress a meat delivery guy who catches her fancy.

18. Dancin' Fools (Originally aired January 23, 1995)
The Pacific Dance competition has arrived again, and Jessica hopes to win for a third year in a row. But her long-time dance partner ditches her to join Madonna's entourage and Lila's father has flown in a prize-winning dancer from Argentina with hopes of taking top honors. Liz, Winston, Enid, Manny, Koichi, and reluctantly, Todd, all also strut their stuff.

19. Kidnapped, Part I (Originally aired January 30, 1995)
While volunteering at the hospital, Liz takes care of Jeremy Franks, an injured television personality. When Jess hears the news, she gets a job with hopes of becoming his new co-host. Liz starts getting flowers and love letters from a secret admirer, and Todd angrily suspects Winston. But it's not!

20. Kidnapped, Part II (Originally aired February 6, 1995)
This middle installment of a three-part arc lives up to the title as Liz gets kidnapped by a nutty co-worker from the hospital, whose creepiness is often underscored by appropriately suspenseful music. Jessica is torn away from her plans of wooing Nicholas to try and find her sister. Meanwhile, Liz fights back against her captor. Winston gets taken into police custody in relation to the disappearance.

21. Kidnapped, Part III (Originally aired February 13, 1995)
Things mostly seemed resolved in the previous episode, but its closing shot and this title make it clear that they' re not. Liz's story is at the center of "Frankly Speaking" with Jeremy Franks, and during the show, it's revealed that the psychotic Peter has escaped. Having ubiquitous personal security puts a damper in Jess's social life. When she tries to escape, she gets abducted by the madman. The gang makes every effort to find and rescue Jess.

22. Say Goodbye (Originally aired February 20, 1995)
Todd gets accepted into a prestigious academy in Vermont to play basketball, and he transfers right away. With everyone throwing him going-away parties, he has no time to spend with Liz and they reconsider their plans for a long-distance relationship. Meanwhile, Jessica schemes to get together with Nicholas. The season ends on a bit of a cliffhanger.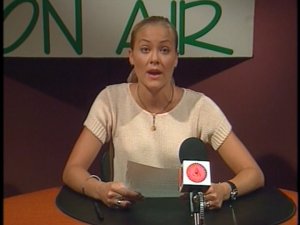 VIDEO and AUDIO
Like the overwhelming majority of TV shows and all from this time period, "Sweet Valley High" is presented in 1.33:1, the ratio it was shot and aired in. The picture quality isn't as sharp as a present-day series and visuals lack the refine of network programs with large budgets. In general, the video is noticeably lacking compared to other '90s television series on DVD. There's a fair amount of video noise and grain in some shots, and while it's never consistently awful and never unwatchable, problematic issues turn up in the picture regularly. There's a bit of moiré effect, some shimmering, and images tend to look out of focus from time-to-time. The blame can't solely lie with the relatively low production values or with the DVD, but surely more work on the latter could have yielded some more pleasing results. As it is, on the whole, the video quality can't compare with more slickly produced sitcoms or location dramas. The lack of sharpness and pristine digital look that we take for granted is certainly evident.
Audio is presented in the way of a basic 2 channel Dolby Stereo Surround track and while it's not reference quality, it's not as easy to fault or dissect as the video's shortcomings. The sound design is quite simple. Music is heavily employed, but only very subtly echoed in the rear speakers, and most sound effects are limited and stay in the front channel. This show does not call for a dynamic audio experience, and the DVD's audio presentation meets expectations squarely. Dialogue isn't recorded with the highest precision or most impressive fidelity, but for the most part, it's intelligible, though again, the lower budget is somewhat noticeable in this area. A Spanish dub is also offered.
BONUS FEATURES
Unfortunately, there are no bonus features whatsoever included. One assumes deleted scenes and outtakes might exist, but for such a budget program, these may not still be around or perhaps just no efforts to uncover them were made. Probably the most interesting thing one would hope for is a retrospective with the cast, none of who have really had a career takeoff save for Brittany Daniel. Whether something of that nature shows up on a future season remains to be seen, but if this debut release is any indication, I wouldn't hold much hope.
Disc 1 opens with sneak peeks of Popular: Second Season, Felicity: Season Four, Boy Meets World: The Complete Third Season, and Chicken Little. The menu adds previews for the upcoming second season DVD sets of The Golden Girls and Home Improvement, plus the now-available Alias: Complete Third Season.
MENUS, DESIGN, and PACKAGING
The 4x3 menus are static and silent, with the Main Menu featuring the Wakefield twins against a pink-tinted backdrop. The few selection screens on each disc are identical.
This 3-disc set is housed like last November's sitcom season sets in a Digipak which folds out to six sides, two of which hold the discs (two are overlapped), two of which contain episode titles, writing, and directing credits, and two of which are just nice-looking front and cover art. The Digipak fits into a cardboard slipcover, which has the same front cover art and a vibrant pink spine. There are no inserts inside. Altogether, this isn't a package which takes up a lot of shelf space. It may not be the most convenient or clever design, but it serves its basic function sufficiently.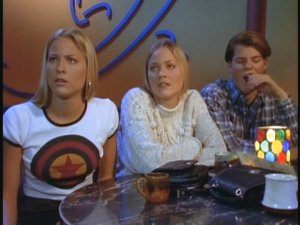 CLOSING THOUGHTS
"Sweet Valley High" took a popular series of books and translated them to the small screen in a pretty standardized Saban-produced syndicated format. Simple, shallow, and hardly challenging or mind-engaging, this collection of Season 1 episodes is nonetheless diverting. The adventures of goal-driven Liz, boy-crazy Jess, and their group of friends provide fleeting entertainment, but they clearly don't have long-lasting power. Buena Vista's release of Season 1 doesn't offer anything above the bare minimum, with no bonus features and unspectacular video/audio. The real appeal to this 3-disc set is going to be the nostalgic value it possesses for those who enjoyed the series ten years ago.