Page 1: Show Discussion, Disc 1, and Disc 2
Page 2: Disc 3, Video/Audio, Bonus Features, Menus & Packaging, and Closing Thoughts

The second season is a tricky thing, and something that most television shows these days don't ever get to see. In a series' sophomore year, it must remain true to its previous episodes and yet provide something new and fresh.

When "Boy Meets World" returned in the fall of 1994, the show embraced change, while retaining the strong cast of likable characters at its core.

Cory (Ben Savage) was now starting 7th grade, which for him was the beginning of a six-year high school run, even though the show would spend just four seasons there.

High school introduced new characters in the way of much-feared school bully Harley Keiner (Danny McNulty), and his two quirky lackeys, the wiry Joey "the Rat" (Blake Soper) and the physically intimidating and surprisingly contemplative Frankie (Ethan Suplee).

But the most significant addition to the cast is Anthony Tyler Quinn as Mr. Turner, the hip, motorcycle-riding new English teacher. Whereas Season 1's episodes often tied in with Mr. Feeny's Social Studies lessons, Season 2 often successfully links the classic books being read in Mr. Turner's English class with what's going on in Cory's life. Later on in the season, we would see Mr. Turner outside of the classroom as much as in, and he became a more contemporary mentor to Cory, and particularly Shawn (Rider Strong).

Of course, the show couldn't lose sixth grade teacher and the Matthews' next-door neighbor altogether, as Mr. Feeny was the heart of the show in its debut season. So, he returns as the new acting principal of John Adams High. (The school's name is a bit of a tribute to actor William Daniels, who memorably portrayed the Constitution framer in the musical 1776 and its 1972 film adaptation.)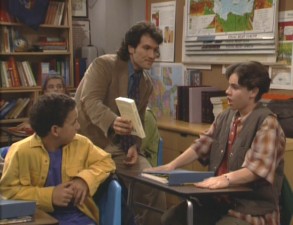 While this season usually strayed from the single classroom approach and specific topical lessons, it kept its focus on little Cory Matthews (a mid-season voice change and the usual growth spurts move him away from "little"), and his attempts to figure out the world around him. Carrying over from Season 1, Shawn Hunter was still clearly his best friend, and Topanga (with Danielle Fishel now a regular cast member) was a friend and maybe more. The "flower child" Earth-conscious aspect of Topanga's character this year gave way to someone intelligent and surer of herself than Cory and Shawn.
Topanga would remain "potential" love interest for Cory, as she would be absent in a number of episodes and Cory would explore different relationships with girls. Cory began to spend less time with comic books and baseball, and more with girls. Maybe girls become a bit too much of the focus midway through the season, as there's a stretch when it seems like junior high romances consume all of Cory's time and every day is a new dance or party. The show never comes close to faltering, but the diversity at the beginning and end of the season strengthens its appeal.
When "Boy Meets World" isn't dealing with Cory, his classmates and teachers, it puts the Matthews family into the spotlight. Younger sister Morgan (Lily Nicksay) shows up very little in this season, the cute comedy she would pour out in season one is reduced to an infrequent appearance, usually to put down one of her brothers. (Nicksay left the show after this season.) Cory's parents, Amy and Alan Matthews (Betsy Randle and William Russ) are mostly relegated to "B" storylines, but they remain an important presence in the lives of their children.
Of course, those children include Cory's older brother, Eric Matthews (Will Friedle). As in the first season, Eric mostly remains the good-looking ladies man and often tormentor of Cory. He and best friend Jason Marsden (played by Jason Marsden, Friedle's real-life best friend) have their various adventures and misadventures with girls, and a new characteristic emerges: Eric's stupidity. By the end of the show's run, this would become his defining trait (perhaps to excess). Here, deftly played by the hilarious Friedle, Eric's lack of common sense and work ethic makes him an endearing, if inept older brother.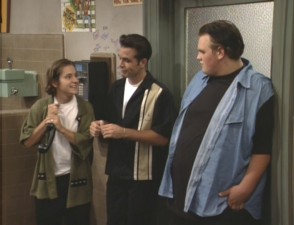 In its seven-season run, "Boy Meets World" found a sizable audience on Friday nights. As Cory and friends grew, so too did the viewers, and the sitcom adapted to keep up and stay relevant.

And it worked, up until the last couple of seasons, when the show abandoned its consistent comedy in favor of soapy drama and romance. But when it worked, it really worked. It never topped the ratings chart, but nonetheless it was a reliable and much-liked staple of ABC's "TGIF" programming.

But that doesn't mean there weren't threats and fears of cancellation. Indeed, in March 1995, twenty episodes into this second season, the show disappeared from ABC. Seven weeks went by, and no "Boy Meets World", new or old. Then, on the first Friday of May, the show returned with the powerhouse, guest-star-filled episode "The Thrilla' in Phila'" and that night's TGIF programming was hosted by Ben Savage and Danielle Fishel, who assured viewers that the show was not cancelled. (This would have made for an excellent bonus feature, but alas, it's not included.)

Just three months after releasing the long-awaited Season 1 DVD, Disney delivers the Complete Second Season. This three-disc collection offers packaging and presentation similar to the previous season set. All twenty-three episodes from the 1994-95 season are here, as are some more commentaries, including one in video form. The second season goes in some different directions, with solid results.

A star (

) denotes ten favorite episodes from the season. (It was very difficult picking just ten.)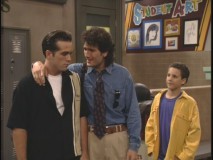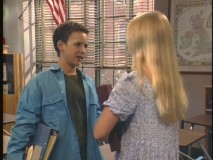 Disc 1

1. Back 2 School (22:56) (Originally aired September 23, 1994)
In one of the show's best episodes, Cory starts high school as an insignificant seventh grade speck. From talking with Eric (who wants no contact with his brother inside of the school they now share), Cory has notes to help him find his way around high school. Cory quickly meets the much-feared bully Harley Keiner and his lackeys Frankie and Joey, as well as someone there are no notes on: Jonathan Turner, the new guy and homeroom teacher for Cory, Shawn, and Topanga. Mr. Turner's assignment of an X-Men comic book for its parallels to The Odyssey gets the attention of...

Mr. Feeny, who surprises Cory as John Adams High School's acting principal. Rather than making friends with Harley as planned, Cory is threatened with an afterschool showdown. Filled with laughs, this season premiere provides a great, packed story and manages to introduce four new characters.

2. Pairing Off (22:23) (Originally aired September 30, 1994)
Seems like everyone at school is becoming a couple, and Cory feels left out. He's clueless as how to get a girl to say "hi." When he catches Eric home alone with a girl, Cory promises to keep it secret in exchange for some advice. Cory uses it to get a date with Wendy (Jessica Wesson, who played Brad's girlfriend for the first few seasons of "Home Improvement"), but his parents have different words of wisdom for both he and Eric.

3. Notorious (22:52) (Originally aired October 7, 1994)
Cory and Shawn happen upon the school newspaper office, and Shawn changes the front page headline to "New Principal is Weeny." When Cory is accused of the prank, Mr. Feeny asks him to reveal the person responsible or face suspension. Still hoping to get a reputation around school, Shawn pulls another prank. Meanwhile, Eric embraces a relationship with Desiree, a new senior from Georgia, for a status increase, but it doesn't go as planned.
4. Me and Mr. Joad (22:26) (Originally aired October 14, 1994)
Mr. Feeny forces Mr. Turner to give his class a test on The Grapes of Wrath after he promised not to, but they won't hear of it. Taking what he learned from the book, Cory leads the students on a strike. But when Mr. Feeny threatens to cancel a dance, they all back down. Eric tries to cut the leash Desiree has held on him, and soon regrets it.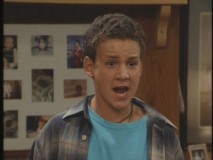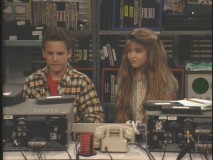 5. The Uninvited (22:52) (Originally aired October 21, 1994)
Cory's worried about not getting invited to the first big high school party, Melissa Harrington's boy/girl shindig. Fortunately, he gets invited...but Shawn doesn't, questioning everything that Cory knows about who's cool. There's a surprise to come, though: it's a geek party! Alan throws out his back.
6. Who's Afraid of Cory Wolf? (22:28) (Originally aired October 28, 1994)
In the show's first Halloween episode, Cory hears that an escaped wolf is loose in the neighborhood, and is convinced that he is now a werewolf. A visit to a fortune teller seems to confirm Cory's fears, but maybe there's just a metaphor about changing somewhere in there. This may be the strangest "Boy Meets World" episode, with its unusual nonlinear narrative and silly subject played straight.
7. Wake Up, Little Cory (22:23) (Originally aired November 4, 1994)
When Shakespeare's Much Ado About Nothing can't enthrall his class, Mr. Turner assigns a video project for his students to interview one another about love and sex. Cory and Topanga stay at school late editing their project and wind up spending the night together, sparking gossip among the student body and newfound popularity for Cory, a.k.a. "The Man." This is as racy as "Boy Meets World" got in its early seasons, but the laughs keep flowing.

8. Band on the Run (22:28) (Originally aired November 11, 1994)
When they see the potential for girls, Cory and Shawn start a band in spite of the fact they can't play any instruments. That fact comes out when their 'band' gets booked for the seventh grade dance. Meanwhile at home, Alan reunites with his old band The Tongues (including "Monkee" Micky Dolenz) and is discouraged by the way they've aged.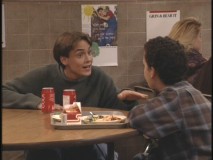 Disc 2
9. Fear Strikes Out (22:27) (Originally aired November 18, 1994)
Cory is extremely nervous about the night's makeout party, when Eric warns him about how "Seven Minutes in Heaven" can go wrong. When Cory and Topanga get picked for closet time and no liplocking ensues, Cory becomes the laughingstock of the school. Mr. Turner goes out with new teacher Katherine Tompkins.

10. Sister Theresa (22:27) (Originally aired November 25, 1994)
Cory heeds his mother's advice to be polite, and he soon winds up with a girlfriend who goes by the name T.K. (guest star Danielle Harris). T.K. really likes Cory, and comes on fast and strong, having a variety of gifts delivered to his house.

Things get more interesting when Cory learns that the 'K' stands for Keiner - she's Harley's sister. This makes it difficult for Cory to try and slow down things between him and T.K.

11. The Beard (22:27) (Originally aired December 9, 1994)
Two girls like Shawn and he can't decide which one to go out with. Inspired by Cory's lunchroom example, Shawn chooses to date Stacy, and have Cory date Linda until he's ready for her. The snag is that Cory really likes Linda. At home, the family is anxious for Mrs. Matthews to settle on a new car. I still don't know what the episode title refers to.

12. Turnaround (22:27) (Originally aired December 16, 1994)
Cory is worried that no girl will ask him to the winter turnaround dance. Unknowingly, Cory accepts the nerdy Ingrid's invitation. Taking a cue from the play they're reading (Shaw's Pygmalion), Cory and Shawn seek to makeover Ingrid for the dance, but the plan backfires. Mr. Turner sweats it out waiting for chaperoning teacher Miss Tompkins to ask him.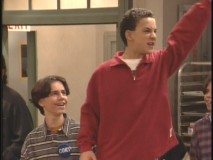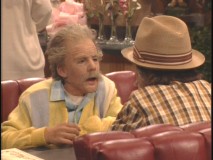 13. Cyrano (22:25) (Originally aired January 6, 1995)
Frankie "The Enforcer" Stecchino agrees not to bash Cory and Shawn in exchange for some help wooing a girl. Cory and Shawn prove very insightful, but their tips put Frankie together with Harley Keiner's girlfriend. Alan gets Amy the trash compactor she wanted for their anniversary, but she's not pleased.

14. I Am Not a Crook (22:28) (Originally aired January 13, 1995)
Looking for an extracurricular activity, Cory reluctantly runs for class president. With Shawn pushing the campaign, Cory makes all kinds of promises and says whatever the students want to hear. Competing candidate Alvin's claims of "flip-flopper" against Shawn seem particularly relevant.
15. Breaking Up is Really, Really Hard to Do (22:27) (Originally aired January 27, 1995)
In need of a date for an upcoming "couples only" party, Cory asks Wendy, who agrees. Wendy appears to be much more serious about their relationship than Cory. She's memorizing his schedule, planning their summer, and even contemplating the number of children they'll have, which makes it very difficult for Cory to break up with her. Eric's low grades give him a "no girls" punishment, but his friend Jason has a solution.