Here's a quick briefing for those of you not on top of this Hannah Montana thing. The fictional pop star was created in 2006 for a Disney Channel comedy series about an ordinary teenage girl leading a secret double life.

Before long, the manufactured Hannah was very popular with genuine audiences, generating the onslaught of merchandising opportunities expected of a post-Lizzie McGuire hit.

Among the most lucrative tie-ins was a soundtrack CD, which topped the U.S. Billboard 200 and went triple platinum. The robust sales of the show/character's debut album paved the way for a second, issued in June 2007. This sophomore release let Hannah portrayer Miley Cyrus shed her blonde wig and cable TV persona on Disc 2. Cyrus' own bubblegum pop may not have sounded all that different, but the double platter sold another 3 million copies and in doing so boosted her name recognition. It also set up a Hannah & Miley nationwide concert tour that made news for having each city's tickets sold within minutes of availability.

With scalped tickets going for as much as $1,000, many fans -- or more accurately, their parents -- welcomed an opportunity to experience the concert for $15 a head. That was the fixed asking price for Hannah Montana & Miley Cyrus: Best of Both Worlds Concert, a Disney Digital 3-D feature filming of the sell-out show announced for a one-week theatrical engagement this past February.

With all the seats in many of the 683 enlisted American theaters claimed by advance online tickets, the 3-D movie earned more national headlines for Disney's multi-million tween empire by setting all-time box office records for Biggest Super Bowl Opening Weekend, Highest Average Per-Theater Gross, and Fewest Theaters for a #1 Debut. Naturally, the movie's run was given an indefinite extension. It would add an additional $34 million to its $31 M opening for a remarkable domestic total of $65 M. That easily made the movie one of the year's biggest pre-summer successes in spite of a sharp decline testamentary to the one-week-only announcement's effectiveness.
There aren't any big surprises here for anyone accustomed to Hannah Montana, although the movie certainly takes a step away from the TV show's fictional world to depict Miley Cyrus as a down-to-earth (if not quite ordinary) teenaged girl to whom fame is still new.

Amazingly, though her rise to superstardom was as calculated and processed as any, Cyrus does in some ways seem more authentic than pop music contemporaries who break through via the typical routes. It seems there should be a detectable faηade projecting the squeaky clean image that has brought Disney so much profit. But especially removed from the clunky dialogue and scenarios of her garish sitcom, Cyrus comes across as enthusiastic, excited, and humble as any 15-year-old girl making $25 million in a year could be.

The concert begins with Cyrus performing as Hannah to hordes of adoring fans who nearly all are pre-teen girls. Even if you're not digging the breezy, life-affirming messages, chances are you're appreciating the peppy stylings of songs like "Life's What You Make It", "Nobody's Perfect", and twice-heard "We Got the Party." At the very least, you're not cringing and that's enough for parents to endorse and support this commercial cause.

In between select performances, we're given a few glimpses into Miley's G-rated rock star life, which mother Tish and father Billy Ray are there to oversee. Interestingly, the latter -- Miley's Dad onscreen and off -- has moved from headline hook to goofy sidenote, as his early-'90s country hit "Achy Breaky Heart" pales next to his daughter's present renown. Apparently, so hungry is this planet for Hannah Montana news and controversy that a brief scene of Billy Ray and Miley riding in the back seat of a car sans seat belts registered as a mini-scandal.
Halfway into the show, while Hannah is in the process of changing into Miley, the Jonas Brothers play for a bit to nary a waver in audience support. Adolescent siblings Kevin, Joe, and Nick Jonas are now nearly as big a draw with the tween girl demographic as Hannah/Miley herself. With the siblings indefinitely in their stable, Disney is savvily developing them into part of a sacred trinity alongside Hannah and the High School Musical franchise.

From their two songs performed here with spunk but needed backup, their appeal is slightly tougher to comprehend. But then I'm neither the right age nor gender to appreciate the fashionable trio's heartthrob status.

Miley returns as Miley soon enough to perform more familiar songs such as "See You Again", "I Miss You" (a tribute to her late grandfather which she explains can be applied to other situations), and "Girls Night Out." For the final number, the TV show's theme song and concert's namesake "The Best of Both Worlds", she performs alongside a video screen Hannah.

Far from groundbreaking but unobjectionable to most (many teenaged boys excluded) and fun for the young, this Best of Both Worlds Concert film is like a feature-length collection of concert footage from the show. Only here, the fanfare is real, picture and sound are a lot more pleasant, and it doesn't give way to a predictable storyline performed broadly. Years from now, Hannah and this movie might seem like curiosities, part of a puzzling fad, or some kind of nostalgic punchline. Or maybe this is the beginning of a long mainstream career that will inevitably ask Miley to mature. Either way, what's here now is semi-entertaining and innocuous for most, featured high-heel-racing fathers and maniacally screaming girls excluded.
While not much about the film bothers me, the use of 3-D is a bit confounding. At least, that's true of the old red & blue glasses anaglyph 3-D format that's utilized on Disc 2 of this DVD. You occasionally get an illusion of depth, mostly in the waving arms of audience members. But the price you pay is that everything is fairly blurry, not to mention tinted red and blue. The Disney Digital 3-D format employed in theaters used clear glasses, which are easy to take when coupled with a towering screen claiming your entire field of vision.

From my one Disney Digital 3-D experience, I'm sure this would have been more stable and easily enjoyed that way. The translation to anaglyph is not a smooth one, particularly when you stop and ponder, "Just what is a third dimension going to add?" Only the concert performances are in 3-D; behind-the-scenes and linking footage is standard.

It's tough to complain that some effort was made to recreate the 3-D theatrical experience. But it feels like a gimmick. Of course, the word "gimmick" looms all over this movie. As in theaters, the DVD fetches a premium (costing $5 more than ordinary Disney DVDs). And as the prominent yellow banner announces, the only DVD version is a 2-Disc Extended Edition which tacks a reported 8 minutes onto the theatrical cut. Where those minutes come from, I couldn't say. Furthermore, a sticker on the cover claims the set will be "Available for a Limited Time Only." Want one more gimmick? The movie has already aired on the Disney Channel both in 2-D and 3-D, with anaglyphic glasses given away in stores and magazines. Apparently, the theatrical cut aired, but even so it is another instance where Disney shamelessly bucks tradition for this film.

I guess if you want to be able to enjoy Hannah Montana, you'll have to overlook the hype, the hoopla, and any additional gimmicks Disney can imagine.
DVD Details

1.85:1 Anamorphic Widescreen,
1.33:1 Reformatted Fullscreen
Dolby Digital 5.1 (English), Dolby Surround 2.0 (English)
Subtitles: English
Closed Captioned; Bonus Features Subtitled
Release Date: August 19, 2008
Suggested Retail Price: $34.99
Two single-sided, dual-layered discs (DVD-9s)
Black Amaray Keepcase with Lenticular Cardboard Slipcover
Also available on Blu-ray Disc
VIDEO and AUDIO
Disney probably sets the record for number of presentations included on a single DVD, as this set delivers a whopping four versions of Best of Both Worlds Concert. Even so, the theatrical cut isn't among them and the most commonplace format (two-dimensional widescreen) is next to impossible to access if you allow Disc 1's FastPlay to run its course. Nevertheless, it's there, giving you the choice to watch the film in either 1.85:1 anamorphic widescreen or 1.33:1 fullscreen in standard two dimensions or, with the enclosed red & blue glasses, 3-D.
Being a recent production of one of the world's biggest movie studios, the film unsurprisingly looks pretty good. Colors are vibrant, the picture is sharp and clean, and the photography is quality. There is only a slight suggestion that compression may have an effect, as some mild ringing can be spotted from up close or on a large screen.
In the sound department, you can choose from a Dolby Surround track or full Dolby 5.1. The concert atmosphere is adequately conveyed in the former, with well-mixed levels capably presenting the music and active surround channels reminding us just how enthusiastic the massive stadium crowd is.
BONUS FEATURES, MENUS and PACKAGING
For a two-disc set, this is very light on bonus features, with most of the available space having gone to the four versions of the feature. A few extras do reside on Disc 1.
The easily missed Music & More menu holds two additional concert performances -- the Jonas Brothers' "S.O.S." (3:06) and Miley Cyrus' "Good and Broken" (3:10) -- presented in 16x9 and Dolby 5.1. There is also an option to "sing along with the movie" which serves up eight of the film's song performances (ones that were written for the Disney Channel show) in your pre-selected screen format with colorful lyric subtitles keeping reasonable pace.
Then there is the featurette "The Ultimate Personal Tour" (11:20), which has Miley taking us behind the scenes in anticipation of one night's show. The looks backstage (showcasing her wardrobe and amenities), at preparations (a soundcheck), and at Miley being Miley (talking shoes and voicing a clear preference for the Jonas Brothers over previous tour company The Cheetah Girls) all add up to a neat, fairly sufficient for a main bonus.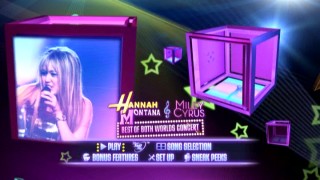 The FastPlay-enhanced first disc opens with the ubiquitous Disney company promo; a Disney Blu-ray promo; previews for Sleeping Beauty: Platinum Edition, Beverly Hills Chihuahua, Camp Rock, High School Musical and Hannah Montana DVD games; and a Disney Movie Rewards spot.

The Sneak Peeks menu gives us additional trailers for "Phineas and Ferb": The Fast and the Phineas, "Wizards of Waverly Place": Wizard School, The Secret of the Magic Gourd, 101 Dalmatians II: Patch's London Adventure, and "Wizards of Waverly Place" on Disney Channel. Disc 2 opens only with the company promo.

Aside from one tough-to-spot yellow cursor and the glaring absence of screen and sound selection pages, the menus earn praise for the active and exciting design with which they supply the disc. The concert's atmosphere is conveyed with instrumental snippets, busy graphics, and engulfing 5.1 sound effects. Disc 2 tries to bring three-dimensional effects to the menu, though like the film these aren't the most well-realized.

It almost goes without saying that this DVD is equipped with a cardboard slipcover, but for once, Disney has gone beyond embossing and holography to do something more inspired. That is to grant the front cover a lenticular print. When held at the appropriate distance and tilted, the cover alternates between the poster poses of Miley Cyrus and Hannah Montana while the background turns from blue to purple. Though there are limitations to this technique (like most of the time, you'll see a blurry composite of the two), it's still a nice attempt at standing out. The keepcase art below opts just for Hannah and otherwise repeats everything from the "o-sleeve".

Inside the case, one finds a Disney Movie Rewards code (with a bonus incentive of getting a Hannah Montana charm bracelet for shipping & processing costs), a 16-page booklet packed with ads (and a coupon for a free kids' haircut), and a song selections insert that doubles as a Hannah Montana DVD ad. Most important, though, is the package that holds four pairs of red/blue 3-D glasses.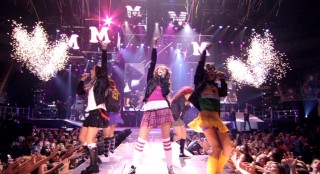 CLOSING THOUGHTS
Say what you want about Miley Cyrus' cheesy show and off-screen follies, but you'd be hard-pressed to deny that she has enough poise, energy, and talent to make watching 80 minutes of her in concert pretty easy to bear. That's coming from someone way outside the target demographic with the understanding that the chief audience (tweenaged girls) will go gaga for Cyrus whether she's performing as Hannah Montana or herself. Best of Both Worlds Concert isn't a great film but it is a sensible, inexpensive way for those shut out of the real deal to get a taste of it with varying and often up-close views.
As a DVD, Disney's two-disc set is a little overpriced, particularly since the anaglyphic 3-D version and glasses add more theoretical value than practical. Compared to an actual concert, a cinema run, and the show's 4-episode compilations, this becomes a lot easier to justify. While I'm still inclined to advise waiting until the price comes down, the studio's threat of limited time availability pokes holes in that theory.
Buy Hannah Montana & Miley Cyrus: Best of Both Worlds Concert from Amazon.com:
DVD / Blu-ray / Concert CD with Bonus DVD