It's just after the turn of the 20th century in England, and playwright James M. Barrie is coming off of a flop. This is the setting of Finding Neverland. Even if the name J.M. Barrie doesn't ring a bell, then the title should clue you in that this is a film about the author of Peter Pan, the immortal story of a boy who has never grown up. A landmark in English literature, the tale has touched generations of children in book form, on stage, and through cinema, most memorably in Walt Disney's 1953 animated film.

Finding Neverland is not yet another retelling of this tale, but rather an inspiring drama about the story behind the story. When the film opens, Barrie (masterfully played by Johnny Depp) nervously awaits the audience's reaction to his new play. The writer seems to be as tough a critic of himself as anyone else, and so he responds with restrained disappointment and not surprise when his latest work meets with a cool reception.

Theatre producer Charles Frohman (Dustin Hoffman) expects a follow-up hit from Barrie to undo the loss-sustaining flop, but Barrie doesn't particularly have any ideas. Enter Sylvia Llewelyn Davies (Kate Winslet), a pretty young widow with four children. While at the park one bright day, Barrie encounters the Davies family and entertains them with his enormous dog Rufus. This is the start of a beautiful friendship, in which the child inside Barrie stimulates the imagination of the Davies boys. In turn, the boys likewise inspire Barrie. The adventures they share together (whether envisioning themselves as pirates aboard a ship or simply playing cowboys and indians) seem to do both the author and the Davies family a lot of good.
But not everyone approves. Barrie's wife Mary (Radha Mitchell) isn't thrilled that her husband spends more time out of the house than with her. Sylvia's mother (Julie Christie) also disapproves of the antics, remaining concerned that Barrie's presence is inhibiting Sylvia's already-challenging task of making ends meet without a husband or a job. Furthermore, as fellow writer Sir Arthur Conan Doyle informs Barrie, rumors are spreading about the unusual nature of Barrie's relationship with the Davies family.
All the while, Peter Pan is formulating in the writer's head. Frohman is not encouraged by the ideas Barrie comes up with, thinking that fairies, pirates, and a four-legged Nana are a surefire formula for another disappointed theater crowd.
In some ways, Finding Neverland has things easy by having us, the viewers, aware that this is all leading to a masterpiece which remains so well known and adored a hundred years later. Like Shakespeare in Love, there are undeniable pleasures to be had by simply seeing the real-life events that inspire the imaginative elements that make it into the play. (The Davies boys jumping around in their beds become the children who defy gravity and fly out the window, and so on.) But the journey there is a delightful and compelling story of creation.
The film has its way with some facts, most notably that Sylvia was not yet widowed when Barrie met her and wrote Peter Pan. This cinematic adaptation of Allan Knee's play no doubt romanticizes reality to some degree. Somehow, this knowledge doesn't seem to detract from Finding Neverland at all. As pointed out in the commentary, it seems reasonable to grant a film about imagination some artistic freedom. It is grounded enough to remain truthful, and the film wildly succeeds as a celebration of imagination and childhood sense of adventure. Those two qualities no doubt were present enough in Barrie to so fully come through in his writing. Even if the details aren't all as they were, the spirit is intact.
Spirit is really the area where Finding Neverland triumphs. When it doesn't have you captivated as a tale of an artistic, personal creation, it has you just as wrapped up in its heartfelt family drama. These two elements complement each other and are often impossible to separate, which assures that the film is sound as a whole.
Anytime you have the words "inspiring" and "drama" together, you run the risk of coming across as overly sentimental, particularly when a sickness is thrown into the mix. But everyone brings such a delicacy and grace to their roles that one need never fear that the film comes close to meeting its potential to be sappy and maudlin. For his lead performance, Johnny Depp was nominated for a second consecutive Best Actor Oscar. Depp is so fully immersed in his character, a personality so far removed from his previously-acclaimed turn in Pirates of the Caribbean (which was actually filmed after this), that one cannot question his range or talent. He is complemented by Kate Winslet, who gives a human touch and spark to a role that could have been pretty bland. As her mother, Julie Christie (who has been acting since before either Depp or Winslet were born) proves she can portray bitterness well.
In the film's most comedic role, Dustin Hoffman never turns the manager into a caricature and never feels thematically out of place. Also crucial to the film's success are the four young actors who play the Davies boys. They're all convincing, and Freddie Highmore (who was campaigned for an Oscar) is particularly involving as the doubting Peter whose name finds its way in Barrie's play.
For J.M. Barrie, the real world is subject to plenty of fantasy and the film aptly captures this sense through nice, subtle visual effects. Finding Neverland strikes a number of chords and offers much more than a straightforward biopic might have.
DVD Details

2.35:1 Anamorphic Widescreen
(Reformatted Fullscreen Sold Separately)
Dolby Digital 5.1 (English, French, Spanish)
Subtitles: English, French, Spanish
Closed Captioned
Release Date: March 22, 2005
Single-sided, dual-layered disc (DVD-9)
Suggested Retail Price: $29.99
Black Keepcase
VIDEO and AUDIO
Finding Neverland is presented in its original 2.35:1 aspect ratio and is enhanced for 16x9 televisions. Picture quality is mostly quite good as you'd expect, but it's not perfect. Colors seem a bit darker than they did in theaters and some shots don't hold up perfectly, exhibiting a bit of softness or grain. The visuals don't always look natural, as colors seem to have been digitally enhanced, but that does match its theatrical look. The print is clean and free of dirt and there are no signs of edge enhancement or excessive sharpness.
The Dolby Digital 5.1 soundtrack offers a satisfactory but not quite splendid audio experience. Volume has to be turned up pretty high to be heard clearly in some scenes, and the few dynamic peaks may have you reaching for the remote to adjust levels. There's not a bevy of sound effects, so the two major elements are dialogue and the music. The latter, a fine Oscar-winning score by Jan A.P. Kaczmarek, is wonderfully delivered and makes good spatial use of the soundfield. French and Spanish dubs are offered in the same format, as well.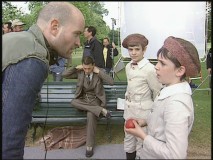 BONUS FEATURES
Finding Neverland is not accompanied by an overwhelming amount of bonus material, but there are a few good treats. First is the audio commentary by director Marc Forster, writer David Magee, and producer Richard Gladstein. This is an enlightening track, with plenty of interesting anecdotes recalling production from three different perspectives. Discussion remains relevant to what's on screen, and there are few empty spaces. Among the topics which turn up the most are the source material (both the real life of Barrie and Allan Knee's play), the source of some creative decisions (some interesting contributions are revealed, from Arthur Miller to Johnny Depp) and concepts that were considered for the film but abandoned.
Of the video bonus features, "The Magic of Finding Neverland" (16 minutes) is easily the longest and most substantial supplement. It's a pretty standard production featurette, one which is livened up by liberal use of clips from other films, including Disney's Peter Pan, the 1924 silent adaptation, Pirates of the Caribbean: Curse of the Black Pearl and other work from Johnny Depp and Kate Winslet. There is also a fair amount of clips from Finding Neverland and on-set footage. In interview snippets, the filmmakers reveal their intentions, the cast discuss the set's atmosphere, and a Barrie biographer describes the history of the film's central play.
"Creating Neverland" (3:03) looks at the visual effects which seamlessly blend reality with fantasy in the film. In particular, one complicated motion control shot is broken down.
"On the Red Carpet" (2:24) is a brief montage of footage from the film's various premieres around the world. In short red carpet sound bites, praise for Johnny Depp and the film is offered by cast, crew, and former First Lady Hillary Clinton.
The Deleted Scenes holds three brief sequences cut from the film presented in non-anamorphic widescreen. Each offers a short, inconsequential conversation with Barrie and another character and the longest runs only a minute. You can view these individually, in succession (2:32), and with optional commentary from Forster, Gladstein, and Magee.
Last is "Outtakes", which edits together 5½ minutes of on-camera tomfoolery that didn't make it into the film. It's not constant hilarity but the moments of levity do offer brief diversion, as we see Johnny Depp improvise when his large dog becomes uncooperative, a few wire-suspended giggles from Peter Pan, and some script departures from Dustin Hoffman. The last minute and a half illustrate how Depp kept his young co-stars laughing through the dinner scene: with a hidden fart machine.
The 16x9 menu screens are pretty ordinary. Only the Main Menu is animated and it features the film's fantasy interludes. All of the secondary screens feature an ornate border at top and bottom and artwork from the film in the center.
The disc opens with trailers for Dear Frankie (now in select theaters) and National Treasure (coming to DVD on May 3rd). The Sneak Peeks menu adds the cool Miramax 25th Anniversary promo. Unfortunately but unsurprisingly, Finding Neverland's own trailer is not included.
CLOSING THOUGHTS
Finding Neverland is a wonderful film, one which is bound to delight most fans of fare from Walt Disney Pictures and really anyone who enjoys good movies. Those who worry that some Miramax output is too obscure or artsy need not bring such hesitations here. The film's universally-pleasing story of creation goes beyond such claims and succeeds wonderfully, with a tight screenplay, excellent performances, and subtle but skillful direction.
Miramax's DVD isn't quite a complete knockout, as the bonus features leave a bit to be desired and the picture and sound quality are a couple of notches short of perfection. Still, these are minor complaints, and for the most part, this disc excellently presents this highly recommended film.