Gangster Squad was originally scheduled to open in theaters on September 7, 2012. Then came the massacre at an Aurora, Colorado theater's midnight showing of The Dark Knight Rises, a showing preceded by Gangster Squad's trailer. The trailer, which featured a blink and miss shot of a theater shooting, was immediately pulled and then Gangster Squad was delayed to allow time for re-editing and reshoots.

The delay was just four months, but it makes a world of difference in what it says about the film.

A September movie ushers in the fall movie season of serious dramas bound to be considered in year-end lists and Oscar races. That seemed fitting for a true crime drama set in mid-20th century Los Angeles and boasting a good deal of star power.

A January movie, on the other hand, is essentially moribund. Studios release movies in January as counterprogramming to the expanding awards bait and widely-seen big commercial Christmas Week openings. A January movie has no chance of competing for awards or cracking December Top 10 lists. In recent years, the calendrical wasteland has typically been reserved for horror movies not screened for critics and expected to have toxic word of mouth. Very few movies have opened in January without a qualifying run the previous year and had any real artistic value.

That time alone would not be enough to clear Warner Bros.' conscience and that the studio would be okay with a January debut drains most of the promise that lied in this film's A-list cast, historical subject matter, and Zombieland director Ruben Fleischer.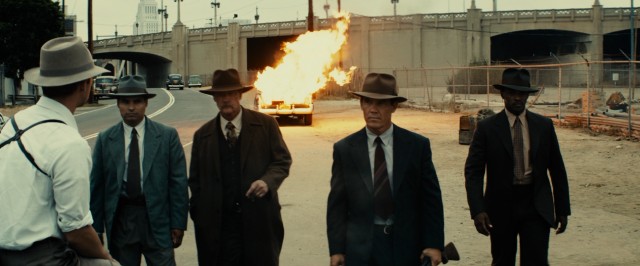 In 1949, one criminal rules Los Angeles: the Jewish mobster Mickey Cohen (Sean Penn). Cohen has his hand in every racket and is ruthless when it comes to punishing those who let him down. He has everyone from the highest judges to senior police officials on his payroll and looking the other way, plus virtually all crime running through the West Coast goes through him.
One good, tough police sergeant named John O'Mara (Josh Brolin) seeks to loosen Cohen's hold on his city. O'Mara faces resistance when he takes drastic steps to bust some of Cohen's associates. But the LAPD's Chief Bill Parker (Nick Nolte) shares the distaste for Cohen and gives O'Mara his blessing to follow his heart and bring the kingpin down.
O'Mara assembles a secret undercover unit whose name gives the film its title. His very pregnant wife (Mireille Enos) helps him pick the handful of trustworthy law enforcers on whom he can count. They include an African-American (Anthony Mackie) who takes bold actions to crack down on drug dealers, a sharpshooter (Robert Patrick) whose exploits have already become immortalized in comic books, his Hispanic tagalong (Michael Peρa), and an intelligent family man (Giovanni Ribisi). Rounding out the squad is the suave, young Sgt. Jerry Wooters (Ryan Gosling), who has the audacity to secretly date Grace Faraday (Emma Stone), Cohen's new moll.
The gangster squad isn't afraid to play dirty, robbing from Cohen and threatening his income streams with actions designed to look like those of a rival gang.

Cohen isn't reluctant to respond, though he is clearly facing his first real challenge in a long time.

Gangster Squad does a good job with nailing the period detail, even if such art direction begs for the use of film and not the less than state-of-the-art digital video it employs. Despite the historical basis (which is heavily fictionalized), the story does not sizzle any more than, say, the underwhelming Public Enemies did. Some aspects of the film compel (like the conflict between O'Mara's duties to his city and to his wife), while others (chiefly, Wooters and Grace's stealth romance) do not. The Gangster Squad itself has the feel of an Ocean's Eleven, with their scenes having a certain comic camaraderie.

The acting is a lot spottier than you would expect. Penn chomps on scenery, a performance that's reminiscent of a Dick Tracy villain and somehow also calls to mind his I Am Sam turn. Though he has his admirers, Penn proves here he's one of the weaker actors to have two Oscars to his name. Adopting a wimpy voice with a hint of period authenticity, Gosling acts down to suit the movie rather than elevating this to the high quality of his usual output. Brolin and the rest of the cast hit the notes they are expected to, but despite some nice efforts, you are never able to shake the feeling that you're watching a January movie, one whose timing and re-editing reflect the concerns of a studio not confident in its product.

Between 30 Minutes or Less and this, Fleischer shows he's only as good as his material. Few movies have material as strong as his debut, Zombieland. While Fleischer executed that horror comedy to near perfection, he needs something better than the first finished screenplay of Will Beall (a former writer on ABC's "Castle" scribe) to truly flourish. Gangster Squad has a lot of action and violence to justify its reportedly $60 million price tag. But the abundance of tommy gunfire and goon casualties cannot compensate for thinly-written characters, routine procedural devices (wiretaps, raids), and cringeworthy dialogue.

Unable to benefit from its delay, Gangster Squad struggled at the box office, grossing just $46 domestically and an additional $56.5 M overseas. Though well below expectations, it was one of Warner's better performers in a first quarter full of flops. The studio has recovered with this month's hit Jackie Robinson drama 42, but their summer slate wields an unusual number of big budget question marks. Meanwhile, Gangster Squad is now available to own in Warner's standard options of lightweight DVD and that same DVD in a Blu-ray + DVD, each edition also equipped with UltraViolet.
Blu-ray & DVD Details

2.40:1 Widescreen (DVD Anamorphic)
Blu-ray: 5.1 DTS-HD MA (English), Dolby Digital 5.1 (French, Spanish, Portuguese)
DVD: Dolby Digital 5.1 (English, French, Spanish)
Subtitles: English for Hearing Impaired, French, Spanish; BD-only: Portuguese
Not Closed Captioned; Video Extras Subtitled
Release Date: April 23, 2013
Suggested Retail Price: $35.99
Two single-sided, dual-layered discs (BD-50 & DVD-9)
Blue Eco-Friendly Keepcase in Cardboard Slipcover
Also available as standalone DVD ($28.98 SRP) and on Amazon Instant Video
VIDEO and AUDIO
Gangster Squad features admirable period production design, though as mentioned above, its content lends more to film than the sometimes unsightly digital video it instead employs. If you can accept that choice, the dark, high-contrast 2.40:1 transfer is flawless, boasting nice, richly-saturated colors, appropriate sharpness, and no noticeable imperfections. The Blu-ray's 5.1 DTS-HD master audio offers suitable thrills, the abundance of gunfire yielding a lively, directional sound field in which to be immersed. The Blu-ray generously includes dubs and subs in French, Spanish, and Portuguese.
BONUS FEATURES, MENUS, PACKAGING and DESIGN

For a new film in 2013 and one that didn't even perform well at the box office, Gangster Squad is unusually loaded with bonus features on Blu-ray.

First up is the option to play the movie with "The Gangland Files" activated. This playback mode utilizes picture-in-picture to add historical context and share some behind-the-scenes footage.

After an introduction from supporting cast members, this teases and features content found elsewhere on the disc. It can be teamed with the audio commentary, but its video enhancements obviously drown out portions of that track (not that you'll miss much), just like it does for the film's actual soundtrack.

Fifteen Focus Points, branded "The Set-Up", can be accessed by The Gangland Files mode, popping up timed to relevant portions of the film, or viewed on their own as making-of shorts (46:28). The descendants of the lawmen dramatized here and even one surviving Gangster Squad member complement the more routine reflections of author/executive producer Paul Lieberman and the cast and crew. The topical pieces touch upon the historical basis, production and character design, filming locations, certain sequences, the real and fictional characters in the foreground, and Warner's legacy of gangster films.

"Then and Now Locations" (8:03), also incorporated into The Gangland Files, compares old photographs of the film's Los Angeles sites to either the location as it stands today or the movie's recreation of it. The locales include Mickey Cohen's old home and hangouts.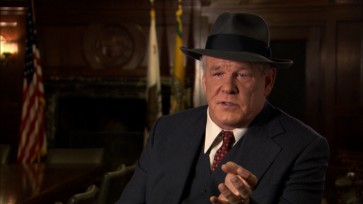 The aforementioned audio commentary features director Ruben Fleischer all by himself. It suffers from the usual solo commentary limitations, remaining dry while humor and interaction are non-existent. Fleischer has screen-specific information to share on influences, filming locations, visual effects, and departing from historical record. It just doesn't make for a riveting two hours, although it makes for a wise item to experience in tandem with the Gangland Files mode.
Next, we find a rare licensed supplement -- and the disc's only standard definition feature -- in the 1998 documentary "Rogues Gallery: Mickey Cohen" (46:44), one of ten installments in a video series narrated by actor William Devane that also apparently aired on TLC. Comprised of old photos and footage, re-enactments, and interviews with crime historians, reporters, Cohen's surviving associates and the real John O'Mara, this is on the order of a '90s A&E television special and it provides a fitting complement to the fictional film, whose portrayal of the bad guy isn't nearly as interesting as the OCD-addled, uneducated personality with many famous friends and enemies remembered here.
The promotional short "Tough Guys with Style" (4:54), seemingly separated from the Focus Points purely to throw a bone to DVD customers, lets the cast and director talk about the mores of the dramatized era as reflected in the look of the characters and film.
Finally, we get seven deleted scenes which run 12 minutes and 20 seconds with a brief, general Fleischer intro. They include a chase sequence, a trip to Navidad's cousin's place, a visit to the Griffith Observatory, and Cohen confronting the squad. The section glaringly lacks the movie theater sequence from the trailer behind the delay. As this is not a movie likely to be revisited anytime soon, that content seems certain to remain unavailable for the indefinite future,

which is unfortunate because is anyone sensitive enough to be bothered by a deleted scene bearing slight resemblance to a 9-month-old tragedy it was shot well before? Based on the rest of the film, I doubt it's great material, but it wields obvious historical interest and could explain the movie's underwhelming status.

As I expected, "Tough Guys with Style" is the only thing Warner sees fit to include on the combo pack's DVD, which is identical to the DVD sold on its own.

The Blu-ray opens with an UltraViolet promo and The Great Gatsby's trailer. The DVD opens with those, then adds trailers for Bullet to the Head, Beautiful Creatures, and Man of Steel.

Like most Warner discs these days, the menus of both of these recycle artwork, in this case the cover's, while looping an excerpt of score. It took my player three tries to load the Blu-ray properly, but after that, save for one additional failure, it was smooth sailing, with the disc resuming playback.

The two plainly-labeled discs take opposite sides of an eco-friendly Blu-ray case, topped by an unremarkable cardboard slipcover and holding a single-sided insert with your unique UltraViolet redemption code.
CLOSING THOUGHTS
Given its potentially rich subject matter and talented, accomplished makers, Gangster Squad is less than you hope and expect. Valuing style over substance, it looks nice, but sounds dumb, its problems too glaring to blame on re-edits, delays, or historically weak timing. There are far worse movies out there, but not many are as disappointing as this one.
Warner's Blu-ray combo pack, on the other hand, is quite satisfactory, with its dynamite feature presentation and wealth of substantial extras. None of that makes the film any better, but it does give those who enjoyed the film more reason to consider owning it.
Support this site when you buy Gangster Squad now from Amazon.com:
Blu-ray + DVD / DVD / Instant Video