In the late 1980s, the Walt Disney Company came close to having back-to-back yearly box office champions. Touchstone's Three Men and a Baby had won 1987 by a healthy margin. By December of 1988, Touchstone's Who Framed Roger Rabbit had an even bigger lead over everything else,

without any obvious marquee attractions yet to come. But, Rain Man started strong nine days before Christmas. Rave reviews, great word of mouth, high entertainment value, and plenty of award season buzz kept it going and near the end of April 1989, that Oscar-winning powerhouse overtook Roger Rabbit for '88's box office crown.

The part-animated, part-live-action noir comedy may have relinquished the #1 spot, but its high grosses -- $156 million domestically, $330 million worldwide -- were still an extremely big deal. Those blockbuster numbers would soon come to be expected of Disney's annual animated features, but back in 1988, an animated film was a hit around $40 M and more likely to wind up with merely a 7-figure sum. Even Disney, the long unrivaled leader in the field, was only managing to put out a new cartoon feature every few years and to middling returns.

Enter Steven Spielberg and Robert Zemeckis. The two men were riding high in the 1980s. Spielberg had a streak of hits extending back to the mid-'70s that made him just about the most successful and powerful filmmaker ever. Even the films he merely produced tended to become hits and none of them more so than 1985's box office king, the Zemeckis-directed Back to the Future. Not yet ready to start shooting the promised sequels to that smash hit, Zemeckis would make Roger Rabbit his follow-up film.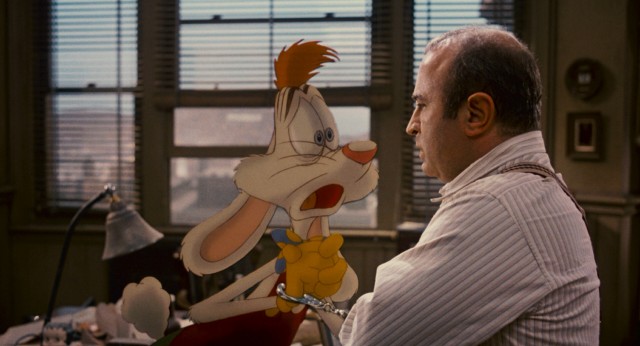 Based on Gary K. Wolf's 1981 mystery novel Who Censored Roger Rabbit?, this mixed-medium adventure is set in a world where humans and cartoons co-exist. That much is conveyed to us in an opening scene in which a classic slapstick short repeatedly and comically endangers Baby Herman and his assigned babysitter Roger Rabbit. The cartoon seems to be going well, until Roger Rabbit misses his mark and we pull back to see a set full of gruff crew members and impatient producers.
Concerned with the recent unreliability of one of his bigger stars, Maroon Cartoons head R.K. Maroon (Alan Tilvern) hires private eye Eddie Valiant (Bob Hoskins) to do some investigating. 'Toon-hating, liquor-swilling Valiant discovers and photographs Roger's bombshell wife Jessica Rabbit (voiced by an uncredited Kathleen Turner) playing pattycake with rival studio head Marvin Acme (Stubby Kaye). The next day, Acme is found dead and the dejected Roger (voiced by Charles Fleischer) is an obvious suspect.
Judge Doom (Christopher Lloyd), an ominous lawman who dresses all in black, has recently invented "Dip", a chemical solution found to be the only thing that can permanently erase 'toons. The judge and weasel cops are on the hunt for Roger Rabbit. But Roger pleads his innocence to Valiant, who reluctantly believing him, allows him to stay close so that they can together find out who framed Roger Rabbit.
As big of a deal as Roger Rabbit was in 1988, it eluded me, an infrequent moviegoer too young, unaware, and helpless to have much say in seeing anything. I was already a Back to the Future fan, one under the impression that the seeming eternity that had passed since that film

had the words "To Be Continued..." placed on its end meant that a sequel wasn't actually coming. But it's not like the names Zemeckis and Spielberg meant anything to me yet or that love of their one collaboration would lead to another. My exposure to Roger Rabbit came in the shorts that would play before Honey, I Shrunk the Kids and Dick Tracy, neither of which excited to me enough to seek out the film that inspired them.

I finally gave Roger Rabbit the proper viewing it deserved ten years ago. Not that unusual for cultural landmarks you discover late and with towering expectations, the movie underwhelmed me. At the time, I had little appreciation for slapstick animation and classic mysteries. The two unappealing genres struck me as being at odds and I was neither entertained nor engaged. The disconnect remains pronounced to me in this, the film's 25th anniversary year, but doesn't bother me nearly as much.

The film's allure, which I had previously missed, relies heavily on an appreciation for classic animation. Set in 1947, the film celebrates what many still consider a Golden Age of Hollywood and a creative apex for cartoons (at least cartoon shorts). It makes inspired use of real characters famous in the era. Reflecting the boundless power and resources of a 1988 Spielberg production, the film manages to secure the rights to enduring personalities from multiple studios. Disney's Donald Duck and Warner's Daffy Duck perform a piano duet that turns violent. Dumbo flies outside the window. Betty Boop, struggling since 'toons went color, is waitressing. Mickey Mouse and Bugs Bunny share a long fall. Characters from Fantasia are seen trotting around on a studio backlot. Comparable to Wreck-It Ralph, this tactic isn't merely employed to shout "look at these characters you probably know and maybe love", but to add credence to a fantastical setting of intrigue.

It helps that Zemeckis and company do an excellent job of bringing animation and live-action together. That practice dates all the way back to the 1920s and became most common in the 1940s. Disney would blend the mediums again to nice effect in Mary Poppins and other ambitious musicals. Roger Rabbit has the art perfected, as the two universes with their wildly conflicting principles come together seamlessly, with shadows, eyelines, and pinpoint interaction all selling it. The convincing illusion contributed to the film's impressive Academy Awards haul, which saw it winning for Visual Effects, Film Editing, and Sound Effects Editing, as well as a special achievement award for Richard Williams' animation direction. The film lost its three other technical nominations, which counting its special award, meant merely a tie for the year's most Oscars with -- you guessed it -- Rain Man.
A PG-rated film heavily attended by families, Roger Rabbit nonetheless bore the Touchstone Pictures label Disney assigned to its more adult-oriented fare. You understood that decision based on racy material (e.g. some light profanity, rude humor, and gags involving the curvaceous Jessica Rabbit) unfit for the Mouse's squeaky clean brand image. Today, it also seems to make sense by distancing it from the Disney name, making appearances by Dumbo, Goofy, and the like less corporate promotion and more appropriate historical context. Touchstone release or not, Disney embraced the film at its theme parks as its first new hit cartoon in ages. Roger Rabbit pervaded the parks to an extent perhaps only comparable to Disney's 2002 Stitch craze. The film was developed into comic books, video games, a Disneyland ride and land, and three theatrical short films.
The fervor over the film seemed to have faded by the mid-'90s, when Disney's own all-animated movies were regularly soaring to new heights. Films like The Lion King and Beauty and the Beast have taken obvious precedence within the company's library and that has helped them eclipse Roger Rabbit in long-term cultural impact. While Disney's animated films have been treated to Broadway musicals and high-profile reissues, Roger Rabbit has mostly stood pat as Disney wavers on whether or not it began their animation renaissance (lately, it seems not to have, even though its reception dwarves those given The Little Mermaid and Oliver & Company, which a case has been made for).
There have been talks for a Roger Rabbit sequel for as long as the movie hit it big, but a number of obstacles have stood in the way, from Schindler's List making Spielberg unable to satirize Nazis to audience resistance to traditional animation to Bob Hoskins' recent retirement after a Parkinson's disease diagnosis. At varying times, Zemeckis and producers Don Hahn, Frank Marshall, and Steve Starkey have expressed hope for a sequel or a prequel to see the light of day. Recently while doing promotion for Flight, Zemeckis shot down those plans definitively, moments after Starkey confidently lifted expectations to the contrary.
Whether or not we get another Roger Rabbit movie, his first feature and three short films recently made their Blu-ray debut in a 25th Anniversary Blu-ray + DVD and, in my case, DVD + Blu-ray combo pack.
DVD & Blu-ray Disc Details

1.85:1 Widescreen (DVD Anamorphic)
BD: 5.1 DTS-HD MA (English), Dolby Digital 5.1 (French), Dolby Surround 2.0 (Russian)
DVD: DTS 5.1 (English), Dolby Digital 5.1 (English), Dolby Surround 2.0 (French, Spanish)
Subtitles: English for Hearing Impaired; BD-only: French, Spanish, Russian, Portuguese
DVD Movie and Extras Closed Captioned; Blu-ray Extras Subtitled
Release Date: March 12, 2013 (DVD originally released March 25, 2003)
Suggested Retail Price: $26.50 / Two single-sided, dual-layered discs (BD-50 & DVD-9)
Black Keepcase
Also available in Blu-ray Packaging ($26.50 SRP) and on Amazon Instant Video
Previously released as 2-Disc Vista Series DVD (2003), 1-Disc DVD (1999), Exclusive Video Bonus Edition VHS (2003), Standard VHS (1989) and Laserdisc (1989)
VIDEO and AUDIO
Having very recently reviewed younger films sporting a variety of concerns on Blu-ray, I'm quite pleased to report that Who Framed Roger Rabbit looks excellent. The 1.85:1 picture is spotless, perfectly colored, and nicely detailed. You can tell that this isn't a brand new film, but it is as largely untroubled as if it was. The worst the 1080p transfer gets is looking a touch soft on occasion and that is probably in the interests of keeping its distinct worlds compatible. The fine work here basically leaves no room for improvement on this format, not that Disney is likely to revisit the film on it without a sequel coming to fruition.
The Blu-ray's 5.1 DTS-HD master audio soundtrack offers similar delights. As I mentioned, the film boasts Oscar-winning sound effects editing and it is easy to appreciate given the clarity and tasteful immersion of this mix. Made up of lively, disparate elements, the audio is agreeably consistent and consistently terrific, as everything from familiar cartoon gag noises to Alan Silvestri's active score heighten the experience.
BONUS FEATURES, MENUS, PACKAGING and DESIGN

While Roger Rabbit adds to Disney's current standard of not adding new bonus features to catalog Blu-rays outside their Diamond Edition line, the film gladly retains nearly all of the bonus features from the fine two-disc Vista Series DVD the studio gave it in 2003.

First up is an audio commentary by director Robert Zemeckis, screenwriters Jeffrey Price and Peter Seaman, producers Frank Marshall and Steve Starkey, and visual effects supervisor Ken Ralston. They appear to have been recorded in at least two separate groups and you probably won't be able to keep track of speakers without consulting the subtitles,

but it's chock-full of good information on all facets of development and production, down to the most specific bits. There's nary a lull and many a fun revelation here.

The video side kicks off with the set's biggest supplemental attractions and only HD bonus features: the three Roger Rabbit shorts. These mostly animated 'toons are given the Disney name and long-winded modern-day logo. In Tummy Trouble (8:08; 1989), Roger winds up swallowing Baby Herman's rattle, subjecting him to surgery while Baby Herman roams freely around the hospital. Roller Coaster Rabbit (8:11; 1990) finds Roger braving amusement park danger in pursuit of Baby Herman and his elusive red balloon. Trail Mix-Up (9:09; 1993) pits Roger against bees, giant logs, and other natural threats when he's got to watch Baby Herman in the woods.

In some ways, these vivacious shorts are more entertaining than the film itself. It's easy to see them as laying the groundwork for Spielberg's run in 1990s TV animation on similarly-styled WB shows like "Tiny Toon Adventures" and "Animaniacs." The picture quality satisfies, while the lively Dolby Digital 5.1 sound impresses even more.
"Who Made Roger Rabbit" (10:55) is a fun featurette hosted by Roger's voice Charles Fleischer in animated environments. This kid-oriented piece offers some basic information and a who's who of the film's creators. Its creative visuals enhance it, as does its unique behind-the-scenes footage.
A single deleted scene, "The Pig Head Sequence" (5:30), prefaces its cuts with context from Zemeckis and supervising animator Simon Wells. We then get the full chain of events that led to Eddie's shirtless scene, as he is thrown out of Toontown with an animated pig's head on top of his needing to be showered off. They claim it was cut for slowing down the movie, but it's also pretty weird stuff.
"Before and After" (3:07) uses split-screen to compare Bob Hoskins' blue screen sound stage footage and some storyboards to the final product with all the animation added in. It's an inclusion with obvious appeal that wisely makes use of an animation-heavy scene set in Toontown.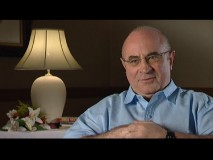 "Toon Stand-Ins" (3:14) shows us raw footage of the actors performing across from life-size puppets and models standing in for the animated characters. Again, it's interesting to see and we get just enough to quench our appetite.
"Behind the Ears" (36:37) is a thorough making-of documentary using 2002 filmmaker interviews as well as behind-the-scenes footage from production. Providing the bulk, the former gathers reflections from many principal filmmakers, animators, and actors on the project's challenges and achievements. Highlights include an original concept test, B-roll, and Zemeckis explaining the goal of Disney-quality animation, Warner-esque characters, and Tex Avery-style comedy.
"On Set!" (4:50) is a press-friendly short of behind-the-scenes footage from December 1986 filming.
I originally thought the case was mistaken by listing Toontown Confidential among the Blu-ray extras. In fact, I was mistaken. It is there, but only listed with the subtitles. Once again, this is a graphic subtitle track enhancing playback of the film; the contents remain the same, but the graphics have been updated to Blu-ray's higher quality. Inexplicably, this cannot be enjoyed in tandem with the audio commentary.
The Blu-ray misses an opportunity to release the hour-long television special Roger Rabbit and the Secrets of Toontown. Sure, you can watch it on YouTube, but it really ought to accompany the film on its official release.
The DVD part of the Blu-ray combo packs given to Disney's catalog films have often frustrated, typically because the studio has decided to author new discs

that are supplementally inferior to ones they could have just reproduced. Fortunately, they don't put any extra effort into Roger Rabbit, simply porting over the second of its two Vista Series discs. That is the stronger disc aimed more at the movie buff than the young viewer Disney considers its primary audience.

Thus, the DVD accompanies a widescreen presentation of the film with a number of the same substantial extras found on the Blu-ray: the audio commentary, the deleted scene, "Before and After", "Toon Stand-Ins", "Behind the Ears", and "On Set!" There is also Toontown Confidential, the DVD version of which can be activated in conjunction with the commentary to spice up playback in two ways.

In addition, the DVD wields a noteworthy exclusive. The Valiant Files is a collection of five art galleries: Character Development (66 stills arranged in 6 folders), Art of Roger Rabbit (95 stills in 6 folders), Production (64 stills in 3 folders), Promotional (18 stills), and Theme Parks (25 stills in 3 folders). You can hunt around Valiant's office and click places to look for them, or you can just use a cheat sheet to access them directly. Either way, you'll eventually get 268 looks at character designs, maquettes, concept art, Chuck Jones artwork, backgrounds, deleted ideas, set photos, visual effects work, mock cartoon posters and newspapers used as props, real movie poster designs, seasonal promo artwork, and theme park attractions. It's great material that it's nice to have preserved here if not retooled for Blu-ray.

Since the Disc 1 of the Vista Series edition does not surface here, we do lose the set-top game Trouble in Toontown. In addition, the Roger Rabbit shorts and "Who Made Roger Rabbit" become Blu-ray exclusives here and in retail, since the Vista Series DVD has been discontinued in favor of these editions. Furthermore, the full screen version, of some interest for being open matte surprisingly even on animated bits, is lost. In the most glaring oversight, we also lose the film's original theatrical trailer, previously included as an Easter egg on the DVD's Disc 1. Short of authoring a new DVD that combined the two discs' bonus features or recycling both platters, Disney did the best they could to make use of existing materials.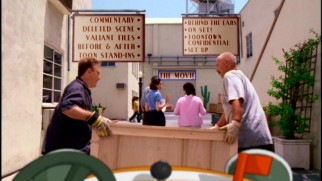 The Blu-ray opens with trailers for Monsters University and Planes, followed by a Pinocchio-themed anti-smoking spot. The menu's Sneak Peeks listing repeats the first two then plays ads for Mulan: 2 Movie Collection, Disney Parks, "Gravity Falls", The Little Mermaid 3D, and Return to Never Land.
The Blu-ray's menu lets cartoon characters stroll past pages playing clips. The DVD's recycled, more creative main menu has Benny the cab take us around Maroon's backlot. Sadly, the Blu-ray does not resume playback, let you set bookmarks, or even perform Disney's occasional consolation of remembering where unfinished playback let off. Seven years into the format, it's pretty inexcusable for Disney to be one of the last of the major studios not to provide any way for picking up where you left off. Also troubling to a lesser degree, pop-up menu usage is virtually non-existent.
In addition to arriving several weeks after release date, my review copy of this combo pack was the version packaged like a DVD, a strategic deception to maximize retail presence that must be working out for Disney if they're still doing it. This version had no slipcover above and no inserts within the uncut black Eco-Box keepcase fitted with a swinging tray.
CLOSING THOUGHTS
Who Framed Roger Rabbit is neither a barrel of laughs nor an investable mystery, but it manages to win you over with a compelling universe and a knowing reverence towards the heyday of cartoon shorts. The anything-goes atmosphere and impressive visual effects helped make this a smash hit in theaters. Though it hasn't quite developed into a classic to be passed on for generations, it remains a popular, well-regarded, and important film. Disney's 25th Anniversary combo pack treats it as such and though the only thing it really offers over the 10-year old Vista Series DVD is an outstanding high-def presentation of the film and three shorts, that's enough to recommend this set both to animation buffs and those who simply like the movie.
Support this site when you buy Who Framed Roger Rabbit now from Amazon.com:
Blu-ray + DVD / Combo in DVD Case / 2-Disc Vista Series DVD / 1-Disc DVD / Instant Video