Jackie Robinson has been in the news a lot lately. Monday wasn't just Tax Day, but also Major League Baseball's annual celebration of Jackie Robinson Day when all players wear his otherwise retired uniform number. Speaking of which,

the biopic 42 was the #1 movie in the nation over the past week by a wide margin, its opening weekend setting a box office record for baseball movies.

Fourteen years before Robinson broke the MLB's color barrier and skyrocketed to stardom, Hank Greenberg faced similar prejudices and stereotypes. Greenberg, as his surname suggests, was openly Jewish at a time when many in America considered that regrettable. Greenberg heard taunts and slurs, but nonetheless quickly emerged as a star athlete, beloved by many and an inspiration to Jews all over the nation.

Greenberg's achievements were worth remembering and celebrating in the 2000 documentary The Life and Times of Hank Greenberg, written, directed and produced by Aviva Kempner. They remain every bit as deserving of that thirteen years later, as the film, long out of print and fetching high prices in the secondhand market, returns to DVD in a new two-disc edition available exclusively from The Ciesla Foundation, a nonprofit organization Kempner established in 1981.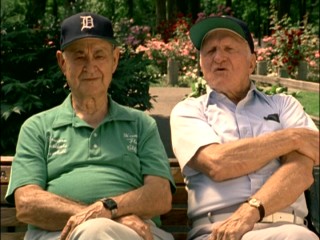 Life and Times received rave reviews in its limited theatrical release; last week's Rotten Tomatoes countdown of the best baseball films of ranked it #3 all time and its critics' score actually ties it for first place with Bull Durham. Though Kempner's film opened in January and in few markets, it would be remembered through the end of the year, when it received nearly twenty honors, including winning Best Documentary from the National Board of Review and the Critics' Choice Awards.
Such accolades were well-deserved because Kempner does a remarkable job of telling this hero's story in a thorough and engrossing fashion. The film moves through his career season by season, each being distinguished in a notable way that gives us insight into Greenberg's character and competitive spirit. For instance, in 1934, Greenberg's second full season, his Detroit Tigers were battling the New York Yankees for the American League pennant. That year, Greenberg made an indelible mark on the public by choosing to observe Yom Kippur and, out of respect to his heritage, not play that day's match-up. The Tigers lost that game, but wound up winning the pennant, then losing the World Series to the St. Louis Cardinals in seven, with Greenberg still regretting he passed up a critical fastball at the end of Game 6.
The following year, Greenberg won American League MVP and though he broke his wrist in the World Series, the Tigers still managed to defeat the Chicago Cubs for the crown. Over the next two years, Greenberg pursued some noteworthy records with gusto. In 1937, the first baseman fell just one RBI short of breaking Lou Gehrig's record, a meaningful target since Greenberg emulated Gehrig and explains how he valued the RBI over all other statistics. In 1938, Greenberg was on track to topple Babe Ruth's record 60 home run season, but ended up with just 58, allowing the record to stand into 1961 when it was eclipsed by Roger Maris with an asterisk due to the newly-extended season. Some speculate that pitchers walked Greenberg near the end of his nearly historic campaign, not wanting Ruth's achievement to be bested by a Jew, something Greenberg himself disputed.
Kempner does a terrific job of putting Greenberg's heroics in context, getting interviews from countless admirers, sportswriters, relatives, and Tiger teammates. Some celebrity Jews discuss what Greenberg meant to them. Friend Walter Matthau explains he joined a tennis club purely for the chance to share lunch with the slugger.

Attorney Alan Dershowitz declares Greenberg "the single most important Jew to live in the 1930s", explaining how Greenberg's 6'4" stature and prowess defied the rhetoric Hitler was beginning to espouse with his master race creed.

Current events would alter Greenberg's career, as he was drafted by the United States Army and left baseball to join the 2nd Infantry 5th Division. Discharged two days before the bombing of Pearl Harbor, Greenberg would re-enlist, getting promoted to sergeant and then captain as he inspected bases in Burma.

After four seasons away, Greenberg returned to the Tigers in 1945 and picked up where he left off, hitting a home run in his first game back. The American League pennant race would go down to the wire, with Greenberg's 9th inning grand slam paving the way for another World Series victory. The film proceeds to make sense of the strangely sour note on which Greenberg's career ended, with the publication of an old photograph of Greenberg donning a Yankees uniform enraging the team's owner enough to send him to the Pittsburgh Pirates, the last place club in the National League. Persuaded not to retire by the game's first $100,000 contract, Greenberg would get to share his final season with 28-year-old rookie Jackie Robinson. Able to empathize to a degree with the vocal opposition Robinson faced, Greenberg gave the Brooklyn Dodgers player empathy and encouragement, while giving his own career a kind of storybook ending.

Kempner keeps Greenberg's personal life at some distance. We hear of the limits to his ladies' man reputation (deciding no woman was worth a potential 0-8 Sunday double header showing, he avoided late Saturday nights). We hear from a self-described groupie and get some basics regarding his first marriage and son. We learn that Greenberg was not especially a devout believer, growing disillusioned with religion in general following his experiences in the war. All of this adds human touches to the film without us forgetting that it's baseball that drove Greenberg and made him who he was.

The director does an outstanding job of finding pertinent archival clips. Obviously, game footage is a given (and much of it looks shockingly terrific), but Kempner goes further, pulling fitting clips from the likes of Gentleman's Agreement, Pride of the Yankees, Woman of the Year, and even "Brooklyn Bridge" to make her points more salient. Kempner also samples newsreels and interviews Greenberg himself gave shortly before his 1986 death. There's hardly a moment in the film where there isn't the perfect visual to illustrate what is being discussed. Even the soundtrack helps enliven the film with suitable period tunes.

As a result, the documentary feels shorter than its 95 minutes and never once bores you even if you have no particular interest in yesteryear professional baseball or historical anti-Semitism.
VIDEO and AUDIO
Like many documentaries, the picture quality on Life and Times varies based on source. The 1.33:1 "fullscreen" aspect ratio and Dolby 2.0 stereo soundtrack date this somewhat and suggest that theatrical release was an afterthought and not always the plan (this film marked Kempner's directing debut). At its very best, the movie looks a little older than it is, but that is because it was shot over many years, Kempner beginning shortly after Greenberg's 1986 death. A Stacey Augmon Hawks poster on a wall might be the most modern sight captured. For photos and clips up to nearly seventy years old, the material is surprisingly quite presentable n the whole. The sound isn't perfect, but is always intelligible, which is good, since subtitles are not supplied. Closed captions are, but those have become difficult to access in the age of HDMI connections.
BONUS FEATURES, MENUS, PACKAGING and DESIGN

This new 2013 DVD edition retains the fine collection of bonus features included on Fox's 2001 single-disc general retail release and expands on them with over two hours of new material.

Most of the extras are relegated to Disc 2, but Disc 1 provides a feature audio commentary by writer/director/producer Aviva Kempner. She gives us good background on interviews, music, licensed clips, and bits she reluctantly decided to cut. She speaks without lulls, reflecting on the thirteen years she spent making this film. A worthwhile listen, this is an invaluable resource for aspiring documentarians, as well as those who just want to learn more about the woman who made this film.

On both discs, we get trailers for The Life and Times of Hank Greenberg (2:16) and two of Kempner's other documentaries, Yoo-Hoo, Mrs. Goldberg (2:07) and Partisans of Vilna (1:25).

Interestingly, more than one of these previews cites quotes explaining that you don't have to be Jewish to enjoy these films.

Disc 2's extras begin with a feature film's worth of "extra scenes" (2:14:27), a huge upgrade over the 20 minutes included on Fox's DVD. Altogether, there are twenty-seven deletions and thankfully they are both individually accessible by useful menus and viewable in one big lump sum. As Kempner trimmed the film down from an over 3-hour workprint, there's naturally plenty of worthwhile material here that is professionally edited. Some of the more interesting segments address Greenberg's childhood nickname, his high school basketball experiences, anti-Semitic sentiments of the time, how baseball has changed (from equipment and uniforms to play), the controversial practice of signal stealing (on which the '38 Tigers relied heavily), Greenberg's appearance in the 1949 film The Kid from Cleveland, the legal battles of Curt Flood, Greenberg's Baseball Hall of Fame induction, and a poker game discussion of the best Jewish baseball players of all time. Among the interviews are audio reflections from baseball great Ted Williams. Some of this material was filmed after the film was made, as the sight of Chicago White Sox owner Jerry Reinsdorf speaking in front of something celebrating the organization's 2005 championship makes clear.
Additional text-based Disc 2 extras fall under the general heading of Bonus Features. A five-page Greenberg biography makes for a great read. Two pages give us a nice, clean table of his major statistics in each season of professional baseball.

Four pages supply a biography of Kempner, detailing the director's quarter-century of filmmaking activity. We get four reprints of full positive reviews of the film in its few years of sporadic exhibitions from the San Francisco Chronicle, USA Today Baseball Weekly, The Dallas Observer, and Entertainment Weekly. Finally, three pages list some awards and rave critical remarks drawn by the film.

Disc 1's main menu plays archival clips in one of three small frames while playing one of the film's Yiddish versions of "Take Me Out to the Ballgame" (which may or may not be the one performed by Mandy Patinkin). Disc 2 uses static, silent 16:9 screens.

The two discs, fittingly sporting baseball label art, claim opposite sides of a black keepcase. They're joined by what has become a rarity these days: a booklet. The 6-page companion lists scene selections for both the film and Disc 2's deletions, acknowledges those who helped fund the DVD and provides a warm and informative 2-page director's statement written earlier this year.
CLOSING THOUGHTS
The Life and Times of Hank Greenberg easily emerges as the definitive documentary on a compelling subject you may or may not already know about. No interest in baseball or history is needed to appreciate this human and accessible portrait and celebration of an admirable hero who triumphed over adversity.
With a great audio commentary, over two hours of mostly never-before-seen video bonus features, and worthwhile reads on disc and in a booklet, this new 2-disc DVD seems to be the definitive release of the film. That it's being sold directly through the Ciesla Foundation means that it will set you back quite a bit more than the typical millennial film DVD, but then so will its inferior out-of-print previous DVD fetching high prices in secondhand markets. The film's clear pride and joy in Greenberg spills over to the satisfying DVD and both therefore command premiums.
Buy The Life and Times of Hank Greenberg on DVD from The Ciesla Foundation