The website TheyFightCrime.org consists of nothing more than randomly-generated descriptions of two very different people of opposite sexes. First, a man is described like so: "He's a suicidal bohemian rock star from the 'hood." Then, a woman: "She's a vivacious bisexual widow who can talk to animals." Finally, the tag, which gives the site its name and always remains the same: "They fight crime!" It's an amusing little time-waster and it's not the only place that satirizes the mismatched crime-solving partner formula. Although that clichιd premise may be a butt of jokes, it's still in use and nowhere more blatantly than "Castle", an hour-long drama that ABC debuted last March.
He's a suave best-selling author of mystery novels. She's a no-nonsense NYPD homicide detective. They fight crime!
That is about the entire pitch Andrew W. Marlowe (Air Force One, Hollow Man) needed to give his first series and about all that prospective viewers need to know. From it, you can expect to see dangerous police procedure with twisty investigations and cutesy opposites-attract romance with sharp banter. "Castle" doesn't hesitate to provide all of these elements, placing its cards on the table immediately in a first episode that undoubtedly feels like a TV pilot.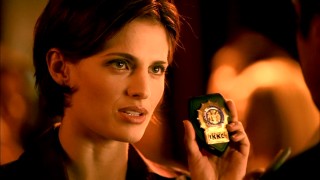 Nathan Fillion ("Firefly") stars as Richard Castle, a successful mainstream pulp writer. He's wealthy, snarky, and his friendship with New York City's mayor allows him an indefinite all-access pass to criminal investigations after he helps out on a case inspired by his books. Castle tails Detective Kate Beckett (Stana Katic), a straight-laced young detective on whom he intends to base a new heroine.

That they clash in methods and personality makes it clear that the odd couple is destined for romance. The only question is when the one-way flirting (him to her, naturally) will become reciprocated and the aspired dynamic of "Moonlighting" and "Remington Steele" fully embraced.

While that air permeates the program, this is no sudsy chick show. Each episode centers on a murder mystery that becomes more grisly with each new discovery. Forensic evidence, leads, motives, and circumstances are considered while Castle and Beckett ask questions and draw theories. Their differing backgrounds -- hers, professional; his, imagination and cunning -- lend two often complementary perspectives to the facts. Between the two of them, they always notice the tiny curiosities and inconsistencies that prevent suspects from getting away with murder.

Despite the dark subject matter, "Castle" maintains a sense of humor and not just in the interplay of the two leads that carry the series. There are sharp, contemporary cultural references and plenty of verbal punches. Even when it's not the most effective, the comedic material doesn't undermine the proceedings because it arises organically and never threatens to turn heinous crimes and cover-ups into jokes.
You're not going to invest in "Castle" for the occasional laugh and hint of sexual tension. Those merely sweeten a fairly solid mystery core. Like an Agatha Christie novel does for readers, each episode puts the viewer into detective mode. The fun arises from trying to read the interrogated and figure out whodunnit. Obviously, there are numerous misdirects and a degree of manipulation, but tidy conclusions are arrived at with some satisfaction. At which point, you may wish to go back and review scenes for clues and indications of guilt.

It is weird to see eight cast members lined up on the back of the DVD case. By the second episode, the eight are established via credits as the series' core stars. But the supporting cast makes little individual impression, serving more of an expositional function. One exception is twice-divorced Castle's family:

his righteous teenage daughter Alexis (an able Molly Quinn), with whom he has a healthy relationship, and his mother Martha (Susan Sullivan, making a strong case for age-appropriate casting), a boozy former actress who lives with them, create a believable domestic front.

Although the guest stars are numerous and typically quite good, they're all relatively unknown (2001's Keir Dullea and "Star Trek: Voyager" hologram doc Robert Picardo are probably the season's biggest names). But in Castle and Beckett, we have a sturdy enough point of entry not to mind that our time with others is fleeting and somewhat forgettable. Fillion has the charming-in-spite-of-himself persona down pat and, while not as polished, Katic holds her own with convincing moxie.

In its two consecutive months of airing, "Castle" earned pretty good Nielsen ratings with an average audience of about 10 million viewers. Those numbers gave the series the 35th rank for the 2008-09 season, well above most ABC programming, which largely experienced declines. Thus, it was spared the much-dealt cancellation fate and will now return on Monday night, where it again follows two hours of "Dancing with the Stars." The day after its second season premiere, Disney releases The Complete First Season on DVD, a three-disc set housing the show's first ten episodes. Read on for episode synopses and further analysis.
Disc 1
1. Flowers For Your Grave (42:52) (Originally aired March 9, 2009)
Richard Castle is called upon to aid in the investigation of a series of murders apparently staged to resemble ones he's written about in his various mystery novels.
2. Nanny McDead (41:16) (Originally aired March 16, 2009)
A nanny is found murdered inside an apartment complex dryer. The investigation connects the victim to three adulterous relationships.
3. Hell Hath No Fury (41:41) (Originally aired March 30, 2009)
An incumbent city councilman is found dead, wrapped inside a rug. He leaves behind a wife, a prostitute, and a blackmail scandal involving a fellow candidate. Also, Castle's final Derrick Storm novel is released.
4. Hedge Fund Homeboys (41:16) (Originally aired March 23, 2009)
A prep school student from a financially-diminished family turns up dead in the park. His classmates reveal he had gotten involved in drugs, but there's more to his death than that.
Disc 2

5. A Chill Goes Through Her Veins (43:08) (Originally aired April 6, 2009)


The discovery of a woman's frozen corpse leads Castle and Beckett to look into her past, specifically her sketchy disappearance (and suspected murder) five years ago.

6. Always Buy Retail (42:09) (Originally aired April 13, 2009)
A pair of ritualistic murders directs an investigation toward the (fictional) Vudon religion and the Nigerian immigrants that practice it. Castle's ex-wife (Darby Stanchfield) visits and plans to move back to New York.

7. Home is Where the Heart Stops (42:02) (Originally aired April 20, 2009)
A woman stuffed into her home safe is tied to a series of home invasion jewel theft murders. Castle and Beckett go undercover at a charity event hoping to find their man.

8. Ghosts (42:39) (Originally aired April 27, 2009)
A Westchester housewife's death in a Manhattan transient hotel bathtub full of motor oil has huge implications when it's learned that she was about to publish memoirs revealing her involvement in a 1980s tanker boat bombing.
Disc 3
9. Little Girl Lost (43:02) (Originally aired May 4, 2009)
Beckett's ex has her called in on the FBI's investigation of a young girl's kidnapping.
10. A Death in the Family (42:55) (Originally aired May 11, 2009)
Castle and Beckett connect the suffocation of an apparently upstanding plastic surgeon to a mob witness being protected in a federal case. Also, Alexis attends her first prom and Castle has a resourceful friend (guest Robert Picardo) look into Beckett's mother's murder.
VIDEO and AUDIO
Like practically all of today's television dramas, "Castle" comes to DVD in 1.78:1 anamorphic widescreen and Dolby Digital 5.1. The picture is sharp, clean, and detailed. Long gone are the days when you could identify something as being made for television with one look. With close to three hours of content per disc, the show is more compressed than your average film, but it still looks great.
And it sounds even better. This is one TV soundtrack that makes use of its 5.1 channels, delivering atmosphere tactfully. The mix is most engulfing in the city scenes (L.A. stands in for Manhattan, naturally), but dialogue, music, and ambient noises always come at you with immediacy, fidelity, and effectiveness.
BONUS FEATURES, MENUS and PACKAGING

The extras begin with four audio commentaries offered on three scattered episodes. A big group gathers to talk about pilot "Flowers For Your Grave", midseason episode "A Chill Goes Through Her Veins", and finale "A Death in the Family."

Assembled on these tracks are creator/executive producer Andrew Marlowe, producer/director Rob Bowman, and actors Nathan Fillion, Stana Katic, Jon Huertas, and, on the latter two, Molly Quinn. Their discussions are focused and informative.

On "Flowers", casting and auditions are recalled, plus it's revealed how the original New York-shot presentation was seamlessly padded out with LA footage. "Chill" discusses the process by which establishing shots' stock footage is approved, catering trucks rented to reward good work, and set dressing. On "Death", conversation tackles the episode's guest stars, the speedy and budget-minded nature of television production, and actors' prom experiences.

Huertas returns for a second commentary on "A Death in the Family", where he is joined by co-star Seamus Dever. The duo provides a laid-back, less informative track that moves swiftly from one topic to another. Among those covered are their appreciation for Robert Picardo, actors' work at finding marks for lighting, the episode's prosthetic effects work, commentary listening etiquette, and Kobe Bryant's trilingualism. It's rambling but more personal.

Four video bonuses are housed on Disc 3.

"Whodunit: The Genesis of 'Castle'" (6:15) gives us a slick, glossy look at the series, with a few telling remarks being heard among the short, positive cast/crew sound bites and meaningless peeks behind the scenes.

"Castle's Godfather" (7:15) brings back TV creator/writer/producer and Season 1 guest star Stephen J. Cannell for a chat alongside "Castle" creator Andrew Marlowe and producer/director Rob Bowman. Bowman explains how family friend Cannell got him in the business, while Marlowe cites Cannell's work, specifically "Rockford Files", as being influential to this series.

"Write-Along with Nathan Fillion" (9:05) is a very amusing featurette in which the actor visits Stephen J. Cannell at his house. Fillion wishes to see how a writer lives and works to hone his "Castle" performance. Easily the set's best extra, it is played for laughs in a smart and fun way.
There's nothing out of the ordinary in "Misdemeanors: Bloopers & Outtakes" (2:38), a collection of flubbed takes, ad-libs, and bleeped profanity.
Disc 1 opens with promos for ABC DVDs and Blu-rays, The Proposal, and Cheri. Disc 3 holds the designated Sneak Peeks menu, which contains ads for "Ugly Betty": The Complete Third Season, "Life on Mars": The Complete Series, "Lost": The Complete Fifth Season, "Desperate Housewives", 10 Things I Hate About You: 10th Anniversary Special Edition, Disney Blu-ray, and Old Dogs.
The DVDs' main menus play a montage of disc-specific highlights above a skyline pan.
Per Disney's current standard for abbreviated hour-long drama seasons, "Castle" is packaged in a standard-sized keepcase. It's clear, enabling artwork and disc contents to show through on the reverse side, when not obscured by the discs, which neatly display Castle's book covers. The only insert is a leaflet promoting Blu-ray. An embossed cardboard slipcover reproduces all the artwork below.
CLOSING THOUGHTS

"Castle" brings an underplayed but focal romantic pairing and a murder mystery air to television's already abundant slate of procedural police dramas.

The results are generally agreeable, if not the most remarkable. The absorbing stories and appropriately convoluted crime-solving are enough to make us overlook perfunctorily-written stock supporting characters. The series is surprisingly well-suited for its brand of levity and leads Nathan Fillion and Stana Katic have enough chemistry to forgive the tired opposites-attract foundation.

The Complete First Season DVD offers an impressive series presentation and an average platter of bonus features. The season's shortness keeps the 3-disc set's price low enough to consider as a blind buy. But, as this show won't be to everyone's liking and it's never been easier to test-drive an active series, I'd encourage you to watch one of the episodes available online or Monday nights on ABC before fully committing to it.