Terrence Malick has directed just four feature films in a career that dates all the way back to 1969. That makes the poor timing of his third all the more flabbergasting. The Thin Red Line was given limited release just before Christmas of 1998, wise scheduling for any movie wielding award season potential. But Malick's star-studded epic had the misfortune of trailing Steven Spielberg's Saving Private Ryan by just five months.

Private Ryan, on its way to becoming the year's unlikely box office king, had made such an extreme mark critically and culturally that The Thin Red Line couldn't help but be labeled "the other World War II movie" even as it gathered plenty of its own accolades. Among them were seven Academy Award nominations, in categories including Director, Adapted Screenplay, and Best Picture.

The passing of twelve years doesn't seem to have established Malick's film as a masterpiece even on the order of his admired but largely unfamiliar predecessors, Badlands (1973) and Days of Heaven (1978). The same time passage hasn't lessened Private Ryan's reputation as a modern classic, one recognized everywhere from AFI to IMDb as perhaps the least deserving victim of a Best Picture Oscar upset since Citizen Kane. But, with Malick's fifth directorial effort (The Tree of Life, featuring Brad Pitt and Sean Penn) supposed to be reacquainting highbrow audiences with the filmmaker (it was recently acquired by Fox Searchlight and delayed again, until 2011), Thin Red Line now claims perhaps its greatest edge over Spielberg's more commercial competitor; it has gained admission into The Criterion Collection, receiving a 2-Disc DVD and its first Blu-ray Disc from the boutique line devoted to important films from around the world.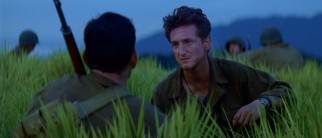 The second filming of the 1962 novel by From Here to Eternity author James Jones, The Thin Red Line centers on a variety of U.S. soldiers on the lines at the Battle of Guadalcanal, an intense American offensive on the Japanese-held tropical Pacific island. Not unusual for Malick, the film is much more atmospheric than narrative. Besides the lines being drawn with us remaining completely embedded with the American forces, the movie strives less to tell a story than to make us feel it, having us assume the perspective of one soldier after another as they share their inner thoughts and fears in voiceover.
Portraying those soldiers is one of the most impressive assemblies of modern American male acting talent. You could see a lofty filmmaker like Malick wanting to cast unknowns, and eliminate any baggage of familiarity they could carry. Instead, the director goes the complete opposite direction, assigning practically every part, no matter how small, to someone quite famous. In fairness, some of the younger actors here were relative unknowns in 1998, but they have since grown in fame: Jim Caviezel as Jesus in The Passion of the Christ, Adrien Brody for his Oscar-winning turn in The Pianist, and John C. Reilly from acclaimed dramas and, more recently, Will Ferrell comedies. Plenty of the film's cast members were more seasoned than them, including Sean Penn, Nick Nolte, John Cusack, Woody Harrelson, and, in essentially cameos, George Clooney and John Travolta. Recognizing the actors, no challenge for even the most novice of movie fans, is a bit distracting, but at the same time, it serves a point, which is to make each member in a large cast of helmeted, fatigued white men effortlessly distinguishable.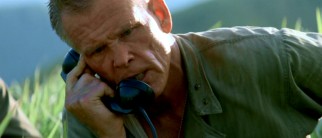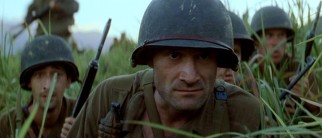 Like nearly every modern war film, this one is to some degree about the horror of war, effectively captured in short, mobile shots. But the horror only has meaning because of the personalities it is filtered through. Introduced first, soulful Caviezel's character, the tranquil, hopeful habitual deserter Witt, makes the greatest impression.

Others hit notes in the limited screentime they're afforded: Penn as the jaded existentialist veteran sergeant Welsh, lone Brit Ben Chaplin as a private dearly missing his wife (played in haunting, silent flashbacks by Miranda Otto), Nolte as the gruff, relentless Lt. Col. Tall, Elias Koteas as the comparably timid, sensitive Captain Staros, and war film vet John Savage (The Deer Hunter) as a sergeant who has lost his mind.

The marriage of interior monologue with oft-subservient photography gives The Thin Red Line the feel of an epic video poem that challenges its audience to make sense of it. There is never an effort to minimize the distance between the viewer and the cast. The film heaves you right into life-or-death situations foreign to most. Even as it humanizes and desensitizes the participants, it never chooses to have you relate to them as sympathetic civilians but as soldiers immersed in something far bigger than them.

That makes this impossible to mistake for the many fine story-driven films on World War II and Vietnam that we've seen over the years. The Thin Red Line is less a traditional film than an experience, a powerful and unique one, but ultimately, many would agree, not as satisfying and memorable as more conventional films. Still, it is worthy of being appreciated outside of Saving Private Ryan's shadow, which this Criterion release should help enable.
DVD Details

2.35:1 Anamorphic Widescreen
Dolby Digital 5.1 Surround (English)
Subtitles: English for Hearing Impaired
Not Closed Captioned; Extra Not Subtitled or Captioned
Release Date: September 28, 2010
Two single-sided, dual-layered discs (DVD-9s)
Suggested Retail Price: $39.95
Clear Keepcase
Also available on Blu-ray Disc ($39.95 SRP)
VIDEO and AUDIO
The Thin Red Line looks amazing in Criterion's newly remastered 2.35:1 anamorphic widescreen transfer. The care that the studio pours into the films it releases is evident here. Without fail, the picture remains clean, detailed, vibrant, and sharp. I didn't track down one of Fox's old DVD releases for comparison, but I would guess that Criterion's presentation is far superior. It would have to be, because I don't think any 1999-2001 DVDs look as good as this.
Playback opens with a disclaimer you must acknowledge: "Director Terrence Malick recommends that The Thin Red Line be played loud." Even if you ignore that recommendation and play at a more neighbor-considerate volume, the gunfire, explosions, and airplanes will still manage to make some real noise. The dynamic Dolby 5.1 mix engulfs you in the sounds of war effectively. The warfare ambience mingles smoothly with both dialogue and Hans Zimmer's pleasant score.
I really couldn't find a single thing wrong with either the DVD's picture or sound, but for those who crave higher resolution and less compressed audio, Criterion's concurrent Blu-ray edition remarkably carries the same list price.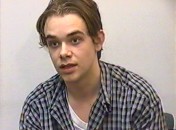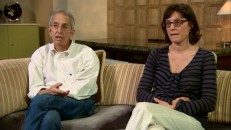 BONUS FEATURES, MENUS and PACKAGING

Disc One holds just two significant bonus features. First is a newly-recorded audio commentary by production designer Jack Fisk, producer Grant Hill (not the former NBA star), and cinematographer John Toll. Speaking is not a part of their callings, and that much is evident in this dry discussion.

We get plenty of facts and observations, but listeners are sure to be tempted to toggle back to the film's soundtrack at some point during this highly technical nearly 3-hour endurance challenge.

Malick's absence there and throughout this DVD is no surprise; the notoriously private director doesn't give interviews or even allow himself to be photographed. It certainly grants him a mythic quality that every comment on him reinforces.

Also on Disc One is the movie's theatrical trailer (2:44), always an appropriate and appreciated inclusion.

Disc 2's features begin with "The Thin Red Line: The Actor's Perspective" (33:33), which catches up with Sean Penn, Jim Caviezel, Elias Koteas, Thomas Jane, Dash Mihok, and Kirk Acevedeo. They reflect on getting cast, training, and their experiences on the large yet flexible production.

Next, casting director Diane Crittenden (17:55) talks about what she and Terrence Malick were looking for in filling the huge ensemble cast. We see but don't hear glimpses of the auditions of uncast famous actors (among them, Philip Seymour Hoffman, Crispin Glover, Luke Perry, and Neil Patrick Harris) and get actual excerpts from the tapes of some of those who were cast.

Editors Leslie Jones, Saar Klein, and Billy Weber are interviewed in the long new featurette "The Editing of The Thin Red Line: Shaping a Terrence Malick Film" (27:18). They discuss their mammoth undertaking on the film and how it came to take shape from a 5-hour rough cut, paying notice to the roles of nature and music.
Composer Hans Zimmer (16:27) recalls his work on the film, including how he came to be a part of it and how he and Malick collaborated. He even talks about the sound of specific scenes. As wonderful as Zimmer's music usually is, this piece is a little dry for those who aren't interested in film score creation.
"Outtakes" (13:30) are not hilarious bloopers, but eight cut scenes that extend the screentime of various actors briefly seen (John C. Reilly, Paul Gleeson, Nick Stahl, Tim Blake Nelson, George Clooney, Adrien Brody) or entirely deleted (Mickey Rourke, Robert Miranda). This is clearly just the tip of the iceberg as far as deleted footage goes; that 5-hour first assembled cut included appearances and/or narration by Billy Bob Thornton, Martin Sheen, Lukas Haas, Jason Patric, and Bill Pullman (all of whom are thanked in the film's end credits).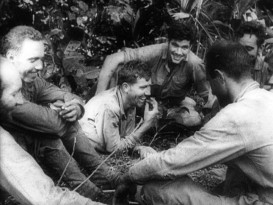 Kaylie Jones (19:02), daughter of The Thin Red Line author James Jones, discusses her father and the world war he fought in and wrote about. An accomplished author in her own right, Ms. Jones is articulate and engaging.
"Guadalcanal in Newsreels" supplies five pre-feature theatrical newsreels (15:16) from 1942-43 covering the attacks the film dramatizes. They're expectedly upbeat and patriotic, paying no notice to any of the traumatizing hardship the film details.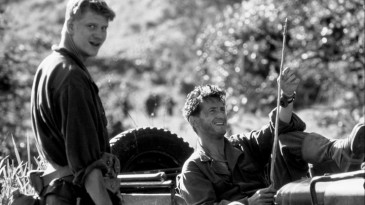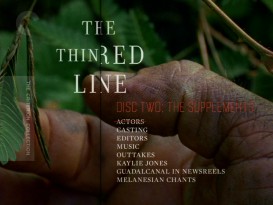 Finally, "Melanesian Chants" (6:45) are choral recordings made for the film, which play over black & white production photos of cast, crew, and the local islander extras.

Disc 1's main menu loops a montage of atmospheric shots.

Disc 2 uses static screens, as always devoting a page of information on every supplement offered. Both sets are designed to fill both 4:3 and 16:9 displays.

Criterion continues to be the only studio regularly enforcing the need for "Packaging" to go in this review section's header. As usual, they supply a sturdy companion booklet inside the clear keepcase. This thick, musty manual includes chapters and credits lists, acknowledgements, and transfer information.

You're more likely to peruse the booklet's two essays. Professor/critic David Sterritt pretentiously celebrates the movie ("arguably the greatest war film ever made") in "This Side of Paradise." More satisfyingly, James Jones, author of the book, glumly blasts Hollywood for its "adolescent" version of combat in his essay "Phony War Films." Several war films are taken to task at length in this piece, originally published in a 1963 issue of the Saturday Evening Post. His comments suggest he would have liked Malick's filming; curiously, there's no mention of From Here to Eternity.
CLOSING THOUGHTS
The Thin Red Line succeeds most at creating moods. A few of its many characters make an impression. And there's also a coherent World War II story somewhere in there. Terrence Malick's film is nothing if not ambitious. Its atypical approach to a much-dramatized history intrigues and sometimes deeply moves, but it doesn't quite add up to the transcendence it seeks. You can't blame people for preferring more clearly spelled out WWII dramas, but you can fault them for not even giving Malick's poetic epic a chance to do things its own way.
Whatever format you prefer, Criterion's new release of The Thin Red Line blows Fox's past offerings out of the water, with its stunning feature presentation and comprehensive bonus materials befitting a significant film whose release came too soon after Saving Private Ryan to be appreciated.
More on the DVD / Buy from Amazon.com / Buy on Blu-ray from Amazon.com