DVDizzy.com | DVD and Blu-ray Reviews | New and Upcoming DVD & Blu-ray Schedule | Upcoming Cover Art | Search This Site
Dragon (Wu Xia) Blu-ray Review
Dragon (Wu Xia)

US Theatrical Release: November 30, 2012 / Running Time: 98 Minutes / Rating: R

Director: Peter Ho-sun Chan / Writers: Aubrey Lam; Joyce Chan (co-writer)

Cast: Donnie Yen (Liu Jin-xi/Tang Long), Takeshi Kaneshiro (Xu Bai-jiu), Tang Wei (Ayu), Jimmy Wang Yu (The Master), Wai Ying Hung (13th Madam/Shi San Liang), Jiang U (Detective), Li Xiaoran (Wife of Xu Bai-jiu), Yin ZhuSheng (Xu Kun), Jinsong Wang (Advisor), Zhou Bo (Policeman), Yu Kang (Yan Dongsheng), Tanigaki Kenji (Xiao Ge Zi), La Jia-Min (Liu Xiaotian), Zheng Wei (Liu Fangzheng)
Buy Dragon from Amazon.com: Blu-ray • DVD • Instant Video
Despite the title, there is no dragon in Dragon.

This 2011 Hong Kong film, released in a handful of U.S. theaters last fall, was called Wu Xia natively, which as one word literally meaning "martial hero" is the name of one of the oldest and most popular genres in Chinese fiction.

Dragon is set in a small village on the Southwest edge of China in 1917. Liu Jin-xi (Donnie Yen, Hero, Ip Man, Blade II), a mild-mannered father, husband and papermaker, stands up to two hoods attempting a shakedown on his workplace. The two men are learned to be wanted criminals and thus Jin-xi is celebrated for killing them in self-defense. But the facts don't sit right with detective Xu Bai-jiu (Takeshi Kaneshiro). Skeptical that luck alone could make an unarmed family man take out two aggressive fugitives in the lethal manner described, Bai-jiu looks into the papermaker's past with growing suspicions.
The detective thinks he may be on to something when he learns that Jin-xi came to the village ten years ago and took his wife's name. Bai-jiu doesn't have anything but his gut to go on, but he takes drastic measures to prove it right, asking his estranged wife for the money needed to bribe a judge for a warrant. The investigation leads Bai-jiu back to the massacre of a butcher's family, a poisoning that gave the detective a life-altering, near-death experience, and a clan of notorious outlaws called the 72 Demons.
A period drama at first glance, Dragon regularly subverts expectations. Early on, it recalls Rashomon, as the thwarted robbery is revisited in a manner that doesn't put the detective at ease. Just when you start to think the entire film might be about that one occurrence, we move on to something different. The focus alternates between the detective and the man he believes is a reformed criminal. Knowing as you now do the meaning of the parenthetical Chinese title, you are right to expect some martial arts action. Such scenes are kept brief and interesting, never derailing the engaging plot.
After a number of sharp, unpredictable turns, the film's final destination is kind of a letdown, but by then you're invested enough to want to see it through and probably willing to tolerate somewhat excessive violence and further exploration of the vagus nerve's utility as the target for both a crippling blow and a resurrection.
A solid hit in Hong Kong and other parts of Asia, Dragon barely got released in the US, its box office record showing it in merely 14 theaters for a single weekend looking more like a formality or a contractual obligation than anything else. The film's pitiful $11,137 gross made it the lowest earner to date of The Weinstein Company's fringe RaDiUS-TWC banner. The film's best chance to get discovered by Western audiences will come on Tuesday, when Weinstein partner Anchor Bay Entertainment makes the film available on DVD and Blu-ray on the same day as Django Unchained.
Blu-ray Disc Details

2.35:1 Widescreen
5.1 DTS-HD Master Audio (Chinese)
Subtitles: English, English for Hearing Impaired, Spanish
Extras Subtitled in English; Not Closed Captioned
Release Date: April 16, 2013
Single-sided, single-layered disc (BD-25)
Suggested Retail Price: $29.99
Blue Keepcase
Also available on DVD ($24.98 SRP) and Amazon Instant Video
VIDEO and AUDIO
Neither the Blu-ray's picture nor sound posed any problems. The 2.35:1 visuals stay sharp and clean, while the Chinese 5.1 DTS-HD master audio packs a decent punch. English, English SDH, and Spanish subtitles translate the dialogue, but no dubs are provided.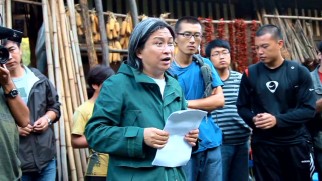 BONUS FEATURES, MENUS, PACKAGING and DESIGN

This looks like an average platter, with just three bonus features listings.

Though two of those lead to longer sections, your initial impression is accurate and we wind up with just over a half-hour of supplements. Unfortunately, unless otherwise noted, the Blu-ray presents all of the extras in standard definition.

"The Making of Dragon" (22:27) is a collection of eight short segments that is easy to enjoy with "Play All" viewing. It's a nice mix of behind-the-scenes footage and cast and crew interviews, all in Chinese with English subtitles.

Next, three short "Featurettes with Donnie Yen" (5:40) allows the star to talk about the film in English, discussing stunts as well as working with dead cows and living villagers.

Finally, a music video for Dragon's Chinese theme song "Lost in Jianghu" (5:14, SD) mixes an uncredited singer's black and white sound studio footage with clips from the film.

The disc opens with HD trailers for The Details and Django Unchained, neither of which is menu-accessible. Dragon's own trailer is characteristically absent.

The red-bordered menu plays action clips to a rousing bit of music. Annoyingly, the disc doesn't let you place bookmarks or resume playback. The standard Blu-ray keepcase is not joined by a slipcover, insert, or reverse artwork.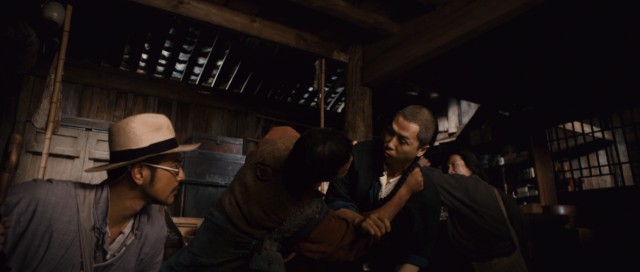 CLOSING THOUGHTS
Keeping its martial arts sequences in moderation and using them to support a reasonably engaging story and characters, Dragon succeeds at holding one's interest. Its commercial prospects in the US are limited and those drawn to the genre may wish to get more action and stunts than offered. Those who enter like me with no real expectations might well be pleasantly surprised by the quality, unpredictable storytelling.
Buy This Must Be the Place from Amazon.com: Blu-ray / DVD / Instant Video


Related Reviews:
New: Iron Man: Rise of Technovore • Mulan & Mulan II • The Hobbit: An Unexpected Journey
Donnie Yen: Hero | China: Secret of the Magic Gourd • The Karate Kid (2010)
Actual Dragons: DreamWorks Dragons: Gift of the Night Fury • Pete's Dragon • The Reluctant Dragon
DVDizzy.com | DVD and Blu-ray Reviews | New and Upcoming DVD & Blu-ray Schedule | Upcoming Cover Art | Search This Site
Search This Site:
DVDizzy.com Top Stories:
Reviewed April 14, 2013.


Text copyright 2013 DVDizzy.com. Images copyright 2012 RaDiUS-TWC, WE Pictures Limited, Stellar Mega Films Limited, Yunnan Film Group, and 2013 Anchor Bay Entertainment and The Weinstein Company Home Entertainment.
Unauthorized reproduction prohibited.