Review by Jack Seiley

Introduction

Fantasia is one of my all time favorite films. I think its very concept is ingenious, and the end result is jaw-dropping. The intricate animation paired with the glorious classical music moves me like no other movie I've ever seen. I also love it for what it represents: a groundbreaking release that played a major role in pioneering animation and took movie theater audio to new heights with the ambitious introduction of surround sound.

Unfortunately, Walt Disney's ultimate vision of having Fantasia become a continuous experience that people would go see over and over again was crashed to the ground when its initial release was overcome by the circumstances of that time.

The movie failed to make enough money to warrant realizing that dream. Eventually, after more and more came to discover and appreciate the film through the decades, a whole new myriad of Disney artists decided to revive Walt's idea of an always evolving Fantasia, and thus created the notable successor Fantasia 2000.

In my opinion, I think it's a little unfair for the new edition to be compared to the original, since so many regard Walt's as a masterpiece. It's almost impossible for any follow-up to meet most expectations stemming from Fantasia's status as a classic. Really, the 2000 release is an admirable project, and I can't help but appreciate all the work that went into helping fulfill Walt's lost dream and revive the titanic marriage of orchestra and animation for a new generation.

The Fantasia Anthology is a box set that commemorates and celebrates the history of this legendary project. It includes Fantasia and Fantasia 2000 on their own DVDs (both of which you can buy separate from this set), plus an exclusive disc carrying a bounty of extra materials called "The Fantasia Legacy".

The set comes in an attractive looking box, with a classy shiny effect, that pictures an orchestra among a sea of stars. Inside, it holds the 3 discs in amaray cases. Included is a 5 page brochure with a nice intro from Roy E. Disney (the initiator of Fantasia 2000) and a handy layout to show where you can find each bonus feature on the 3rd disc. Also, the 17-page booklet found in all copies of the Fantasia 2000 DVD is packaged here too.

Now, I will discuss each disc one-by-one . . .
Disc 1: Fantasia

Before I begin to review Fantasia's disc, I'd like to note that while the packaging says "Walt Disney's Original Uncut Version", it has in fact been changed. Firstly, because not all of the audio tracks could be recovered for the interstitial segments of the movie, a new voiceover was recorded for dialogue of Fantasia's host, Deems Taylor. Also, in the "Pastoral Symphony" segment, a racial stereotype has been edited out (rather poorly, I must say), resulting in graininess in certain shots. However, this is the roadshow version, and restores the original interstitials that had been cut from subsequent releases of the film.

That being said, Fantasia looks and sounds great on DVD. It's presented in a very vibrant transfer, effectively displaying the wide variety of colors that are splashed across the screen. There are a few times when the print really shows its age, notably in the "Rite of Spring" sequence when there are hazy blue streaks in one of the shots. But overall, it looks wonderful – especially considering it is over 60 years old. The soundtrack is available in either Dolby Digital 5.0 or DTS 5.0.

My system isn't set up for DTS, so I listen to the Dolby Digital track, which successfully surrounds you with the sounds of the orchestra. It's really emphatic in the opening of "Toccata and Fugue in D Minor", as you hear instruments to right of you one moment, others to the left of you another, and finally both of them together. It sounds very clear and has great ambiance.

There are 3 extras on the Fantasia disc. There are two audio commentaries. One features Roy E. Disney, animation historian John Canemaker, conductor James Levine, and Disney film restoration manager Scott MacQueen. The other is made up of archival interviews with Walt Disney spanning 3 decades, with John Canemaker hosting. I'm not a big fan of audio commentaries. Nevertheless, I listened to some portions of each track. The first is more about what you are actually seeing on screen, explaining what went into creating each scene. The second is less specific, with Walt talking about the project in general. For film buffs who enjoy commentaries, I highly recommend both of them. The last extra is a 50-minute documentary titled "The Concert Feature", narrated by David Ogden Stiers with interviewees like Roy Disney, Leonard Maltin, and Disney animators who worked on the project like Marc Davis, Ward Kimball, and Ollie Johnston. This is one of my favorite documentaries in my DVD collection, being highly informative, entertaining, and at times, even a little emotional.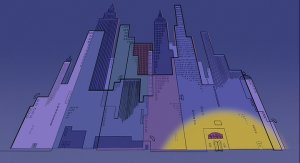 Disc 2: Fantasia 2000
Since Fantasia 2000 is of course more recent than its predecessor, it takes advantage of the DVD format more readily and the results are splendid. The transfer is very pristine, the colors popping out at you from the very beginning. For audio, there is a choice of Dolby Digital 5.1 or DTS 5.1. Again, I use the Dolby track, and it's just as fabulous as the transfer.
It envelops the room with the many sounds of symphony, and gives my subwoofer a good work-out. This has become one of the demo discs I like to show to friends when they come over, for the presentation is superb.

This disc offers somewhat more extras than the first. Roy Disney introduces the affair with a short retelling of the history of Fantasia and a brief explanation of what is possible with the DVD format. There's an audio commentary with Roy, James Levine, and Producer Don Ernst, and another with segment and art directors. Once more, I listened to portions of each, and I recommend both as being very informative about what went into making the movie. Two animated shorts are offered: "Melody" (which was shown at the Fantasyland Theater at Disneyland) and Academy-Award Winner "Toot, Whistle, Plunk, and Boom". Both of them are about a school class of birds learning about music from a their owl teacher, and show that Walt was always interested with bringing music and animation together after Fantasia's unsuccessful initial release. A showcase program that strings together clips from the film is included, which seems a little unnecessary to me. Finally, the sibling of the documentary on the first disc is here: the 50-minute "Fantasia Continued" entailing the making of Fantasia 2000, featuring returning narrator and interviewees from the first doc, plus conversations with the Disney animators who worked on the various segments of the new film. It has the same structure as "The Concert Feature", and is just as quality an extra.
Disc 3: "The Fantasia Legacy"

Once you pop the disc into the player, it beckons you to "kindly take your seat, for the performance is about to begin." And what a performance it turns out to be! The variety of material is divided into two sections: "Fantasia" and "Fantasia 2000". Let's start with the first.

In the Fantasia section, there is a menu selection for each segment of the movie, from "Toccata and Fugue" to "Ave Maria". Each menu choice takes you to the supplements pertaining to that particular sequence, containing portions of interviews used in the 50-minute documentaries on Disc 1 & 2, parts of the "Disneyland" TV series, extensive art galleries, texts that give background on the musical pieces themselves, and treasures like abandoned concepts and deleted animation.

An invitation for more features at the bottom of the screen takes to you a section called "The Fantasia that Never Was", which is a trove of segments Walt was working on around the initial release to incorporate into the film. While most of these are in story-reel form, there is one exception called "Clair De Lune", which is a fully animated piece and is shown in its entirety. Theatrical trailers, TV spots (which have become somewhat scarce on Disney DVDs as of late) and publicity posters are also found here.

In the Fantasia 2000 section, everything is organized in the same way. There are featurettes that expound on the 50-minute documentaries, abandoned concepts, storyboards, character and visual development galleries, notes about the music, and information on special effects. One of the most interesting is an orchestra demonstration that breaks down all the different parts of the symphony, like strings, percussion, and so on. Theatrical trailers, TV spots, and posters round out the disc.
Closing Thoughts
Unfortunately, I think extensive sets like The Fantasia Anthology have gone the way of the dodo at Disney, after recent DVDs have disappointed a majority of Disney fans. In this light, my appreciation for it has grown since it contains just about everything you could want relating to the films. This set is worth every penny. I highly recommend adding it to your collection before it goes out of print at the end of this month (January 2004). Two excellent films, paired with an overflow of extras: this an animation fan's, let alone a movie fan's, dream.
Buy the Fantasia movies on DVD from Amazon.com Marketplace:
The Fantasia Anthology / Fantasia: 60th Anniversary Special Edition / Fantasia 2000