You've got a losing argument if you contend that any creation other than Mickey Mouse most embodies the word "Disney." But whereas 75 years ago, the Mouse's standing could be justified by the fact that he headlined more of Walt's output than any other character, today he is more of an iconic personality than a movie star.

Mickey's position as company spokesmouse is never in jeopardy, for he remains endlessly present, from merchandise to Oscar appearances, from all over the parks to new compilations of vintage shorts. Still, the Mouse's contemporary film career is, and has been for a while now, quite sporadic.

Like any modern actor not getting offered choice big screen projects, Mickey has turned to other markets for his glory. He's done the direct-to-video deal, securing top billing in short-compilation films (like Mickey's Once Upon a Christmas and its sequel) and his first single-narrative feature (2004's Mickey, Donald, Goofy: The Three Musketeers). He's also maintained a presence on television, starring in the short-lived "Mickey Mouse Works" (1999-2000) and the inspired "House of Mouse" (2001-2003), the latter of which produced 52 episodes and two direct-to-video spin-offs. After a few years away, Mickey returned to TV this past May in "Mickey Mouse Clubhouse".

There are several things that distinguish "Clubhouse" from Mickey's two previous television outings. Whereas "Mouse Works" and "House of Mouse" had about as wide appeal as any Saturday morning cartoon could, "Clubhouse" clearly aims for a younger audience, as evidenced by its scheduled airings (8:30 AM weekdays, 9-10 AM on weekends) on the Disney Channel's daily preschooler-oriented programming block Playhouse Disney. Also, "Clubhouse" depicts the 78½-year-old mouse and his usual cohorts in three-dimensional computer animation, though thankfully in a fashion that is both appealing and faithful to the characters' original designs.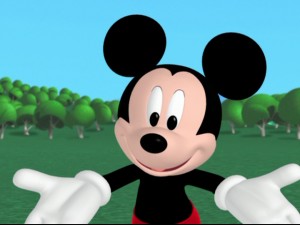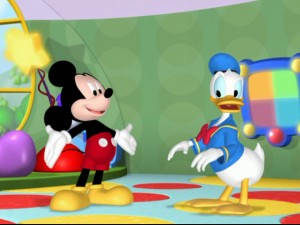 "Mickey Mouse Clubhouse" is not just the title of the show; it is also the setting. The gadget-laden house rises only when summoned with the magic words "Meeska, mooska, Mickey Mouse!" When it does, it resembles different body/wardrobe parts of its namesake.

At the clubhouse, Mickey and his long-time pals -- most regularly, Donald Duck, Goofy, Minnie Mouse, Daisy Duck, and Pluto -- engage in an assortment of activities which naturally entail some kind of intellectual stimulation along with adventure.

The series relies on a number of devices which recur in each and every episode. There is the "Mousekedoer" segment, in which Mickey gathers "Mouseketools" that will come in handy later. There is Tootles, the allegedly male flying mouse-head-silhouette which holds the tools and displays them when called. Tootles' arrival naturally prompts viewers to make choices based on the process of elimination and what fits the situation. All the while, Mickey leads with a gentle tone and assumes you'll answer correctly, filling in the blanks he leaves for you. Those blanks are a staple; there are several openings in each show for interactivity à la "Blue's Clues" (without the kids' voices), "Dora the Explorer" and "JoJo's Circus." Each episode ends with a musical recap set to the song "Hot Dog!" performed, like the opening title theme, by alt-rockers They Might By Giants.

A number of basic skills are sharpened throughout the course of the program. Physical activity is encouraged, ideas are committed to memory via musical cues and repetition, and there are opportunities to hone mathematics and eye coordination via counting exercises and having to find things on screen. Happily, though, the lessons do not come at the cost of entertainment. The series gets the tone down right, so that the episodes exist primarily as fun, self-standing stories and not merely some dressed-up home schooling.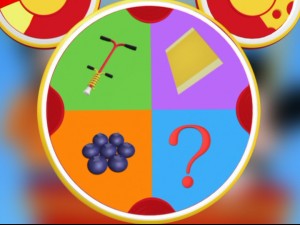 In fact, like the best of children's television, "Mickey Mouse Clubhouse" is definitely no chore for parents and others well out of the Playhouse Disney demographic to enjoy. At no point will you mistake the show for being a general audiences cartoon like "House of Mouse" or the fondly-remembered Disney Afternoon works; Mickey's aloof addresses to the audience and the semi-translucent educational values make it clear that the intended viewership ends around the age of seven.

But that doesn't mean the rest of us can't appreciate the series on some level, whether in private passing as a wholesome guilty pleasure or with the comforting company of a tot. Certainly, most of the target audience won't notice or care about the parallels to the '50s variety show which provides the first four syllables of this series' title.

Nor are they likely to know any of the rich history of occasionally-surfacing characters like Ludwig von Drake and Clarabelle Cow. Whether you're a parent considering this an apt stepping stone to cartoons from the Walt Disney Treasures line or merely someone happy to share their expertise on the featured personalities, "Mickey Mouse Clubhouse" seems easy to embrace.

Though it's only been on the air for six months, "Clubhouse" has already been given something that neither of Mickey's previous two series ever were: a dedicated DVD release. Mickey Saves Santa and Other Mouseketales boasts a cover and title which make it Christmas-ready and it's actually the only new Christmas-themed DVD that Disney is issuing this year (quite a change from last year's bombardment). In reality, Christmas only features in one of the three episodes which comprise this compilation. That will disappoint those expecting a feature-length holiday movie, but at the same time, it makes the disc better suited to year-round viewing.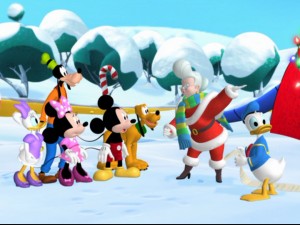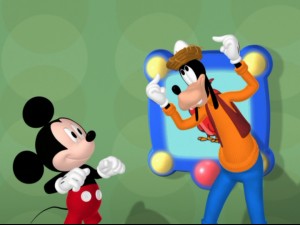 The three episodes on the disc are as follows:
"Mickey Saves Santa" (24:00) (Not yet aired)
On Christmas Eve, Mrs. Claus visits the Clubhouse requesting Mickey and company's help back at the North Pole. It turns out Santa's stuck on Mistletoe Mountain!
"Goofy's Bird" (24:00) (Originally aired May 7, 2006)
When Goofy finds a baby redbird, whose nest he mistakes for a hat, he and Mickey must return it to its mother and home in the woods.
"Mickey Go Seek" (24:00) (Originally aired July 8, 2006)
Mickey plays a game of hide-and-seek with Donald. The duck's skill at hiding leaves Mickey chasing feathers on a long trail.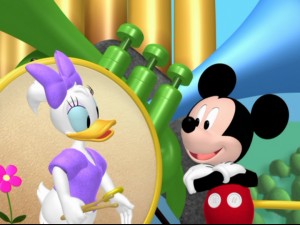 VIDEO and AUDIO

Presenting the show in its 1.33:1 original aspect ratio, the DVD delivers perfect picture quality. It would appear to originate from a digital source,

which, coupled with the nature of DVD and the lack of compression concerns, explains why there are no problems whatsoever. The bright, colorful computer animation is plenty competent and a major advance over what you'd expect from a CGI children's show.

In a move that's both surprising and disappointing to a slight degree, the audio is limited to Dolby Surround 2.0. If Playhouse Disney's other hit show "Little Einsteins" can come to DVD in full 5.1, it's odd that this properly-budgeted and entirely in-house production can't do the same. Certainly, there is the potential to encompass the viewer with a spread-out soundfield. Of course, there's nothing beyond that to lament regarding the sound mix. Though it's not engulfing the way one might hope, it does a satisfactory job of conveying the wide range of dialogue, music, and sound effects.
BONUS FEATURES, MENUS, DESIGN and PACKAGING
There are just two bonus features and each is minor. "Hot Dog Dance-Along" (1:45) plays the episode-closing They Might Be Giants tune with the type of animation it normally accompanies. It's not much of an extra, essentially just a segment from the end of any episode (without a recap), but it's nice for those who want only a little musical taste of "Clubhouse."
"Mickey's Picture Puzzle Game" is a series of mixed-up pictures (like the ones Mickey occasionally handles) which players must identify from three choices. The game ends after just one puzzle, but repeatedly selecting "play again" yields many different puzzles, all with a loose Christmas theme.
Sneak peeks at the start of the disc tout Peter Pan: Platinum Edition, the show's second DVD release due next Easter Mickey Mouse Clubhouse: Mickey's Great Clubhouse Hunt, Disney DVD Game World, and Little Einsteins: The Legend of the Golden Pyramid. The first page of the Sneak Peeks menu holds additional promos for Meet the Robinsons, Robin Hood "Special" Edition (a.k.a. Most Wanted Edition), The Fox and the Hound 2, "Mickey Mouse Clubhouse" on Playhouse Disney, and the endlessly previewed Disney Princess Enchanted Tales: A Kingdom of Kindness.
The disc is unsurprisingly equipped with Disney's FastPlay. The episodes are encoded as separate video "titles"; the nature of this design makes it impossible to return to an earlier episode without going through the menu. Choosing an episode from the "Scene Selection" menu plays it in full and returns you to the menu. The episodes are not broken into chapter stops, thus "Scene Selection" is inaccurately-named.
Inside the keepcase, one finds three inserts: the first promotes the show's tie-in toys and offers 75 points in the Disney Movie Rewards program; the second outlines the disc's contents and promotes upcoming Playhouse Disney DVDs; the last gives you a chance to win a Disney Preschool DVD Library.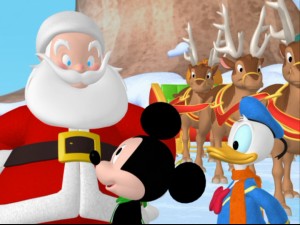 CLOSING THOUGHTS
"Mickey Mouse Clubhouse" doesn't have the all-ages appeal of most of the everymouse's cartoons, but it does rank very highly among children's shows. Successfully employing several of the genre's established devices, the series proves to have plenty of merit as entertainment and as education-building. Furthermore, the program is worth celebrating in terms of its place in Disney's canon, as it extends the careers of Mickey Mouse and his enduring companions in a way that's faithful to their past and rewarding to their following, granting the characters newfound exposure and audience members an introduction to the studio's rich animated tradition.
Mickey Saves Santa and Other Mouseketales provides three fine episodes with excellent picture, good sound, and two tiny bonuses. Regular viewing of Playhouse Disney will grant you three times as many episodes each week, so those with Disney Channel might understandably question the value of this DVD. Furthermore, the per-episode cost here is far more than it would be on a more inclusive release. With those realities and the fact that two-thirds of the disc has nothing to do with Christmas in mind, the DVD still earns a recommendation for its quality and convenience. There's more content than the typical preschool DVD, the show is of a higher caliber than most of its ilk, and the disc should get way more mileage and enjoyment than a similarly-priced volume from the Baby Einstein empire.