By now, anyone with an interest in the vintage cartoon shorts of the Disney studio should be aware of the two types of DVD releases with which Buena Vista Home Entertainment (BVHE) makes them available. Since 2001, on the last month of the year (with one exception), they have ushered in waves of collectible tins holding voluminous, chronologically-arranged compilations, with the expected bells and whistles. Then, at the beginning of last year, BVHE unveiled a beast that was at least new to Disney DVD: an hour of thematically related cartoons with no bonus features or expectations for unique quality restoration. Aimed at children, casual fans, and the extreme completist, the studio undoubtedly found a market for these low-priced, hour-long compilation discs, most falling under the heading of "Classic Cartoon Favorites." Now, a year after that series was launched, Disney introduces a new line called "Funny Factory." Though the name is different, the idea is the same. In fact, Funny Factory is practically identical

to the Classic Cartoon Favorites in pricing ($14.99 SRP per disc), design (roughly 60 minute runtime, no extras, and Disney's FastPlay), availability (easier to score than the Treasures, though an indefinite "limited time only" sticker appears on the wrapping), and packaging (bright colors and a prominent display of Disney's highly marketable characters). Only distinct menu schemes and the titles would seem to distinguish the two series.

As was true of last January's Classic Cartoon Favorites premiere, the debut wave of Funny Factory has been devoted to the studio's most recognizable and landmark protagonists, with Volumes 1 and 2 again going to Mickey Mouse and Donald Duck, respectively. This makes Funny Factory with Mickey (Volume 1) the seventh DVD release devoted squarely to the cartoon shorts of the iconic anthropomorphic rodent. In four double-disc Walt Disney Treasure tins, the entire body of shorts headlined by one of Walt's earliest and most enduring heroes was presented. Classic Cartoon Favorites: Volume 1 - Starring Mickey seemed to randomly choose seven memorable Mickey 'toons that featured the Mouse to varying degree, while Vintage Mickey (released in conjunction with Disneyland's 50th Anniversary last July) provided eight highlights from his career in black and white. Countless other discs have acted as a showcase for Mickey's animated antics, from other Classic Cartoon Favorites volumes to two "House of Mouse"-spun direct-to-video features, from a pair of Disney Learning Adventures to big screen outings like Fun and Fancy Free, and so on. But this is the seventh release to allow no outside star or theme to distract from the good-natured everyman mouse himself.

Though Mickey holds full claim to the disc, he does have to share the spotlight in some of the eight selected shorts. Donald and Goofy appear in three of the cartoons ("Moose Hunters", "Magician Mickey", and "Tugboat Mickey"), twice holding roles as significant (or more, when taken together) as Mickey. Mickey's reliable dog Pluto also figures largely in a number of the shorts, showing up in the other five and being the primary attraction in one of them ("R'Coon Dawg"). Still, Disney's success in animation is often charted back to Mickey and there is no denying that these eight cartoons make for a good representation of this important personality's entire career in color short subjects. They range from 1937 to 1951, only two years shy in both ways of spanning the Mouse's complete color filmography from the format's heyday. The early ones depict a more adventurous Mickey; the later ones, a more domesticated. This change which would seem to contribute to the rising popularity of Disney's flashier stars such as Donald and Goofy in the 1940s and '50s, but throughout them all, Mickey remains as likable a protagonist as Disney offered in comedic shorts.

A closer look at the eight shorts of Funny Factory: Volume 1 - With Mickey follows:
"Mickey and the Seal" (1948) (6:35)
After a day of feeding animals at Seal Park, Mickey unsuspectingly leaves with a friend in his fish basket - a baby seal. Instantly jealous and riled, Pluto tries to alert his owner to this fact, but Mickey is skeptical. This charming short is one of the more memorable ones from the latter part of Mickey's shorts career.
"Mr. Mouse Takes a Trip" (1940) (7:44)
Mickey and Pluto intend to go away on a nice vacation, but Conductor Pete won't let a dog on his train. The mouse-and-dog pair's clever attempts to outsmart Pete are repeatedly foiled.
"Moose Hunters" (1937) (8:36)
Mickey, Donald, and Goofy team up to hunt moose and naturally, their seemingly sound disguises fail them. Mickey's tree act attracts one hungry moose, while Donald and Goofy's efforts to entice a male moose works all too well.
"Mickey's Parrot" (1938) (7:39)
News on the radio of killer Machine Gun Butch's escape from prison puts Mickey and Pluto on the fritz. With their nerves on edge, their heard but not seen visitor (a feisty sea parrot) has them running a full gamut of fear.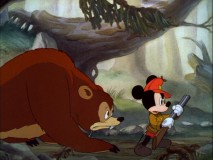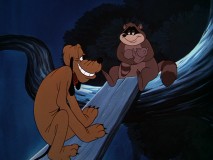 "The Pointer" (1939) (8:28)
Mickey give Pluto quite the verbal lashing when the dog doesn't immediately grasp how to help Mickey hunt. Pluto does learn, but Mickey mistakes a great big bear for his pal, leaving him with an irate pointer who doesn't take abuse so kindly and can't be reasoned with.
"Magician Mickey" (1937) (7:01)
With Goofy overseeing the lighting and Donald heckling from the audience, Mickey puts on a magic show. A series of events leads Donald to become part of the act and not in a way which pleases the cranky duck!
"Tugboat Mickey" (1940) (7:16)
A tugboat operated by Mickey, Donald, and Goofy can only mean a series of mishaps will ensue. They do and they're not overly inspired as Donald battles with steam pipes, Goofy struggles to fuel the fire, and Mickey tries futilely to keep the ship afloat.
"R'Coon Dawg" (1951) (7:05)
Mickey does not hold much screen time in this short, which depicts Pluto's efforts to capture an elusive raccoon.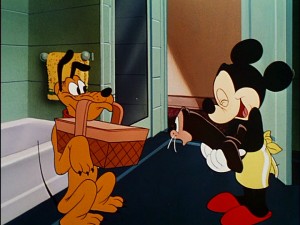 VIDEO and AUDIO
All eight shorts have appeared on the Walt Disney Treasures line's Mickey Mouse in Living Color sets, with three appearing on Volume 1 and the other five on Volume 2. You can be sure that these transfers are recycled from those previous DVD appearances and so none have the unpolished look that has accompanied cartoons debuting outside of the Treasures. Some fare better than others, with the more recent works generally boasting cleaner elements than the older ones. A few of the four cartoons from the 1930s are plagued by high amounts of speckling in certain segments; this issue is most evident in spans of "Mickey's Parrot." As a lot, the vibrant colors and generally solid backgrounds are more satisfying than you might suspect based upon the age of the material and low price. These results, however, are the fruits of the Treasures restoration labors. All of the cartoons were animated for the Academy Ratio, so the fullscreen presentation is just fine and dandy. The opening credits on some of them are windowboxed, and the '30s shorts are windowboxed all the way through.
All shorts are presented in Dolby Digital Mono, encoded as two-channel sound. Some of them, particularly the older cartoons, show their age with dated and seemingly distorted recordings, but the later ones hold up better. On the whole, there's no hiss or the type of headache-inducing noise that a public domain release of old cartoons might provide. In other words, they sound just about precisely the way they do on the Treasures.
BONUS FEATURES, MENUS, and DESIGN

The name of the series is "Funny Factory" and the menus aptly convey that. The animated 4x3

main menu features a jocular conveyer belt (operated by a silhouetted Mickey) which dispenses such gag items as pies, whoopee cushions, and, of course, banana peels. Moving around the main menu, you should notice eight unlabeled icons revealing themselves. (And there's a ninth in the Set Up menu.) Selecting these mostly just triggers brief gags animated into the menu (a banana peel sliding, a flower sprays water at the screen, and so on) -- not much as far as Easter Eggs go, but one takes you to an unannounced game for up to four players in which five pairs of chattering teeth race against each other in an indirect fashion. It's basically the old stadium "pick a color/horse/plane and see who wins" procedure and you have no say in the matter. Still, watching them bounce about to hyper play-by-play and intended cheering from players provides more fun than a majority of the more elaborate games on Disney DVDs. It also makes this your go-to disc for deciding which one of four people gets to do something (or gets to do it first) - it's a little more fun than flipping coins but more effort too. This is the only significant "extra" on the disc, but that nonetheless puts it a small step above the Classic Cartoon Favorites and Timeless Tales DVDs in the bonus features department. As do the bright, boisterous, and inventive menus.

Like most animated Disney DVDs these days, Funny Factory with Mickey is "enhanced" with "Disney's FastPlay", a mode which enables the disc to play through without you pushing a single button. This way, you are sure to be subjected to previews both before and after the feature. Before, you see promos for Lady and the Tramp: Platinum Edition, Bambi II, and Pooh's Grand Adventure: The Search for Christopher Robin. After (or through the second page of the Sneak Peeks menu), you can view advertising for Dumbo: Special Edition (barely reworked from its 2001 DVD previews and about as vague as it can be), Chicken Little, and The Little Mermaid: Special (Or as we like to call it, "Platinum") Edition.

The eight cartoons are encoded as individual titles in addition to as a whole feature. As is typical for short compilations, you have the choice to "Play All" or select an individual cartoon, which will return you to the menu upon completion. As a minor appeal to the collector's nature inside many of their customers, BVHE has again taken to numbering these volumes and the spine suggests another low-priced collection that will maintain a consistent look for a nice looking portion of a DVD shelf.
CLOSING THOUGHTS
For anyone who has decided not to collect all the shorts of Disney's landmark mouse (and now, with three of his four Treasures difficult and fairly pricey to obtain, that's an understandable move for someone very late to the Disney DVD game), Funny Factory with Mickey makes for a pretty nice sampling of his years in color. Between this (which contains a few highlights from later Mickey shorts) and last year's Classic Cartoon Favorites: Volume 1 - Starring Mickey (which skewed towards his earlier work), you'll wind up with about one-third of the color shorts in Mickey's series. As you can get each disc for about $10, that's not a bad substitute, though you would still be lacking all 74 shorts from Mickey's prevalent black and white period (nine of which can be easily tracked down on Vintage Mickey), his two memorable featurette-length shorts from the past two decades, and his noteworthy appearances in feature-length films.
In short, there's nothing here to attract those who own the Mickey Mouse in Living Color volumes in the Walt Disney Treasures series, but this disc seems like a reasonable alternative for those who have resolved not to "catch 'em all." Though there are no bonus features to celebrate Mickey or provide historical context for his success, the cartoons speak for themselves as a testament to Mickey's enduring everyman appeal. This first disc in the Funny Factory series exhibits more in the way of themed menu design than the Classic Cartoon Favorites, but otherwise, it's the same effect. Disney has already this month alone provided far weaker platters for the same price; with just over an hour of worthwhile vintage shorts available in the neighborhood of $10, you can't go too wrong.