When Disney has a hit on their hands, they know it and try to capitalize on it. For many television series that have been on the air for just ten months, one DVD release might be a stretch. But this month, the Disney Channel's "Mickey Mouse Clubhouse" comes to disc for a second time.

Perhaps that's not surprising, though, when you consider the collective cast of the popular animated show can list several dozen other in-print DVDs on their résumés. Not to mention the fact that, like most children's series, we are not talking big box sets here.

Following last November's Mickey Saves Santa and Other Mouseketales, Mickey's Great Clubhouse Hunt finds the classic gang of Mickey Mouse and his friends claiming another major holiday: Easter. The title of the DVD matches the title of the brand new special that comprises the majority of this disc. Running 49½ minutes with credits, Clubhouse Hunt is just a shade over twice as long as a standard episode. The unusual runtime may not mean a traditional broadcast in order; more likely, if it is to air at some point, it will probably do so either exclusively on weekends (when the series has an hour of airtime), as part of a series marathon, or accompanied by something else to fill out a two-hour slot. Nevertheless, for the time being, Clubhouse Hunt is exclusive to this DVD, so don't bother tuning in to Playhouse Disney (8:30 AM EST Monday thru Friday, 9-10 AM EST on weekends) expecting to see it anytime soon.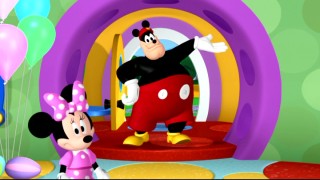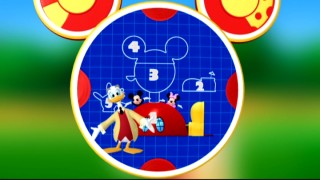 In Mickey's Great Clubhouse Hunt, Mickey is planning a party at the Clubhouse to celebrate Easter (in a completely secular fashion, of course). The entire gang is invited: Minnie Mouse, Donald Duck, Daisy Duck, Goofy, Pluto. The entire regular gang, that is. Other occasional cast members are apparently busy, not interested, or just plain uninvited. But one individual has been snubbed and he is not happy about it: Mickey's longtime adversary Pete. Rather than confront the host mouse about the non-invite, Pete cooks up a plan to take over the Clubhouse so that he can invite himself. In the process of not convincing Minnie that he is really Mickey, Pete utters incorrect magic words, which causes the Clubhouse to break into pieces that all float off with whoever is inside them.
Upon returning home to find nothing there, Mickey prompts the viewer to help him track down his Clubhouse and his friends who are inside. Aiding him on this quest are four "Mouseketools" which flying mouse-head-silhouette Tootles serves upon being beckoned. Also offering assistance is Professor Ludwig von Drake, who maps out the journey by assigning a number to each of the five missing parts and charting progress with a recurring song. The adventure takes Mickey and viewers to outer space and up in the clouds, among other locales.
Despite a slight waver in quality in the middle, Clubhouse Hunt proves to be a rather fun excursion. The special includes a very likable song "The Best Easter Party Ever", which surfaces in various instrumental forms to suit all kinds of moods before being reprised in earnest near the end. The longer runtime may test audience patience in the center stretches, but the series fares pretty well in extended form and by the time the credits roll, the smile on your face is proof that any shortcomings are forgotten.
The second part of the feature is "Donald's Hiccups", a standard episode (24:03) of the series which also hasn't aired yet. In it, the core cast is excited for a chance to sing on Clarabelle Cow's TV show. Alas, Donald gets the hiccups and soon, so does everybody else. The gang tries out assorted remedies, hoping to help one another overcome the ailment in time for their big televised performance. Hiccups are a tough thing to pull off on television, where ordinarily, commonplace pauses, stutters, pace changes, and run-ons are absent from dialogue and everybody speaks in complete, perfectly-structured sentences.

This episode manages to depict the diaphragmatic spasms about as bearably as possible, without conveniently dropping them or getting too annoying. While this more conventional episode isn't as inspired as its DVD companion, it is diverting enough and educationally sound.

As usual, both installments sharpen the intellects of young viewers with puzzles, basic math and counting, musical literacy, and decision-making. The educational nature of the show never comes at the expense of entertainment. "Mickey Mouse Clubhouse" is the type of preschool series that is not limited to entertaining preschoolers. Evident formulas, excessive openings for viewer response, and plot contrivances are all easily forgiven. Grownups who have remained Disney fans from childhood will appreciate the faithful renderings not just of the six stars, but also Black Pete, Ludwig von Drake, Clarabelle Cow, cameo-making Chip 'n Dale, and Willie the Giant of Mickey and the Beanstalk fame. To sum sup, though this series is clearly aimed at 2-to-5-year-olds, the makers keep the proceedings good enough to amuse older people tuning in and sufficiently grounded in tradition to please longtime Disney cartoon enthusiasts.

VIDEO and AUDIO

Once again, we must consider the featured program as two separate entities. Mickey's Great Clubhouse Hunt is treated to cinematic specs: a 1.78:1 anamorphic widescreen transfer and a Dolby Digital 5.1 track. As you might expect, "Donald's Hiccups" appears as a standard episode: 1.33:1 fullscreen and only two-channel Dolby Surround. Nevertheless, both are as faultless as you'd expect from a 2006-07 major studio production. It appears to be a digital-to-digital transfer, meaning the element is positively without issue, allowing the bright colors and clean animation to dazzle at a higher resolution than standard television transmissions allow. A more active soundtrack would have been appreciated on the standard episode, which also requires a boost in volume, but it is the series' design rather than the DVD's treatment which can be faulted on this point. The special's 5.1 track does occasionally make good use of the channel separation possibilities.
BONUS FEATURES, MENUS, PACKAGING, and DESIGN

According to the disc's layout, the only bonus is a sing-along song for "The Best Easter Party Ever" (1:43). Rather than a mere excerpt from Clubhouse Hunt,

the catchy tune is set to an original montage of highlights from the series. On-screen lyrics are highlighted to match their utterance and the video is surrounded by a seasonally pastel border.

Though this title practically screams for some Easter Eggs -- part of the feature is about hunting for Easter Eggs, literally -- there are none to be found. Some Internet sources claim that a standard episode aired last November, called "Mickey's Easter." If true (and it doesn't appear to be), this should have been an obvious inclusion. The disc has plenty of space to spare and even if the alleged episode is in Disney Channel's rotation, it would have been a thematically appropriate and appreciated extra. If it doesn't exist, any other episode would have sufficed as a bonus; 19 episodes unreleased on DVD are available to download on iTunes.

The main menu resembles that of the previous DVD, only the Clubhouse is surrounded by signs of springtime. The menu feels really alive thanks to busy animation; a close look reveals that a number of characters make appearances.

Enhanced with "FastPlay", the disc opens with previews for Pixar's Ratatouille, The Many Adventures of Winnie the Pooh: Friendship Edition, and Little Einsteins: Rocket's Firebird Rescue. With FastPlay activated, you may be treated to three additional previews after the feature program. If not, you can find these on the Sneak Peeks menu: an updated spot for the Aurora/Jasmine line-launching volume of Disney Princess Enchanted Tales (the old subtitle has been dropped), a preview for an August DVD release of Playhouse Disney's cartoon "Handy Manny" (think "Bob the Builder" in computer animation and with some Spanish), and a new promo for the Disney Movie Rewards program.

Speaking of Movie Rewards, Disney's efforts to raise awareness for this short-term point-redemption program have reached new heights with the recent Peter Pan Platinum Edition DVD and now this disc. The program's logo adorns the front cover of the actual DVD case (but not the otherwise identical embossed cardboard slipcover that houses it) and another bright notice that dominates the UPC area of the keepcase's back. In the event that you don't actually buy the DVD, the slipcover also includes a tiny emblem on a sticker which misleadingly touts this DVD as an "all-new movie" alongside a critic's quote.

While both the double-length and standard-length episodes are broken into chapter stops, the menu merely gives you the option to choose one show or the other; it's up to you and the Skip button to track down a particular scene and this is made slightly more challenging by the fact that the two programs are encoded as separate titles, presumably to accommodate the picture/sound format change.
CLOSING THOUGHTS
Mickey Mouse Clubhouse: Mickey's Great Clubhouse Hunt finds more success for the Playhouse Disney creation. Not content to merely encourage youngsters' thought processes, Clubhouse entertains them and anyone else who may be watching. The show wins viewers over with fun stories, nice animation, and faithful depictions of characters older than most people alive today. The educational aspects may ostracize non-preschoolers, but they're a nice added bonus and handled well.
Clubhouse Hunt serves up a double-length Easter special and a not-yet-aired episode, which may make it enticing for those not looking to spend money on the show's small collection of episodes that are rerun every three weeks. The $26.99 list price is a bit high for this type of thing, but Amazon's heavy pre-order discount places the disc just where it should be. Anyone knowing what to expect from this DVD -- and if you've read this review all the way through, that certainly includes you -- most likely will not be disappointed by it.