Released as a 2-disc Limited Edition tin in the Walt Disney Treasures series, Walt Disney on the Front Lines is a collection of rarely-seen Disney films created and released while America became involved in World War II. With 32 animated shorts, the feature film Victory Through Air Power, and a decent dose of bonus materials, this set offers a history lesson and a chance to finally see Disney's long-fabled propaganda and educational fare from the early 1940s.
As like past Treasures, this one is presented in a silver tin which houses a double Alpha keepcase. The postcard included is a color reproduction of the 1943 theatrical poster for Donald Duck in "Fall Out - Fall In." Also inside is a Certificate of Authenticity with signatures from Roy E. Disney and Leonard Maltin, and a serial number out of the 250,000 "On the Front Lines" sets printed. A high-quality 8-page booklet provides a quote from Walt Disney, a paragraph on his career, a listing of all the shorts included, and some background from Leonard Maltin on the set's contents. One of the booklet's pages displays a pastel concept sketch from Victory Through Air Power. The disc's 4:3 menus are all accompanied by various score selections, which are mixed quite a bit louder than the rest of the video.
DISC 1: THE SHORTS
The first disc contains 29 animated shorts, separated into "Propaganda & Entertainment Shorts", "Educational Shorts", and "From the Vault." Each section and certain shorts "From the Vault" are accompanied by introductory video clips by Leonard Maltin.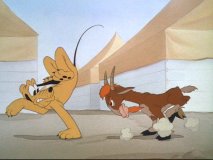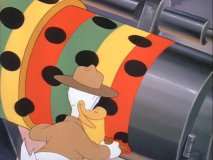 Propaganda & Entertainment Shorts

In the 95-second introduction to this section, Treasures host Leonard Maltin discusses morale-boosting films and how America's enemies also attempted to use the animation medium for propaganda purposes.
Donald Gets Drafted (1942) (8:53)
Donald Duck dances at the sight of military posters and envisions himself as part of the army. He merrily reports with his draft card and expresses a desire to be part of the air corps. First he must go through his physical examination, in which a bunch of partially-seen doctors give him a full look-over. Passing the tests, Donald is fitted for his uniform. Soon he's reporting for duty, and his sergeant is none other than Pete! Pete has some one-on-one training in mind for the duck. Donald's got to deal with pesky ants and his only defense is some potent perspiration.
The Army Mascot (1942) (7:13)
Pluto is sniffing outside the fences of U.S. Army Camp Drafty and spots two well-fed mascot dogs and discovers his ambition: to become an army mascot. So Pluto plans to take over Gunther Goat's post, while the mascot of the Yoo-Hoo Division sleeps. Once Gunther wakes up, he gives Pluto a bit of a beating. Pluto tries to one-up the goat with his tobacco-chewing skills.
The Vanishing Private (1942) (7:25)
We catch up with Donald, who in his new job as camoflauge painter, is ineptly coloring a cannon vibrant tropical hues. Snooping around the experimental lab, Donald discovers invisible paint. First, he makes the cannon disappear and when his supervising sergeant, an agitated Pete, checks up on him, Donald winds up being entirely invisible. This fun short makes good use of the invisibility concept and Donald's character.
Sky Trooper (1942) (7:11)
While he dreams of being a pilot, Donald is stuck peeling potatoes. Pete agrees to let Donald fly once all the potatoes are peeled. So Donald rushes through and Pete gives him so equilibrium tests to make sure he has what it takes. Misadventures ensue when Donald finally does get up in the air with Pete.
Private Pluto (1943) (6:45)
Pluto is following his drill instructions, and then gets abused by Chip and Dale who are interested in using military equipment for cracking their nuts. This one's heavy on the pratfalls and short on plot.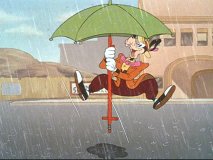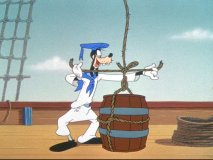 Fall Out; Fall In (1943) (7:20)
This short begins with Donald marching at the back of a line of soldiers, fighting fatigue and a variety of inclement weather. When they finally arrive to base, Donald is very eager to eat and settle down. Of course, in true Donald Duck fashion, a number of comic obstacles still stand in the way of a good night's sleep. Like some good shorts, words can't do justice to how entertaining this one is.

Victory Vehicles (1943) (8:03)
The short begins with a brief history of the growth of cities resulting from the introduction of automobiles. With gas and rubber shortages, one must think of alternative vehicles to cars. The short plays out as Goofy displays a variety of innovative traveling devices, with the narrator commenting. At one point, Goofy runs into a sign that proclaims, "Beat the Jap with Scrap." Puns and aliteration ensue, and the pogo stick is heralded as the ultimate solution to transporation problems.

The Old Army Game (1943) (6:58)
Donald sneaks out for some fun one night, and nearly gets away with it. But when he finally gets into bed, Pete the Sarge is there waiting for him. When Donald thinks his lower body has been sawed off, he contemplates suicide. It's a bit dark, but clearly Donald discovers he's got more than his upper torso.

Home Defense (1943) (7:44)
While Donald's asleep at the listening post, his nephews (the Guncrew) are resting in their tent. The nephews have fun by turning gingerbread cookies into parachuting airmen and making Donald panic. Then Donald and his nephews try to overcome ineptitude to really defend against the enemy.

How to be a Sailor (1944) (7:05)
Following the tradition of the "How to" Goofy shorts, this cartoon contains amusing narration. The topic is how man has dealt with the abundance of water on the planet, from the discovery of boats to errant concepts about sailing off the edge of the Earth. Also covered: pirates, flag signals and their meaning, and tying knots.

Commando Duck (1944) (6:51)
Uniformed and ready for action, Donald gets his orders and jumps out a plane being sure to follow all directions. Some heavy Japanese stereotypes paint the depiction of the enemies who surround Donald with gunfire as he sails in his emergency inflation boat. Once he gets away, Donald has to struggle with sharp objects providing obstacles to his craft. But Donald's efforts manage to boost morale just dandily.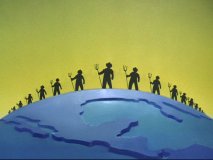 Educational Shorts
In the 3-minute introduction to this section, Maltin puts into context these educational shorts which seek to inform the public about such things as war bonds and paying taxes. As the set's host explains, animation was reused and well-recognized characters were employed to enlighten viewers.
Thrifty Pigs (1941) (4:09)
This short is one of four that the Disney studio created for Canada. It reuses the animation from "The Three Little Pigs", one of the earliest and most famous of Disney's cartoon shorts, which was a huge success in 1933. Here, the sturdiest of houses is built not with regular old brick, but with war savings certificates. The Big Bad Wolf becomes a Nazi officer, complete with Swastika armband. It was very neat to see this twist on the original short, which is slightly windowboxed and ends with straightforward animated messages encouraging Canadians to buy war savings certificates to support the war efforts.
Seven Wise Dwarfs (1941) (3:46)
In this short created for Canada, we open with the lovable little men from Snow White and the Seven Dwarfs going about their digging and singing in the mine. They sing "Heigh Ho" with new lyrics, such as "It's off to buy we go", "We'll do our part with all our heart", and "We'll with the war with 'Five-for-Four'." New animation takes the dwarfs into the post office to buy some war certificates! Again, the short ends with dramatic animated messages urging viewers to "Keep your money fighting." This short is one of the most interesting in the set. It's inherently entertaining to see the Dwarfs return four years after their film to promote purchasing war certificates.
Food Will Win the War (1942) (5:40)
This short, produced with supervision by the U.S. Department of Agriculture, opens with a dreary scene of crops destroyed at the hands of evil Axis powers. The hope, it informs us, is the abundant farm lands of America. The farmers are portrayed as heroes in the face of war, and the short provides some interesting facts about the resources of America which could be used to destroy Axis forces and tower over world landmarks. The ridiculous nature of the analogies surely is known by the filmmakers, but the tone is blended with sincere efforts to support the war cause. The result is an odd mix, but one of the most interesting.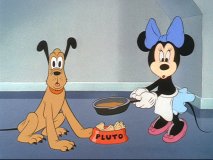 Out of the Frying Pan and into the Firing Line (1942) (3:17)
This short, distributed under the auspices of the War Activities Committee Motion Picture Industry, opens with Minnie Mouse cooking on the stove and tempting Pluto with "some delicious hot bacon grease." A voice stops the transaction and encourages the housewives of America to save waste kitchen fats, which can make glycerin which can be used to make explosives. Then, as Pluto agrees not to consume the grease, the narrator gives directions on how to sell the fat to the government for money. This could be the most bizarre Disney short ever created; it's undoubtedly interesting.

Donald's Decision (1942) (3:34)
This third cartoon made for Canada reuses animation from two earlier Donald Duck shorts. Donald must make a decision. He could follow a haloed angel to enlist as a regular war saver. Or he could heed the words of a devil duck who comes out of a mailbox which has a flag that spins to make a Swastika and encourages reckless spending. It looks a bit more washed out than the other shorts.

All Together (1942) (2:58)
This is the last of the shorts for the National Film Board of Canada. There's a most impressive parade that includes Donald Duck, his nephews Huey, Dewey, and Louie, Pinocchio, Geppetto, Figaro, Pluto, Mickey Mouse, Goofy, the cast of the 1935 short "The Band Concert", and all seven dwarfs from Snow White. All the characters do is march, carrying signs, and play music. Nonetheless, it makes fine use of the impressive array of recognizable characters that Disney had, even in 1942. Sort of a "House of Mouse" before its time.

The New Spirit (1942) (7:20)
Donald Duck dances to a remix of Yankee Doodle Dandy. He then listens to an anthropromorphic radio encouraging him to do something of great importance: pay his income tax. Proclaiming "taxes to beat the Axis", Donald rushes off to fill out his individual income tax return. The radio helps him through each step and then the short proceeds to show how filing taxes promptly and accurately supports American factories in their efforts to win the war. Putting Donald in a short on such a human topic yields amusing results.

The Spirit of '43 (1943) (5:38)
Like "Donald's Decision" this short puts Donald Duck in a moral conflict with two different actions advised. The thrifty encourages Donald to save the fruits of his payday, while the spendthrift tries to take him to the Idle Hour Club to blow the money that's been burning a hole in Donald's pocket. The short professes saving to meet the demands of high wartime taxes. The propaganda continues on a while, with dramatic imagery and music and the repeated line is "Taxes to sink the Axis." A good amount of the animation is reused from other shorts.

The Winged Scourge (1943) (9:44)
Here we are introduced to Public Enemy Number 1, Anopheles the Malaria Mosquito, who is wanted for willful spreading of disease and theft of working hours. The mosquito is personified as one of the great Disney villains, as we learn of their methods of ingesting parasites with human blood and then spreading malaria. The announcer calls for six or seven members of the audience to help out, and up pop...the seven dwarfs! The dwarfs demonstrate how to combat the monstrous mosquito problem by cutting weeds, spraying oil, draining water from tree stumps, and installing screens over doors and windows. A dramatic and unusual short film.
Defense Against Invasion (1943) (12:37)
This short begins with live action footage of a group of children in a doctor's office. One of the kids, named Tubby, is going in for a vaccination. The doctor decides to show the children how their bodies work to fight off disease.

At this point, animation is used to show the parts of the body carrying out their function. The body is personified as a city, and along the highway arteries, blood workers travel. An unwanted visitor--a germ--sneaks in, and multiplies to the music of Grieg's "Peer Gynt." The germs take over the body and...death. The point being, vaccination is good and protects people from deadly disease. There's a more complex, sophisticated look and style to its animation, and the live action footage looks remarkable for something sixty years old.

The Grain That Built a Hemisphere (1943) (10:33)
A short film on the origins of corn, "The Grain" discusses the Native Americans whose growth of corn spread worldwide. The most exciting it gets is when they talk about all the different types of corn foods.

Cleanliness Brings Health (1945) (8:25)
Two families are contrasted - the Clean Family and the Careless Family. The Clean Family maintains a clean house, with food sheltered from flies and pigs confined in fence. The Careless Family, on the other hand, lets their pig and chickens loose to wander in the yard. The careless mother cooks on the floor, which we learn...is...bad. The careless son does even worse by soiling the family's corn crops in the process of relieving his cramps. (The Careless Family is also the Latrineless Family.) When his father sifted the dirt through his fingers "the way a true farmer would", the invisible sickness struck. Simultaneously funny and disgusting, "Cleanliness" is not to be missed.

What is Disease? (The Unseen Enemy) (1945) (10:34)
This short profiles an average individual man. He may know how to protect himself from hunger and a thunderstorm, but how can he be protected from the unseen enemy, disease?! The short proceeds to discuss the technology of microscopes and the existence of microbes. Worst-case scenarios are again played out and if the reused warnings about mosquitos and not using latrines don't get you, you may just develop a fear of water.

Planning for Good Eating (1946) (8:26)
Nutrition is the topic of this short, which tells us about Careless Charlie and his family, who are run down because they just keep eating the same food - beans and corn bread. The needs of the human body are said to fall into three classes: fruits & vegetables, animal products, and grains and roots. Yes, it's preaching and the message is a diet of variety. But if Careless Charlie can be known as Careful Charlie, chances are, you can, too, provided that your name is Charlie!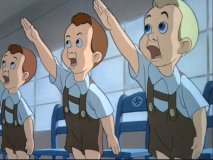 From the Vault

Each of the shorts in this section is introduced by a clip from Leonard Maltin explaining the context in which Disney made them. These introductions cannot be skipped, fast-forwarded, or rewound with traditional methods, so you'll have to watch them each time you watch the shorts.

Der Fuehrer's Face (1942) (8:54)
This Academy-Award winning short opens with a 80-second Maltin introduction discussing how enemies are demonized in war, and not always with good taste. As Nazis march outside, Donald Duck wakes up a Nazi. As Donald sits down to coffee and a wood-like slice of bread, the buffonish soldiers shove Mein Kampf in his face, and then stick him in a factory where he has to work on a conveyor belt of shells and artillery and repeat "Heil Hitler" again and again.

All the work drives Donald a bit nuts, until he wakes up in the good old United States, the victim not of Nazi Europe but merely a nightmare.

Education for Death (1943) (10:10)
After an unskippable 65-second intro from Leonard Maltin meant to prepare you for this grim, fabled short, Education for Death opens with the question, "What makes a Nazi?" A couple informs the Nazi government that a son has born to them. They insist he is fully Aryan and get a copy of Mein Kampf and approval to name him "Hans." In Kindergarten, Hans learns the story of "Sleeping Beauty" in which the prince is Hitler, portrayed as guttural and insane. Sleeping Beauty is an obese woman with a viking helmet who represents Germany. Hitler becomes a hero for Hans, who is being weaned into a fearless and hateful young man. Some dramatic, stylized animation distinguishes this from the other shorts in this collection. Though it employs a tiny bit of humor, its subject matter is about as dark as possible and it is more than a bit disturbing. As Maltin states, though, that was the point of it.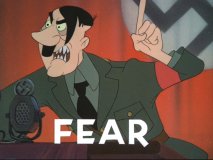 Reason and Emotion (1943) (7:55)
This short takes us into the mind of Junior, a young diaper-wearing boy. Junior's actions are governed by both leavel-headed Reason and the imaginative, thrill-seeking Emotion. Junior grows up as do the two associates in his head. When Emotion takes the driver's seat and calls a woman "babe", he gets slapped. We then go inside the woman's head, where her scantily-clad Emotion seeks pleasure by indulging in sweets. The point the short comes to make is that in this time of war, that throwing reason out of the way is fine...for Hitler! The conflict of reason and emotion lends itself to innovation, but it's also distressing. The audio is a bit flat on this short, which is preceded by a 30-second introduction from Maltin.

Chicken Little (1943) (8:50)
In the 50-second intro to this short, Leonard Maltin encourages parents to screen the cartoon and decide if it's appropriate to show to their kids. In this allegory, a malicious fox comes upon a fenced farm and terrorizes the feathered inhabitants. The fox's first target is the dim-witted Chicken Little, who is easily convinced that the sky is falling and spreads the word. The farm's leader, Cocky Locky, assures them it's a piece of wood, not sky. So, the fox tries to spread doubt among the farm animals through the clucking women turkeys and drinking ducks. The fox then encourages Chicken Little to become leader. This parable takes more from Nazi philosophy and less from the more familiar story of Chicken Little. And there's no happy ending.

VIDEO & AUDIO

Most of these shorts which date around sixty years old look terrific. Significant restoration work was done, and the colors look vibrant, and the animation is surprisingly free of problems. Naturally, it's not quite as clean and sharp as today's animation, but without a doubt, this set does an outstanding job of restoring these shorts to what I imagine was their original beauty. They look good, without looking artificially or excessively reworked.

The shorts are presented in Dolby Digital Mono and though one would think age to be a barrier, all of these shorts have had wonderful restoration work done to retain their audio, or perhaps the contents were just kept in very good condition. Nonetheless, the one-channel mix of music and dialogue in the shorts is faithfully reproduced and exhibits a clarity and vitality that is surprising.


ONTO PAGE TWO
Buy from Amazon.com Marketplace