DVDizzy.com | DVD & Blu-ray Reviews | New and Upcoming DVD & Blu-ray Schedule | Upcoming Cover Art | Search This Site
10 Things I Hate About You: 10th Anniversary Edition DVD Review
10 Things I Hate About You

Theatrical Release: March 31, 1999 / Running Time: 97 Minutes / Rating: PG-13

Director: Gil Junger / Writers: Karen McCullah Lutz, Kirsten Smith

Cast: Julia Stiles (Katarina Stratford), Heath Ledger (Patrick Verona), Joseph Gordon-Levitt (Cameron James), Larisa Oleynik (Bianca Stratford), Larry Miller (Walter Stratford), Andrew Keegan (Joey Donner), David Krumholtz (Michael Eckman), Susan May Pratt (Mandella), Daryl "Chill" Mitchell (Mr. Morgan), Allison Janney (Ms. Perky), David Leisure (Mr. Chapin), Gabrielle Union (Chastity), Greg Jackson (Scurvy), Kyle Cease (Bogey Lowenstein)
Buy 10 Things I Hate About You from Amazon.com: DVD • Blu-ray • Instant Video
Classic literature has long been found in high school classrooms. In the 1990s, it was also found in high school romance/comedy films. Jane Austen's Emma became Clueless. George Bernard Shaw's Pygmalion turned into She's All That. And William Shakespeare's The Taming of the Shrew inspired 10 Things I Hate About You.

Like those other two movies, 10 Things is set in contemporary times. The two Stratford sisters of Seattle's Padua High School have earned divergent reputations. Senior Katarina (Julia Stiles) is smart, opinionated, and entirely uninterested in social status and her male classmates.

Sophomore Bianca (Larisa Oleynik) is far cheerier. She appreciates looking nice and getting noticed. Neither girl is allowed to date. Their protective divorced father Walter (Larry Miller), an obstetrician who's delivered many a teenaged mother's baby, won't hear of it. When he loosens the family rule from "no dating till you graduate" to "Bianca can't date until Kat does", he does so knowing nothing will change beyond his strong-willed eldest taking the blame.

The young men at school see the situation differently. Utterly smitten with Bianca, new kid Cameron (Joseph Gordon-Levitt) plots to seize the opportunity afforded by Mr. Stratford's softened stance. With help from A/V Club geek Michael (David Krumholtz), Cameron tries to set up Kat to clear the path for his own romance with Bianca. The guys think they've got a good match in Patrick Verona (Heath Ledger), a tough Australian teen who's the subject of various wild rumors. The plan is bankrolled by vapid model Joey Donner (Andrew Keegan), who also has his eyes set on Bianca.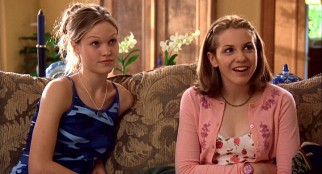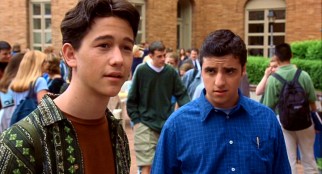 Giving Shakespeare a John Hughes-type makeover, 10 Things is fine entertainment. Was The Bard's play employed to bolster the project's credibility or were the writers genuinely seeking to make the 16th century comedy accessible and relevant for modern youths? The truth probably lies somewhere between the two, but the answer is practically irrelevant because the film works. In their first feature screenplay, Karen McCullah Lutz and Kirsten Smith find success in concocting believable teen characters and situations. I'm not familiar enough with the source text (which also inspired Cole Porter's musical Kiss Me, Kate) to judge the writers' fidelity to it. I suspect that some of the more awkward turns (like Dad's rule revision) exist to stay true to Shakespeare's story. But the awkward turns are few. The important thing is that one can recognize and admire the fun challenges of updating a 400-year-old work without prerequisite reading or getting distracted.
Don't let me overstate the film's origins. While Shakespeare is paid homage in direct quotations and a sonnet remake assignment, 10 Things is foremost a high school comedy. There are archetypal cliques, the obligatory drinking party scene, a fairly tidy side coupling, quirky adult authority figures, and rapid-fire zingers. The film is filled top to bottom with '90s pop music, starting with the Barenaked Ladies hit "One Week" and concluding with an impressively-shot rooftop performance by Letters to Cleo (disbanded ska act Save Ferris also appears briefly). Naturally, the prom is where the film and its numerous threads are headed. It's not surprising that secrets get revealed there (oh, dramatic irony!). Nor is it unforeseeable that fulfillment and comeuppances are served as viewers hope they will be.
10 Things doesn't break the mold or rewrite the book on teen comedy. But it amuses and delights with a portrait of '90s adolescence that is happy, silly, and -- despite some racy humor and sex references -- fairly innocent and sweet. This is the type of movie that doesn't get recognized by critics or win any major awards (sorry, MTV), but still winds up being widely enjoyed and referred by the general populace. It's the kind of movie to bring you out of a bad mood, unwind you after a tough day, and, if applicable, take you down an already poignant memory lane.
There weren't any huge stars in the cast of 10 Things I Hate About You when the film was released to theaters in the spring of 1999. Eleven years later, that has changed. Obviously, Heath Ledger's unexpected young death brought him greater fame than his steady life's work did.

10 Things marked his American acting debut and would swiftly thrust him to leading man and heartthrob status. (The case reminds us that he won an Oscar for a little 2008 movie called The Dark Knight.)

Ledger's surviving castmates may not enjoy the icon status he posthumously does, but they haven't exactly faded. (Except for Andrew Keegan, but then his teen magazine coverage always exceeded his professional accomplishments.) Having smoothly transitioned from child star to adult actor, Joseph Gordon-Levitt is a Golden Globe and Independent Spirit Award nominee for his work in (500) Days of Summer, which has an outside shot of netting him an Oscar nod as well. He'll also be seen in summer thriller Inception from Ledger's Dark Knight director Christopher Nolan. Although his recent movie résumé is comprised of bit parts (and not the few interesting projects that fell through), David Krumholtz maintains star power as the lead of CBS drama "Numbers." Julia Stiles, whose performance here earned honors with the words "promising", "breakthrough" and "breakout" in them, may not presently be selling films as a leading lady but she can nonetheless claim a substantial part in one of this century's biggest film trilogies (the Jason Bourne series). And supporting players Allison Janney (a four-time Emmy winner for "The West Wing") and Gabrielle Union (Bring It On) are better known today.

The film's director Gil Junger made this a brief promotion from the world of TV; after following up with Martin Lawrence's Black Knight, he's exclusively helmed small screen fare. That's too bad because his modest visual flair adds to the film's charms. Writers Lutz and Smith have done better; they've remained a team and together penned five high-profile female-driven comedies, including the 2001 Reese Witherspoon hit Legally Blonde, another Shakespeare update in Amanda Bynes' She's the Man, and last summer's drubbed but profitable battle of the sexes The Ugly Truth.

Since pledging their love for Blu-ray, Buena Vista/Walt Disney Studios Home Entertainment hasn't bothered revisiting a great number of their films on standard DVD, especially anything not bearing the "Disney" name. An exception to the rule is this review's subject, the 10th Anniversary Edition of Touchstone Pictures' 10 Things I Hate About You which arrives simultaneously on DVD and Blu-ray. The math isn't perfect (that's become the norm for the studio), as the milestone was celebrated in the recently-ended year. At least the two years which distance this reissue from Heath Ledger's January passing remove any concern of impropriety. The timing also nearly coincides with the Volume 1 DVD debut of the ABC Family original series adapted from the film in 2009 and soon to return to the air with new episodes.
DVD Details

1.85:1 Anamorphic Widescreen
Dolby Digital 5.1 (English, French), Dolby Surround (Spanish)
Subtitles: English for Hearing Impaired, French, Spanish
Closed Captioned; Extras Subtitled and Captioned
Release Date: January 5, 2010
Two single-sided discs (DVD-9 & DVD-5 DVD-ROM)
Suggested Retail Price: $19.99
Black Keepcase in Embossed Cardboard Slipcover
Also available on Blu-ray Disc ($20.00 SRP)
VIDEO and AUDIO
As on its original DVD, 10 Things I Hate About You appears in its 1.85:1 widescreen theatrical aspect ratio. This time, though, it is enhanced for 16:9 displays. Picture quality is great, as the film looks as good as today's studio productions (and better than some). The element is clean and there is a slight yet appropriate amount of fine grain. On a large or close enough screen, you'll notice some ringing artifacts (the disc is more compressed than it needs to be), which should be absent from the Blu-ray. Otherwise, sharpness and colors are terrific.
The Dolby 5.1 soundtrack stays largely in the front channels. Its moderately fluctuating volume levels could have you reaching for the remote. But it's crisp and lively, satisfactorily conveying the host of sampled and performed songs (full list at the bottom of this review).
BONUS FEATURES, MENUS and PACKAGING

In number, this new edition is supplementally slight, but fortunately the two extras delivered are quite good.

First up is "10 Things I Love About 10 Things I Hate About You: 10 Years Later." At 35 minutes, this is longer and more detailed than most DVD featurettes. It combines 1990s production footage with two new interviews. While the 2009 reflections from director Gil Junger and screenwriters Karen McCullah Lutz and Kirsten Smith are nice, the older material is of greater interest. It includes cast and crew interviews, B-roll content, set photos, and, scattered throughout, deleted scene snippets and outtakes.

Every major player is heard from and each is retrospectively discussed by the filmmakers. Also covered are director Junger's first movie experience, the selected Tacoma shooting location, the memorable bleacher PA song scene, and the film's featured music. That the deleted scenes (which include Junger playing a Shakespeare professor) are worn and not presented in full is a bit of a letdown, as is the absence of new actor interviews, but otherwise this thorough documentary is extremely satisfactory.

Next and last comes an audio commentary boasting a greater degree of present-day cast participation. Writers Lutz and Smith are joined here by actors Andrew Keegan, David Krumholtz, Larisa Oleynik, and Susan May Pratt. It is apparent that this group didn't have a routine filmmaking experience on this movie. That renders this track unusually fun and lively, as the actors and scribes recall their summer camp-like experience in Washington as young relative novices, dining together and socializing every night. The six genuinely enjoy watching the movie and their observations and shared memories make for an accessible, enjoyable listen. They even manage to respectfully cover Heath Ledger's passing without letting it darken the reunion's mood. Fans of the film who typically avoid commentaries shouldn't miss this one.

The DVD opens with trailers for When in Rome, Extract, and "10 Things I Hate About You." The Sneak Peeks menu adds promos for Surrogates, KSM, "Greek": Chapter Four, "Kyle XY": The Complete Third and Final Season, "Make It or Break It": Season 1, and Blu-ray Disc.

There is a second disc here, but it is merely a digital copy platter enabling the film to be redeemed and enjoyed in iTunes and Windows Media formats. It's nice for this feature to be offered on an "older film" and at no discernible cost. Still, it expires in 18 months and studies have shown that around 90% of customers don't bother with them, rendering this DVD-ROM wasteful/disposable. I'd rather have gotten the trailer (dropped from the original DVD), TV ads, music videos, a photo gallery, and presentable, intact, separately accessible versions of the deleted scenes.

Taking inspiration from the brief final act sequence which also gives the film its title, the main menu moves video clips against animated, doodled-upon notebook paper. Also scored, the submenus simply use character stills.

It nearly goes without saying that this 10th Anniversary DVD comes with a cardboard slipcover. The reflective red foil parts are embossed, but that's the biggest difference from the poster-flipping artwork below. Three inserts are found inside the standard black keepcase: a unique activation code for the digital copy, a coupon for $10 off this very DVD and five recent/upcoming ABC Family sets, and a booklet promoting Blu-ray.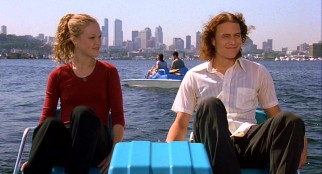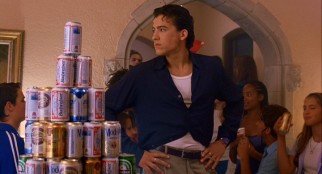 CLOSING THOUGHTS

The majority of comedies set in high school appeal most to those whose own high school experiences are recent, imminent, or ongoing.

I suppose 10 Things I Hate About You doesn't upset that correlation, for its biggest fans are people in their twenties and thirties who remember/relate their teenage years and younger viewers who likely discovered the film in one of its many television airings. But with its Shakespearean source, upbeat tone, and PG-13 stylings, 10 Things ranks and holds up as one of the most appealing '90s teen comedies out there.

Overdue 16:9 enhancement and two exclusive bonus features make this 10th Anniversary Edition a clear upgrade over the movie's original DVD release. It may not be the ultimate presentation, but it will do for now and it pays appropriate tribute a good medium-sized film you may have missed. I recommend this enjoyable comedy's simple but nice new set and hope it leads Disney and other studios to revisit more movies whose discs are lacking by today's standards.

More on the DVD / Buy from Amazon.com / Buy on Blu-ray from Amazon.com




Related Reviews:
New: 10 Things I Hate About You: Volume One • Cloudy With a Chance of Meatballs • Kyle XY: The Final Season • Extract
Blast from the Past • Easy A • I'll Be Home for Christmas • Varsity Blues (Deluxe Edition) • Popular: The Complete Second Season • Sky High • Superbad
High School Musical 3: Senior Year • Say Anything... (20th Anniversary Edition) • Sweet Valley High: The Complete First Season
Julia Stiles: Carolina | Joseph Gordon-Levitt: The Lookout • Angels in the Outfield • Stop-Loss • Treasure Planet
Heath Ledger: Casanova • The Brothers Grimm | David Krumholtz: The Santa Clause (Special Edition) • The Santa Clause 2
Larry Miller: The Princess Diaries • Max Keeble's Big Move | Allison Janney: Juno • Away We Go • Our Very Own
Featuring Larisa Oleynik and Andrew Keegan: Boy Meets World: The Complete Third Season | Daryl Mitchell: Galaxy Quest (Deluxe Edition)
| | |
| --- | --- |
| | 10 Things I Hate About You Songs List: Barenaked Ladies - "One Week (Remix)", Joan Jett - "Bad Reputation", K-Ci & Jo-Jo - "All My Life (Ignorants Remix)", Spiderbait - "Calypso", Air French Band - "Sexy Boy", Sprung Monkey - "Get Em Outta Here", Letters to Cleo - "C'mon", ATM - "Soar", Rondo Vivace - "Piano Concerto #1", Letters to Cleo - "Co-Pilot", Brick - "Dazz", Cameo - "Word Up", George Clinton - "Atomic Dog", Salt 'n' Pepa - "Push It", The SOS Band - "Just Be Good to Me", The Notorious B.I.G. - "Hypnotize", The Thompson Twins - "Hold Me Now", Letters to Cleo - "Cruel to Be Kind", The Cardigans - "War", Ta-gana - "Saturday Night", The Colourfield - "Can't Get Enough of You, Baby", Madness - "Wings of a Dove", Joan Armatrading - "The Weakness in Me", Leroy - "New World", Heath Ledger - "Can't Take My Eyes Off You", Semisonic - "F.N.T.", Sister Hazel - "Your Winter", Save Ferris - "I Know", Save Ferris - "Can't Stop", Jessica Riddle - "Even Angels Fall", Letters to Cleo - "I Want You to Want Me" |
DVDizzy.com | DVD & Blu-ray Reviews | New and Upcoming DVD & Blu-ray Schedule | Upcoming Cover Art | Search This Site

DVDizzy.com Top Stories:


Reviewed January 6, 2010.


Text copyright 2010 DVDizzy.com. Images copyright 1999 Touchstone Pictures and 2010 Buena Vista Home Entertainment. Unauthorized reproduction prohibited.