Disney's 1998 live-action holiday comedy I'll Be Home for Christmas stars Jonathan Taylor Thomas, who rose to popularity earlier in the decade, as Jake Wilkinson, a self-centered, cunning, bratty college student in California. In many ways, this film signaled the end of the JTT era - when he was a major star in the public eye, he was just a cute pre-teen playing the wisecracking middle Taylor son and similar roles in family-friendly Disney fare...by the time this film was released in the fall of 1998, Thomas had left "Home Improvement" for what would be the show's final season. In the five years since this, Thomas has very much fallen of the celebrity map as he focuses on his college studies, marking "I'll Be Home" his last family-friendly and visible starring role.
The film was generally bashed by critics upon its release, and as a Disney/JTT vehicle, this is far less enjoyable than his previous work both in voice in The Lion King and his live-action fare like the amiable Man of the House and Tom and Huck. Here, Thomas is too old to play the precocious personality, and he comes off as rather unlikable.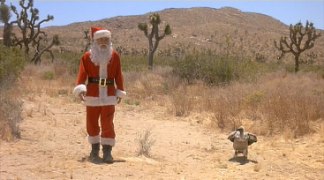 Actually, quite a bit of the film comes off as unlikable. The set-up is this: Jake doesn't want to come home to New York for Christmas with his dad (Gary Cole, who would unforgettably play Lumbergh in Office Space the following year), sister and new stepmother. Instead he'd rather spend Christmas in San Cabo Lucas beach with his girlfriend Alley (Jessica Biel, of "Seventh Heaven" fame). But Jake's dad offers his son a Porsche to come home by Christmas Eve dinner and spend the holiday with his family. Yeah, I know, nothing says family Christmas like giving your son a car to get him to come home.
But here comes the curveball - Jake is left in the middle of the desert with a Santa Claus suit on the day he is supposed to come home by some of his goonier college friends, who were dissatisfied with the services Jake rendered to help them with their final exam (in the universe that this movie takes place, the professor doesn't suspect anything when four jocks are all getting beeped during the final, which doesn't surprise one so much considering the university's final exam has fill-in-the-blank answers like "Frederic Douglass"). An improbable cross-country trip to get home for Christmas ensues, and Jake encounters a variety of colorful characters along the way.
I'll Be Home for Christmas tries to be hip and modern, but the movie's tone is so self-aware and unrealistic that one never feels that anything but far-fetched. Nevertheless, it is mildly entertaining anyhow to watch Jake encounter a barrage of dim-witted characters who he attempts to use in his quest to get home to Westchester County. Sure, it's a bit preachy, obnoxious, sappy, lacking real emotion and filled with some really poor attempts at humor.
I actually had rather high expectations considering how much I enjoyed Tom and Huck, Man of the House, and Wild America and I was letdown. I'm sure however that many people weren't big fans of the three aforementioned movies and so it is likely that they would view I'll Be Home with even more disdain for its lightweight hipness, sappy heartless drama, and lamebrain humor.
So to sum up, I'll Be Home for Christmas is a halfway decent movie, withstanding that it was poorly made and has lots of structural problems. In terms of live-action Christmas films of the 1990s, you'd be better off sticking to Home Alone and The Santa Clause for plot, comedy, and unabashed fantasy. I'll Be Home, on the other hand, already seems the most dated, firmly planted in late 90s pop culture. I suppose this is one of those films that will feel "Totally 90's" looking back a decade from now, much in the way that several '80s films have a distinct flavor to them.

DVD Details

1.85:1 Non-Anamorphic Widescreen
Dolby Digital 5.1 (English, French)
Subtitles: English
Closed Captioned
Single-sided, single-layered disc (DVD-5)
Suggested Retail Price: $14.99
Released November 9, 1999
Reissued 10/8/02; Repriced 9/2/03
White Keepcase

VIDEO

The video quality is generally quite good, but it is not without a few problems. Sharpness and clarity are excellent, even though it is not enhanced for 16 x 9 televisions, so it is not using full potential resolution, the array of colors in the nationwide trip are conveyed nicely. However, there was a surprising amount of flaws on the print, whether grain or scratches, which seemed to pop up every once in a while. While they were far from distracting, and hardly make the video quality less than solid, it was odd to see such problems on such a recent film. Overall, though, a pleasant looking transfer for a rather colorful film.
AUDIO

The Dolby Digital 5.1 track is adequate, and is neither higher or lower than expectations. It remains rather faithful to the material - all dialogue and music is clear, and the mix is fairly active. There isn't really much to complain about the audio - it is rather loud and flashy as the movie is at times, and the score tries to pull strings in the required saccharine moments. There is also a 5.1 French language track.
EXTRAS

Not surprisingly, I'll Be Home for Christmas is short on the supplemental material as were most live-action Disney DVDs during the period it was released in 1999. There is the original theatrical trailer, which as far as trailers go, isn't bad. And the section of Recommendations, which without trailers for the other movies, is rather boring and pointless. Nothing else, in the way of featurettes or NSync music videos (the lack of an NSync music video is never a bad thing)...but it doesn't seem that this movie was crying out for supplements. At least it had the original trailer, which so many Disney DVDs seem to be lacking in recent times.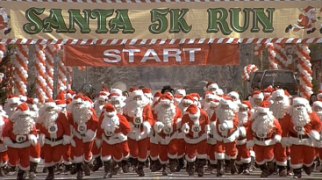 CLOSING THOUGHTS

I really wanted to like I'll Be Home for Christmas and in some ways, it succeeds as fleeting entertainment. But overall, if your expectations are high, you're bound to be disappointed. It's a good thing that the movie came to DVD when it did, or else it would likely receive the no-frills Fullscreen treatment so many Disney works have lately. The non-anamorphic widescreen video and Dolby Digital 5.1 soundtrack are serviceable, and the trailer is a nice bonus. You can do far better in terms of holiday viewing, but if you're like me and can never watch enough Christmas movies, I'll Be Home for Christmas is a decent and appropriately-priced alternative.